The day in Naples starts off on the right foot thanks to the great deal of traditional desserts: among sfogliatelle ricce and shortbread, there are also croissants, slices of cakes and tarts. Try the baba as snack break, in the classic version or enriched with custard and fruit, or a fresh fiocco di neve, a modern dessert that has won over even the most traditional palates. Here are the best pastry shops in Naples rated with at least Due Torte (two cakes) in the 2022 Pastry Chefs & Pastry Shops guide by Gambero Rosso.
The best pastry shops in Naples

Vincenzo Bellavia
The Palermo-Naples axis is the key to the success of this family-run business with a long tradition. Started 96 years ago in Sicily, it boasts now a small empire of 7 stores in Campania and Lazio. Guests are greeted by a parade of colors and sweets, from breakfast to small pastries, without forgetting regular and single-serving cakes. Among the Neapolitan classics, the sfogliatella riccia stands out, yet the more contemporary creations are just as delicious, especially the cakes: Vesuvio, bomba sorrentina, nido di rondine, mille-feuille, milleveli... you are really spoilt for choice here. Try also the savory offerings for a tasty lunch break.
Vincenzo Bellavia – p.zza Muzii, 27 – pasticceriabellavia.it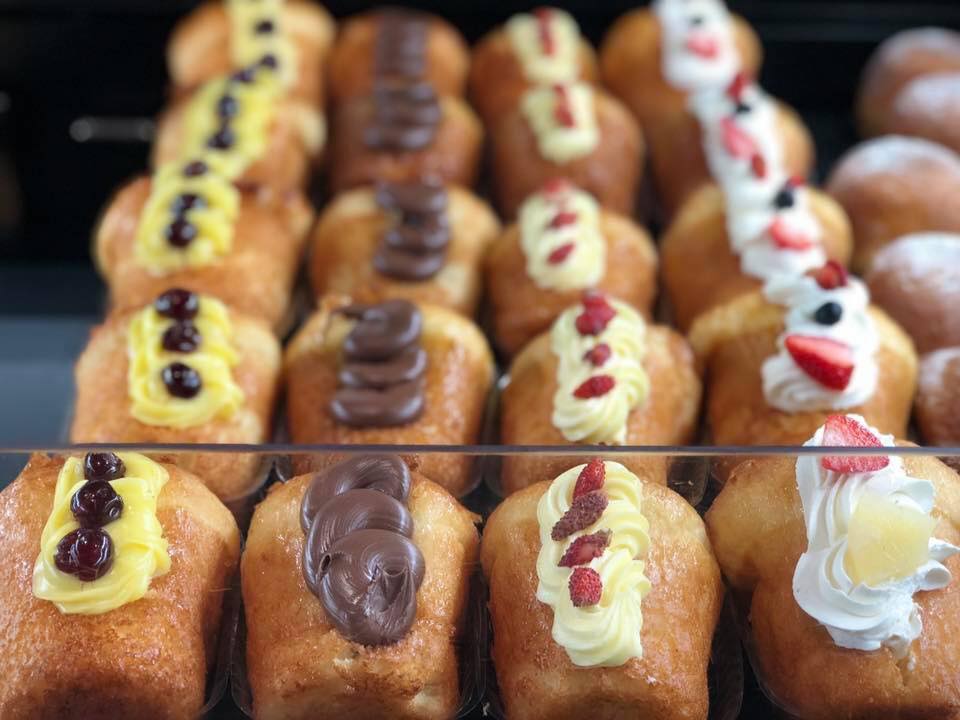 Al Capriccio
The baba is sacred for the Capparelli family: the classic version is made to perfection, with a soft dough featuring a good alveolation, wet to the right point. Many are the variations: from the one with fresh cream and strawberries to the one with ice cream, perfect for the summer season. The new entry Babanana by Raffaele Capparelli has also made headlines, namely a baba filled with delicate milk cream. Other traditional specialties are ricotta pear cake, caprese cake and lemon delight, as well as Sicilian cannolo and cassata from fresh and first-rate ingredients. The biscuits are also excellent and so is the homemade ice cream, well whipped and balanced.
Al Capriccio – via Carbonara, 39 – pasticceriacapriccionapoli.com

Di Costanzo
A small place near the Archaeological Museum of Naples, where you can find a solid traditional pastry shop offering all the Neapolitan cornerstones made to perfection. However, the shop's flagship are Mario Di Costanzo's original and modern creations, such as the oro colato cake with hazelnut cream, Giffoni hazelnut praline, salted caramel sauce and 40% Peruvian milk chocolate frosting. Or the Breakfast, almond and lime financier, raspberry crisp, low-fat yogurt and cheese mousse, red fruit confit and white chocolate frosting. The semifreddo is also delectable and can be enjoyed in a packaging that keeps it cool even on the hottest days.
Di Costanzo – p.zza Cavour, 133 – dicostanzopasticceria.it

Mignone
A few steps from the National Museum of Naples, there is a long-standing reference point for the neighborhood. In the morning you can start off with fragrant leavened products offered in many different flavors, or you can buy pastries for Sundays or special occasions. The baba is the highlight here, offered in different versions, but there is also plenty of cakes, viennoiseries, shortbread, cream puffs and small pastries. The chocolate creations are also worth mentioning, and so are the well-executed leavened cakes for the holiday celebrations. Besides the classic cakes, you can also order artfully decorated custom and ceremony cakes.
Mignone – p.zza Cavour, 145 – pasticceriamignone.it

Mon Sciù
A corner of France with a Neapolitan heart: thanks to her deep knowledge of raw materials and her many experiences around Europe, Chiara Cianciaruso has managed to create a special place in Naples. A temple of taste where you can stop and taste all kinds of delicacies, starting with those that give the name (mispronounced in dialect) 'choux' to the place, available in a dozen flavors. And then the single-serving cakes – try the margherita, an almond tartlet with cranberry jam, and biscuit soaked in raspberry kriek beer and lemon diplomat cake – éclairs, savory sablés and fine chocolate creations.
Mon Sciù – p.zza del Museo Filangieri, 263 – facebook.com/monsciupatisserie/

Poppella
There are few pastry chefs who can say to have given the tradition a twist, and Ciro 'Poppella' Scognamiglio with his fiocco di neve is one of them. The soft and delicate dessert has now come right in the Neapolitan tradition, so much so to be imitated and offered in different versions. The other pastry products, from baba to sfogliatelle, without forgetting pastiera (one of the best in town) will make your mouth watering. Other locations are in via Santa Brigida and in piazza Cavour, but in the historical one it is also possible to try a deli selection for the aperitif.
Poppella – via Arena della Sanità, 29 – pasticceriapoppella.com

Torteria Varriale
Whether you are looking for a good breakfast, a tasty snack, desserts for the end of the meal or a special occasion, then you are right here. With his creations, Salvatore Varriale proposes elegant desserts in a refined and welcoming ambiance that delights hundreds of customers every day. The day starts off with croissants, veneziana, brioches and muffins, and continues with code d'aragosta, baba, pastiera and caprese. Excellent the profiteroles and macaroons, yet biscuits and holiday leavened cakes are delectable too. The other location is in via Nuova San Rocco 3 in Capodimonte.
Torteria Varriale – via G. Filangieri, 75 – facebook.com/TorteriaCo-Varriale-585374451508071/
by Michela Becchi