Neapolitan roccocò
Many Italian desserts originated in convents, and roccocò are no exception: their recipe was first written down in 1320 at the Real Convento della Maddalena. The name derives from the French rocaille and underlines the rather baroque shape of the sweet, similar to a rounded shell. Here too, the main ingredient is pisto, a typical Neapolitan spice mixture together with almonds, flour, sugar and candied fruit. They are traditionally prepared in large quantities on 8 December for the Immaculate Conception Day, but it is customary to eat them at the end of the meal at Christmastime, softened in wine, vermouth or marsala.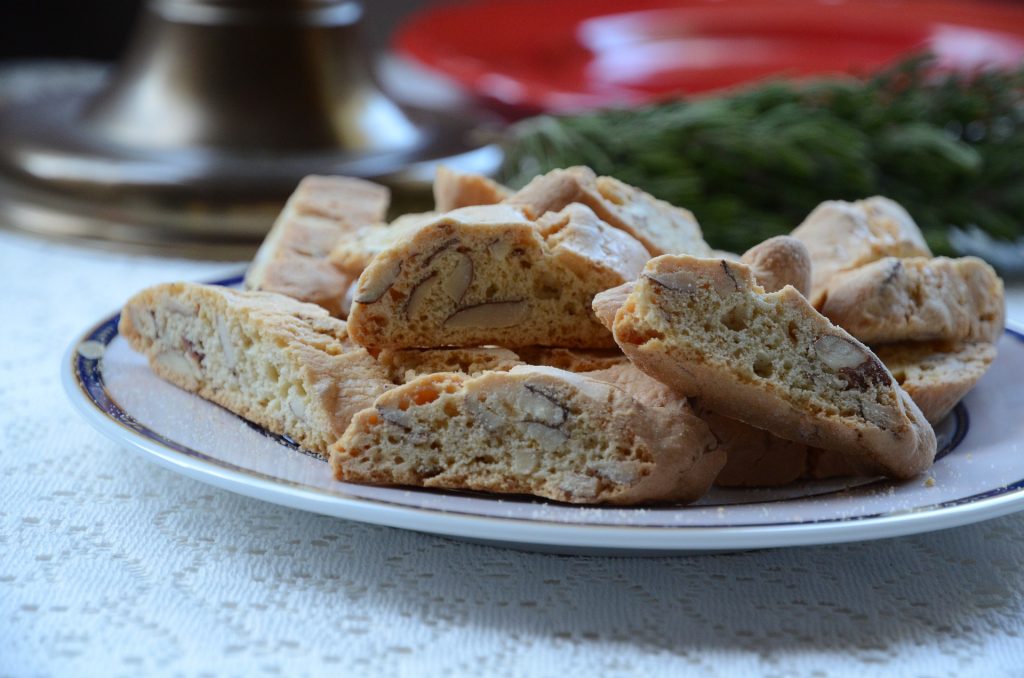 Umbrian tozzetti
An alternative to the more famous Tuscan cantucci that differs in the use of aniseed, liqueur and lard (together with butter). Widespread above all in the Bevagna area, in the province of Perugia, they are eaten at Christmas and Easter accompanied by sweet wine. The recipe calls for flour, eggs, sugar, unpeeled almonds, butter, lard, aniseed, mint rosolio (in some versions with aniseed liqueur) and yeast. Start by beating together egg yolks and sugar, while the whites are whipped separately. Once the two mixtures are billowy and frothy, combine them and add gradually the remaining ingredients. Knead the dough for a few minutes, then spread it out on the pastry board and wait about ten minutes for it to become compact. Roll out the dough into 4 cm long loaves and bake at 180C for 15-18 minutes. Take them out, let them cool for a couple of minutes, and cut them into oblique slices to be baked in the oven for another 10 minutes.
Calabrian petrali
Typical biscuits from Reggio Calabria, they were created by a priest and his housekeeper according to popular legend. The typical half-moon shape hides a delicious and sugary filling, made with chopped dried figs, left to soak for several days in cooked wine and then mixed with honey, citron bits, almonds, walnuts, sultanas and citrus peel. In a nutshell, the leftovers from the dessert pantry. In modern versions, the filling is somewhat simplified, and cocoa and coffee are often added for extra flavour. The dough is made from 00 flour, lard (sometimes replaced by butter), sugar, yeast, liqueur wine and lemon, orange or tangerine peel and, after baking, it is covered with a white or chocolate icing and scattered with sprinkles.