Panarea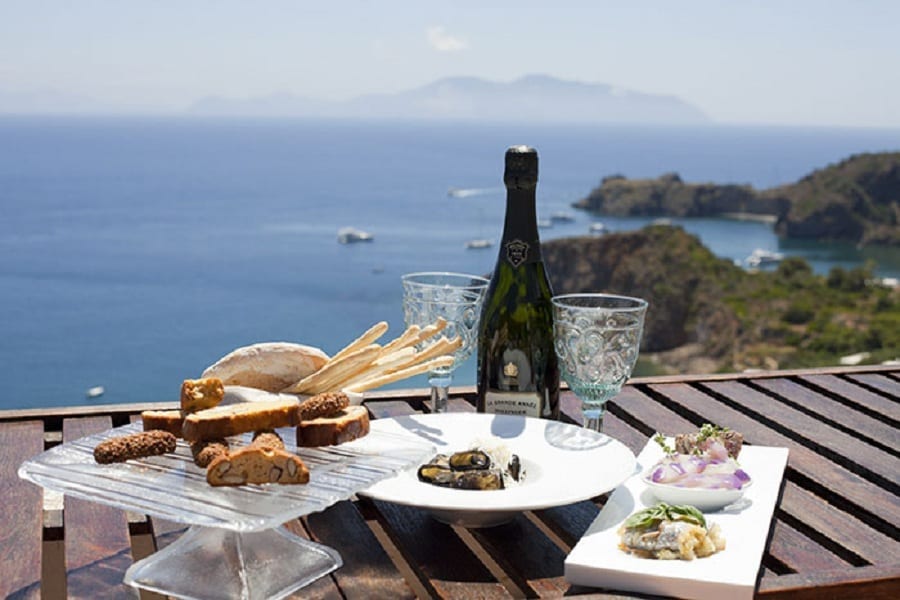 Hycesia
Not just a restaurant. The gorgeous location also rents our a number of rooms to those wishing to stay the night on dry land after a beautiful meal enjoyed in the restaurant's inner garden. Food and wine lovers flock here as a classic Eolian island hopping tours. Gaetano Nanì in the kitchen, and wife Andrea welcoming guests in the dining room are expert restaurateurs. Fish plays the starring role on the menu: think wild shrimp tempura, steamed tuna fat with minty eggplant, or the slightly spicy mussel soup and thick spaghetti dressed with a tuna ragout. The house desserts should not be overlooked, especially the mojito flavored gelato and a cassata semifreddo dribbled with an orange sauce. The wine list features hundreds of domestic and foreign labels and several quality verticals.Hycesia | Panarea (ME) | via San Pietro | tel. 090 983041 | www.hycesia.it
Da Pina
This is one of the island's most popular eateries. In the kitchen is Pina Cincotta Mandarano an affable host who welcomes celebrities and aficionados seeking her Mediterranean flavors. The two large dining rooms immersed in lush vegetation are furnished with lavic stone tables and decorated with typical Eolian objects that create the perfect vintage ambiance. The menu is equally traditional and local: eggplant gnocchi with cherry tomatoes and ricotta; spaghetti with clams and zucchini; surf and turf skewers and grilled swordfish sausage, paired with local wines.Da Pina | Panarea (ME) | contrada San Pietro, 3 | tel. 090 983032 | www.dapina.co
Salina
Signum
The Caruso family's newest generation is something to be very excited about. Luca in the dining room and Martina in the kitchen work with their parents in the gorgeous venue – both hotel and restaurant – in Malfa, the highest point in the island of Salina. Whether you'll be residing here for vacation or just for a weekend, be sure to factor in at least one sunset enjoyed on the terrace overlooking the islands of Stromboli and Panarea, it's an unforgettable experience. Even more so if while swirling a fine glass of wine chosen from the handsome wine list. Martina Caruso's cuisine is straightforward and refines, with an ever growing degree of intensity and elegance. Protagonists on the menu: seafood (but also great meat dishes) and Mediterranean aromas: wild fennel pollen, cherry tomatoes, capers employed in well pondered seasonal dishes. Take for example the prawns steeped in tomato water with ricotta; breaded scabbardfish with almond pesto and green olive soup; beef tartare with an egg and hazelnut sauce served with Ragusano cheese and Sarawak pepper; linguini with almond milk and clams. Desserts are good too, above all the milk, hazelnut and coffee soup.
Signum | Salina (ME) | via Scalo, 15 | tel. 090 9844222 | www.hotelsignum.it
Vulcano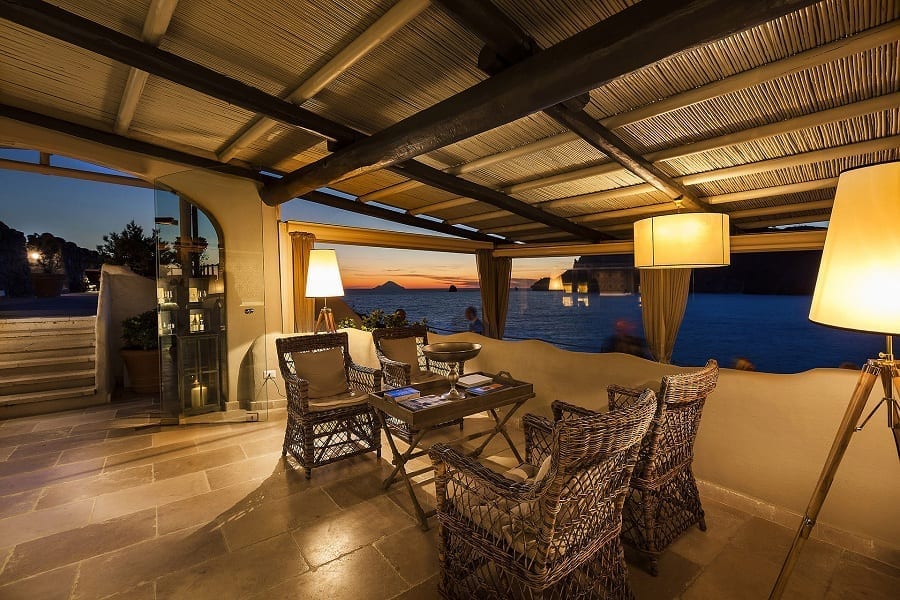 Cappero del Therasia Resort
The appeal of a terrace overlooking the sea is hard to top, especially when the sun dips and the light changes, the perfect setting for a fine cocktail and tasty foods to boot. In the kitchen Crescenzo Scotti whimsically assembles the best Sicilian ingredients with Salina seafood. The low season closure allows the chef to travel and source ingredients he will use in his upcoming dish creations. Oysters served with a gin & tonic foam; scampi cappuccino; prawn burgers enveloped in a fluffy bun; wafers served with amberjack tartare: these are just a few examples of Scotti's well balanced creativity. Risotto with purple prawns and bergamot cooked in a Nebrodi hazelnut broth, is perfectly well balanced. Consider the slow cooked Nero dei Nebrodi breed piglet which is beer glazed and served on cheese fondue with Etna apple filled liquid gnocchi and local tomato sfogliatelle. Sicilian cheeses and delightful desserts abound. The service is accurate, professional, and never stiff. Do consider a sojourn here to also enjoy the Neapolitan style pizzas baked in a wood-stoked oven.
Cappero del Therasia Resort | Vulcano (ME) | loc. Vulcanello | tel. 090 9852555 | www.therasiaresort.it
Marettimo
Il Veliero
The most pleasant food destination in Marettimo is Il Veliero, a seafront venue with outdoor seating for perfect sunset views and a soundtrack of crashing waves. The menu varies according to the day's catch. The house specialty is the tuna steak but the classic Sicilian pasta starters are equally filling and delicious. When in luck and available, do try the lobster soup. In the crowded high season service can suffer slightly, plus the no reservation policy forces patrons to visit early to secure a seafront table.
Il Veliero | Marettimo (TP) | corso Umberto, 22 | tel. 0923 923274
La Cambusa
Informal, laid back, tasty, ideal for those wishing for a break in seafood. La Cambusa is a deli which offers quality cured meats and cheeses as well as rotisserie meats and take out options. Among specialties also rare Sicilian products like "kabuci" on request like stuffed pane cunzato sandwiches. It's also possible to stop in for a beer or aperitivo nibbling on snacks on the way home from the beach.
La Cambusa | Marettimo (TP) | via Garibaldi, 5b | tel. 0923 923441 | https://www.facebook.com/La-Cambusa-Marettimo-1642514382631082/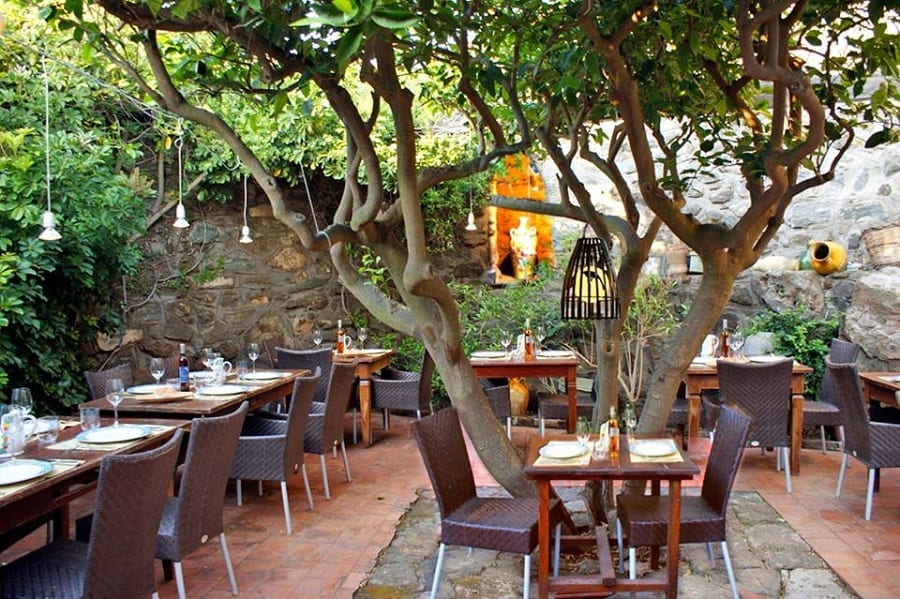 Pantelleria
La Nicchia
In approximately 30 years in business, La Nicchia continues to be a quality and reliable dining destination. Built out of a repurposed dammuso (local cave dwelling) this place is one not easily forgotten. The typical Pantelleria garden features a large central orange tree. The kitchen offers traditional dishes prepared with select ingredients and purchased at small local farms. Starters may include octopus salad or an eggplant flan, and meals may continue with linguine with swordfish and zucchini or spaghetti with prawns. Entrees may feature breaded amberjack, roast king prawns or traditional Pantesca rabbit. Do not forego the sweet ending with "bacio di Pantelleria" dessert. The cellar offers a carefully designed wine selection.
La Nicchia | Pantelleria (TP) | contrada Scauri Basso, 11 | tel. 0923 916342 | www.lanicchia.it
Favignana
Antica Tonnara di Favignana
Located in the heart of the city centre, this venue is a classic dining destination where red Mediterranean tuna is declined in many ways. Products are both for sale and for degustation: oil-packed tuna, bottarga (tuna roe), musciame (whitebait), ventresca (tuna belly), plus other tuna products like tarantello, ficazza, smoked coccole and much more. The Tammaro family also manages a second location, Antica Tipicheria Siciliana Tammaro located in largo San Leonardo 7. Located at the entrance of the harbour: simple and spartan, it offers local product tastings and grazing boards with local canned fish and irresistible sandwiches. One of their best panini is sweet tuna, pepper and orange. Perfect for a pit stop between day trips.
Antica Tonnara di Favignana | Favignana (TP) | via Nicotera, 6 | tel. 0923 921610 | www.anticatonnaradifavignana.com
Lampedusa
Martorana
Sicilian cuisine is served as one of this historical venue's strong points. Local and foreign foodies make this a must visit. Their arancini are sensational: not at all greasy, golden fried and filled with a variety of ingredients: eggplant, ragout, butter, baby shrimp, quattro formaggi. A true feast for street food lovers. There is obviously also no shortage of sfincione and stuffed pizzas, as well as a fine choice of pasta dishes, like pasta alla norma, eggplant parmigiana, to be enjoyed at tables set in the outdoor street side, or packed in a beach picnic hamper, in perfect island-style. Do not forego tasting their pane e panelle (chickpea fritter sandwiches), the stuffed calamari, the homemade ravioli, baked pasta timballini or their couscous.
Martorana | Lampedusa (AG) | via Roma, 92 | tel. 0922 970796
Filicudi
Villa La Rosa
This family run eatery is the best place for savoring classic island sea and land fare, cooked with top-notch ingredients. Tables in this very popular venue need to be booked well in advance. There are seafront rooms for those who wish to stay the night. The menu features various types of marine carpaccios (swordfish, tuna, and so forth) and octopus salad, for starters. Among the house pasta dishes, spaghetti with flying squid and Pachino tomatoes; tuna lasagna; typical"pizzichi" with Pachino tomatoes and pecorino cheese, anelli pasta dressed with lobster sauce and bucatini with sardines and sultanas. Plus stuffed squid, rabbit stew with almonds and tuna parmigiana with eggplant. They also bake nice pizzas. Meals may end with classic desserts like cannoli filled with ricotta. Some of the region's best labels grace the wine cellar. Service is courteous and attentive.
Villa La Rosa | Filicudi (ME) | via Rosa, 24 | tel. 090 9889965 | www.villalarosa.it
by Antonella De Santis
translated by Eleonora Baldwin