Arrigo Cipriani - Harry's Bar
Let's begin the list of Venice places with a living legend: Arrigo Cipriani. Eighty-four very intensely lived years, restaurants half around the world and the authority of someone capable of exporting an Italian brand that spells '50s dolce vita. These were the years when Hemingway became a regular at Harry's Bar, founded by his father Giuseppe in 1931. Here are Arrigo's suggestions: Antiche Carampane in San Polo and, on the lagoon Islands, La Locanda Cipriani in Torcello and Da Romano on Burano. The name of the first venue mentioned deserves a small digression. This is the neighborhood where the homes of Signor Rampani, called in dialect Ca' Rampani, in which the government decided to transfer the entire prostitute contingent of the city. The new residents soon began being called "carampane" and from then on the term became a synonym for worker of the oldest profession. To reach the restaurant you'll need to navigate calli and campielli behind the Rialto market and Campo San Polo, surely getting lost in the process. But the seafood menu, according to market availability, will more than make up for it. Locanda Cipriani, Arrigo's second tip, rhymes with luxe, tradition and jet set. This is another famous place launched by his father Giuseppe, and a breathtaking celebrity magnet. Da Romano is on the other hand a trattoria founded by one of the island's first restaurateurs, Romano Barbaro. Famous for the elegant rooms embellished with art gifted by the many artists that resided here and for the lagoon and seafood cuisine. Do not forego their Risotto di Go' fatto made with local ghiotto di laguna fish, which used to be easy to catch in the lagoon, but that has now become a rarity because of the scarcity of fishermen.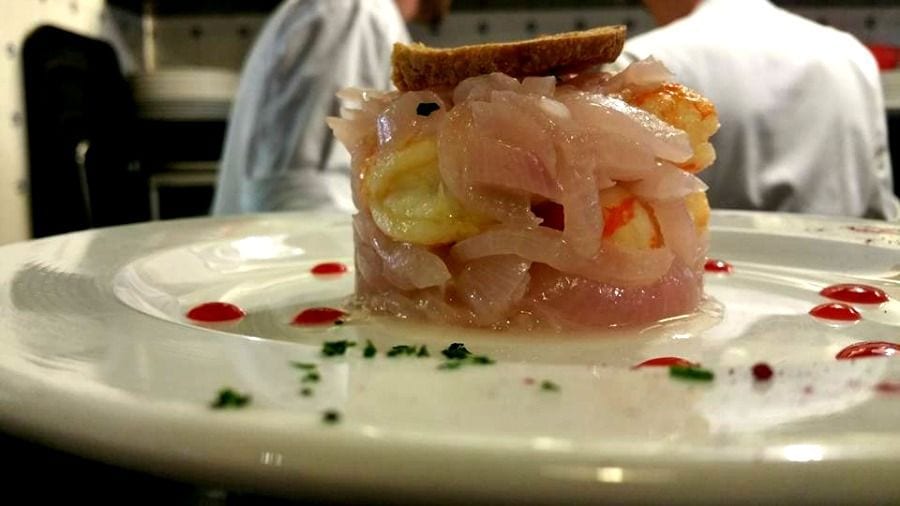 Maurizio Gasparello – Pantagruelica
Even the talent scout of taste artisans – who was recently granted permission to serve food and beverages in his location – suggests Antiche Carampane "for the homestyle cuisine and the impeccable service". His second suggested address is Al Covo "for the care Cesare (Benelli) puts in selecting ingredients". Must eat dish there? "My advice is letting the staff guide you through the decision making, since the menu varies according to market availability". Our advice is going for the Gran antipasto bollito di pesce, crostacei e molluschi nostrani. A mixed seafood extravaganza. Or if undecided, opt for the tasting menu. "My third tip is for wine lovers: Vini da Gigio. The owner is a true expert". And food is served here too. Examples? Pureed baccalà served with polenta, sarde in saor or scallops "alla veneziana". But don't forego the tagliolini with granseola crab, spaghetti with caparossoli (clams), grilled eel or Venice-style cuttlefish with polenta. There's also a handful of meat dishes, like the Venetian-style liver with onions and masorini (a duck) cooked alla buranella (Burano style).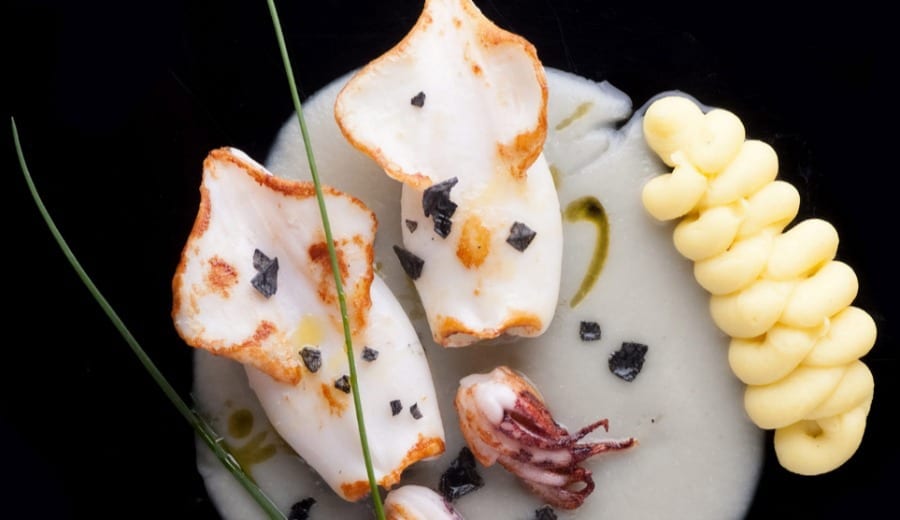 Lionello Cera - Antica Osteria da Cera
Al Covo is the first tip by chef Lionello, heart and soul of the grand family-run restaurant famiglia. "I adore dining at my friend Cesare's place, both for the hospitality and warm welcome, and for their traditional Venetian cuisine. At lunch time I instead go to Da Augusto, in Camponogara. Their whole grain brioches are stellar". For a fine gin & tonic Cera suggests visiting Mauro Lorenzon at La Mascareta. Even though the Venetian host is most known for his other passion: wine. La Mascareta is a quintessential wine aficionado hangout, with all manner of bottles, vintages, price tag and provenance. For a fine meal, you can also order their sarde in saor, creamed baccalà, fish stew and their tortellacci filled with branzino.
Giancarlo Perbellini – Dopolavoro del JW Marriott Venice Resort
We asked the great Verona chef for his three tips, since his recent set up on Isola delle Rose of the JW Marriott Venice Resort restaurant (where you should absolutely try the marinated amberjack). First place goes to Ai Rusteghi, "an extraordinary place in a quiet location, where quality wines, cheeses and charcuterie are served". For cicchetti Perbellini suggests Estro, managed by "a group of talented young professionals. Here you should order the selection of gourmet cicheti". This is in fact not your average Venetian bacaro. The interiors are modern, with minimalist decor, hand blown glass goblets and lamps forged ad hoc by master glass blowers. The wines poured will surprise you, and besides the snacks the evening service offers cooked plates, like spaghetti with stracciatella (the filling in burrata), mussels and lime, or branzino with the castraure, famous violet baby artichokes grown on the island of Sant'Erasmo (when in season). Their tramezzini sandwiches are equally enticing. Perbellini's last suggestion is L'Osteria Santa Marina, near Rialto. Bizarre how only a few steps away from the Canal Grande and the tourist hordes crowding the Rialto bridge there is a little corner of delight like this one. The lagoon and sea-based cuisine is genuine, sincere and straightforward. Book a table outdoors, overlooking campo di Santa Marina.
Franco Tonolo - Pasticceria Tonolo
The "superintendent of flavor" (his own words) who for the past 60 years has been at the helm of this small and historic bakery makes a premise: "Choosing three addresses is complicated. Firstly because many places change management every six months, therefore hardly authentic. Secondly, because this area caters mostly to students, so many venues are simply coffee bars". That said, Tonolo also picks the kids at Estro (mentioned above), in addition to Impronta Cafè, a place where customers can eat at any time of day, from early breakfast to midnight cocktails. At lunch time you can choose from the handsome menu: creamed baccalà with saor, polenta di Sponcio and lardo; red tuna tartare with crunchy vegetables and ginger burrata; assorted seafood; cuttlefish ink tagliolini neri with seafood and basil-almond pesto; orange flavored potato gnocchi with duck ragout and spinach frappè; fried calamari and shrimp with battered veggies, or the day's catch. Otherwise you can try their great club sandwiches. Tonolo's last suggestion is a grocery store: La Bottega del Gusto.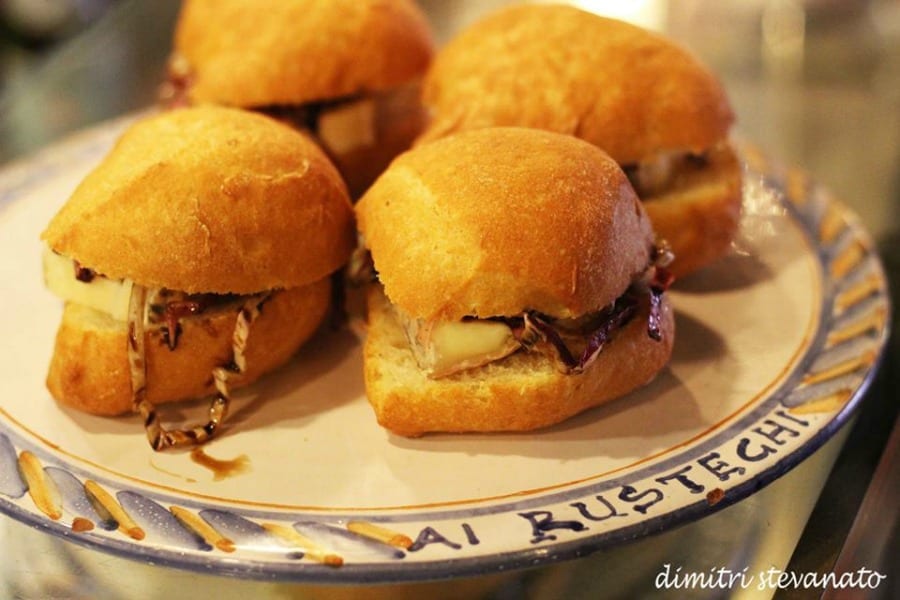 Davide Bisetto - Oro Restaurant at Hotel Cipriani alla Giudecca
"My first suggestion is absolutely Ai Rusteghi near Rialto. This is an enoteca with a staggering choice of wines, a rarity for Venice, and that serves very particular cicheti". Examples? Baccalà, eggs, Spanish anchovies; wild boar patè; ciauscolo from Visso (spreadable, spicy sausage); sopressata from Valli del Pasubio and Castelmagno; local salami and smoked trous fillet. This is also part of our selection. "I'm attracted to places where the chef or owners show attention to sourcing quality ingredients. That's why I also suggest Estro, where the Japanese-Florentine chef Masahiro Homma prepares innovative versions of Venetian cicheti snacks. My third suggestion is Riviera, in Dorsoduro, where the menu changes according to fish market availability". Located at Zattere, this place is the historic headquarters of Compagnia dei Luganegheri, and always offers fresh fish. On the menu: selection of raw and slightly marinaded fish; Seared scallops, potato cream, lemon-thyme; Tuna tataki, spadoni (mangetout) and faux celery honey; Buckwheat pappardelle with porcini and king prawns; Watermelon and tomato gazpacho, scallop and John Dory carpaccio or Venetian style squid with their own ink and white polenta. The menu also features a few meat dishes. Tip: book a table in the patio overlooking Canale della Giudecca, across from majestic Mulino Stucky.
Giovanni d'Este – Ai Rusteghi
Host Giovanni suggests Antica Carbonera "for its simple and quality offer. Plus the owner is a true pro, when I go I let him choose for me". Ample choice of meat and fish-based dishes, like lagoon schie (baby shrimp) with white polenta bianca, or ox carpaccio, or Torcello style fish stew, or Venetian-style pasta and bean soup. D'Este's second suggestion is Oro Restaurant of Hotel Cipriani alla Giudecca. Why? "because it's simply wonderful being pampered!". "For a walk down memory lane I suggest going to Harry's Bar instead. I used to go here for aperitivo with my parents as a child and I always love going back. We Venetians take huge pride in that place". It's true that the world has walked through those doors, from Hemingway and Capote, to Chirico to Callas, from Orson Welles to Naomi Campbell. Harry's Bar is not so much a place rather more of a legend. Founded by Giuseppe Cipriani, the place owes its name to the young American Harry Pickering who moved to Venice in the 1920s in the company of an Aunt in order to cure himself from alcoholism. Because of an argument, the Aunt left him in Venice with very little money. Cipriani at the time was the barman of the hotel where Pickering was lodging in, and out of generosity, lent the boy 10.000 lire for a flight back home, quite a sum for the time. A few years later, healed from his addiction, Harry returned to Venice, tracked down Cipriani and returned the entire sum adding on top 30.000 lire so he could open a business of his own. Cipriani decided to call that place "Harry's Bar" in his honor. It was 1931.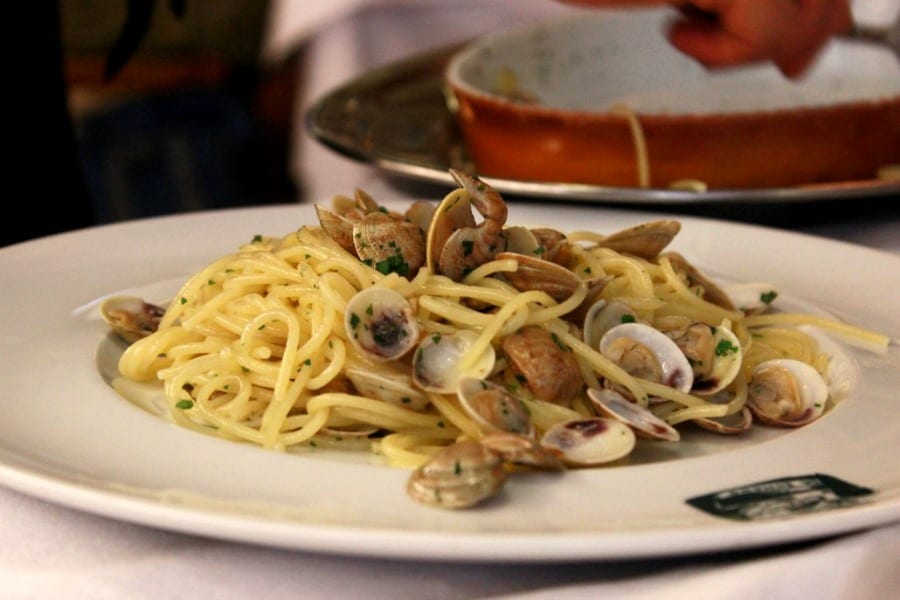 Massimiliano Alajmo – Quadri
It's been said that "You can't say you've been to Venice if you haven't been to Harry's Bar", Padua chef Alajmo agrees, suggesting Harry's Bar "because it's a legendary place. I go there for their Venetian-style liver and onions, and for the little artichokes, and to drink a fine martini". His second suggestion is Da Romano in Burano, "this is a classic Venetian trattoria ideal for trying granseola crab and seafood appetizers". Choice is wide: mantis shrimp, lagoon shrimp, garusoli (sea snails), whitebait, octopus, schie prawns, lobsters, sautéed mussels and clams. Plus canestrelli, grilled or baked scallops, sarde in saor, scampi, baccalà...Third suggestion? "La Mascareta, I go there during the weekend, also to hang out with the host Mauro Lorenzon".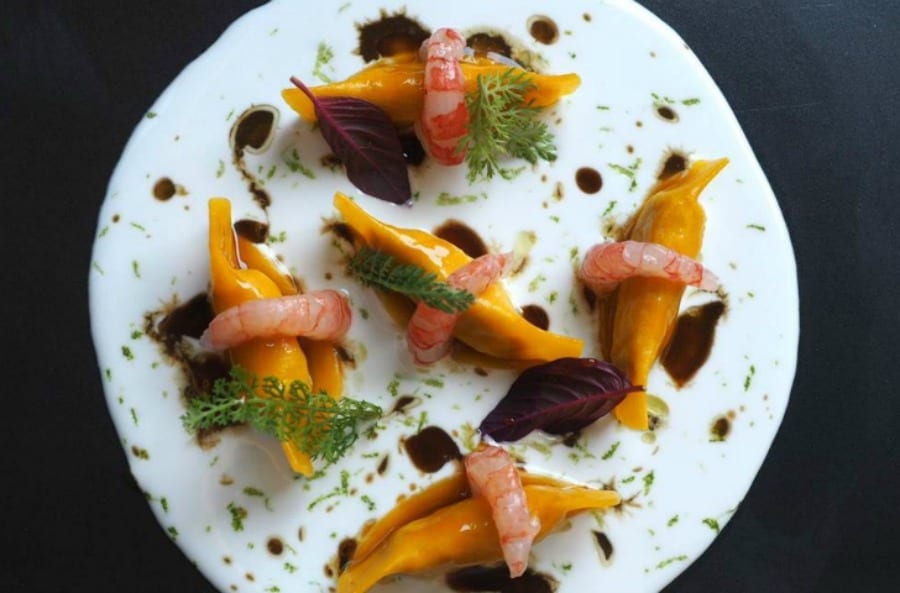 Irina Freguia - Vecio Fritolin
The host of Vecio Fritolin, which is a historic dining destination not far from the Rialto bridge, chooses Local and Il Ridotto. "These are places that focus all their efforts on quality ingredients, a rarity in Venice". The first has its mission in its name, fostering short supply chain, supporting small local producers and fish sourced at trusted local fisheries. Chef Matteo Tagliapietra is skilled and meticulous and his dishes span from liver and onions to scallops au gratin, by way of risotto di gò (made with a local fish broth) to spaghetti with garusoli sea snails. Equally trustworthy is Il Ridotto with its ample, well-stocked wine cellar that is in the capable hands of Bonaccorsi. This is a true wine institution in the Lagoon area. The food is also above par, both in classic recipes (like the tubetti gò fish and herb reduction or the black ink with sea urchin, candied bell pepper and cavolo nero), as in more modern creations, like the sardine sandwich with panzanella and vegetables with candied capers; or the scallops and carrots cooked with black smoked tea, or the lobster cooked with mixed red fruits. "For a fine breakfast, I go to Marchini Time, where choice is minimal but superb".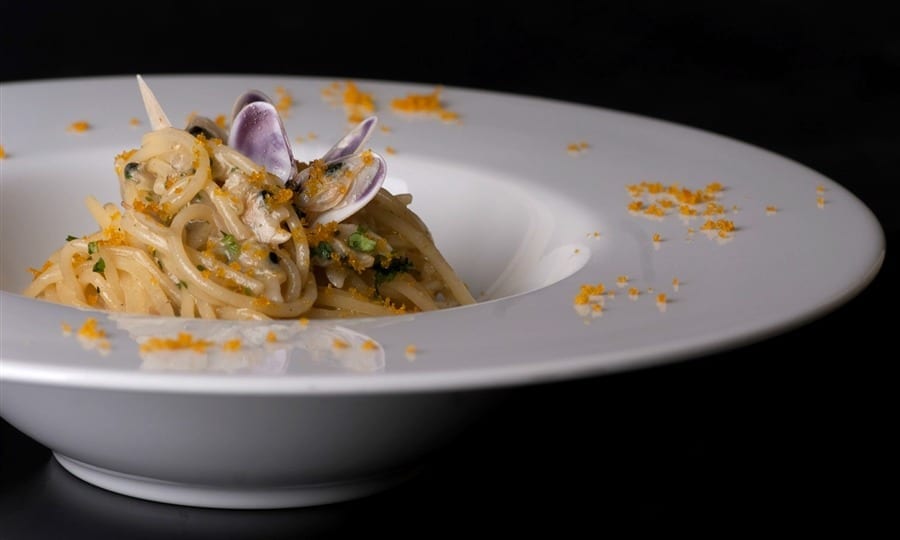 Matteo Tagliapietra – Local
Last but not least, the chef of Local suggests Wildner "for the quality of the food and the stunning location - which benefits from a fine view of the San Giorgio island - I suggest trying their classic bollito (assorted boiled meats)". The cuisine at Wildner is serious, attentive to Slow Food Presidia (like Fassona beef with capers; or the Biancoperla corn, to the mountain cured beef bresaola). There's also care in following the seasons, terrain and tradition. Try their Venetian-style liver and onions with grilled polenta, sardines and shrimp tails in saor, the creamed baccalà and the braised cuttlefish in black ink with peas. "An osteria I also truly appreciate is Dal Pupi in Cavallino-Treporti, located in the middle of the lagoon, and only reachable by boat. When in season, here you must try their spaghetti with masenete crustaceans". Matteo's final suggestion is a bacaro: "I often hang out at Risorto, they have a good selection of beers and gin, nice cicheti sand the owners are lovely".
ADDRESSES CHOSEN BY THE CHEFS
RESTAURANTS and TRATTORIE
Antiche Carampane | Venice | Rio Terà de le Carampane, 1911, Sestiere San Polo | tel. 041 524 0165 | www.antichecarampane.com
Antica Carbonera | Venice | calle Bembo, Sestiere di San Marco | tel. 041 5225479 | www.anticacarbonera.it
Locanda Cipriani | Torcello (VE) | Piazza Santa Fosca, 29 | tel. 041 730150 | www.locandacipriani.com
Al Covo | Venice | via Castello, 3968 | tel. 041 5223812 | www.ristorantealcovo.com
Local | Venice | Salizada dei Greci, 3303, Sestiere Castello | tel. 041 2411128 | www.ristorantelocal.com
Osteria Dal Pupi | Cavallino-Treporti (VE) | via Del Pra' 3 | tel. 041 5301989
Il Ridotto | Venice | Castello, 4509 | tel. 041 5208280 | www.ilridotto.com
Riviera | Venice | Zattere Dorsoduro, 1473 | tel. 041 5227621 | www.ristoranteriviera.it
Da Romano | Burano (VE) | via San Martino DX, 221 | tel. 041 730030 | www.daromano.it
Oro Restaurant at Hotel Cipriani alla Giudecca | Venice | Giudecca fondamenta San Giovanni, 10 | tel. 041 2408815 | www.hotelcipriani.com
L'Osteria di Santa Marina | Venice | campo Santa Marina, 5911, Sestiere Castello | tel. 041 5285239 | www.osteriadisantamarina.com
BACARI and ENOTECHE
La Mascareta | Venice | calle lunga Santa Maria Formosa, 5183, Sestiere Castello | tel. 041 5230744 | www.ostemaurolorenzon.it
Risorto | Venice | campo san provolo, 4700, Sestiere Castello | tel. 3403017047
Ai Rusteghi | Venice | San Marco 5513| tel. 3387606034 | www.osteriairusteghi.com
Vini da Gigio | Venice | Cannaregio, 3628a | tel. 041 5285140 | www.vinidagigio.com
Wildner | Venice | riva degli Schiavoni, 4161, Sestiere Castello | tel. 041 5227463 | www.hotelwildner.com
BARS and BAKERIES
Da Augusto | Camponogara (VE) | Piazza G. Mazzini, 8 | tel. 041 462291
Harry's Bar | Venice | Calle Vallaresso, 1323, Sestiere San Marco | tel. 041 5285777 | www.harrysbarvenezia.com
Impronta Cafè | Venice | Dorsoduro, 3815 | tel.041 2750386 | www.improntacafevenice.com
Marchini Time | Venice | | Campo S. Luca, 4598 | tel. 041 2413087
FOOD SHOPS
La Bottega del Gusto | Venice | calle S. Pantalon Dorsoduro, 3762 | tel. 041 5242892
OUR LIST
Antica Osteria da Cera | Campagna Lupia (VE) | via Marghera, 24 | tel. 041 5185009 | www.osteriacera.it
Dopolavoro del JW Marriott Venice Resort | Venice | Isola delle Rose, Laguna di San Marco | tel. 041 8521300 | www.jwvenice.com
Harry's Bar | Venice | Calle Vallaresso, 1323, Sestiere San Marco | tel. 041 5285777 | www.harrysbarvenezia.com
Local | Venice | Salizada dei Greci, 3303, Sestiere Castello | tel. 041 2411128 | www.ristorantelocal.com/it/home
Oro Restaurant at Hotel Cipriani alla Giudecca | Venice | fondamenta San Giovanni, 10 | tel. 041 2408815 | www.hotelcipriani.com
Pantagruelica | Venice | Dorsoduro, 2844 | tel. 041 5236766
Quadri | Venice | Piazza San Marco, 121 | tel. 041 5222105 | www.alajmo.it
Ai Rusteghi | Venice | San Marco 5513| tel. 3387606034 | www.osteriairusteghi.com
Pasticceria Tonolo | Venice | Dorsoduro, 3764 | tel. 041 5237209 | www.facebook.com/PasticceriaTonolo
Vecio Fritolin | Venice | calle della Regina, 2262, Sestiere Santa Croce | tel. 041 5222881 | www.veciofritolin.it
by Annalisa Zordan
translated by Eleonora Baldwin
Guide to city restaurants according to the top chefs: