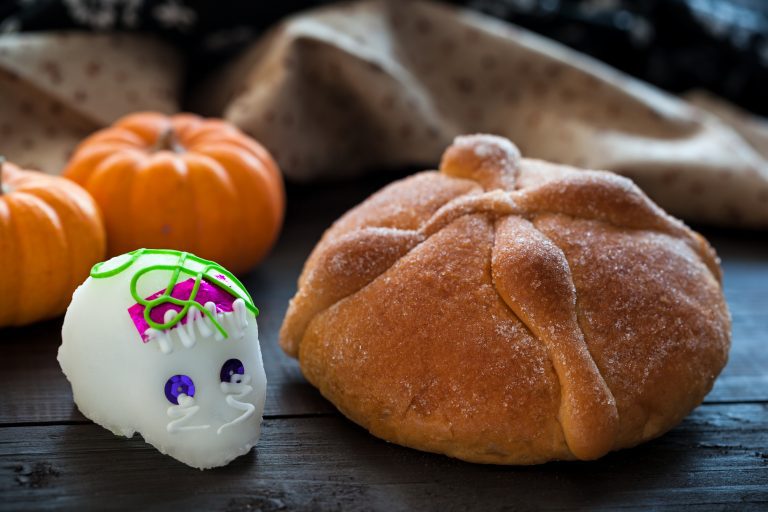 A colourful, music-filled festival is held in Mexico every 2 November to remember the dead. With offerings, sweets and laid tables, food plays a prominent role.
Día de los Muertos, the Day of the Dead in Mexico
Lush ofrendas laden with symbolic objects, the bright colours of the tagetes erecta, the orange flowers that decorate and perfume gravestones, altars and entire cities filled with songs, dances, popular music, food to share and to leave to those who have passed and, on this occasion, return to visit their loved ones. This is the atmosphere from 28 October to 2 November in Mexico, when the cities come alive with colour and folklore, unleashing ancient rituals and ceremonies that made Día de los Muertos a Unesco Intangible Cultural Heritage Site in 2008. A festival of the dead that has no equal in the world and that in 2017 reached the general public thanks to the Pixar masterpiece directed by Lee Unkrich and Adrian Molina, Coco, that quickly climbed the highest-grossing animated film chart (three years earlier Jorge Gutierrez tried with "The Book of Life", yet without great success).

Día de los Muertos, death as rebirth
Instead, the Pixar film moved viewers of all ages with the sweet story of Miguel and his family. Famous is one of the last scenes between the child and his grandmother Coco, to the tune of "Remember Me", that carries the meaning of the entire celebration. It is music, the one banned by Miguel's family, that traces the path of each character in a time suspended between life and death; a story set in the earthly world and in the afterlife, where the living and the dead coexist to the pulsating rhythm of Mexican songs. "Remember me", so that memory will keep alive those who have passed: this is Día de los Muertos' underlying philosophy, a festival with pre-Columbian roots that focuses on the relationship with death, not intended as the end of life, but rather as a continuation and rebirth. A new phase to be experienced in a parallel world, returning to earth to visit the loved ones once a year and to celebrate the reunion by eating and singing together.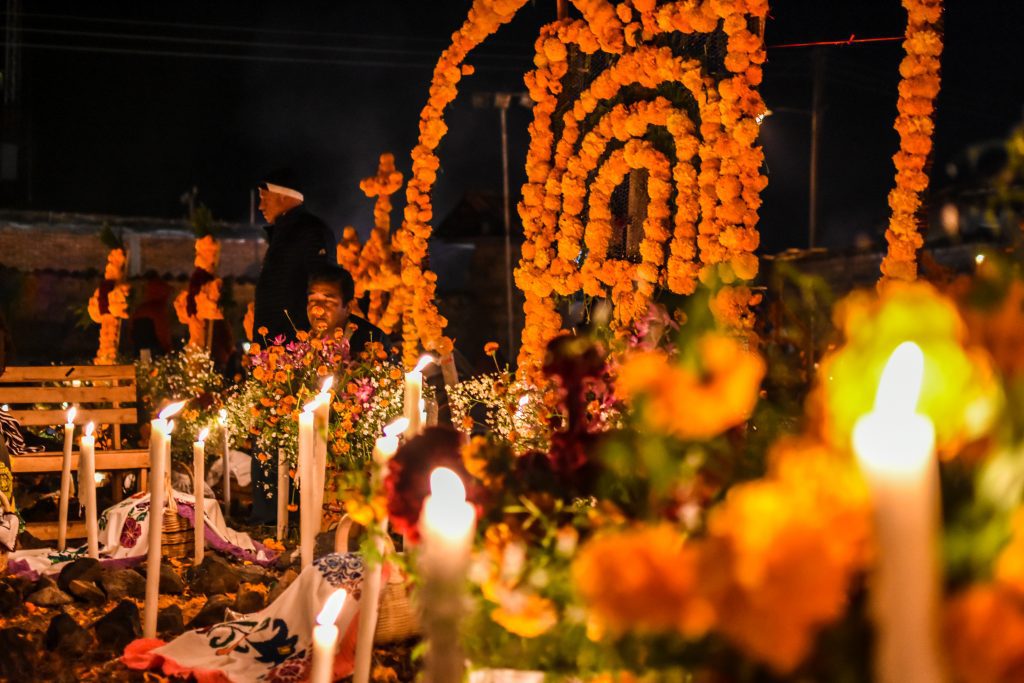 Ofrendas and other typical elements
On feast days, tables are laden with traditional sweet and savoury dishes, wine and hot drinks, but the food is first and foremost placed on the ofrendas, the altars dedicated to the dead where friends and family leave their mementos, significant objects and, above all, photographs to remember them and keep their memory alive. There are also the tagetes erecta flowers with bright orange petals that show the dead their way home, candles as a symbol of connection with the afterlife, water to quench their thirst and to remind them of the cenotes, pits with accessible groundwater that for Mayas and Aztecs represented the gateway to the world of the dead. Then there is the papel picado, coloured paper decorated with allegorical and spiritual motifs, and many perfumes to purify the soul such as Copal, a plant resin with an intense, pungent smell to help the dead find their way. And, of course, food: calavera and pan de muertos, shared by the whole family.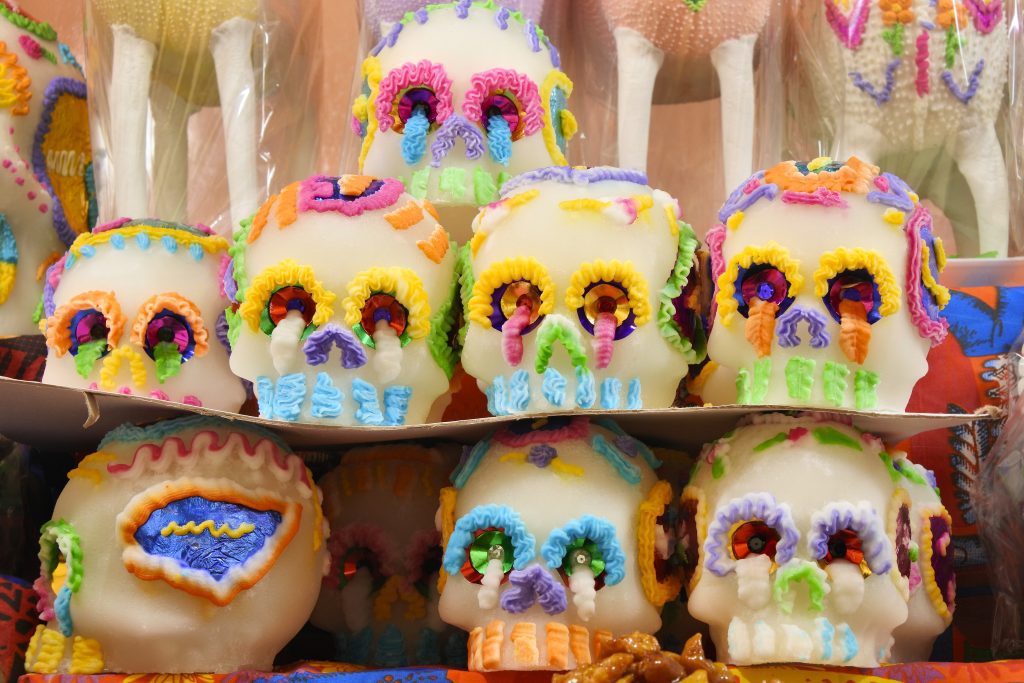 Calavera and pan de muertos
Among the most representative dishes, the lion's share is taken up by sugar skulls, which children used to buy after raising money from house to house and to place them on altars and graves. The word calavera means 'skeleton' and refers to the artistic representations of skulls common in Mexico, such as 'La Calavera Catrina', an etching by illustrator José Guadalupe Posada. Decorated with coloured icing, sprinkles or even chocolate, calaveras are often personalised with names of the children or deceased to whom they are dedicated. Another traditional offering is pan de muertos, a sweet bread covered with icing, or sesame seeds, and decorated with bone-shaped stripes as a tribute to the dead. Its main ingredients are flour, butter, sugar, milk and flavourings such as orange peel or aniseed, but, as always, the recipe varies depending on the area and family traditions.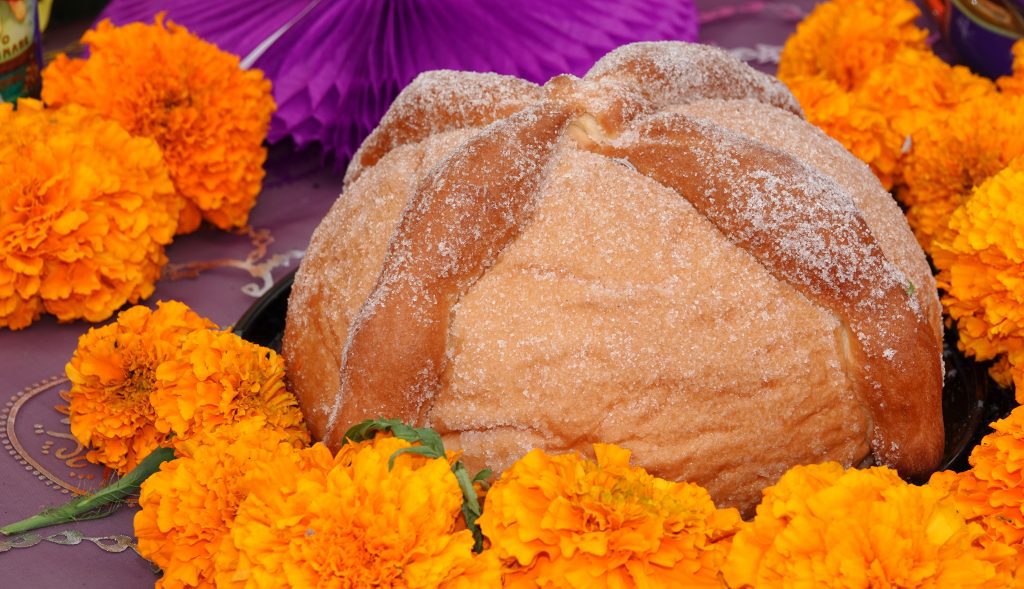 Typical Día de los Muertos dishes
In addition to the festival's traditional products, Mexican tables offer all the typical seasonal dishes to share with family and friends. For example, the calabaza en tacha is a candied pumpkin, or empanaditas, dumplings prepared with thin dough wrappers usually flavoured with aniseed and filled with different ingredients (mostly simmered and spiced pumpkin). And let's not forget the tamales: corn husk rolls stuffed with minced meat and corn, which date back to Aztec and Mayan times, when hunters needed a hearty meal easy to carry, to be paired with the atole, a hot drink made from cornmeal, water or milk, or with its chocolate version champurrado. For dessert? Arroz con leche, sweet rice pudding cooked with milk and flavoured with cinnamon.
by Michela Becchi