The creativity behind cardboard
Chairs and tables are only a few of the practical, beautiful and imaginative works made using only cardboard. Companies, artists and designers have shown unlimited creativity in turning out new, sturdy and eco-sustainable shapes. Italy is proving to be a nation brimming with paper art ideas, with promoters of unique and made-to-order projects, all fully designed with eco-sustainability in mind.
Cardboard 55100 is the evolution of the Città Sottile project, a workshop in the city of Lucca dedicated to building pieces for temporary installations. Well-known architects and designers, Italian and not, chosen according to their experience working with unconventional materials, collaborate with 55100. Among the many ongoing projects is Cantina Winery, a wine storage unit in triple wall corrugated cardboard, constructed with four sheets of carton board and three sheets of corrugated board, laser cut and hand-glued, with a painted wood base. The unit can hold almost one hundred and fifty bottles of wine and is suitable for adorning private homes, stores and wine bars that are aiming for a minimalist and modern look. Cardboard 55100 also provides set ups for fairs and public events. The furnishings of the Umbria pavilion in Vinitaly in Verona (in April, 2016) included benches and tasting tables for every winery.
Duna Design in Bitonto, near Bari, is the brain-child of Angelo Marzella, architect, and Pierfranco Marengo, engineer. They wanted to lend functionality and style to this so-called 'poor' material. Tucano is a table and container designed for food and beverage, entirely made of corrugated three-dimensional cardboard. It is fashioned from 120 carton boards shaped to suggest desert dunes. In the center of the table are two indentations that sustain the structure and can hold wine bottles for a pleasant meal.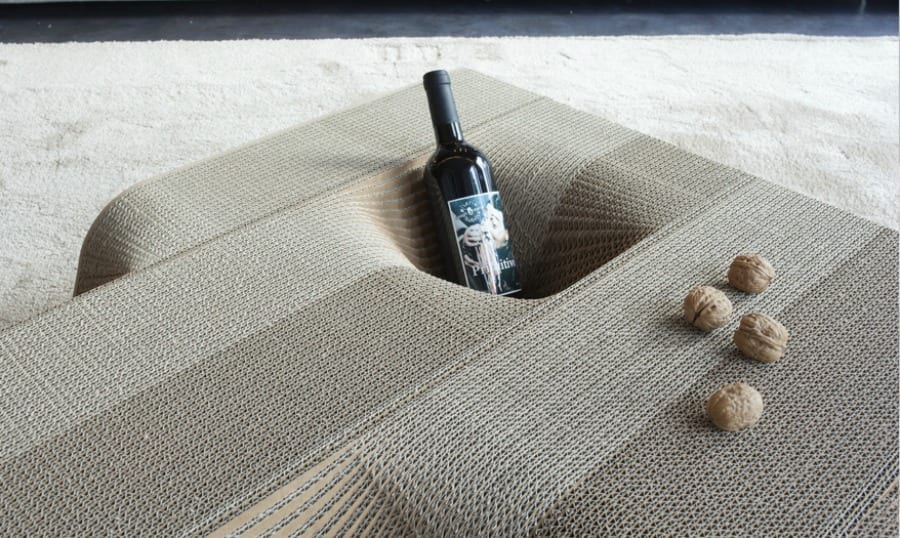 The same line of thought powers Marcus Homatch in his Carton Factory. This young designer of Monteriggioni near Siena began to create furniture when a five-hundred-year-old company asked him to find a use for discarded cartons. Benches, tables, vases and strong bookshelves are only a few of the items that this artisanal workshop has turned out. Corrugated carton board is glued in sheets, and a layer of external wood gives stability to chairs and tables.
Many young, original and innovative ideas have turned humble cardboard into strong, stable furniture and decor items.