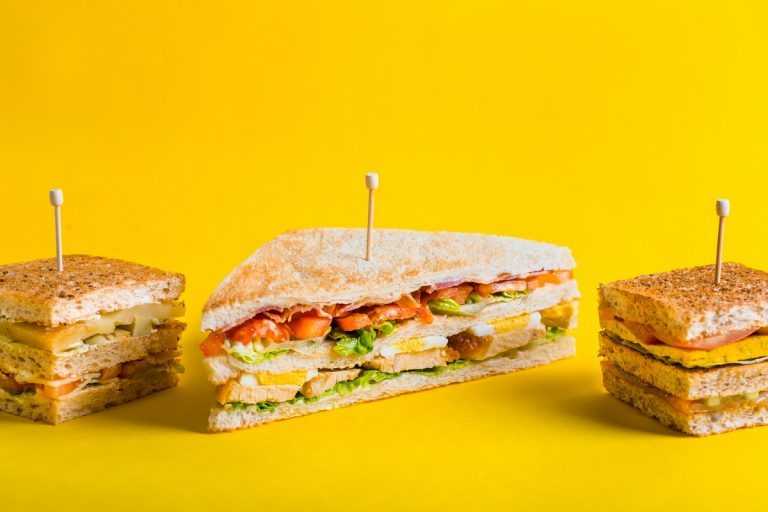 We asked 50 chefs, all Italian and busy working both at home and abroad, what they preferred biting once they had closed their kitchens: the answer is club sandwich.
What is a chef's favourite dish? The obvious answer is the work of their star studded colleagues, to be enjoyed and studied with the eyes, the nose and the palate. But no. The favourite dish, believe it or not, is a sandwich. Talk opf this was in the air, in free-wheeling talks at the end of the service, but we wanted to touch down on the phenomenon. So we asked 50 chefs, all Italian and busy working both at home and abroad, what they preferred biting on in the night-time relaxation of post-dinner service, once they had closed their kitchens. The verdict was that 80% of them confirmed the feeling we had, certainly with some distinctions and reservations. Specifically, the club sandwich, despite the fact that during the working hours this toasted bread construction is not totally well seen by the protagonists of our investigation.
Damned club sandwich
We've all been there. It's ten pm, you're in a big hotel, tomorrow you have an important meeting in the early morning and you don't really want to wander through a city you don't know, jet lagged and hungry; at this point all you have to do is order a nice club sandwich, maybe even have it delivered directly to your room. Associating club sandwich and hotel is immediate, but why? What is behind the scenes of this multi-layered delicious toast? "For me this trend is a nuisance – says Martino Ruggeri, deputy head chef since 2014 at renowned master of contemporary French catering, Yannick Allenò, at Pavillon Ledoyen, and just back from the Bocuse world final d'Or in Lyon – because the customer usually eats it either at night or in the afternoon, when the guard is on duty (the guard cook who supervises the kitchen in moments when the kitchen brigade is resting and is in charge of long preparations and room service, ed.), which means that if the guard receives many club sandwich orders, he couldn't deal with mise en place. Instead, in case the sandwich is ordered during meal times, the preparation is up to the garde-manger, who follows all the cold preparations and will certainly not be happy to see an order for a club sandwich!". "In hotel kitchens––confesses Eugenio Boer (Restaurant Bu:r in Milan)––making club sandwiches is a kind of punishment: if you misbehave youìre stuck making them, and you commit yourself a lot because it represents an opportunity for redemption". The election of a fetish dish, however, has a thousand motivations, some hidden and unthinkable like this: apparently chefs continually order it because it reminds them of the times of their apprenticeship, of when they were scolded for a delay or an error and were put to keep watch in the kitchen… thus punished into making club sandwiches with the commitment to make them as good as possible to 'expiate' the guilt. In the minds of the cooks, therefore, the message is clear: those who prepare the club sandwich will certainly do their best to do it. It doesn't matter if the suggestion matches reality: the allure is there and remains.
Global icon, yet chic
"It's a dish that guests can always order––confirms Francesco Apreda, chef of Imàgo restaurant at the Hotel Hassler in Rome––from late morning to late night, and it's a business card capable of affecting the reputation of the hotel restaurant, so you can't entrust the preparation to anyone in the kitchen. On the other hand it represents the ABC in the kitchen, like the omelette or Caesar salad, in short, like many global dishes". Speaking of global dishes, we can say that the club sandwich was an icon of globalized eating even before the Big Mac took hold: if you think about it, the standard Club sandwich recipe has hardly ever undergone variations, there is no noteworthy Italian, French or Japanese version; the only reinterpretations are globalized anyhow. And yet, despite the globalized/globalization concepts having a mainly popular value, our protagonist continues to preserve an aristocratic aura: functional and comfortable, yet it transports you with your mind directly to a five-star hotel with an allure of Grand Budapest Hotel… Certainly its origins, appearing for the first time at the end of the 19th century at the famous Saratoga Club House in New York, an exclusive gambling house for men only with the need to quench their hunger by eating a quick and substantial meal without getting up from the gaming tables. Hence the invention of the three-layer sandwich that will soon become part of the luxury hotel menus, and that in turn will contribute to its reputation as a chic sandwich.
Is it truly a chef's favourite?
"In general, everything that can be eaten standing or at a bar counter, with your hands and preferably at absurd times, can be considered a chef's favourite snack!––exclaims Marcello Trentini of Magorabin in Turin––For obvious reasons of time and life lived. Of course, the club sandwich has a plus: among the various preparations of hand food it is the one that comes closest to a gourmet experience". Which among other things is connected to the pleasant feeling of pause. "It's a snack that has always attracted us cooks––adds Gaetano Trovato––because it's available at all hours, connected to a respite from work and is comfort food". Giuseppe Iannotti agrees (Kresios, Telese Terme) who elects it to comfort food par excellence, "almost a post-service ritual", so much so that he introduced it in his menu, with the whim that distinguishes him: his is made with sauteed frogs, parsley pesto, garlic, walnuts and bitter almonds, boiled egg, anchovies and lemon mayonnaise. In short, a fine dining plate in the form of a triangle. But it is also a delicious toast that you often find at relatively reasonable prices (unless you are at the Hullett House Hotel in Hong Kong!), underlines Simone Tondo (Racines, Paris): "The best club sandwich? I tasted it at Le Fumoir in Paris: consider that chef Henrik Andersson worked for Petter Nilsson, one of my fave chefs. He toasts the bread, makes homemade mayonnaise, puts the chicken in strips accompanied by crispy bacon, salad, tomato and onion, and serves it all with homemade carrot and cucumber pickles. This club sandwich can be requested all day and costs 12 euros". Happiness in a triangle, within wallet reach and compatible with chef working hours. Here is the secret of the club sandwich, so hated by those who prepare it as it is loved by those who eat it. «You know how long it takes to prepare it, yet you order it. It is the law of retaliation», says Boer. In the end we probably return to the roots of taste, to the primordial gluttony that attracts everyone, to the call of the forbidden (either because it's too caloric, or because it's too global), the pleasure of transgression, on the one hand, and the recognizable, on the other. All, just like in a club sandwich, enclosed in a single and now very traditional toast. A game, in short, that combines playful pleasure with relaxation. That's something, alright!
by Annalisa Zordan
photographs by Alberto Blasetti