At pasticceria Veneto Carnevale is celebrated with fritters. Iginio Massari offers a variety of fried treats in addition to classic frappe (aka chiacchiere or lattughe). Among the most popular are the soft, fluffy doughs, voluptuously filled with pastry cream, chocolate ganache, zabaione or ricotta. With a total of 7-8 different types showcased on the bakery's counter.
Traditional Carnevale
Does Carnevale spell innovation as far as products go? "Not really" the star baker replies "the choice is for the most part Carnevale classics. Some clients may be curious, but not enough to purposely develop new pastries". It's certainly happened that the maestro has had to create ad hoc products, "but for this occasion there's no interest in doing so". The typical pastries of Carnevale are enough, and forcing new products would mean insisting. Not always a success story, "When we start making Carnevale sweets we also start the Easter egg production". It's therefore a moment of intense work, considering also that for the most part the Carnevale treats are fried. The reason being, as explained by Massari: "Carnevale is the period that precedes Lent, it was the time to salute meat before the 40-day fast. Rich and opulent fritters also made up for the rigorous regiment to follow" i.e. bringing joy and fats before the period of abstinence. Tradition has only slightly changed over the centuries: "The names and shapes change, but the base dough is always the same" he explains. Everywhere in Europe exist fried and crispy sweets – some crisper like frappe – others softer, often added with sultanas and cream fillings, like zeppole. Categorically fried, or also baked? On this the maestro is strict: "a non-fried fritter is like a woman made of plastic," he chuckles.
Secrets to perfect frying
Frying requires skill and the bakers' hand do make the difference. "Quick cooking time and attention are of paramount importance" he explains. A trick he shares, in addition to reminding us to fry at high temperatures depending on the different oils' smoke point and changing the oil if it darkens too much, is "it's good if the vapour push is strong and there's bubbling, otherwise if the vapour push is slow the fritter will be drenched with oil" a keen eye and fine quality ingredients are also important. "Frying is not easy" he adds. Keep a close watch on temperatures, fry in small batches and small bits in order to quickly form a crust and lesser chance of drenching your fritters in oil. Once fried, the pastries need to be drained, blotted and dried at room temperature.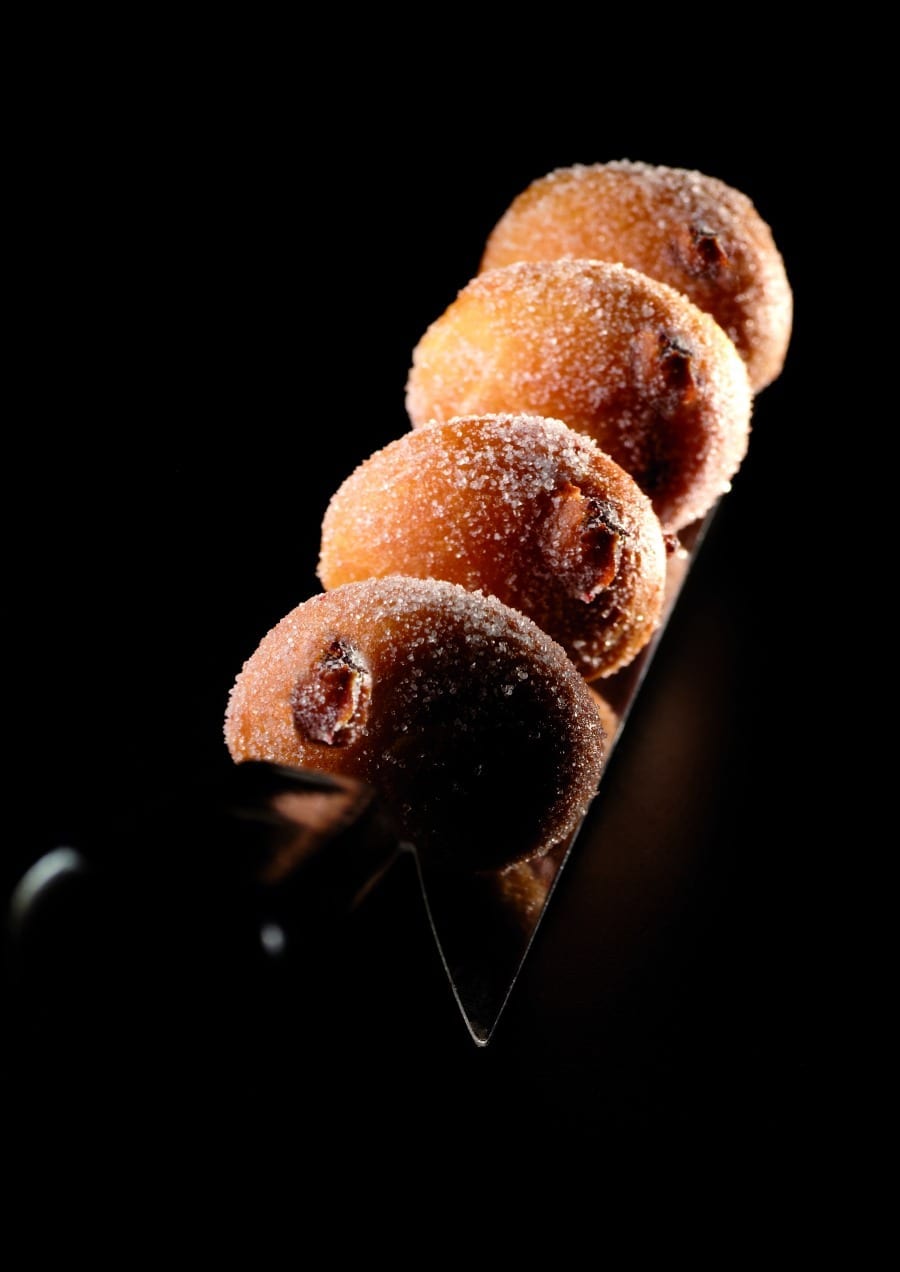 Pierrot fritters
Pierrot Fritters recipe
Ingredients
For the mashed potatoes
280 g. boiled and riced potatoes
200 g. milk
30 g. butter
5 g. salt
For the biga – pre-fermented starter
20 g. "00" flour
30 g. fresh yeast
30 g. milk, heated at 30 °C
4 g. sugar
For the dough
mashed potatoes
biga
400 g. flour
80 g. sugar
50 g. butter
Zest from 1 lemon
200 g. eggs
130 g. sultanas, soaked in good quality Marsala wine
Method
Cook the boiled and riced potatoes with milk, butter and salt, stirring constantly to obtain a fluffy mash. Allow to cool, draining away any moisture.
Mix all the ingredients for the biga (pre-fermented starter) for 1 minute using an immersion blender.
Form a mass and let it rise to triple its volume. Knead the cooled mashed potatoes with the flour and the risen biga, sugar, butter, lemon zest and half the eggs at half speed in the mixer adding the rest of the eggs one by one. When the dough will come away from the sides of the bowl, add the sultanas.
Mix at low speed to avoid ripping the sultanas, blending well. Allow the dough to double in volume and then using a piping bag fitted with a regular tip, cut off regular shaped balls of approximately 10 g each with a knife. Fry in sunflower oil at 176° C. Dust with  confectioner's sugar while still warm.
Pasticceria Veneto | Brescia | Via Salvo D' Acquisto, 8 | tel. 030.392586 – 030.392586 | www.iginiomassari.it/
by Antonella De Santis