The queen of the Dolomites
If the Dolomite peaks are among Italy's most fascinating, Cortina d'Ampezzo is surely the queen among them. Cortina d'Ampezzo is located in the Valle del Boite valley between Cadore to the south, Val Pusteria to the north, Val d'Ansiei to the east and Alto Agordino to the west.
A town which transforms with the first snowfall, and boasting 120 km of ski slopes, Cortina d'Ampezzo is hands down heaven for winter sports lovers. In addition to this, Cortina d'Ampezzo offers more: breathtaking panoramas in every season, historically important churches and monuments, art and outdoor sports of all kinds, plus a fair amount of high society sophistication. Above all, an interesting food scene.

What to see in Cortina
At the heart of the Conca d'Ampezzo basin, the queen of the Dolomites is the largest and most well-known of the 18 municipalities that make up Ladinia, an Alpine region within the provinces of Belluno, Bolzano and Trento. The language spoken here is still Ladino, and Romance language whose deep-seated roots plunge in the Central European culture. The Conca ampezzana is hence officially bi-lingual: all signage is in both Italian and Ladino.
Strolling among its cobbled streets the town presents an animated historic centre with many points of interest. Starting from central piazzetta San Francesco is the Basilica dei Santi Filippo e Giacomo, patron Saints of the town. The cathedral was built between 1769 and 1775 on the site where two churches had been previously built in the XIII and XVI centuries. Adjacent is the actual symbol of the town, the 230-foot bell tower. Not far is also Ciaṣa de ra regoles (the House of Rules) that used to be the local town hall and that now houses modern art museum Mario Rimoldi, which is one of the three Regole d'Ampezzo museums with Museo paleontologico Rinaldo Zardini and Museo etnografico Regole d'Ampezzo.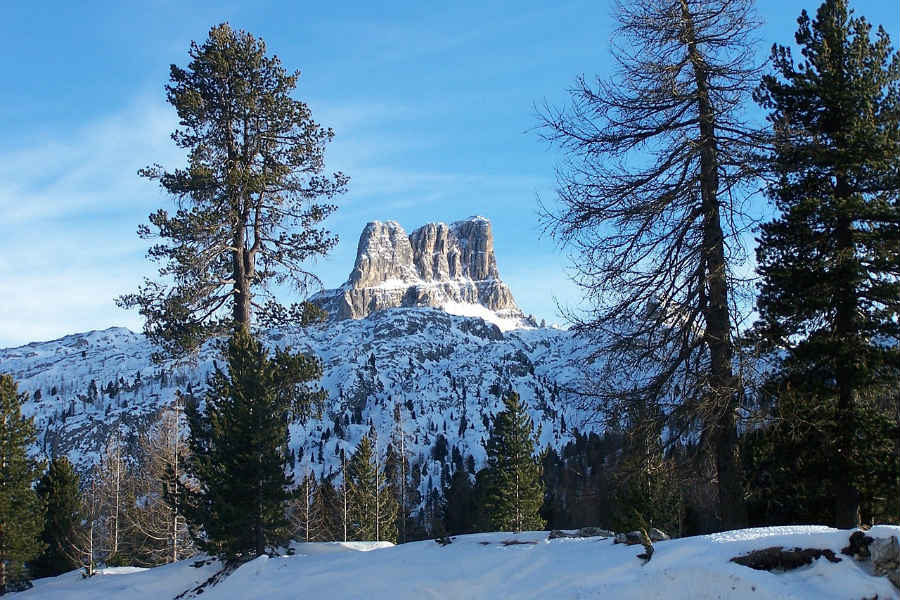 Continuing along the central streets is the pulsating heart of the shopping district, home to several art galleries too. During summer Cortina becomes an art gallery hub with participants flowing in from all parts of Italy. Among the most renowned names are Contini from Venice, Farsetti prom Prato, Proietti from Spello. If in Cortina during the heat of summer do consider making a stop at Lake Misurina, a splendid natural lake at 1754 metre elevation, located in the Auronzo area.
The Cortina ski slopes
Cortina is part of the greater Dolomiti Superski circuit and offers several unified slopes in the Tofane, Faloria-Cristallo-Mietres andl Lagazuoi-5 Torri areas. Paths are connected with two ski lift systems, the 4-seater chairlift Piè Tofana and the 3-seater chairlift Pomedes. The most famous slope is Olympia delle Tofane, famous venue for important downhill ski World Cup.
For cross-country skiing there are 50 km worth of trails with various paths divided according to difficulty in Fiames and, in particular, the path that runs along the old railway line, the so-called Dolomite Bikepath, or Proménade.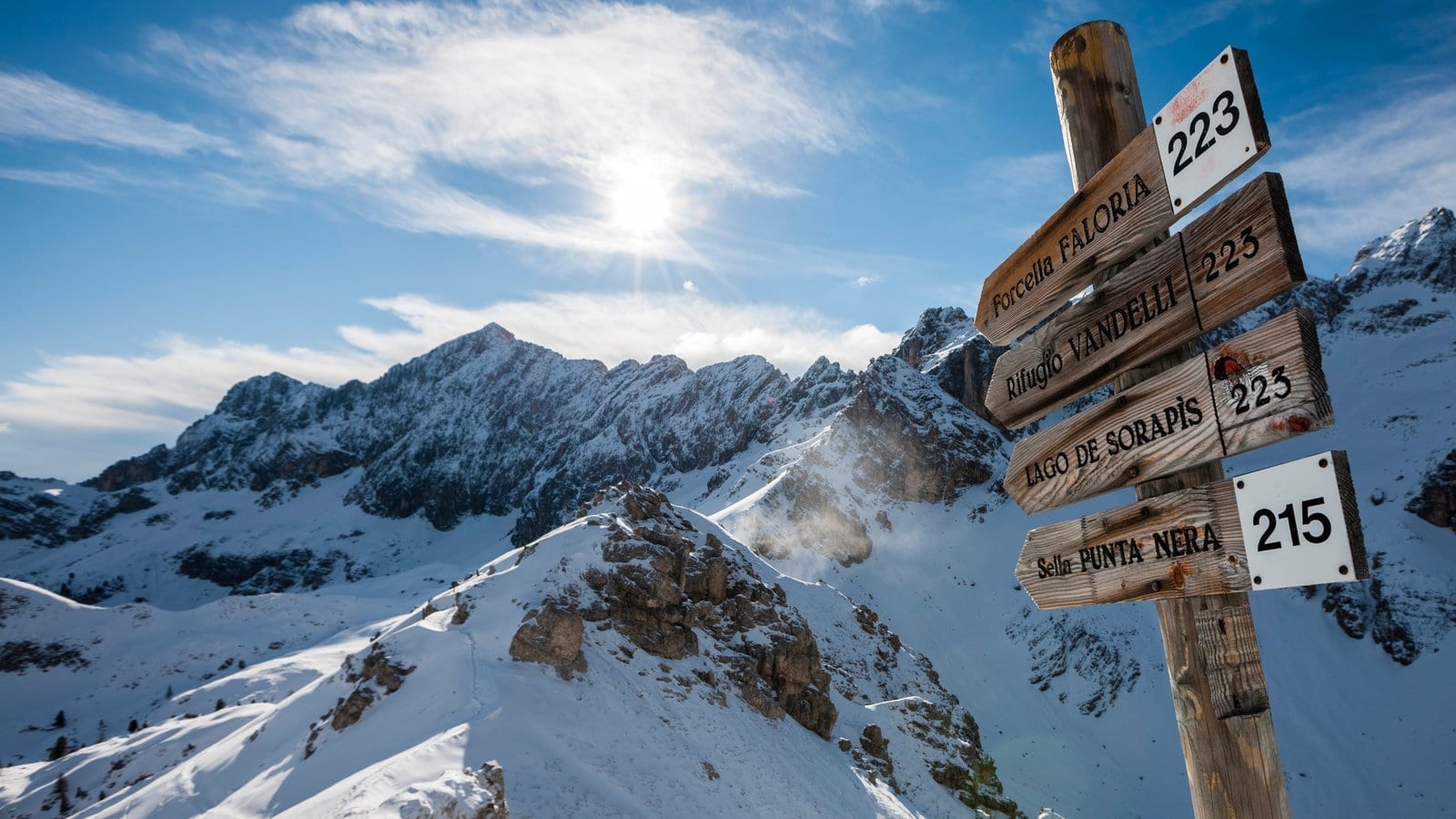 What to eat in Cortina
The cuisine of this area is one influenced by the nearby borders: Tyrole and Apsburg cookery blend with the locat Veneto tradition creating a unique style. Many typical dishes carry original German names as a sign of the tight bond the locals have in regards to their past. Among the most famous dishes is chenedi, a local spinoff of Tyrole canederli, or knodel, breadcrumb dumplings filled with speck, lard, spinach and cheese that come served either swimming in hot broth, or dressed with brown butter. Of clear German and Central European origin is pestariei: pieces of flour and water dough that are cooked in salted milk: this was a typical local breakfast. From the Veneto region comes the tradition of eating polenta,rise e bise (risotto with peas),faariesa, which is a soup of fava beans and barley; pastìn, which is a dumpling made with coarsely ground salami, garlic and spices, which is then grilled.
Other local specialties are Gulasch süppe, a meat entree whose origini s clearly Hungarian and that's very popular in the area; and bold and full-bodied meat dishes, like game casserole served with cranberry jams, braised pork chops, plus grostl, and Austrian potato and meat pie, in addition to cured meats like speck, soppresse, ossocolli and avrious salamis. A typical side dish served in Cortina is patate ampezzane, cubed potatoes that are boiled and then sauteed with onion and speck.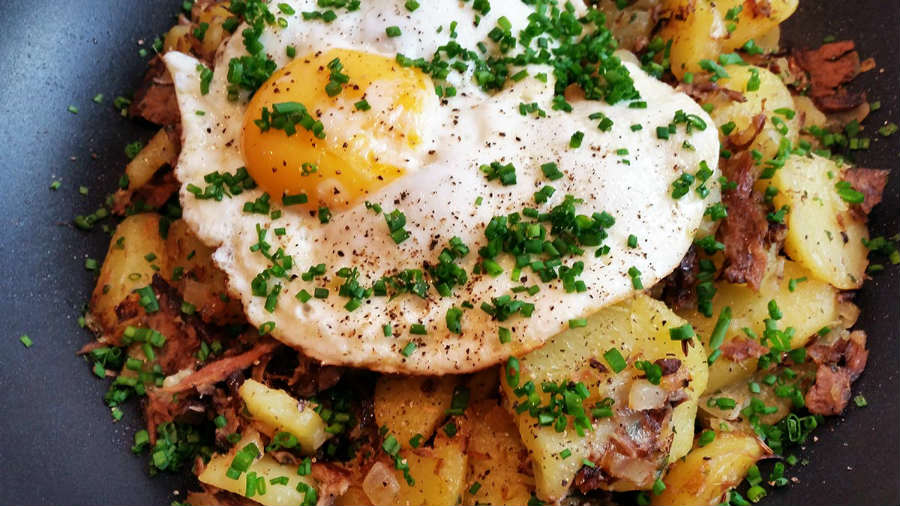 Cortina boasts an ancient and rich creamery tradition with an ample production of high altitude pasture cheeses which are generally not very aged. Among the most loved are Contrin, Fodòm, Renàz, Schiz, Tosela, Zumelle and Zigher.
As far as desserts, you'll be spoiled for choice in Cortina: apfelstrudel, classic apple strudel,furtaies, which are fried crostoli pastries, nighele and krapfen filled with pastry cream or apricot jam, ricotta cakes and the classic Sacher torte, layered with apricot jam.
TIPS EXTRACTED FROM RISTORANTI D'ITALIA 2017 GUIDE
Aga - Hotel Villa Trieste (San Vito di Cadore)
Featuring what is born and raised in the mountains is the goal of zero vertical kilometre philosophy applied in the kitchen, as defined by Oliver Piras and Alessandra del Favero. Aga of hotel Villa Trieste is one of the newer dining destinations for Italian gourmands. The cuisine style is modern and can be savoured thanks to the eclectic tasting menu, which can be vegetarian. Compact yet well structured wine list. Impeccable service.
Al capriolo (Vodo Cadore)
The Gregorio family has been at the helm of this restaurant for the past 200 years, managed with impeccable competence. The ambiance is cosy furnished with classic pieces, in striking contrast with the modern kitchen. With a measured amount of traditional dishes, it surprises patrons with modern accents. The tasting menu is articulate and can be tweaked to suit any request. Next door to the restaurant is Il capriolino, an informal osteria with local fare.
Baita Fraina (Cortina d'Ampezzo)
Comfortable and elegant, this restaurant puts customer care at the heart of its offer. There's a specially designed space for children. The Menardi family cooking leans on local specialties and time-honoured recipes, with an added touch of finesse and whim in each dish. The wine list is well designed; the sweet offer features excellent homemade desserts. Reservations necessary.
Baita Piè Tofana (Cortina d'Ampezzo)
Only a few miles from the centre of Cortina is a lodge with views of the Tofana chairlifts. Eddy and Wolly Calzà offer a cuisine based on local ingredients that are never predictable. The wine offer is ample and includes regional, Italian and French labels. Service, one of the restaurant's strong points, is impeccable. The staff is always available to oblige any request.
Chalet Amadeus (Cortina d'Ampezzo)
In the kitchen of the new restaurant owned by the Moretti family is Tuscan chef Nicola Fedeli. His menu employs local products with a touch of creative innovation. The tasting menu and desserts are equally elegant and worthy. The wine list is evolving.
TIPS EXTRACTED FROM THE FOODIES 2016 GUIDE
Boton d'oro (Auronzo di Cadore)
Forerunner of modern foodie hubs, the place houses a coffee shop, deli, wine bar and restaurant. Strategically located the room has sweeping views on Cadore. Excellent homemade cheeses and cured meats all sourced from the family farm. The cuisine is flavourful and features local specialties. Need an optician? It's there too.
Rifugio Monte Agudo (Auronzo di Cadore)
At 1573 metre elevation is an excellent dining destination with local specialties and killer views. The dishes are homespun but impeccably executed; ingredients are local and the welcome is warm and friendly. Rooms available in the mountain lodge. Interesting wine list, graced with several important regional labels.
Ski bar (Pieve di Cadore)
Those seeking to delve in the area's local dishes, in particular game should keep this place in mind. Ski bar in Pieve di Cadore is a cosy and informal eatery serving well-executed plates made with mostly local ingredients. Great attention is given to food allergies and special requests.
Da Vià (Domegge di Cadore)
Pastry shop, bakery and deli located in Domegge di Cadore. Great place for breakfast and mid-afternoon snacks the bakery churns homemade traditional and modern pastries and desserts every day. Over 30 types of bread, cakes, bite-sized tarts, plum cake loaves, panettone and strudels. There's an interesting savoury offer as well, which includes bite-sized panini, tea sandwiches, mini focaccias and rustic miniature pizzas.
Unterberger (Perarolo di Cadore)
The place to taste the area's most famous speciality: speck from Cadore, a prized cured meat made the same way in 70 years, and typical of an wild and untouched part of the region. The business is family owned since 2013 by the Bonazza family, whose main focus is bringing new life to a high quality product in order to transform it into the area's flavour ambassador. The shop also sells all manner of high quality delicatessen.
TIPS EXTRACTED FROM THE BAR D'ITALIA 2017 GUIDE
Embassy (Cortina d'Ampezzo)
Key destination in Cortina, both for its position and for its food offer. Rich and varied breakfast foods like brioches, krapfen, croissants, pain au chocolate and much more. The strong point here is the crostate and cakes, with Sacher Torte and Black Forest in the lead. Excellent espressos and cappuccinos made with Arabica blend. On the savoury side are panini, sandwiches, salads and complete meal dishes. Notable wines served by the glass including Champagnes.
Lovat (Cortina d'Ampezzo)
This centrally located pastry shop is very popular among locals and vacationers for its desserts and savoury snacks. Elegant and cosy with impeccable service this is the place for sinful breakfast or après-ski with slicers of cake, croissants, homemade tarts, pastries and chocolate. Great place for lunch and aperitivo too.
LP 26 (Cortina d'Ampezzo)
Prosciutto bar, coffee house, cocktail bar, restaurant. LP 26 is Cortina's most multi-faceted eatery. The high quality food offer is varied and interesting: ranging from 100% Arabica coffees and breakfast pastries to local cuisine featuring prized prosciutto, by way of a well-stocked wine cellar. The place is crowded at aperitivo time thanks to the excellent cocktails and live or DJ set music.
La Suite (Cortina d'Ampezzo)
This is another popular aperitivo hangout as well as for coffee. Laid back and informal, the breakfast menu features muffins, brioches and asorted cookies. For lunch you can find panini, charcuterie and salads. Strong points are cocktails and the wine list with important labels, offered by the glass also.
Fiori (San Vito di Cadore)
A very popular pastry shop managed by the same family, and founded at the beginning of the century. Excellent croissants, homemade traditional cakes and krapfen, and fine pure Arabica blend espressos. The interesting aperitivo offer includes tasty snacks and well-respected wine labels.
Addresses
Aga | Hotel Villa Trieste | San Vito di Cadore (BL) | via Trieste, 6 | tel. 0436 890134 | www.agaristorante.it
Al capriolo | Vodo Cadore (BL) | via Nazionale, 108 | tel. 0435 489207 | www.alcapriolo.it
Baita Fraina | Cortina d'Ampezzo (BL) | Località Fraina, 1 | tel. 0436 3634 | www.baitafraina.it
Baita Piè Tofana | Cortina d'Ampezzo (BL) | loc. Rumerlo | tel. 0436 4258 | www.baitapietofana.it
Boton d'oro | Auronzo di Cadore (BL) | via Cimagogna, 1 | tel. 0435 400097 | www.botondoro.it
Chalet Amadeus | Cortina d'Ampezzo (BL) | loc. Verocai, 73 | tel 0436 867541 | www.ristoranteamadeuscortina.it
Da Vià | Domegge di Cadore (BL) | via Ferdinando Coletti, 104 | tel. 0435 32289 | www.pasticceriadavia.it
Embassy | Cortina d'Ampezzo (BL) | corso Italia, 44 | tel. 0436 060333 |
Fiori | San Vito di Cadore (BL) | corso Italia, 7 | tel. 0436 890158 | www.hmfiori.it/pasticceria
La Suite | Cortina d'Ampezzo (BL) | p.zza Venezia, 6 | tel. 0436 3310
Lovat | Cortina d'Ampezzo (BL) | corso Italia, 65 | tel. 0436 3307 |
LP 26 | Cortina d'Ampezzo (BL) | largo delle Poste, 26 | tel. 0436 862284 | www.facebook.com/LP26Cortina
Rifugio Monte Agudo | Auronzo di Cadore (BL) | località Monte Agudo | tel. 0435 400522
Ski bar | Pieve di Cadore (BL) | via Cortina, 11 | tel. 0435 500095 | www.facebook.com/pg/Trattoria-Ski-Bar-Tai-di-Cadore--250645331626788/about/?ref=page_internal
Unterberger | Perarolo di Cadore (BL) | via Regina Margherita, 33 | tel. 0435 71218
by Francesca Fiore
translated by Eleonora Baldwin