All Souls' Day typical products
Italian folk tradition has it that during the night between 1 and 2 November the dead come back to visit their relatives and bring them gifts. This is why in many regions it was once customary to leave sweets and water in the kitchen for visiting relatives from the afterlife. No trick-or-treating, but lots of delectable biscuits and some other specialities to honour the loved ones who have passed. Widespread in several Italian regions, among the most common recipes there are fave dei morti (broad beans of the dead), so called because in Ancient Rome they were considered a sacred food, served at funeral banquets. No specific typical recipe, but soups and hot dishes that characterise the Italian winter, including one in particular: chickpea and pork rib soup, prepared in Piedmont on the evening of 1 November.
All Souls' Day: what to eat in Italy

Fave dei morti
Similar in every region, yet with different flavourings, fave dei morti is the most representative of the traditional desserts. For instance, in Latium it is made with almonds, flour, sugar, butter and eggs, while it is dairy free and strongly lemon scented in Umbria. In Emilia-Romagna there are various recipes: there are the Ravenna broad beans and the ones from Forlì, Massalombarda, Lugo, and sweet mountain broad beans. The basic ingredients are flour, sugar, almonds and eggs, but the variations differ in a few small details which characterise their flavour (those from Ravenna also contain pine nuts, a little bran flour mixed with wheat flour and flavoured with brandy, while the ones from Forlì are mixed with butter and alkermes). Fave dei morti are eaten in Friuli Venezia Giulia as well, where they were created to use up the leftover overripe almonds: in the past, in the Karst Plateau were produced almonds for the whole region and the October harvest allowed bakers and pastry chefs to experiment with new recipes using the many surpluses. The most typical are the Trieste broad beans, small balls flavoured with vanilla in the light version, with Bulgarian rose extract in the pinkish version or enriched with cocoa in the darker version.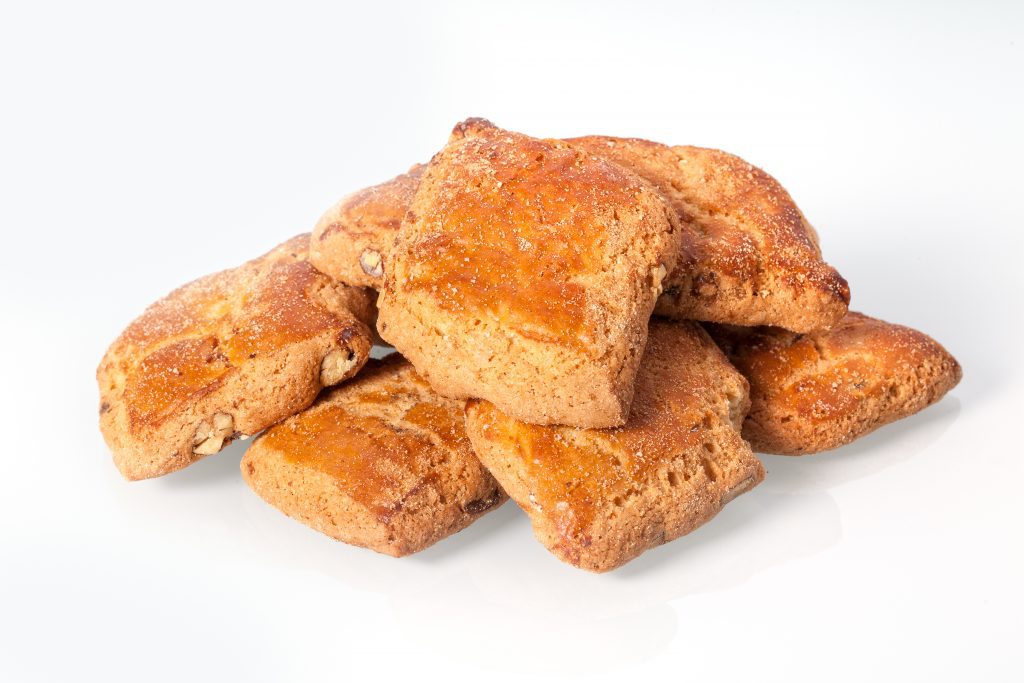 'Nzuddi
Flour, sugar, roasted almonds, honey, egg white, yeast, orange peel and cinnamon: these are the basic ingredients of 'nzuddi, biscuits typical of the provinces of Catania and Messina. They owe their name to the Vincentian Sisters of Catania who invented them, 'nzuddi is in fact the dialectal nickname for Vincenzo. These biscuits are common to both cities, but only in Catania they are eaten on 2 November, whereas in Messina they are prepared on 3 June for the celebration of Madonna della Lettera. In any case, we're talking about simple, rustic biscuits, easy to make and perfect as after-dinner treat, even better if paired with a good liqueur or passito.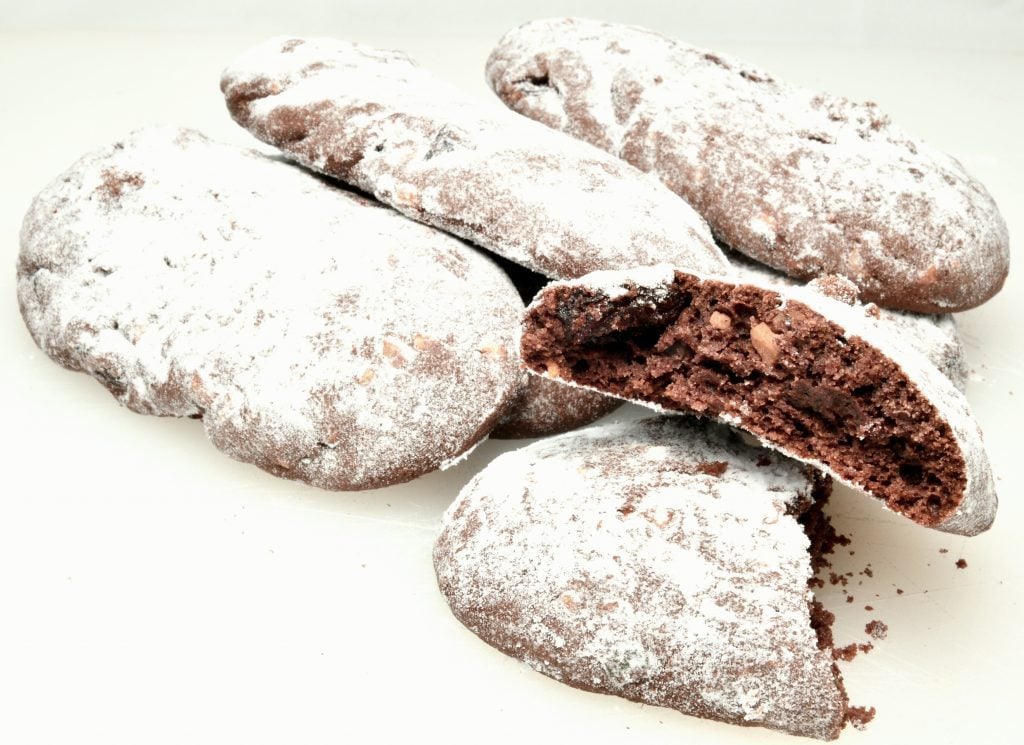 Pan dei morti
In Milan, the protagonist is the traditional pan dei morti (bread of the dead), a luscious welcome-home dessert for the visiting dead on All Souls' Day. It is usually shared by all diners at the end of the meal or given to children as a tasty snack. Simple and tasty, it is made with egg whites, crumbled biscuits, cocoa, candied fruit, nuts and sweet spices. A similar dessert from the province of Monza is the torta paesana (village cake), also made with crumbled biscuits and nuts, but with a base of stale bread soaked in milk or water.
Grano dei morti
Unusual and original is the Apulian sweet wheat-based dessert, a speciality of the province of Foggia linked to the ancient Christian ritual of eating blessed boiled wheat during the religious service on 2 November. A past tradition that still survives today, a sign of good omen and new life: wheat, in fact, symbolises rebirth (it is no coincidence that it is also present in the pastiera napolitana eaten at Easter), as does the pomegranate, once left in the grave to ensure nourishment and the possibility of resurrection for the dead. Grano dei morti also contains candied fruit, sugar, nuts and cooked wine, plus other ingredients such as chocolate or cinnamon that vary according to local and family traditions.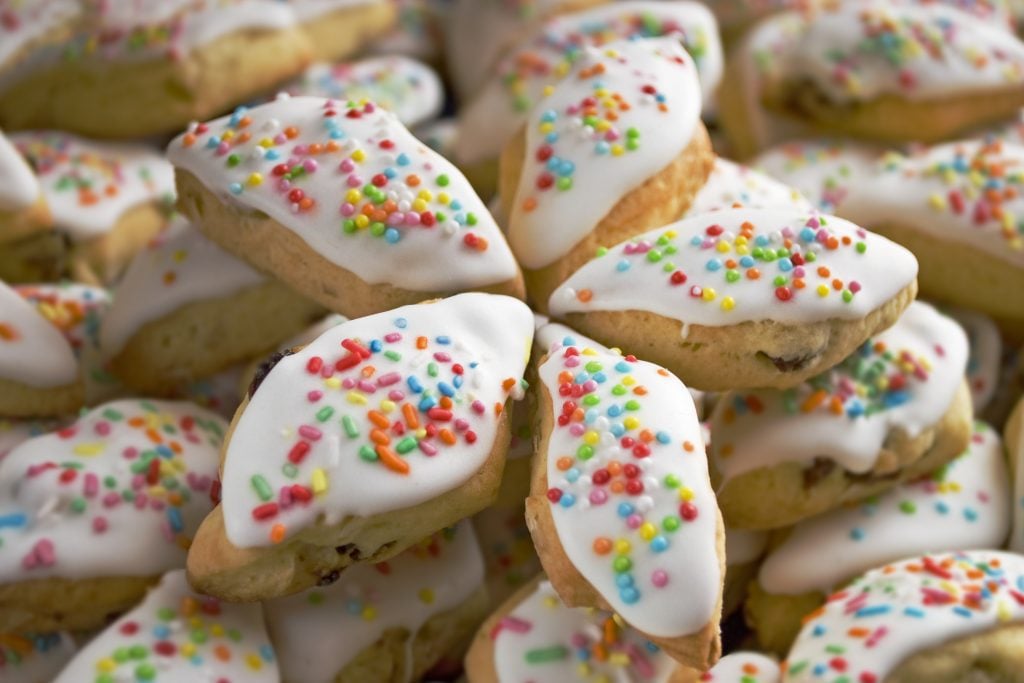 Papassini
Fragrant and iced, Sardinian papassini are characterised by the use of uva passa (raisins), hence the name papassa or pabassa in the local language, even if the ingredients may vary depending on the production area. Some people add sapa (condiment made from boiled grape must) to the dough, others cinnamon or wild fennel, or aniseed liqueur. There can also be variations of the icing, which can be made either with egg white and sugar or with water, scented with lemon or other flavourings. The ingredients that should never be missing are flour, almonds, walnut kernels, raisins, sugar, yeast, lard (in modern recipes replaced by butter), whole eggs and yolks, lemon and orange peel and a pinch of salt.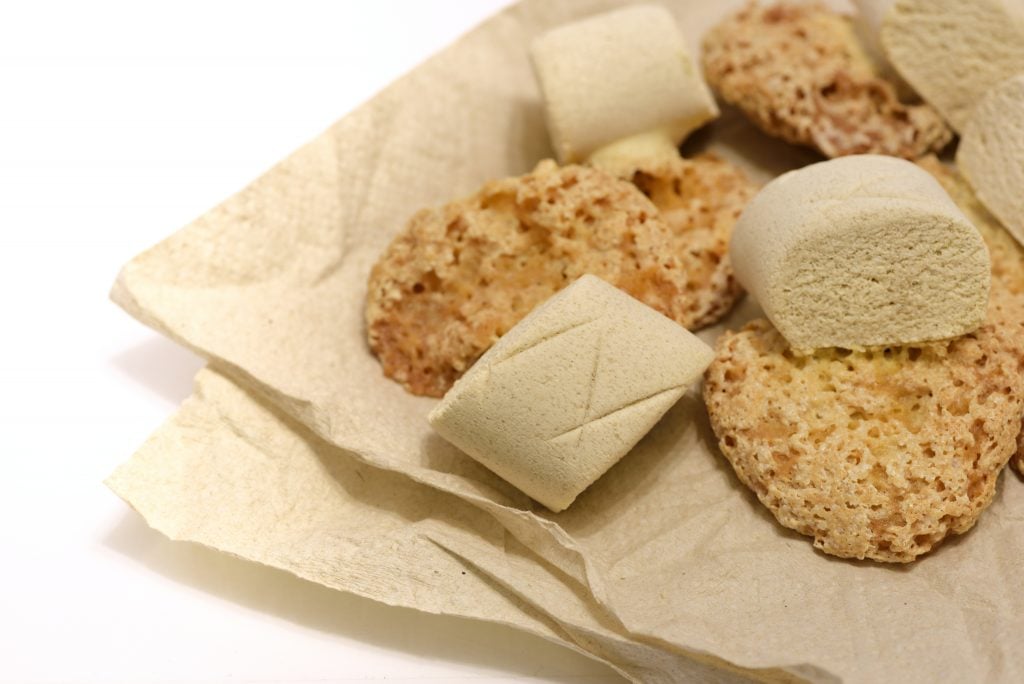 Ossa dei morti
Similar to broad beans, ossa dei morti (bones of the dead) are biscuits widespread mainly in southern Italy, particularly in Sicily. Crumbly and crispy, they are made with a few simple ingredients. They are the result of ancient farming traditions that, alongside the great work of the nuns in the convents, have given life to much of the dry pastries in the area. The key ingredient are cloves, giving to the mixture a heady and intense scent, while the key feature is their peculiar shape, reminiscent of a bone.

Chickpea and pork rib soup
Not just desserts. Many hot and simple ancient dishes are prepared between 1 and 2 November. Soups, above all, vary from region to region. One of the most popular is the Piedmontese chickpea and pork rib soup, prepared in the Langhe and Monferrat area on All Saints' Day. Hearty and honest, this comfort dish is perfect for cold days and, for an even more delicious variation, there is the cisrà, a thick and creamy soup from Roero with tripe instead of ribs.
Grano dei morti recipe
Ingredients (6 servings):
500g soft wheat
1 pomegranate
1 cinnamon stick
cloves to taste
100g walnut kernels
50g almonds
cooked wine to taste
4 tbsp. sugar
First of all, get soft or hard wheat grains. Leave to soak for 3 days and remember to change the water mornings and evenings. Then drain and rinse them under running water and, once well cleaned, pour the grains into a pot, cook them over a high heat and bring to a boil. The water-to-grain ratio is 100g per litre. Then lower the heat and continue cooking for about an hour and a half without stirring (this cooking method is valid for all wheat-based recipes). For the desired recipe, bring the water to a boil and cook the grains for about 5 minutes. Leave to cool, add the remaining ingredients and mix well. Season immediately before eating with cooked wine according to taste (if poured beforehand, it would harden the mixture).
by Michela Becchi