A land of transhumance, pastoralism and ancient traditions, Abruzzo preserves the artisan practices of the past, starting with the table. A rich and multi-faceted cuisine, divided between sea and land, which finds its best expression in mountain products, including cheeses, cured and grilled meats. Here are the most representative specialties of Abruzzo.
Typical Abruzzo products
Aglio rosso di Sulmona – red garlic from Sulmona
Indigenous garlic variety grown in the Peligna Valley, in particular in Sulmona. The name derives from the bright colour of the husks that cover the cloves.
Agnello – Lamb
The local pastoral tradition has its origins in ancient times and has profoundly marked past and present eras in the history of Abruzzo. Among the main bred animals that characterize the region, sheep, in the wild or semi-wild, fed with mother's milk until weaning, then grazing only wild herbs, legumes and grass of the pastures.
Arrosticini
The symbol of the area, and linked to the tradition of sheep farming, arrosticini are small pieces of fatty lamb meat skewered and fire grilled. According to legend, it was two shepherds from Voltigno who created the small skewers, to make use of the leftover lamb meat of older animals––otherwise inedible––cut into small chunks and roasted on the fire grill on long wooden sticks.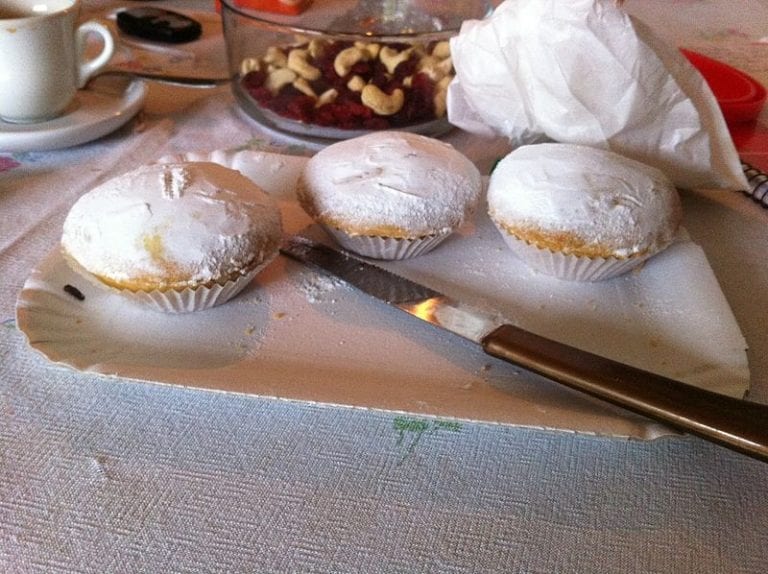 Bocconotto di Castel Frentano
Sweet pastry made with olive oil shortbread, chocolate filling, toasted and chopped almonds and cinnamon, and dusted with icing sugar.
Caciofiore aquilano
Called this way because of the artichoke flower that characterizes the vegetable rennet this cheese is made with, caciofiore is made with sheep's milk of various breeds. It has a fine, smooth or wrinkled, white or hazel rind, and a soft pale yellow interior
Canestrato di Castel del Monte
In the heart of the Gran Sasso and Monti della Laga National Park, this typical transhumance cheese is prepared with sheep's milk and natural rennet, salted and aged from two months to a year. This is a hard cheese with an intense and pungent flavour.
Chickpeas from Navelli
Small legumes, cream colored and with a smooth surface. They are grown between 700 and 800 meters above sea level and harvested between July and August.
Ciambelline al vino – Wine cookies
The peculiarity of the Abruzzese version of this typical biscuit of Central Italy lies in the use of solina flour and Montepulciano, a native wine of which Abruzzo is very proud.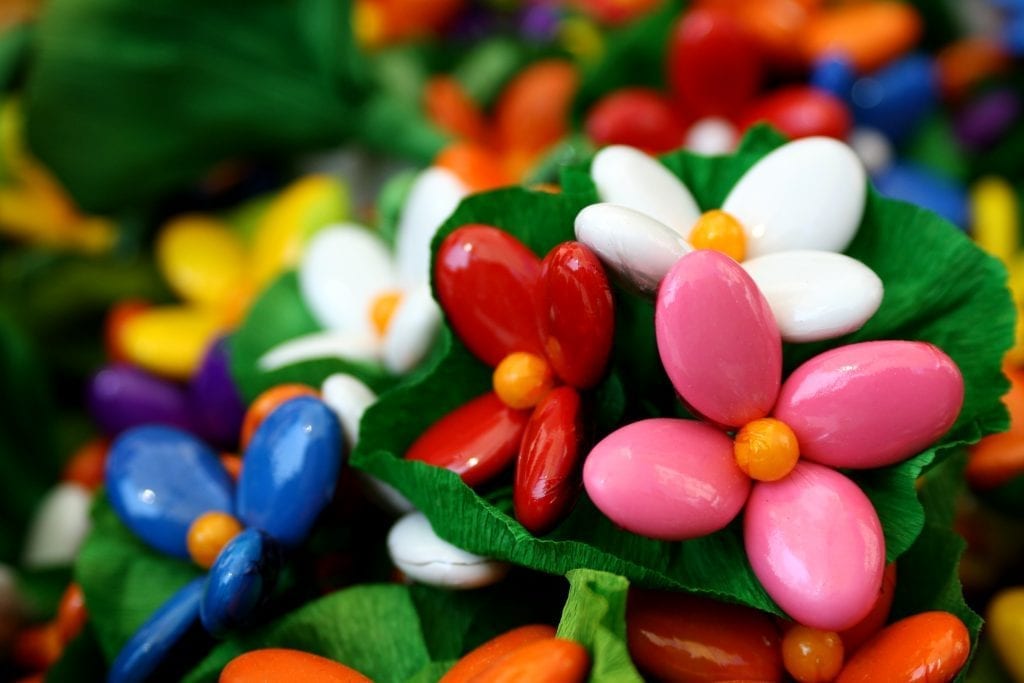 Confetto di Sulmona
One of the most well-known confectionery specialties outside national borders: the Sulmona confetto is an almond (hailing from Valle Peligna but also the pizzuta d'Avola variety or the pizzuta di Ragusa variety) coated with hard sugar. Today, there are many other versions, with hazelnuts, chocolate or enriched with other ingredients.
Fegatazzo di Ortona
Sausage made with pork cheek, belly, spleen and lung, seasoned with orange zest, garlic, salt and chilli pepper and preserved in oil for about a year.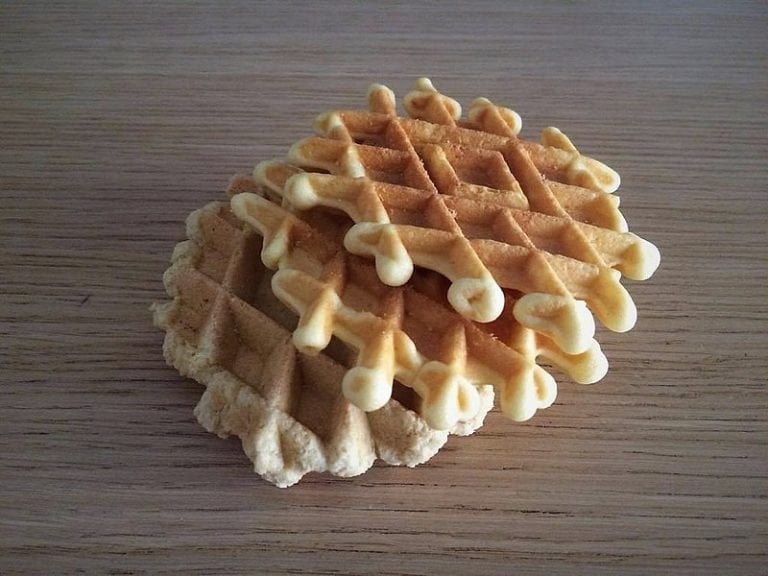 Ferratelle
Commonly known abroad as pizelles, these wafers are baked over a live flame with a special mould, which gives them the classic shape and marks the surface with ribbed designs. They are also called nivole or neole in Teramo, pizzelle in the province of Aquila, while in the variant with two sandwiched together and filled are called coperchiole.
Fiadone
Usually prepared for the Easter holidays, this is a small pocket made with a flour, egg, olive oil and white wine dough, then stuffed with local cheese. The rceator of the recipe was Cristoforo di Messisbugo, an Italian cook of the second half of the 16th century, employed in the courts of Ferrara.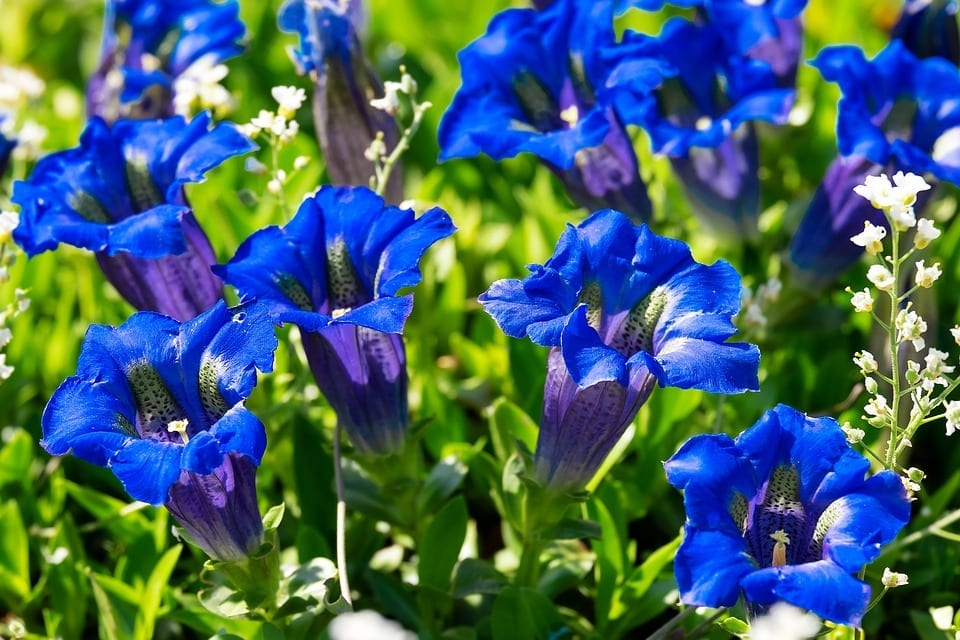 Genziana
Part of the Genzianacee family, the gentian flower grows spontaneously in Italian mountain areas, both Alps and Apennines. The root is used, dried and macerated with alcohol and sugar, to obtain the Gentian liqueur, a classic digestive of the Abruzzo cuisine, owning an amber colour and strong digestive properties.
Grano solina
Very ancient soft wheat variety, solina has been cultivated since the 16th century. Able to withstand the harshest climate and cope with snow and intense cold, it's the ideal wheat to grow in the mountainous areas of Abruzzo. Solina flour is used to make bread and homemade pasta.
Lentils from Santo Stefano di Sessanio
This small and tasty lentil is dark in colour and flat. It grows over 1,000 meter altitude on calcareous soils and is harvested between the end of July and the end of August.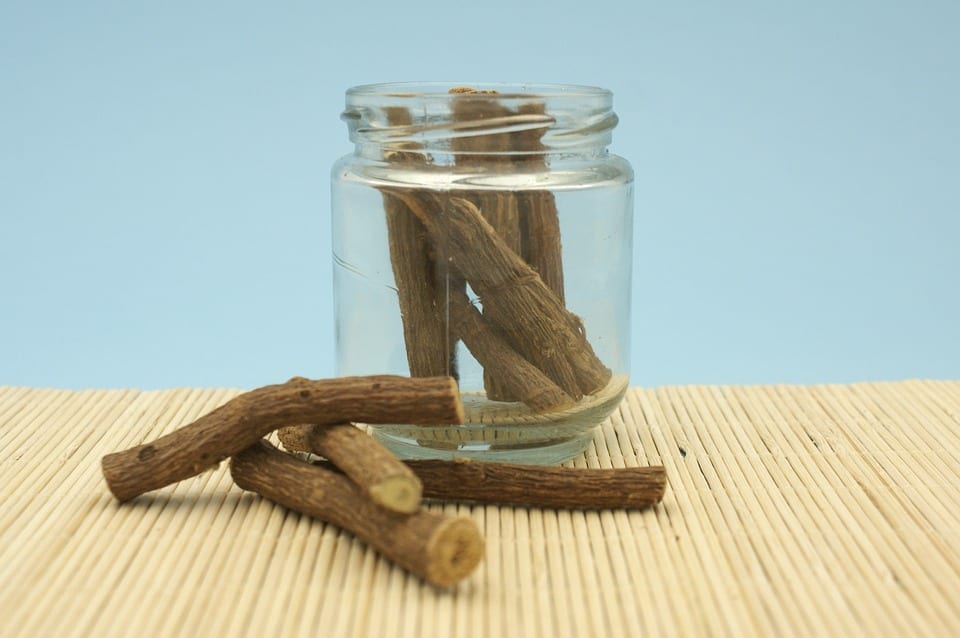 Licorice from Atri
Between the provinces of Teramo and Pescara, in the Terre del Cerrano, the village of Atri represents the homeland of Abruzzo licorice, which can grow in the region thanks to the purely clayey soil. The first traces written on this root date back to 1433, while the development of sweet licorice production began in the 19th century, from which juices, candy, liqueurs and many other products derived from the root..
Mela della Valle del Giovenco
Variety of native apple that's quiet widespread throughout the Ortona area in the Marsi and surroundings. In the past, peasants used to use the fruit to prepare acquata, a light wine made from the pressing of apples and the second pressing of grape stalks..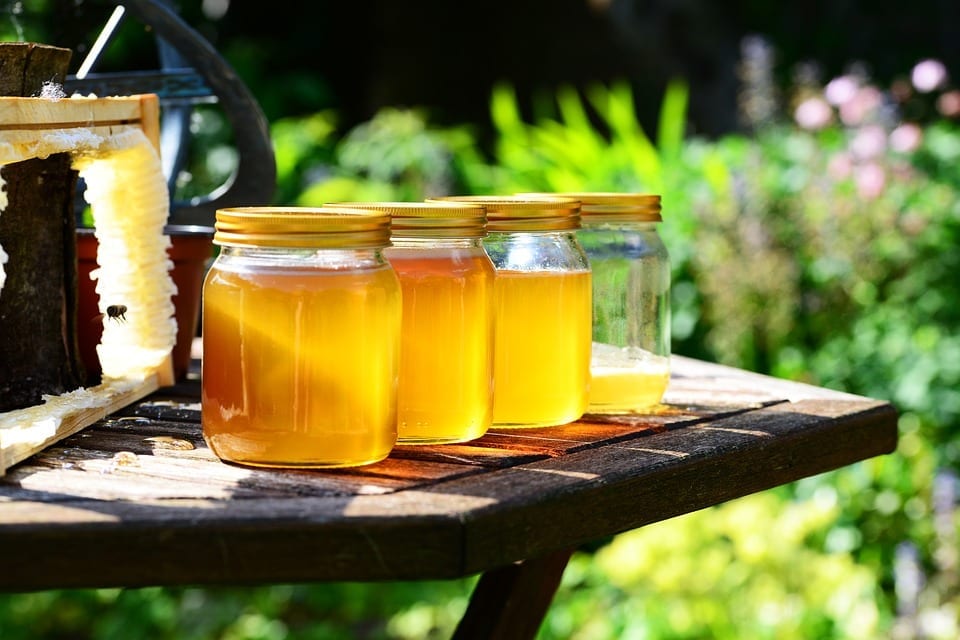 Miele millefiori di montagna
Floral honey is produced on mountain pastures above 850 meter altitude, with more than 80 different species of flowers during spring and over 130 in summer.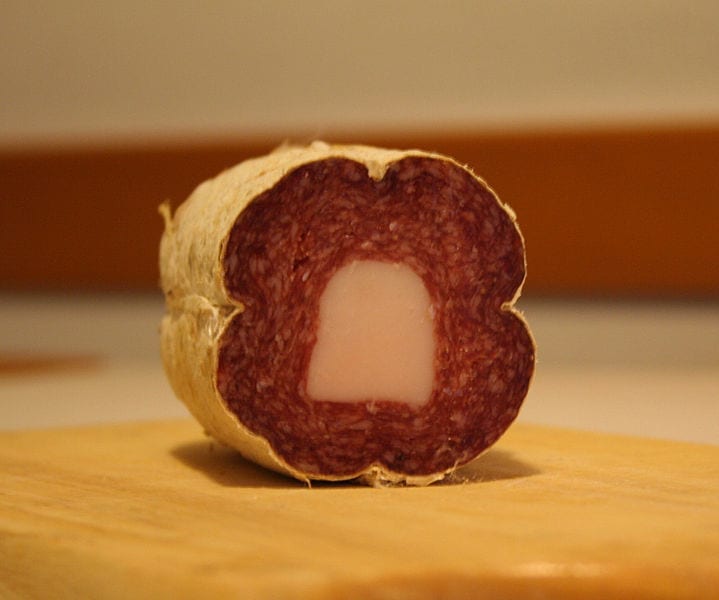 Mortadella from Campotosto
This sausage prepared with the lean cuts of pork and ground pancetta, is distinguished by the lardons contained inside the dough. With an ovoid shape, the mortadella is fine-grained and seasoned with salt, pepper and white wine. The maturation takes at least 24 hours, during which the mixture is blended with an infusion of cloves and cinnamon. It's consumed three months after grinding the meats.
Mostaccioli
Widespread in most of the regions of Central and Southern Italy, Abruzzo mostaccioli are now available in many variants: soft and coated in dark chocolate, or crunchy almond-rich and frosted on the surface.
Mosto cotto – cooked grape must
Filtered juice obtained by crushing very ripe and sugary grapes, cooked in copper pots. Cooked grape must is employed for making biscuits and typical sweets.
Olive oil, extra virgin
Inextricably linked to Puglia due to transhumance, the Abruzzo olive oil tradition is based on native cultivars that give life to multi-faceted oils. Typical varieties are intosso, from which intense oils are obtained with balsamic and herbaceous notes reminiscent of nettle and conifers; the gentile di Chieti, more delicate and with light nuances; the dritta, widespread especially in the province of Pescara and in the communes of Loreto Aprutino, Pianella and Moscufo, with hints of green almond.
Parrozzo
Is one of the most famous Abruzzo desserts, born in Pescara in the early 1920s from the creativity of pastry chef Luigi D'Amico. The name is inspired by the "rozzo" (unrefined) bread: a rustic loaf made from corn that peasants used to bring to the fields. Almonds, butter and sugar enrich this sweet, thick and fluffy focaccia, completely covered in chocolate––usually dark––and enjoyed throughout the year.
Potato "turchesa"
Boasting rich antioxidant properties, this is a deep purple skinned potato, with medium grain and a texture that's suitable for different preparations. This is an ancient variety rediscovered for some years in the Gran Sasso National Park, sown in May and harvested in October.
Pecorino d'Abruzzo
Semi-hard or hard cheese produced with whole, raw sheep's milk and animal rennet, aged and enjoyed sliced as a snack, or grated over pasta. For a long time, this was the shepherds' staple food and is still made in the lands of the transhumance.
Pecorino di Farindola
Unique in its kind, Pecorino di Farindola is characterized by the use of pork rennet, which gives the cheese intense aromas and flavours. Nowadays it's produced in limited quantities in a small area of the eastern slope of the Gran Sasso massif, starting from sheep's milk of animals raised in the wild. After dry salting, the wheels are left to age in wooden cupboards for a minimum of 40 days to more than a year. The cheese has a crust with orange and brown hues, and a grainy interior.
Pepatelli
Boasting a strong flavor, these sweets are traditionally prepared during Christmas time, with tritello flour (one of the by-products of durum wheat grinding obtained according to different degrees of milling). Other ingredients are honey, orange peel and, of course, plenty of pepper, as their name suggests.
Pizza dolce
A sweet cake made up of sponge pastry layered with classic pastry cream and chocolate cream, with alchermes and rum: "sweet pizza" has long been a delicacy reserved for weddings and special occasions, while today it's prepared throughout the whole year.
Pizza e foje
This is one of the region's typical peasant preparations, born to recycle kitchen leftovers and to use products collected in the countryside. It's a thick and small non-leavened pie, usually enjoyed with greens (the "foje," in fact), wild and spontaneous herbs. Sometimes––especially in the area of Guardiagrele, in the province of Chieti, and along the coast of the Trabocchi––the pizza is enriched with oil-packed anchovies or sardines.
Pizza scima
Traditionally cooked under the coppo––terracotta roof tile––pizza scima is usually enjoyed as a bread substitute, and is characterized by the absence of yeast. The word scima comes from the dialect "acime", meaning unleavened. The origin of this product is in fact to be found in the legacy of the numerous Jewish communities that were once present in Abruzzo. This particular savory pie was born along the Trabocchi coast, in particular in the town of Lanciano, but it's also found elsewhere.
Pomodoro pera d'Abruzzo
Ribbed and flat-bottomed, the pera d'Abruzzo tomato is a kind of large heirloom ox heart tomato, perfect for eating raw, tossed in salads. The pulp is not very fibrous, the flavour is tasty and contains very few seeds. This is a fruit that also works well as passata (tomato puree) as seasoning for pasta dishes.
Ricotta scorza nera
Produced in Scanno, in the heart of the Abruzzo National Park, sheep's milk ricotta is aged in the cellar for at least 20 days, after which it appears covered with natural molds. the wheel is rubbed with extra virgin olive oil and the result is a white cheese with a dark crust, that's compact and very tasty.
Sagne
Sagne is a type of pasta of Abruzzese origin long shared also with Umbria, upper Lazio and Marche, with all manner of local variations. These are strips of pasta dough made of flour, water and eggs (sometimes also farro, spelt flour) that come in various sizes and thickness. A typical combination is with beans.
Salame aquilano
Flat and irregular shaped salami made with a mix of fat and lean ground pork meat, seasoned with salt, pepper and other spices, stuffed in a casing and kept under pressure for five days before being left to age for about a month.
Sassi d'Abruzzo (or atterrate almonds)
This original product arises from the need to employ broken almonds that can't be used for confetti and that became famous throughout the region, with different variants. They were invented by the Cicconi family, owner of a confectionery factory in Sant'Egidio alla Vibrata, in the Val Vibrata valley, in the province of Teramo.
Scrippelle
There are those who believe that it was Enrico dei Castorini at the court of a French cook assigned to the canteen of the officers stationed in Teramo, who invented the scrippelle 'mbusse, mistakenly adding hen broth to the pancakes prepared by the chef. In any case, this is one of the most popular specialties of the Teramo area, the most known outside regional borders, along with spaghetti alla chitarra. "Mbusse because wet: rolled up and served in broth sprinkled with pecorino and Parmigiano; but they can also be used to prepare a timbale, arranged in layers like lasagna and stuffed with artichokes and scamorza, or dresses with traditional sauces, or also baked in the oven, stuffed, rolled and cooked in a pan.
Scrucchiata
Scrucchiata takes its dialectal name because of how it's "crushed with fingers": the Montepulciano grape jam is the most popular of the area, used as a filling for typical crescent-shaped sweets (the "celli ripieni").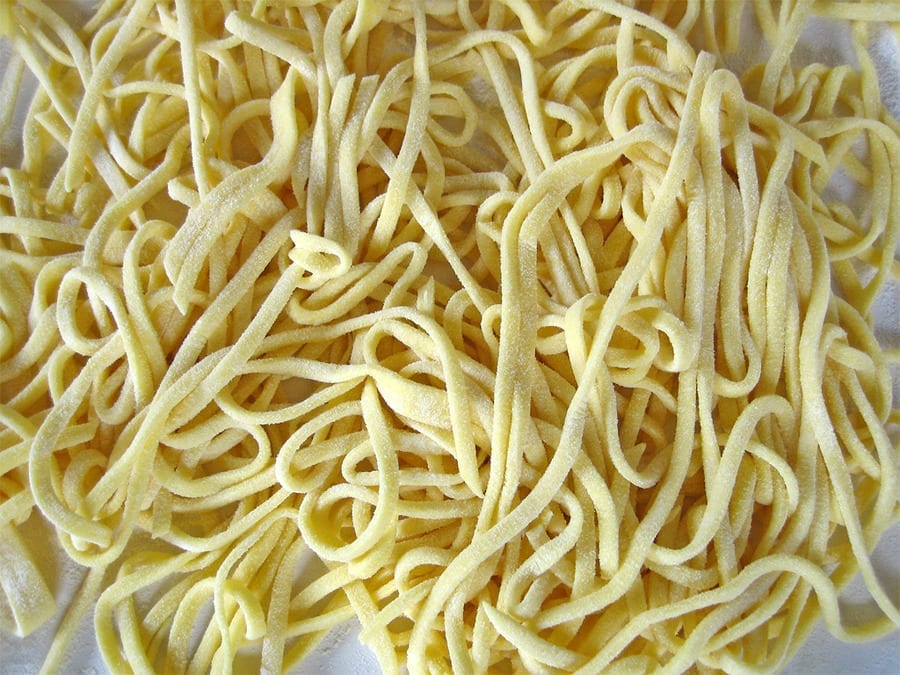 Spaghetti alla chitarra
Type of pasta made using a beech wood frame (or another neutral wood) on which parallel steel wires are stretched. The resulting square-section spaghetti are then seasoned with lamb ragu or other robust sauces.
Tartufo
There are many types of truffle present in Abruzzo, although the most common remains scorzone, generally grated fresh over spaghetti alla chitarra in the white version.
Torrone from Guardiagrele
Sweet similar to a nut brittle, made with toasted whole almonds mixed with sugar, candied fruit and cinnamon, that's compact and dark in colour.
Ventricina from Teramo
Salami with a light colour and a soft and round taste, that's rather fat. It is prepared with pork meat and lardons, stuffed in a pork belly casing (hence the name) and left to dry for about a week.
Zafferano dell'Aquila
Under protected designation of origin status, saffron from Abruzzo has been produced in the Navelli plateau since ancient times. Enclosed in their lilac-coloured flowers, the red stigmas are the only commercialized element of the plant.
by Michela Becchi