Food and cinema: dishes appeared in films
Is there anything more appealing than the food represented on the silver screen? Think fried green tomatoes or boeuf bourguignon back in the limelight thanks to the brilliant comedy Julie & Julia, or even the legendary Big Kahuna Burger featured in Pulp Fiction, apple strudel from Inglourious Basterds, Harry and Sally's pastrami sandwich: mouth watering is inevitable. Even more delicious is the food portrayed in animated films: who hasn't dreamed of Lady and the Tramp's spaghetti and meatballs or Snow White's gooseberry pie? Precisely in animated cinema, food is increasingly taking on a leading role: this is the case of the 2018 short film Bao, which tells the story of a small steamed dumpling, or Luca, the 2021 film set in Italy, all a flurry of trenette with pesto and gelato. Even the latest feature film released in theaters last November, Encanto, gives great space to the table and there is also a character who heals wounds through food. The Dutch company Maxima Kitchen Equipment is well aware of the suggestions that films are able to lend viewers, and has conducted a research in this regard to understand which are the most replicated film recipes at home.
The 10 dishes in films most replicated at home
The result of the survey is a heterogeneous and composite ranking, the result of a study started on the Babish Culinary Universe YouTube channel, which has more than 9.45 million subscribers. It is managed by Andrew Rea, who uploads video recipes inspired by TV series, cartoons and films. Beating the competition was an animation cult that based its success on the value of food and cuisine: Ratatouille. After all, how can one not love the sweet little mouse Remy, protagonist of the 2007 Pixar feature film? In order to amaze the intransigent critic Anton Ego, the mouse-chef prepares a humble dish that arouses deep emotions in the feared fine dining critic, reminding him of his childhood. Then there's the Kung Fu Panda noodle soup produced by DreamWorks; Ram Don from Parasite; the milkshake from Pulp Fiction and other recipes that have become iconic thanks to memorable movie scenes, be they acted or animated. Here are the ten most popular cinema foods, replicated at home.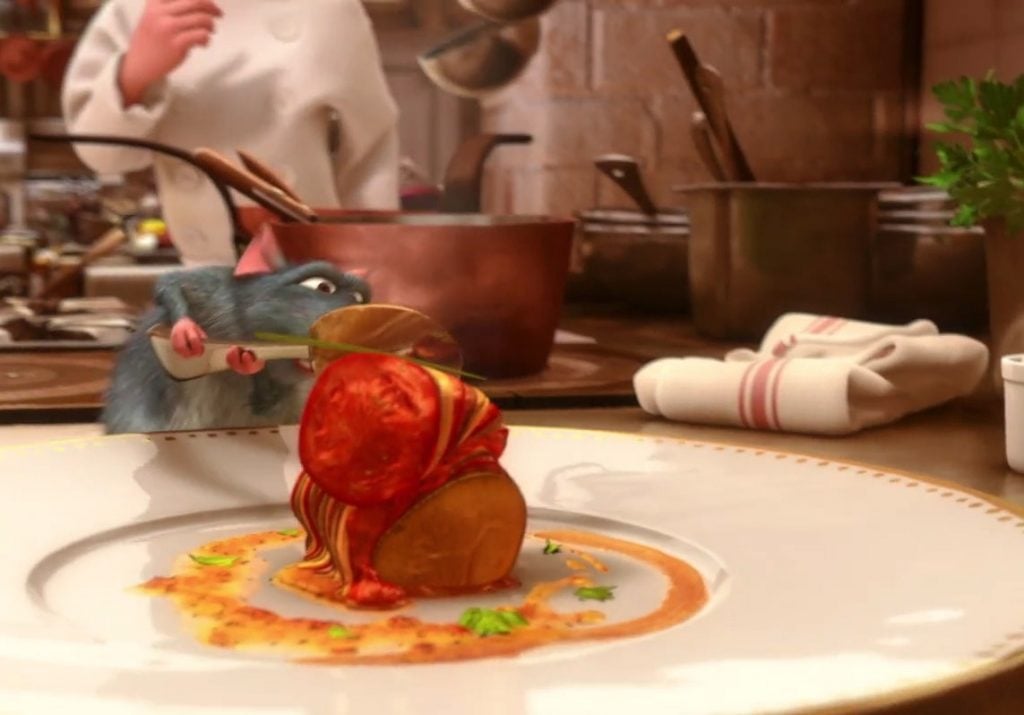 Ratatouille, ratatouille
Remy prepares a more elaborate version of the classic ratatouille, which is actually a summer vegetable stew made with courgettes, aubergines, red and yellow peppers, tomatoes and onion. A specialty born in Provence thanks to the ingenuity of farmers, who at the end of the summer needed to use all the harvest to create hearty and tasty dishes. The name derives from rata, a word that indicates a stew with whole pieces, and touiller, which refers to the action of mixing the ingredients together.
Harold & Kumar go to White Castle, burgers and fries
Harold & Kumar was a successful series of American films directed by Danny Leiner. In the first film of the franchise, translated into Italian as "American trip", the two buddies exaggerate with their orders at the White Castle fast food chain: they're served dozens and dozens of mini burgers plus supersized portions of French fries and many soft drinks. An ode to calories, definitely, but also to gluttony.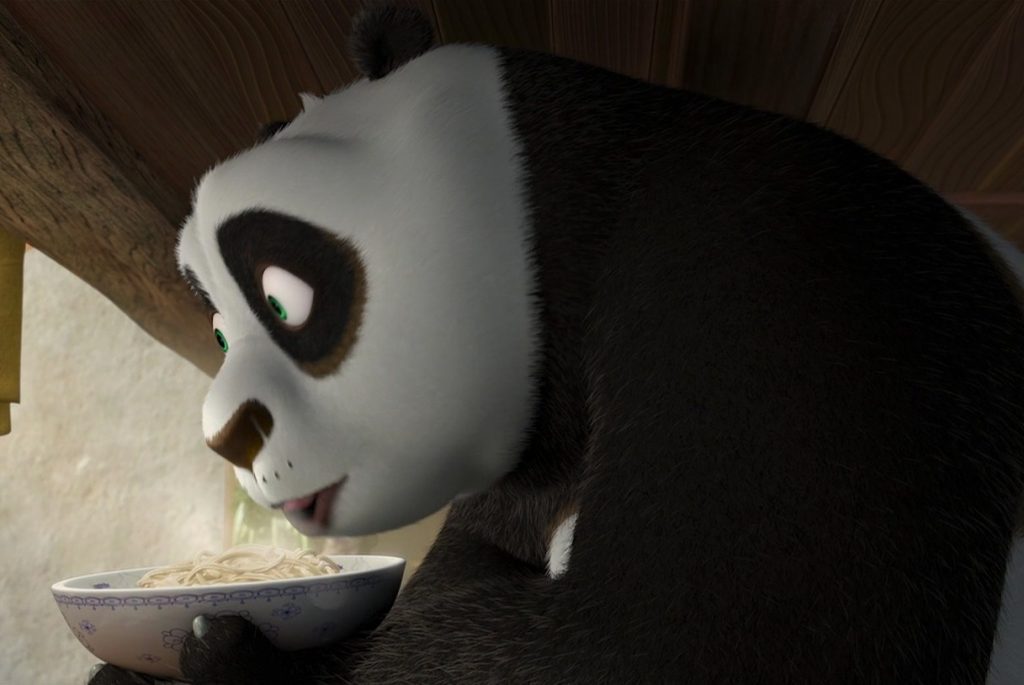 Kung Fu Panda, noodle soup with a secret ingredient
Let's face it: when a dish admittedly hides a secret ingredient, the charm increases. The noodles that Po's adoptive daddy makes in Kung Fu Panda is famous for just this and the sweet protagonist loves it! A gluttonous and tireless eater, Po eventually discovers the truth: there is no secret ingredient, no extra product, no rarity, but when you firmly believe that something is special, it ends up really being that way.
Despicable Me 2, taco and guacamole
Since the first movie came out in 2010, the success of Despicable Me has been guaranteed thanks to the likable Minions, non-villains who serve the antagonist master in clumsy and hilarious fashion. In the second film, one of the most famous scenes takes place at a Mexican party during which the protagonist Gru finds on his head a hat made of nachos, filled with guacamole sauce. An authentic Mexican recipe, which is in fourth place among the most reproduced at home.
The Simpsons - The movie, hot chocolate
The food-centric scenes in Matt Groening's animated series are certainly many: Homer's glazed donut has become almost more famous than the character himself. In the 2007 film directed by David Silverman, however, what is the most tempting is a rich hot chocolate prepared by their neighbor Flanders, complete with whipped cream, cookie and marshmallows.
Parasite, ram-don
A ramen made with two different types of instant noodles, paired with a Korean sirloin: this is Parasite's most famous dish, so much so that during the first months of lockdown in 2020 the film's Facebook page shared the recipe. During an online party, thanks to a video people learned how to make ram-don, a tasty and easy to make dish.
The Avengers, shawarma
Shawarma is a meat preparation typical of Middle Eastern cuisine, traditionally based on lamb or chicken. It is a long vertical meat skewer cooked slowly (think Turkish kebabs), it appears in The Avengers in a post-credits scene that's much appreciated by Marvel fans. Trivia: the scene was unscripted and entirely impromptu by the actors and shot during spare time of the press tour.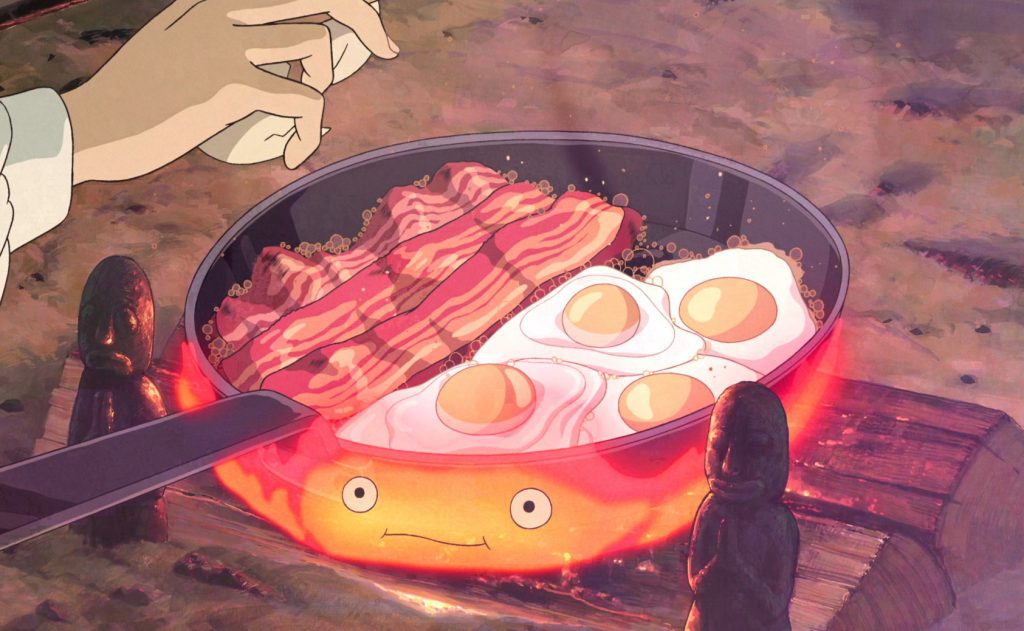 Howl's Moving Castle, eggs and bacon
Miyazaki is undoubtedly one of the most popular Japanese animation directors ever, and also a great lover of food: the dishes represented in his masterpieces were in fact recently collected in a book, "Enchanted cuisine. Recipes taken from Hayao Miyazaki's films." Among the most tempting is the abundant breakfast in Howl's Moving Castle: eggs and bacon.
Matrix, Chateaubriand
Meat lovers are entranced by the steaming platter scene in The Matrix. The dish is actually Chateaubriand, a rather thick cut of beef, usually treated as a roast fillet.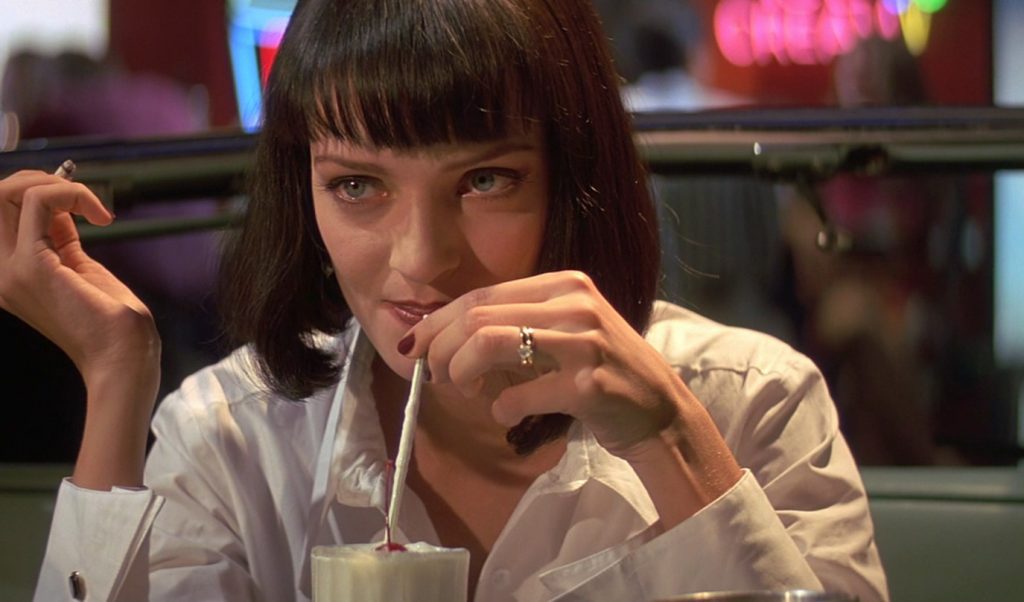 Pulp Fiction, milkshake
Today, $5 for a milkshake isn't that much, but in the early 90s, when Pulp Fiction first came out, it was a real scandal. So you can imagine the public's reaction when such an expensive milkshake arrived at the table: it must have been really delicious! What Mia Wallace is enjoying would appear to be a vanilla milkshake with a cherry on top.
by Michela Becchi