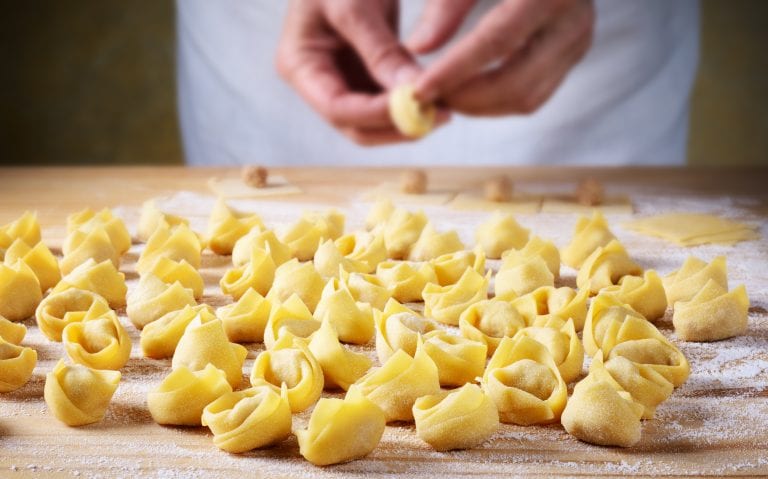 The Learned, the Red, but firstly, the Fat: Bologna preserves a very tasty solid cuisine, enjoyed in restaurants that preserve dishes of the past and typical and traditional recipes. Here is a map with must-visit places.
In recent years the city revolutionized its own dining landscape, giving life to innovative formulas, high-level eateries, modern and unique in their kind. Yet, despite the many options, when visiting Bologna one should always include a good plate of tortellini in broth. It's equally impossible to resist before lasagna, rice cake or crescentine. To taste typical Bolognese dishes, one must eat in the trattorias, places where traditional recipes and flavours of the past are still present.
Typical restaurants in Bologna
Trattoria da me
Careful ingredient research, lots of tradition and a number of convincing re-interpretations: musts include pastas, especially tortellini in brodo and tagliatelle al ragù, among the best in the city, but main courses are no less. Try the cotoletta Bolognese, while for dessert opt for an excellent rice cake. In combination, local wines and some craft beers.
Trattoria da me – via San Felice, 50 a – trattoriadame.it
Trattoria di Via Serra
The welcoming vibe and the relaxed atmosphere make this trattoria a perfect place for a lunch with family or friends. Local wines, checkered tablecloths and dishes of substance: good gramigna (a type of local pasta) with sausage, tasty tortellini in capon broth and delicious "zuppa inglese" trifle, to conclude the meal at its best.
Trattoria di Via Serra – via L. Serra, 9b – trattoriadiviaserra.it
All'Osteria Bottega
One of the best places in Bologna, managed with love by Daniele Minarelli, promoter of the deepest tradition through the search for exceptional ingredients and the recovery of past recipes. We started with prime cured meats and cheese, we continued with tortellini, fettuccine with ragù and tagliatelle with culatello and shallot. There is also the classic Bolognese cutlet and rice cakes, prepared following mamma's instructions. The range of local Emilia wines is in line with the selection of Romagna labels.
All'Osteria Bottega – via Santa Caterina, 51 – facebook.com/Osteria-Bottega-121651694555766/
Vag in Ufezzi
A menu that changes constantly, focusing on traditional dishes that never go out of fashion. If passing by here in the right period, be sure to taste the balanzoni, pasta shape inspired by the famous carnival mask made with green spinach pasya dough stuffed with all the ingredients available. Plus soups, robust and tasty pasta courses and even seafood specialties such as stewed octopus.
Vag in Ufezzi – via de' Coltelli, 9 c – vaghinufezzi.it/
Grassilli
Popular restaurant in the centre of town, not far from the Due Torri, where foodlovers can enjoy meat dishes, fresh homemade pasta and even vegetarian or gluten-free dishes. Thhis is the right place to try passatelli in brodo, among the Bolognese dishes par excellence, but also tagliatelle with mushrooms or ragù, in addition to the ubiquitous tortellini in brodo.
Grassilli – via dal Luzzo, 3 – facebook.com/pg/Ristorante-Grassilli-500379740010027
Dal Bassianot
A perfect place for a taste of the real Emilia cuisine: meals start with appetizers rich in typical cured meats, or a Parmigiano flan with porcini mushrooms, and then continue with the city's traditional pasta dishes. This means green lasagna, ricotta-filled tortelloni with butter and sage, passatelli served with culatello and porcini mushrooms. As far as main courses, meat specialties prepared on demand, such as cotoletta Bolognese (a must taste cutlet), beef tartare and roast rabbit.
Dal Bassianot – via Piella, 16 – dalbiassanot.it/
Al Cambio
One of the most popular places for lovers of traditional cuisine, for Bolognese dishes made to perfection. Tripe, lasagna (in the classic or green version), tortellini, excellent meatballs: the menu of Al Cambio is a hymn to authentic flavours, which sees its highest expression in the pastas.
Al Cambio – via Stalingrado, 150 – facebook.com/pg/RistoranteAlCambio/
Le Golosità di Nonna Aurora
Family-style and convivial atmosphere: a trattoria that offers the best of the local gastronomy. Simple quality homemade dishes such as tortelloni with four cheeses, tortellini or tagliatelle with ragù. Excellent fresh pasta, but also good main courses, from veal roast with baked potatoes to grilled sausages.
Le Golosità di Nonna Aurora – via Fioravanti 45 b – facebook.com/Le-Golosit%C3%A0-di-Nonna-Aurora-179267688756478/
Ristorante Cesarina
Tastefully furnished place to stop and choose from the many traditional dishes. Among the house specialties, tortellini, but also the meat tartare, cotoletta and tagliatelle with meat sauce. For starters, don't miss the local cured meats and cheeses, accompanied by fried crescentine. The wine offer is also good, with many references to local production.
Ristorante Cesarina – via Santo Stefano 19 b – ristorantecesarina.it/
Trattoria Bertozzi
This is one of Bologna's most cherished eateries, a haven for gourmands looking for an informal, tasty table that smells like home. One of those restaurants that never reserve negative surprises, based on a solid traditional cuisine. From homemade pasta – unbeatable tagliatelle with rough and chewy dough – to mains, each dish is made according to the dictates of Bolognese cuisine, desserts included.
Trattoria Bertozzi – via Andrea Costa 84/2 d – trattoriabertozzibologna.it/
Casa Merlò
There are many well-made seafood dishes, but also all the recipes of the Bolognese repertoire, for a menu that changes periodically, made of fresh and seasonal ingredients. It's worth tasting the tagliatelle and tortellini in brodo, but also be tempted by the specials of the day: you will not be disappointed.
Casa Merlò – via de' Gombruti, 2 d – ristorantemerlobologna.com/
Osteria del Cappello
Green lasagna, passatelli (in the non soupy version, without broth and with a lot of sauce), homemade tortellini and many quality cured meats: Osteria del Cappello is a guarantee for lovers of good food, a restaurant that offers pasta courses and good main courses of meat. Meals end with an interesting range of desserts, all accompanied by well-selected Italian and regional wines.
Osteria del Cappello – via de' Fusari, 9 – osteriadelcappello.com/
Trattoria Serghei
Informal family-run business, with friendly and attentive service, which brings to the table symbolic dishes of the local cuisine. From tortellini to gramigna pasta with sausage, from tagliatelle with ragù meat sauce: any choice here is good. Delicious, simple and tasty homemade desserts, small but valid wine list.
Trattoria Serghei – via Piella, 12
Sfoglia Rina
Is it possible to eat well at a good price? Yes, especially at Sfoglia Rina, an informal eatery offering a complete menu that's tasty and accessible to everyone, including fresh pasta and homemade recipes. Try the tagliatelle, tortelli and passatelli, to taste on the spot or to bring home. Other locations in Casalecchio di Reno and Zola Predosa.
Sfoglia Rina – via Castiglione 5 b – sfogliarina.it
Diana
At the tables of the restaurant in via Volturno there is no risk of abusing the term 'historical'. Since 1909 the business has handed down the tradition of Bolognese cuisine, opulent, homemade, sumptuous. Ranging from tortellini, lasagna and boiled meat cart, the restaurant continues to be one of the reference points for the city's gourmands.
Diana – via Volturno, 5 – ristorante-diana.it/
by Michela Becchi