Located just a few miles from the Italian border, the Valais Canton in southern Switzerland is a perfect three-day vacation filled with breathtaking views and mountain flavors. A tasting primer amid Alpine cheeses and great cured meats.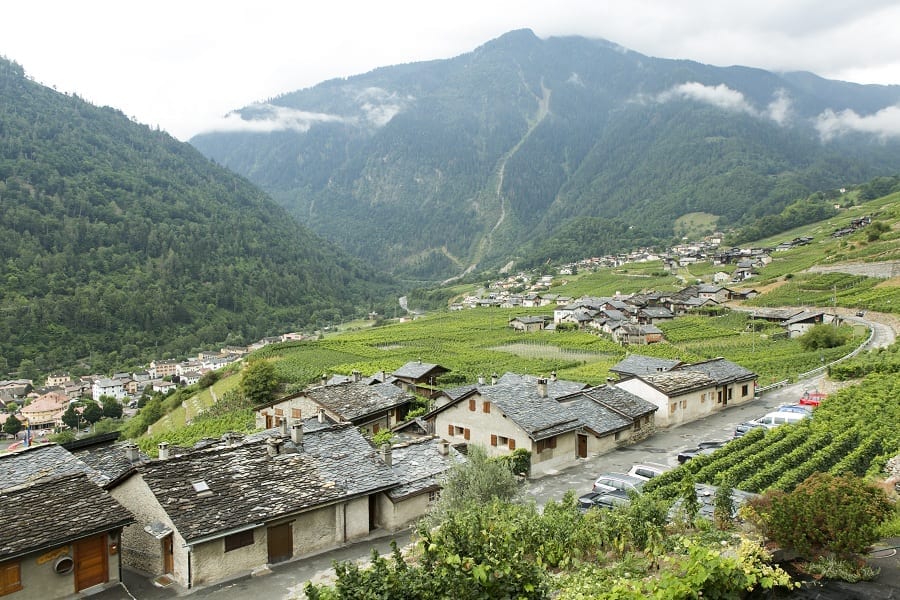 Day 1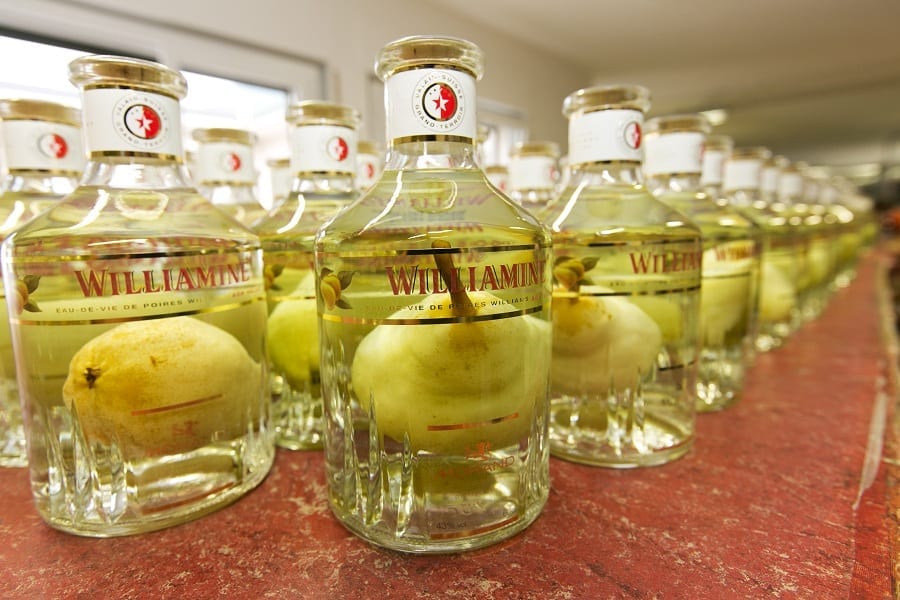 Distilled elixirs and fruit liquors
In Martigny, in the heart of the Valais Canton the best way to end an evening is knocking back a shot of Grand Saint Bernard, with the familiar Saint Bernard dog wearing a flask around its neck. This liquor made from Alpine herbs and honey plus a pinch of saffron or chlorophyll (according to which version, yellow or green) is an exclusive Morand product. This is a distillery founded in 1889 and that now markets over a hundred prime quality products. "We are the only producers of Grand Saint Bernard according to a secret recipe, but we also make a hundred or so other distilled liqueurs" says Louis Morand, fourth generation, as he introduces us to a highly alcoholic tasting. The distilled products, liqueurs and syrups made in Distilleria Morand possess the aromas and flavors of the fruits and herbs of the Valais mountain region. Among the most popular is Williamine, a spirit made with local Williams pears. This is a registered brand and follows the DOC appellation regulations. There's also Abricotine, another DOC spirit made with luizetapricots – a French variety that's acclimatized well in this area for the last 150 years. Then there's Framboise, a delicate distilled raspberry spirit. The quality of the fruit is obviously crucial and the selection of it is meticulously Swiss: the pears for example are picked unripe and remain in crates for a week until perfectly ripe. Apricots on the other hand are picked at perfect maturation, in the distillery the stone is removed and the fruits reduced to a pulp; this is followed by natural fermentation at a controlled temperature. Distillation happens strictly in alternate cycle alambics, with top-ups in order to obtain a precious product. "We produce pure spirits characterised by well-recognized fruit aromas" stresses Morand "We therefore do not use wooden casks".
What to see
After the distillery tour you can visit the Fondazione Gianadda museum created in '78 by a native Italian collector. The museum accommodates Roman-Gaul artifacts, a vintage car collection and a beautiful garden embellished by turn of the century sculptures and art installations by artists the likes of Brancusi, Niki de Saint-Phalle, Henry Moore, Cesar and others. Another must see is the Museo del San Bernardo, dedicated to the universally loved dogs and their role as mountain emergency helpers.
Gourmet shopping
The best place for your foodie finds is Le Confiturier Marcottin, an original shop that sells jams and marmalades with an open kitchen. Here Sonia Gonin prepares approximately 200 different kinds: wild cherry, mixed berries, apricot, apple and other fruits.
The store is located in the mountain village of Les Maricottes since 1997, when the owner Gonin decided to give up her day job – at Banca Centrale Svizzera, a bank! – and dedicate herself to jam-making. She cooks and mixes them in large cauldrons right under her customers' noses.
The evening may end in the company of Patrick Bersier and Marie Claire Merola, the couple running Caveau du Moulin de Semblanet, a cozy tavern with an annexed 1800s mill. Here, among 1880 dough mixers and a Felix Baumann tiled oven, every Friday morning there is a bread baking demo for foodie tourists. At the table, a steaming local d'Hérens beef steak with garlic butter and mixed vegetables, and a delightful 4-meat fondue Bourguignonne: horse meat, beef, pork and poultry.
Day 2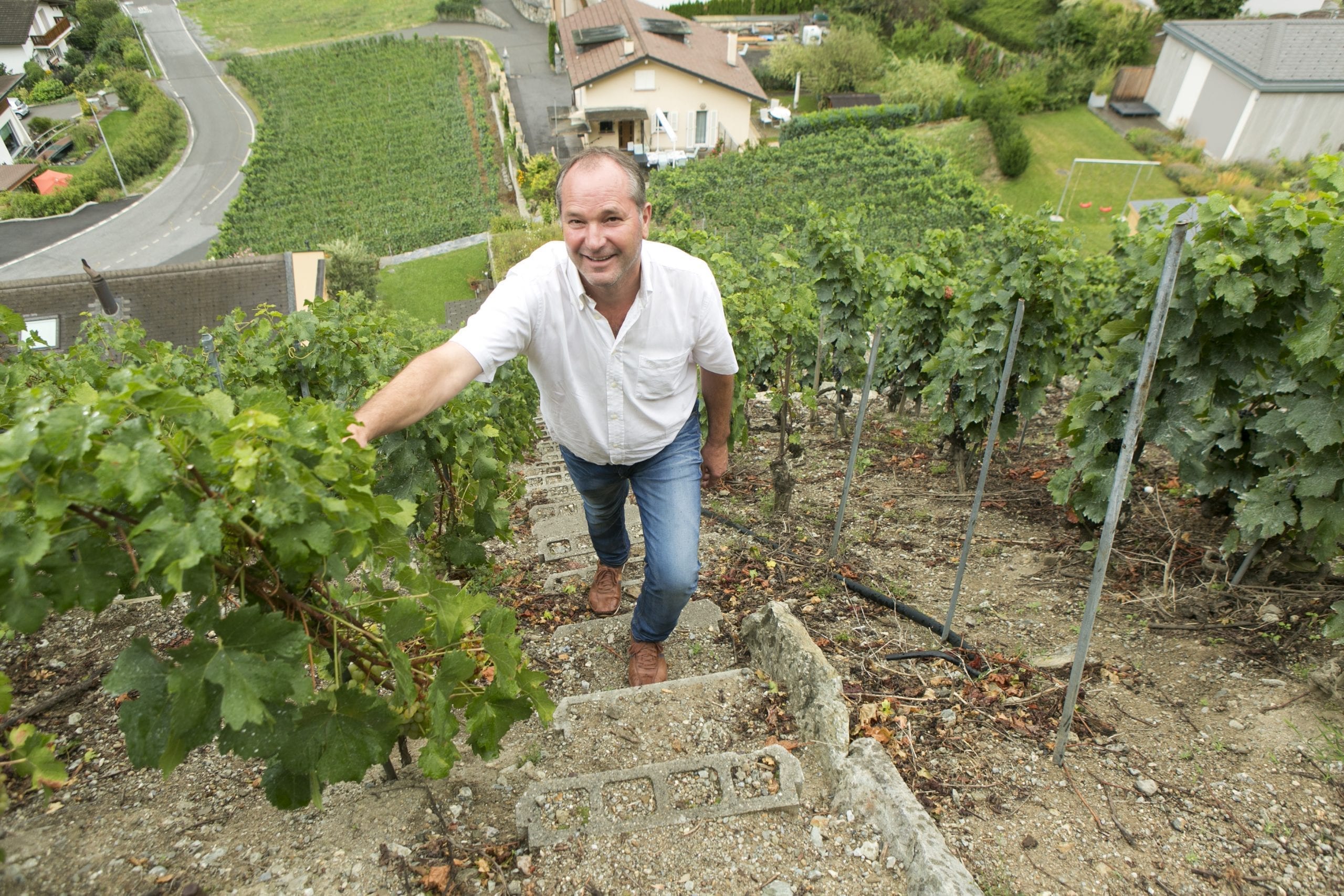 Eno-tourism
At least one day needs to be set aside for wine tourism in the terraced vineyards of Martigny, where Florian Besse, third generation of a family of small winemakers, produces his best wines from organic farming. The varieties are 11 among which pinot noir, gamay, petit arvin, chasselas, johannisberg, sylvaner. Mr Besse's 5 hectares are divided in different parcels scattered in the steep hillsides of Martigny, each terraced and contained with dry stone walls. This characteristic increases maintenance costs. "Each hectare needs over 1300 hours of work compared to the 90 hours of a classic mechanized vineyard. We strictly work by hand, it's the only possible way in this steep hillside farming", enthusiastically tells us Mr Besse swirling a glass of 2014 Marsanne: late harvest of pure marsanne grapes without malolactic fermentation. Good acidity, freshness and notes of exotic fruits. Sweetness is given by the small sugary residue (not been transformed in alcohol) by stopping fermentation. Another good wine is Fendant made by unblended chasselas grapes. Dry, delicate and fruity, with notes of pineapple and white flowers.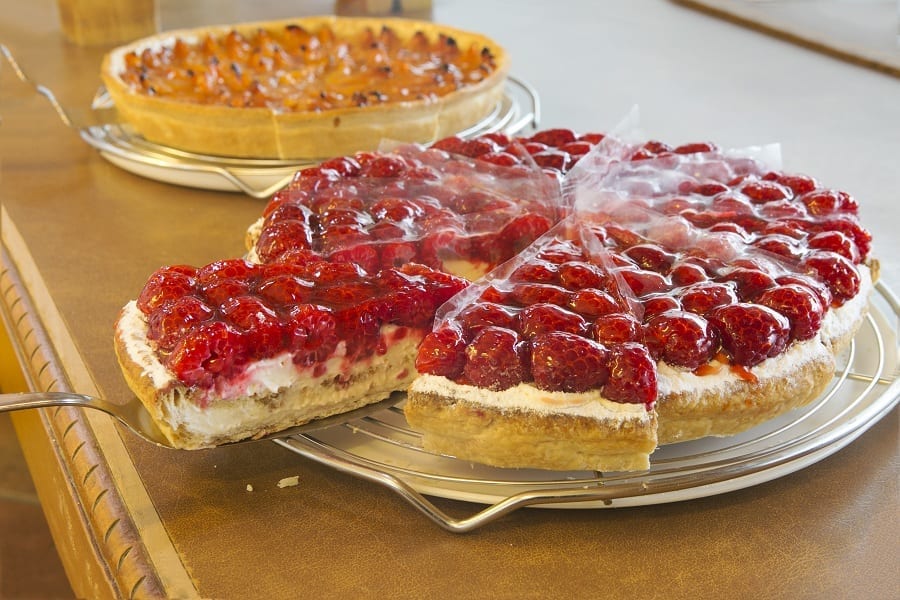 Tasty snacks: pastries, cured meats and raclette
For lunch we head to Verbier, ski resort located approximately 50 kilometers away. There are only 3800 inhabitants but lots of chalets, hotels and high quality restaurants. The price point is also higher, but we're well aware that Switzerland is not a low cost destination. Carefully scouting the area however, you can always track down good quality/price ratio: we found it at Boucherie Traiteur Boissons, a butcher-deli specialized in mixed cured meats of beef and pork, deer and other delights. Simon Tornay and Rafael Jordan took over Rafael's father's butcher shop in 2009 in the village of Orsières, rebooting business while sticking to local sausage-making tradition and widening the shop's choice by adding new products, including wine. The owners purchase the meat within a short geographical radius at small and trusted cattle breeders: black d'Hérens and simmental cows, pigs, Alpine lamb, rabbit and poultry. Besides selling the meats, Simon and Rafael also produce their own cured meats, a mix of beef and pork products, pure pork or deer salt-dried products, mountain hams, lardo and beef jerky. The business'es main production is sausages - a spiced blend of ground beef and pork pancetta added with salt, pepper and a blend of mountain herbs and spices. The sausages age for a little under a month, and are served sliced as part of the classic local Assiette Valaisanne, typical Valais-style grazing board.
The La Poste bakery attracts crowds thanks to its delicate Valais luizet apricot cake, or the raspberry cakes and the small macarons. Owner Nicolas Micheli points out another local delicacy, the fragrant rye Aoc bread – cooked in a wood-fired oven.
The real snack however, is the one enjoyed seated at the table of Le Caveau tavern, where charming Alexander Bujard slices raclette for us: the cheese slices are then melted by the heat of a special implement that's hooked to the cheese wheel. The effect is irresistible creaminess. "When you taste raclette you can actually taste the flowers of the Alps" says Bujard "especially if the cheese is made from milk of cows grazing in high altitude summer pastures"
Day 3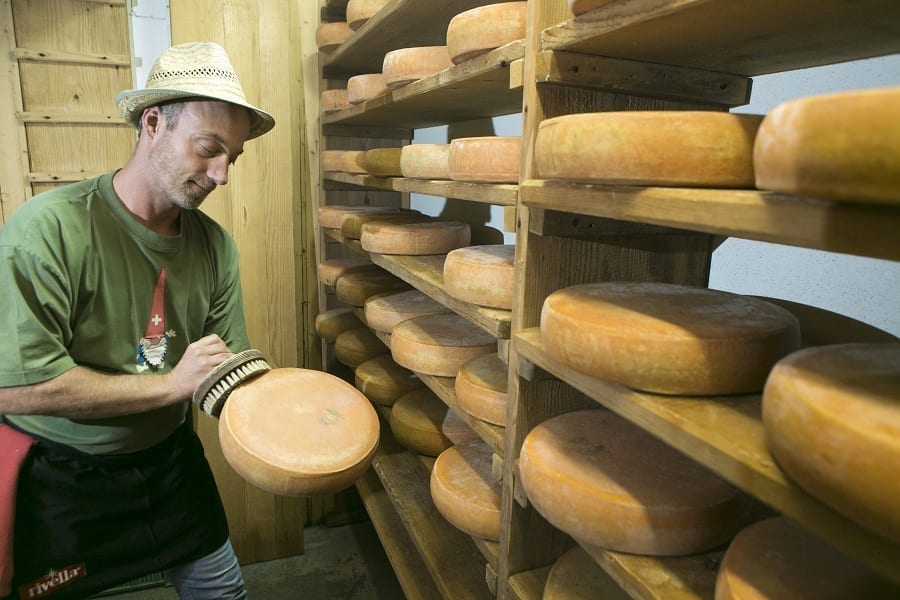 High altitude summer pasture cheese
The raclette tasting is only a fraction of the surprising aromas and flavors we experience the next day when we head to the Alpage de Mille dairy production at 1900 meters above sea level. This is home to farmers Pierre Alain and Caterine Michellod and their French native cheese maker Christoph Prodanu. We are in the mountains of Le Chable. Thier 160 black d'Hérens breed cows feed on grass at around 2400 meter altitude between June and September. The 35 heads of Pezzata Rossa (Italian Red Pied breed), simmental and holstein breeds, plus about 80 calfs, are instead kept at lower pasture lands and spend the night in the stables. Black d'Hérens cows are milked by hand in high altitudes and their fresh milk is taken into the dairy production rooms at 1900 meters daily, using a mule to carry the load. "High altitude pasture milk is more richer in protein, structure and flavor simply because the grass is different up here"explains Caterine. The milk is transformed by cheesemaker trasformato Christoph Prodanu in delicious Aop (Dop) Raclette, Bagne tres Millee and other types of cheese. In the summer months approximately 70K liters of milk are made into cheese, while during the rest of the year, when the high altitude pastures are covered in snow, the milk is sold to other dairy farms.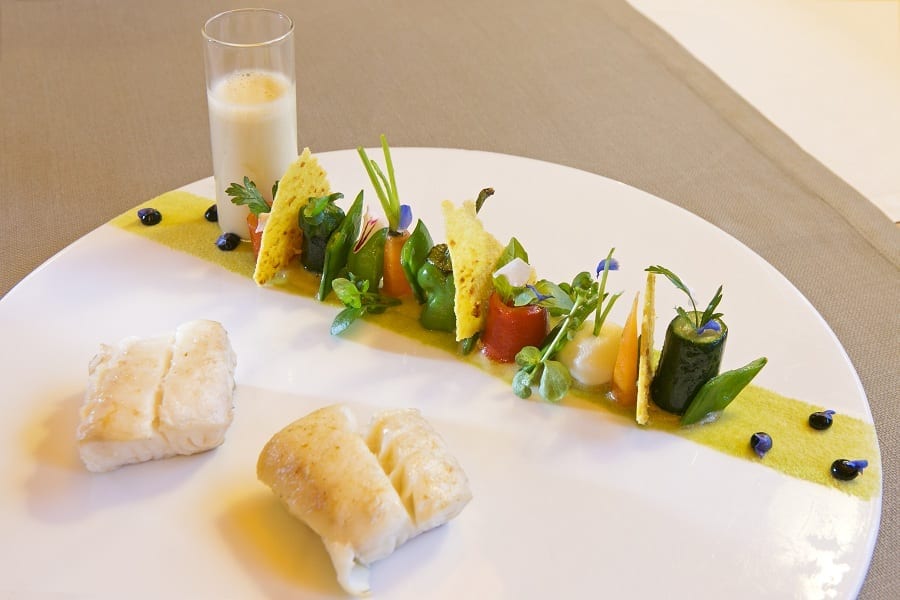 Gourmet snacks and meals
The day in Verbier reserves more surprises. Delightful grazing boards and potato rösti di assembled by Aimée Oreiller, the young chef of panoramic restaurant La Marmotte, or the dishes made with local ingredients by Charles-Henri Zuchwat, chef at L'Escale, a small restaurant on the road to Le Chable. "In Switzerland restaurants are only apparently expensive" replies Henri Zuchwat at our observation "Here there is no service, cover and bread charge. Plus the main entree is always served with a couple of side dishes. True, mineral water is costly. but you can always ask for a jug of spring water".
For dinner we go to the kitchen of Mirto Marchesi, the young chef of Michelin starred Le Table d'Adrien. The thirty-two year old Swiss from the Ticino Canton, worked in Italy at the Venice Westin Excelsior, at Tivoli in Cortina and at Roland Yörris in St. Moritz before landing in Verbier. His cuisine is a creative twist on local classics, refined and lighter. "We also serve freshly caught seafood" states Marchesi "but we mostly rely on sweet water fish, which however requires special skills in order to extract all the flavors. The lavarello (lavaret white fish)fish for example, is marinaded in a gravlax style sauce added with various herbs and spices, salt and sugar".
Here is the menu of our last dinner in the Valais: confit pike perch served on a cream of ginger and lemongrass; marinated lavaret on a Petit Arvin reduction, mountain lovage and crispy wafer served with caviar. We close the meal with river shrimp, saffron bisque, quinoa and crisp wafer with bell pepper, zucchini and basil. Segue the colorful grilled pike perch with garden veggies: baby carrots, friggitelli peppers, zucchini, white turnips, corn chips, mountain herbs, watercress, borage flowers and bagna cauda sauce.
THE ADDRESSES
Where to eat
L'Escale | Le Chable | route de Verbier, 22 | frazione Villette | tel. +41 (0)27 7762 707 |www.restaurantlescale.ch | Small gourmand restaurantbases its cuisine on locally sourced ingredients and well-executed, tasty dishes.
La Marmotte | Verbier | Les Planards | tel. +41 (0)27 7716 834 |http://lamarmotte-verbier.com| Open Mon-Sun | Typical Valais specialties and seasonal dishes served in a panoramic mountain restaurant built out of an old stone and wood stable.
Le Caveau | Verbier | place Centrale | tel. +41 (0)277712 226 |www.caveauverbier.ch | Typical Valais tavern specialized in raclette, i.e. melted Swiss cheese, especially the tasty summer milk wheels.
Le Mulin Semblanet | Martigny | rue des Moulins, 11 | tel. +41/027.7225198 |www.moulinsemblanet.ch | Open Mon-Sun | In the old mill tavern you cna find wholesome flavors, like the crostina du Moulin in various versions, select meats and delicious fondues.
Restaurant de Plan Cerisier| Martigny-Croix |Les Guières, 15 | tel. +41 (0)27 7222 529 | www.plan-cerisier.ch | Valais cuisine served on the terrace in the shade of a large elm tree and overlooking terraced vineyards.
The Table d'Adrien | Verbier | chemin des Creux | tel. +41 (0)27 7716 200 | www.chalet-adrien.ch | Michelin starred restaurant of Hotel Le Chalet d'Adrien offers refined modern local cuisine (with a menu section dedicated to lake fish) and a fine choice of French, Italian and international wines.
Where to stay
Hotel Du Forum | Martigny | av. du Gd St. Bernard, 72 bis | tel. +41 (0)27 7221 841 |www.hotel-forum.ch | Small 3-star hotel located at a stone's throw from the center of town, has 29 simple units and a buffet-style breakfast with fresh croissants and local fruit jams. Free wifi.
Hotel Cordée des Alpes | Verbier | route du Centre Sportif 24 |tel. + 41 (0)27 7754 545 | www.hotelcordee.com | Refined 4-star hotel located in a large, elegantly furnished wood chalet. 32 units all with small balconies. Spa and pool included in the price of the room, wellness centre and gourmet restaurant, continental breakfast and wifi included.
The Chalet d'Adrien | Verbier | chemin des Creux | tel. +41 (0)27 7716 200 | www.chalet-adrien.ch | This 5-star hotel is part of the Relais et Chateaux circuit, and is located near the Savoleyres ski facilities. It offers elegant Alpine-style rooms, suites and small guest houses with balconies and panoramic pool.
What to see
Fondazione Pierre Gianadda | Martigny | rue du Forum, 59 |tel. +41 (0)27 7223 978 | www.gianadda.ch | A garden with 35 art installations dating back to the turn of the century and a Roman-Gaul archeological museum and a vintage car collection.
Le Mulin Semblanet | Rue du Moulin 11 | tel. +41 (0)27 7225 198 | www.moulinsemblanet.ch | A 1880 mill that has been restored and turned into a functioning exhibit mill. Daily visits and bread making demos on Friday mornings.
Moulin et Scie| Sarreyer | chemin du Moulin 3 | tel. +41 (0)27 7781 728 | www.museedebagnes.ch | An old sawmill in a 1837 structure that had been in operation until 1949, functions thanks to an ingenius cog and transmission belt mechanism.
Museo dei cani San Bernardo | Martigny | rue de Levant 34 | tel. +41 (0)27 7204 920 | www.museesaintbernard.ch | The history of the famed St Bernard dog, native Valais and Val d'Aosta dog employed in mountain emergency rescue.
Food shops
Confiturier Marcottin | Valais | loc. Les Marécottes | tel. +41 (0)27 7611 461 | www.leconfituriermarcottin.ch | Original homemade jam shop and open kitchen.
La Chaumiére | Rue de Médran 2 | Verbier | tel +41/027.7712530 | Open July-August and December-April | Tasty food shop with vast choice of cheeses among which 200 from Switzerland alone, in addition to Valais, French and Italian specialties.
Pâtisserie-Confiserie de La Poste | Route de Verbier-Station 63 | Verbier | tel +41/027.7716425 | Open Mon-Sun | Rye breads, fruit cakes, Paris style macarons filled with raspberry ganache, oven products and artisan pastries.
Distilleria Morand | Martigny | place de Plaisance, 2 | tel. +41 (0)27 7222 036 | www.morand.ch | Distilled spirits, liqueurs, fruit- and high altitude herb-based spirits
Caveau Florian Besse | Martigny-Croix | route de Plan-Cerisier, 11 | tel. +41 (0)27 7220 023 | www.vinbesse.ch | Organic winemaker, 5 terraced hectares cultivated with autochtonous grapes.
Alpage de Mille | Versegères | rue de Prarreyer, 19 | tel+41 (0)79 5674 625 | High altitude, summer pasture-fed cow's milk cheese
BTB – Boucherie Traiteur Boissons | Orsières | rue de la Commune, 5 | tel. +41 (0)27 7831 229 | www.jordan-tornay.ch | Locally sourced cured meats, steaks and sausages.
Useful info
Valais Swiss Tourist Board www.myswitzerland.com/it-it/vallese.html
Martigny Tourist Board www.martigny.com
Verbier Tourist Board www.verbier.ch
Valais/Wallis Promotion tel +41/(0)27.3273590 www.vallese.ch
words and images by Massimiliano Rella
translated by Eleonora Baldwin