Ancient Greece was not merely the cradle of viticulture, but also the center of grape diffusion in the entire Mediterranean. The majority of grape varietals grown around Europe traveled on the Hellenic trade routes. Traveling to Greece always conserves a taste of the past, even in regards to wine, especially if journeying to the Aegean islands, home to the Cycladic civilization since 4000 BC.
A rock in the middle of the sea
Cobalt blue sea. A dark and rocky cliff emerges from the deep waters, laced with whitewashed houses and an enamelled blue sky above. This is the unmistakable skyline of the island of Santorini, always an awe inspiring site. It's hard, in fact, to get accustomed to nature's spectacle, so violent in its beauty. Santorini is a dark rock scattered in the deep Aegean Sea where myth, history and legend meet at a crossroads. Santorini is not just an island in the Cyclades, it's a small universe that disappeared and then resurfaced. It is the splinter of a much bigger and more mysterious past sunken in the depths of the Mediterranean Sea. Laden with secrets.
Santorini between history and legend
What remains today is the mere ghost of a grand island emerged from the sea in prehistoric times. In the course of the IV millennia BC modern day Santorini was known as Stroggyli (Greek for 'round'), due to its circular shape. The island housed ancient Cycladic settlements, and in 1700 BC, after a violent volcanic explosion, large part of the island sunk into the depths of the Aegean Sea. As a result of this natural disaster only the crests of the ancient crater walls emerged in addition to a cluster of small islets. The ancient civilization dwelling on the island was completely wiped out during the explosion. Only few traces of it remain in the archeological dig at Akrotiri, a small Pompei-like site emerged from ashes in 1967. The Santorini explosion was a natural event of disproportionate magnitude, with consequences like tsunamis, ash downpour that reached as far as Crete and deep climate changes in the Western arm of the Mediterranean Sea. There's proof of this even in Egyptian artifact sources. If we want to tread beyond history into legend territory, then Santorini is often identified with the myth of Atlantis: the famous land that mysteriously disappeared and whose search for will never cease.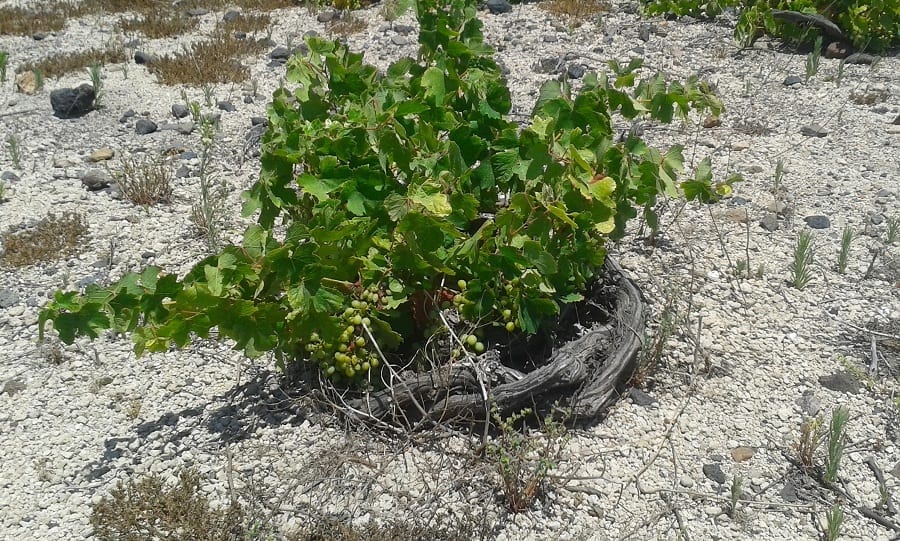 Volcanic soil and vineyards
Santorini is a true open-air museum, containing all soil aspects of volcanic nature: dark sandy beaches, red rock formations, white pumice, black basalt, grey and pink ashes. An impressive array of minerals also helps to create stunning landscapes. It should therefore come as no surprise that such rocky, mineral-rich soils is the perfect habitat for vines. Despite volcanic origin soils represent only 1% of the Earth's surface, these are often areas of excellence for viticulture. Take Italy alone, and the wine growing areas of Mt Etna, Vesuvius, Campi Flegrei, Vulture, Pitigliano and Soave.
The dig at Akrotiri allowed to date the presence of vines on the island prior to 1700 BC, date of the natural catastrophe. This winemaking tradition was never interrupted in the centuries that followed, to this day. The vineyards on the island of Santorini, planted in sandy soil, did not suffer the phylossera plague, all planted pied franc and often more than 100 years old. Soil is constituted of sand, lapillus, pumice, ashes and lavic rocks: incredibly mineral-rich and contain very few organic substances.
The island boasts mild Mediterranean climate, warm and dry, made even more parched in the summer by the forceful and constant Meltemi wind. Precipitation is rare and vines have had to adapt to the shortage of water. In summer, the only water source is morning dew generated by the evaporation of seawater and high daytime temperatures. In order to take advantage of this morning dew, vines are grown low on the ground with a "basket" method: the vines look like nests resting in shallow pits dug into the ground and the vine shoots wrapped in a circular shape. Only in this way can the vines stock the little humidity available and defend itself from the thrashing wind.
Varietals
Santorini's most famous varietal is assyrtiko, which covers approximately 80% of the vine planted surface of the island. This is a varietal that easily adapted to the Aegean climate, even when fully mature, it maintains a strong acidic component. Of extraordinary quality and flexibility young assyrtiko wines can resemble the characteristic profile of Chablis and Sancerre, with aging they develop tertiary aromas, minerals and aromatic hydrocarbon typical of Mosella.
Another autochthonous white grape is aidani which in the past was used mostly for the production of famous VinSanto. As single variety it lends aromatic wines harmonious and well-balanced floral and fruit accents.
Athiri is a white grape present in several islands of the Aegean Sea, Santorini, Rhodes and Crete in particular. It is commonly blended to produce Santorini Dop.
As far as red grape varietals, mavrotragano is surely the most interesting, even though it covers only 2% of the wine-planted surface of the island. This is a varietal that risked extinction because of its incredibly low yield. The clusters reach maturation at different times, forcing elaborate harvesting and micro-productions. In the past it was grown by small wine producers for making passito wine. Nowadays it is made into red wine and yields very interesting products.
In addition to mavrotragano mandilaria is also cultivated, the varietal is present on Santorini, Crete, Rhodes, Paros, some parts of Attica, Thessaly, Euboea and Macedonia. It yields red wines with character, which own robust tannins and that require a long aging in order to smooth the rough edges of its youth and find harmony.
The most interesting of the wines tasted
Meeting winemakers and tasting their wines confirmed the high level of production. Varietals of great potential, like assyrtiko and mavrotragano, could have gathered more fame and success had they not been confined to a small Aegean island. As a paradox, however, this remoteness in regards to international globalization has allowed these winemakers to maintain territorial integrity and historic continuity with millenary tradition. Today this is one of the most fascinating aspects of Santorini wines.
Hatzidakis
The tour started at the Hatzidakis estate, which produces under the organic farming regimen in the central part of the island, near Pyrgos. The new cellar is completely excavated out from rock to maintain temperatures constant, and offers a beautiful view of the vineyard. Among the labels tasted, we loved Aidani 2015: intense floral and fruit aromas, perfectly balanced between freshness and juiciness. Another great bottle was the Assyrtiko de Milos Vieilles Vignes 2014. A wine produced with the grapes of a single parcel, whose plants are more than 100 years old. The aromatic bouquet is complex, rich with floral notes, scents of candied citron, flint, iodine and accents of hydrocarbon. On the palate it's round and big, with aromas evolving into resinous notes, minerality and spicy accents. Mavrotragano 2012 was a surprise. A red whose aromatic baggage is elegant and expresses scents of small red fruits, aromatic herbs, spices and a slight smoky afterthought. On the palate it has good body, great complexity, aromatic depth and a perfect balance of tannins and freshness.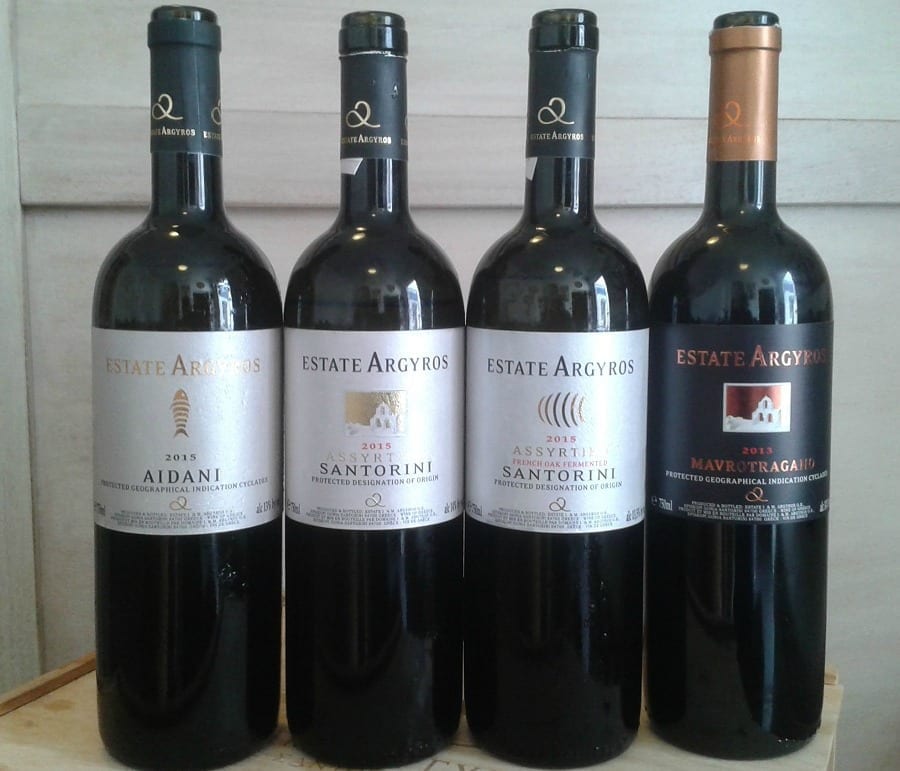 Estate Argyros
Estate Argyros is a traditional wine maker that has been producing wines since 1903 in the Episkopi Gonia estate, near Pyrgos. The Aidani 2015 is particularly attractive, with refined floral perfume and subtle aromatic profile, which is well-sustained by pleasant freshness. Assyrtiko Estate Argyros 2015 is made with the best grapes of the best parcels, which are hundreds of years old. The wine is intense with fresh, citric verve, minerality and iodine. The Oak version matured in barriques is equally interesting. The type of wood used is very discreet and which maintains the characteristics of the assyrtiko grape intact. TastingMavrotragano 2013confirms our reflection regarding this varietal: a complex red wine, elegant, capable of lending harmonious sensations. We end the tasting with 3 versions of VinSanto, respectively aged in oak for 4, 12 and 20 years. This is the island's traditional wine, produced with a blend of 3 white grape varietals: 80% assyrtiko, 10% athiri and 10% aidani. The VinSanto 2008 betrays aromas of candied citrus rind, citrus honey and sultanas, with an acidity which balances the sweetness beautifully. More complex, enveloping a supple is the VinSanto 2000, characterised by accents of nuts, candied fruit and honey. Lastly, VinSanto 1992 opens with an intense and deep bouquet of dried figs, dates chestnut honey,candied orange rind. Pairs perfectly with dark chocolate.
Domaine Sigalas
Among the island's most prominent winemakers is Domaine Sigalas, the only one located in the northern part of the island, between the villages of Imerovigli and Finikia. Under the verdant canopy of Domaine Sigalas, the tasting confirms the great quality of the estate's wines. In particular the Assyrtiko Kavalieros 2014 and the Mavrotragano 2014 which are two labels of absolute quality. The former is produced with grapes from a single vineyard of 60 year-old vines. On the nose it is characterised by great elegance, notes of citron, lemon, aromatic herbs, citrus honey, wet stone and iodized scents. On the palate it has good structure with fruit aromas that veer towards tropical notes and a good base of minerality. The sip is fresh and dynamic thanks to vibrant acidity. Mavrotragano is an extraordinary red wine that's full of charm. The Sigalas version shines for its refined notes, complex and deep aromas and a nice balance of silky tannins and freshness. Among the other Sigalas wines, we appreciated the Aidani 2015 for its floral and aromatic profile, with nice notes of exotic fruit. The Santorini 2015 is a perfect single variety assyrtiko and equally in the Barrel version, in which the oak is used with discretion and puts the varietal freshness at center stage. The version Nychteri 2013 is opulent and complex, a late assyrtiko harvest which strikes for its complexity and aromatic richness, and which is characterised by notes of candied fruit, citrus honey and chamomile.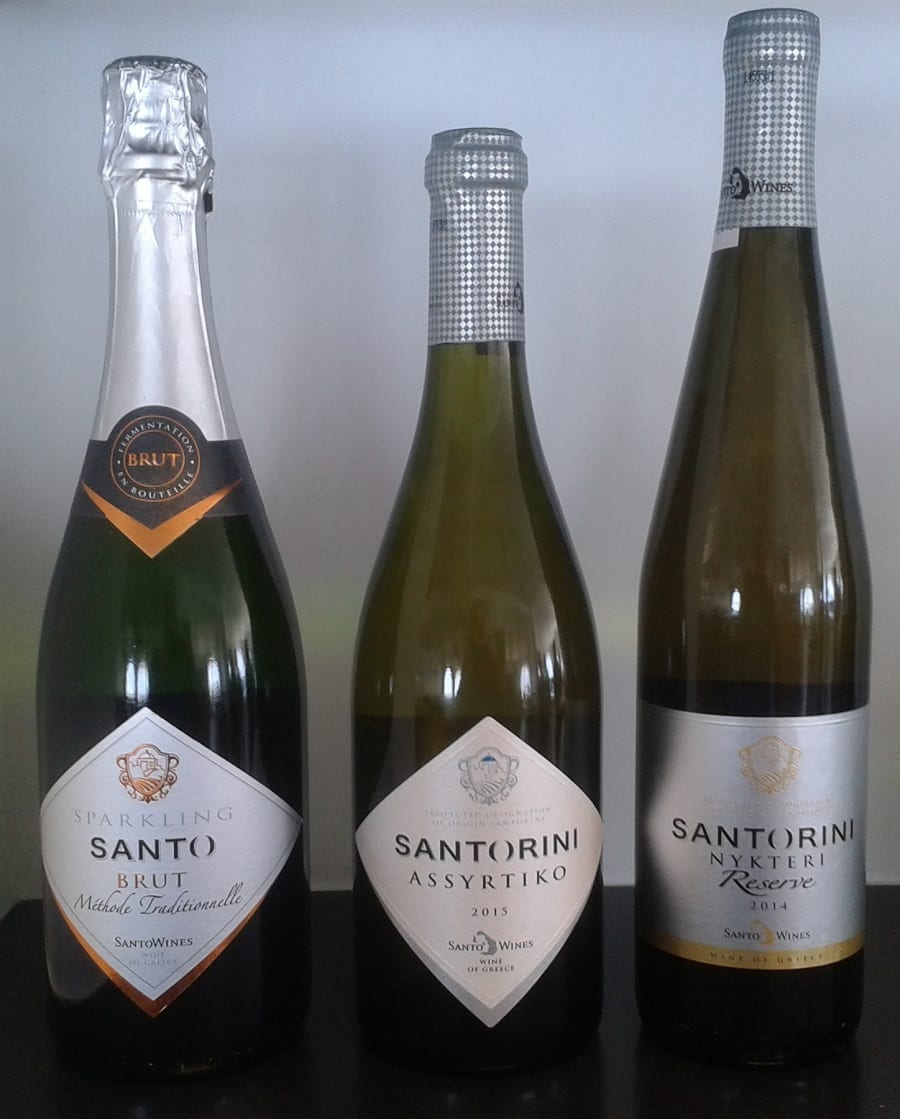 Santo Wines
The tasting of Santo Wines, a cooperative of small island wine producers, turned out to be quite interesting. Not only for the quality of the wines, but also because it allowed to discover the flexibility of assyrtiko. Santo Wines is in fact the only winemaker that produces a small batch of bottles with Traditional Method. The assyrtiko tasting therefore opens with a sparkling wine and closes with a VinSanto, by way of various types of still white wines. The Santorini Sparkling Brut, aged on yeasts for approximately 20 months, focuses the varietal potential also for sparkling versions. The citric bouquet with notes of white peach and bread crust is supported by a cutting acidity and sharp minerality. The Santorini Assyrtiko 2015 is a direct wine, with intense notes of citron and citrus fruits, sharp crispness and minerality in the close, typical for this terroir. We equally found the Santorini Nykteri 2015 and Nykteri 2013 Reserve (75% assyrtiko, 15% athiri, 10% aidani) equally interesting. The aging in oak lends the assyrtiko complexity without covering its typical character. TheVinSanto 2009(85% assyrtiko, 15% aidani) matures for a minimum of 3 years in barriques of French oak. The nose provides velvety aromas of candied citrus, sultanas, dried apricots – all well-balanced by the wine's crispness. Among the reds, Mavrotragano 2014 distinguishes itself for elegance and aromatic depth, while the Kameni 2013 single variety has notable structure, notes of jam, spices and important tannic tissue.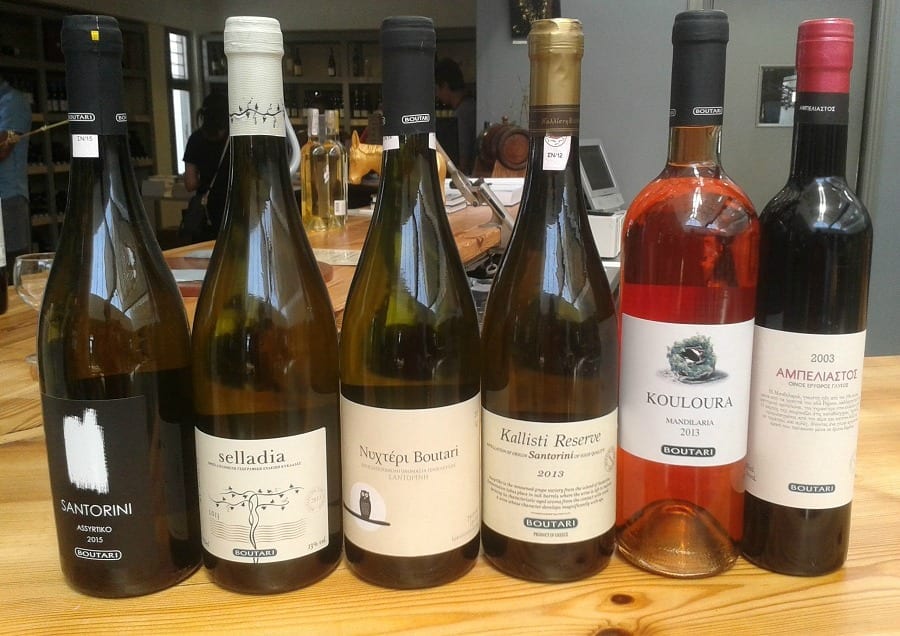 Other estates
Among the other wines we tasted we'd like to point out a couple of labels of the Boutari estate: the Santorini 2015, a clean and essential wine with net minerality and acidity; and the Abeliastos 2003, produced with single variety mandilaria grapes: served in dessert glasses, it is rich and complex, with notes of nuts, dried figs, dates, spices among which cinnamon. Perfect companion to aged and full-bodied cheeses, or chocolate desserts.
The single variety assyrtiko Thalassitis of Gaia Winery is made from old vines on the Eastern side. The yield is 25 hl per hectare. It shines for its aromatic intensity and for the characteristic crispness, sapid and full of minerality.
We close with the red Caldera 2007 of Canava Roussos, produced with mandilaria and a small percentage of assyrtiko. This is a classic terroir wine, with aromas of red fruits, jam, spices and smoky minerality.
by Alessio Turazza
translated by Eleonora Baldwin