Coffee in Milan
Few places in Italy have witnessed an exponential growth in the level of coffee shops like Milan. A city that in 2016, when we drew the first list of specialty coffee bars, presented itself with a few quality places, which still struggled to fit into the local scene and communicate to the public the importance of a good cup. Today, the number of venues has increased and so has consumer awareness, increasingly curious and attentive, and starting to approach alternative and expressive backgrounds that are different from those they have always been used to..
Events such as the Milan Coffee Festival last December, a format that's already widespread in London, Amsterdam, New York and Los Angeles, which for the first Italian edition chose the Lombard capital, city that can easily be defined as the current Italian coffee capital.
Places
There are already tried and tested places involved in spreading the culture of good coffee, new addresses that have chosen to venture into the fascinating world of black gold, coffee bars that offer new formulas and many valid noteworthy projects. To those reported below, we hope that soon L'Americano che Amava le Brioche will be added, an original project born as a roving food truck, which from mid-February will inaugurate a real bar in the Isola district. The list, however, is constantly updated.
Caffè Pascucci, the Milanese address of the Marche roasting company
A well known name in the Italian coffee scene and the reason being that the roaster of Monte Cerignone has managed over time to create a series of coffee bars scattered around Italy, all based on a good coffee offer, thanks to its own self-roasted beans. The branch in Corso Europa in Milan is undoubtedly one of the best expressions of the project, a tastefully furnished coffee bar where every espresso or filter coffee is extracted with rigor and attention. Distinguishing the coffee shop, in fact, is the skilled and professional staff, able to respond to every need, maneuvering between cappuccinos of excellent workmanship and excellent espressos, available both in the basic blend and in different single-origin with an elegant and punctual aromatic profile. An address to take into consideration for your coffee break, lunch but above all breakfast, thanks to the good offer of breakfast pastries, croissants and sweets in the morning.
Caffè Pascucci – Milan – Corso Europa, 22 - pascuccistore.com/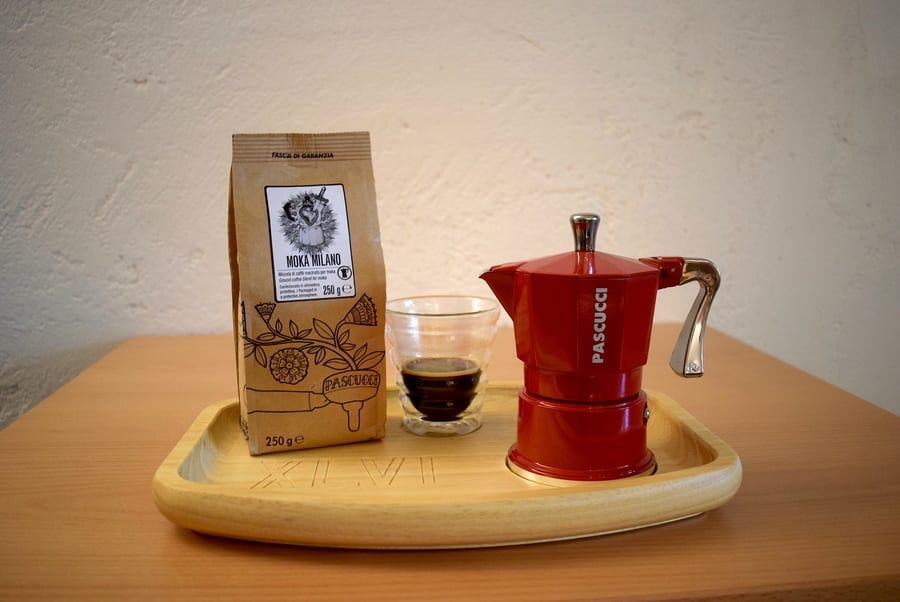 Pascucci Moka: the home coffee maker in the limelight
Again Pascucci, but this time in piazza Duca d'Aosta, right in front of the Milano Centrale station. This place deserves a chapter to its own, with minimal and essential furnishings, all dedicated to the extraction of homemade coffee par excellence: the moka pot. From paintings to wall murals, everything in the coffee bar is inspired by the Italian coffee maker, the absolute protagonist of the offer, once again to be tried either with the house blend or by choosing among the various single origins. So, between filter and espresso, here you can find the pleasure and the family atmosphere of domestic environments, enjoying a moka for three cups prepared on electric stoves, to be enjoyed alone or in company. In short, a modern, original, niche concept that draws from the most classic of Italian traditions.
Pascucci Moka – Milan – Piazza Duca d'Aosta, on the corner of via Vittor Pisani - pascucci.it/
Milano Roastery, coffee bar and roaster
Roasted beans from the namesake roaster and a series of well executed extractions from the courteous and professional team: these are the strengths of Milano Roastery, a designer coffee shop with a loft, decorated in full post-industrial style, which a year ago brought to the Porta Romana area a breath of fresh air for all coffee lovers. 100% Arabica and then single origins that change in rotation, offering a range of unique aromas that speak of distant lands. For those wishing to also find at home the enveloping aromas of black gold, it's possible to buy coffee beans on site.
Milano Roastery – Milan – piazzale Medaglie d'Oro, 3 - facebook.com/milanoroastery/
Cafezal, connecting Brazil and Italy
The goal of this young venue is already contained in the name, which in Portuguese means "coffee plantation". No blend, in fact, but only a single origin capable of bringing value to the producers of the countries of origin, true protagonists of the place opened in May 2018 in Milan, on Via Solferino, by the will of Carlos Bitencourt, an Italo-Brazilian engineer with a knack for black gold. Taking a look at the many quality coffee shops in London, he took inspiration to open a place in Italy capable of making good use of the raw material. First the roasting, then the coffee bar, a junction between the Italian and Brazilian traditions, both inextricably linked to coffee, where you can choose between espresso, filter coffee and even moka, in homage to the local homespun ritual.
Cafezal – Milan – via Solferino, 27 - cafezal.it/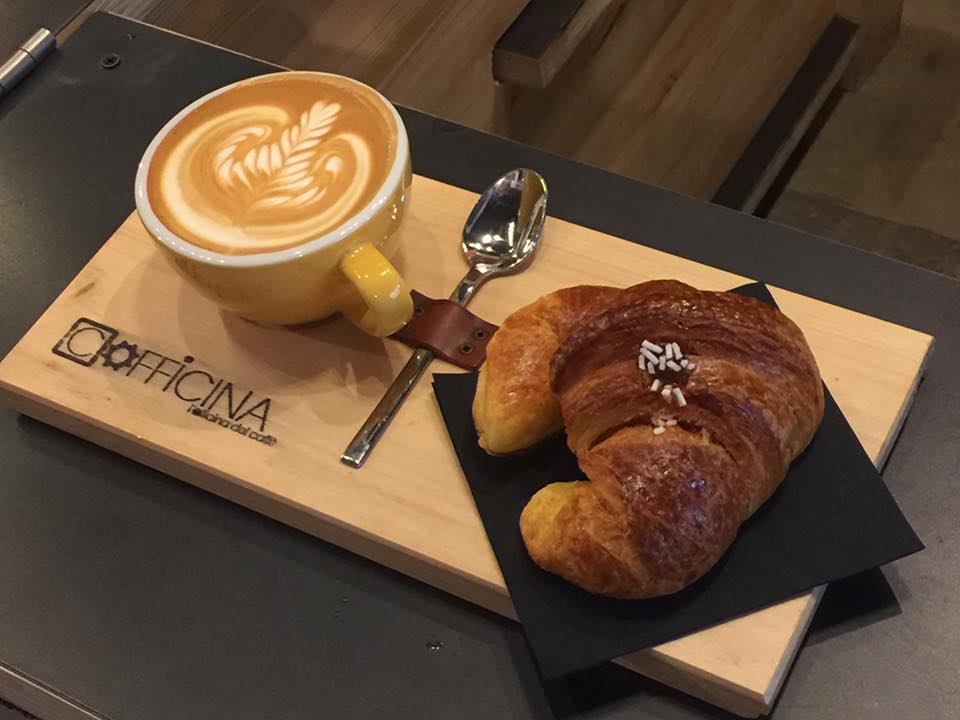 Cofficina Ticinese 58: the art of filter coffee
It's difficult to establish a definitive ranking in a dynamic city like Milan, which between new openings and continuous projects proves to be a place in constant evolution, able to change its skin with an increasingly frenetic pace. Cofficina Ticinese 58, however, has immediately established itself as one of the most promising places of the Milanese capital and beyond, thanks to a varied offer and above all thanks to the skillful baristas, passionate and professional, who carefully and meticulously describe each single origin in detail, accompanying customers in a comprehensive and wide-ranging coffee tasting. Whether you choose an espresso, a cappuccino or an excellent filter coffee––try the v60 or the chemex for a sublime sensory experience––it doesn't matter: the place never ceases to surprise, giving life to all kinds of beverages made with love and maximum precision.
Cofficina Ticinese 58 – Milan – corso di Porta Ticinese, 58 - cofficina.it/
Flagship Store Lavazza, the evolution of the Turin roaster
We are talking about Lavazza, a well-known roaster from Turin with international success, but not the usual blend present in most of coffee bars: in the Flagship Store in Piazza San Fedele, a few steps from the Galleria, there are espresso and filter coffee (v60, chemex, aeropress) prepared with the finest roasted beans on site, in the dedicated roaster corner. There is the basic blend dedicated to Milan, the San Fedele, a blend of Ethiopia, Guatemala and El Salvador, and then a proposal of single origin to accompany an excellent selection of brioche and desserts that bear the signature of the great Italian pastry chefs. There is also room for alcoholic and non-alcoholic coffee cocktails, not forgetting a series of gastronomic specialties inspired by black gold.
Flagship Store Lavazza – Milan – Piazza San Fedele, 2 - lavazza.it/it/chi-siamo/stores/flagshipstore.html
illy Caffè, Milan flagship
There are several illy flagship stores in Milan, but the one located in piazza Gae Aulenti, together with the elegant Via Monte Napoleone branch, stands out for great attention to detail, both in aesthetics and in the quality of the beverages, a philosophy that the Trieste brand has been practicing for many years. Behind the counter, the best selections of Arabica, treated with respect and rigor by the skilled and committed baristas who offer customers a fine experience. Note of merit, furthermore, for the coffee cocktails, perfect for the aperitif moment.
illy Caffè – Milano – Piazza Gae Aulenti, 10 - illy.com/it-it/company/store-eventi/illy-caffe/gae-aulenti
Orsonero Coffee: the first specialty in città
Among the first to invest in quality coffee was Canadian-born Brent Jopson, who together with his wife Giulia Gasperini opened Orsonero Coffee at the end of 2016. The decor is played on the light tones of wood and minimalistic style, with minimal seating and a central bar counter for sipping excellent cups. In addition to the various single-origin Gardelli Specialty Coffees at the bar, it's possible to try quality Italian and foreign selections: from Peacocks Coffee Roasters to Five Elephant, from Nero Scuro to Elysian Coffee Roasters, there are many brands that take turns on the shelves of the coffee shop, one better than the other, all treated with the utmost care by Brent himself.
Orsonero – Milan – via Giuseppe Broggi, 15 - facebook.com/orsonerocoffee/
Starbucks Reserve: the US giant
Amid fierce criticism, plaudit and debate, long lines and scandals for the price of espresso, Starbucks Reserve doesn't need much of an introduction. A few months after the opening, the US giant opened other coffee shops, with frappuccino and the rest of the world-famous offer. The Piazza Cordusio branch, however, differs for a quality proposal, fast and effective service, express, filter coffee and well-made cappuccinos, enjoyed in the large theatrical space (often compared to Willy Wonka's Chocolate Factory) dedicated to black gold. We continue to prefer another kind of coffee, with a lighter roast and a more elegant and refined aromatic texture, but Starbucks Reserve is still a valid address for good, clean cup; certainly better than many other coffee bars of the Italian average.
Starbucks Reserve Roastery – Milan – via Cordusio, 1 - starbucksreservecareers.it/home-it.html
Taglio, bistro with excellent coffee
This is not really a coffee shop, or rather, not only that: opened in 2013, Taglio was one of the first places that offered filter coffee in Milan, combining the coffee bar department with the shop end, a bistro and a cocktail bar: different souls that make up a multi-functional and dynamic space. In addition to filter coffee, there's of course classic espresso, always correctly pulled, available both as a blend and as single origin of various niche roasting facilities––Italian and international––on which the staff relies. In addition to cups made with great technique and care also a creative and tasty gastronomic proposal.
Taglio – Milan – via Vigevano, 10 - taglio.me/
Griso, the coffee bar just outside Milan
As part of the province of Monza and Brianza, the municipality of Seveso is however located just 30 Km from Milan proper. And the trip is totally worth it, even just for hitting Griso coffee, roaster and coffee bar designed by Antonio Biscotti and Claudia Balzan, a couple at work and in life that for years has been committed to selecting the best beans and turning them into fine blends and single-origin, to be purchased for home or enjoyed on the spot in every possible extraction, executed with impeccable technique.
Griso – Seveso (MB) – via Nicolò Tommaseo, 12 - grisocoffee.com/blog.html
by Michela Becchi