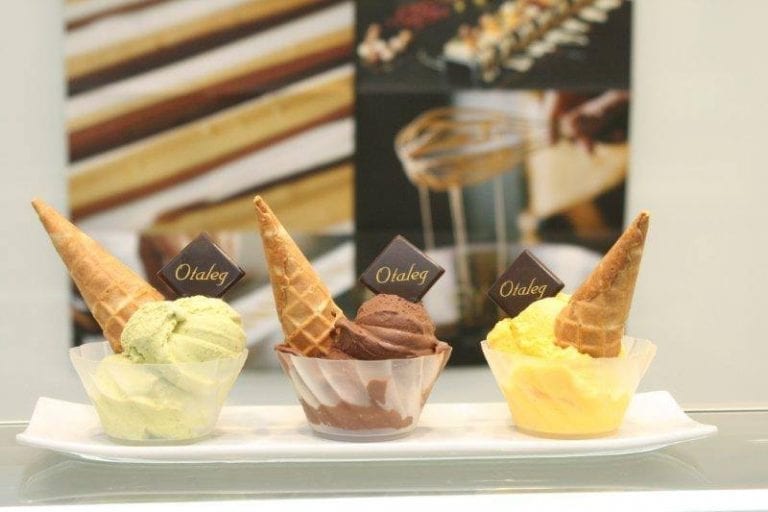 Natural, additive-free, seasonal and creative: this is how today's proper artisan gelato must be. Here's where to find the best in Rome.
At a snack time or for lunch break, after dinner or in the late evening, it is always the right time for a good gelato. Especially in Rome, where the high summer temperatures require fresh and delicious food and where there is no shortage of high quality gelaterie. Here are the best ones.
The best gelaterias in Rome
Al settimo gelo
Wholesome, natural, free of pre-gel products, artificial flavours or preservatives: Mirella Fiumano's gelato is a guarantee of quality and lightness, a delicious product made with organic milk, fresh eggs and cane sugar. There is plenty of choice as far as flavours, all with a beautiful structure and enveloping on the palate. The semifreddo and ice cream cakes are also good.
facebook.com/Al-Settimo-Gelo-103701989711686/
Cremeria Aurelia
Seasonal flavours made with fresh local ingredients, treated with sensitivity and accuracy, to create a creamy and digestible gelato, which finds its maximum expression in the creams – pistachio in the first place – but which also gives great satisfaction in its fruit proposals. High attention to intolerances, with ad hoc options.
facebook.com/Cremeria-Aurelia-1639477826294458/
DaRe
Post industrial-looking gelateria with many sub-zero specialties, including parfaits, cakes and biscuits filled with gelato. Great classics such as stracciatella and hazelnut are the masters, but the most creative flavours and the whole fruit sorbet sector are also valid.
FataMorgana
Among the first to offer a natural product, based on a few simple ingredients, FataMorgana continues to be a good point of reference for all lovers of cold art. There are many flavours, including delicious sorbets (like the one with peaches steeped in wine), to accompany the homemade waffle cones. You can book over the phone and pick up in a dedicated access point.
facebook.com/Fatamorgana.Gelaterie/
Fiordiluna
Gelateria in the heart of Trastevere where all the ingredients come from short supply chains and small producers, they are cold-worked and often in combinations that include only two components, thus guaranteeing an authentic and balanced tasting gelato. Gianduja, hazelnut and vanilla are good, but also the fruit flavors such as Williams pear.
facebook.com/GelateriaFiordiluna/
Gelateria dei Gracchi
Alberto Manassei's gelateria was one of the first to offer a natural, healthy product, without bases and pre-gels. Among the flavours, those with dried fruit deserve a taste, exquisite in all its variations, from pistachio to almond (rich and rightly famous), but not least those with chocolate (dark, milk, orange, wholegrain with cocoa beans and coconut sugar).
facebook.com/Gelateria-Dei-Gracchi-155823044440338/
Gelateria del Teatro
New start for the gelateria overlooking via dei Coronari, which offers a creamy product, net in its taste and careful in valuing the ingredients. Exquisite creams, from zabaglione with Pantelleria Zibibbo to Avola almond, and fresh and convincing fruit sorbets, such as Amalfi lemon or Terracina strawberry. Try the Vecchia Roma, a tribute to the Jewish ghetto, with ricotta, sour cherries and butter crumble.
facebook.com/gelateriadelteatrocoronari/
Gelato San Lorenzo
Bright environment, white and light gray walls, and modern design ice cream, 100% natural, with full and round flavours, creamy, free of preservatives or dyes. Among the most popular, pineapple and rosemary, raspberry with basil, walnut with lime honey and Roman biscuit. The chocolate variations and vegan options are also excellent.
Gelato d'essai da Geppy Sferra
The place that is now also a restaurant (with Geppy Sferra's Bistrò di Gelato inside the via Tor de Schiavi branch) continues to make gelato with first choice ingredients and impeccable technique. The result is creamy flavours (all the nuts options are excellent) and fruit flavours are not to be missed, all creamy and tasty.
Gori Gelato
Well-churned flavours, prepared in a natural way, without pre-gels or additives. A good, balanced gelato, well balanced between fats and sugars, clean and with an authentic flavour. There are also cakes and other ice cream-based confectionery proposals.
facebook.com/GORI-Gelateria-195724013797141/
Gunther Gelato Italiano
The protagonist of the preparations here is Plose water from South Tyrol, combined with exceptional ingredients from various regions (milk from the Po River Valley, prickly pears from Sicily). Excellent fruit sorbets but also delicious creams, freshly whipped cream and crisp, crumbly wafers. No less are cakes and other cold sweets.
facebook.com/gunthergelatoitaliano/
I Mannari
Balanced and tasty flavours, the result of carefully selected products and careful processing that guarantee excellent gelato, starting with the many chocolate nuances. Plus single portions, ice cream cakes and delicious fruit cremolato.
facebook.com/gelateriaimannari/
Il Gelato di San Crispino
Thirty years ago there were very few to offer gelato without preservatives, colourings or the use of pre-gel products. In Rome, there was certainly the San Crispino gelateria. The choice is limited but well studied: try the house classics, such as the hazelnut or chocolate meringue and then the creams, in particular the zabaglione made with Marsala De Bartoli.
L'Officina – Gelato&Bakery
Gelatos and semifreddi, but also specialties of the Anglo-Saxon tradition: the selection here is wide and varied, ranging from sorbets with seasonal fruit to deliciously balanced cream, including the Zero flavour, winner of the innovation award at Sherbet Fest 2019, recovery creation made with stale bread, coffee grounds and caramelized banana peel.
facebook.com/officinagelatobakery/
La Gelateria del Pigneto
Always a meeting point for the neighbourhood, here you can choose between sorbets with seasonal flavours, well-made granita and dense and tasty cream gelatos, all prepared with quality ingredients from trusted suppliers.
facebook.com/gelateriadelpigneto.roma/
La Gourmandise
Dario Benelli is a true gelato artist, who interprets each creation with great style, inspired by his past as a pastry chef and his passion for the recovery of Renaissance recipes. Lots of spices, nuts and intoxicating aromas characterise its particular gelatos, able to conquer at the first bite. Salt crusted almond, pistachio, variations of ricotta, coconut and myrtle berries, lemon and coriander are just some of his specialties.
facebook.com/La-Gourmandise-Gelateria-e-arte-del-gusto-1551959018156975/
Otaleg!
On the one hand, his classics remain, from the divine pistachio to his "scassata", or the Sunday ricotta to the many variations of chocolate. On the other hand, lots of seasonal fruit with a crisp, clean, balanced and light taste. Marco Radicioni does not seem to stop and continues to elaborate refined and unique proposals of their kind, perfect even in the savoury variant of gastronomic gelato.
facebook.com/OtalegTrastevere/
Pinguino Gelateria Naturale
Great technique combined with excellent ingredients: this is how Stefano Ferrara's gelato comes to life. He's a gelato maker with a confident hand who offers different flavours each time, one better than the other. Flavours are played on a reduced sugar content, a great lightness that does not skimp on deliciousness. Fruit is a hymn to the seasons, water-enhanced flavours are all to be discovered and the enveloping and refined creams are always digestible.
facebook.com/pinguinogelaterianaturale/
Torcè
Only highly digestible milk and cream for the gelato by Claudio Torcè, a passionate professional who began to take his first steps back in 2003. Rich and satisfying flavours vary from different interpretations of chocolate – which has always been the pride of the place – with fruit sorbets. The gastronomic gelato is equally good.
facebook.com/torceviadellaeronautica/
Greed Avidi di Gelato – Frascati
Healthy and natural is the combination on which the proposal of the master ice cream maker Dario Rossi is based, who does not renounce the quality of a product with a strong taste, very pleasant in a cone, for the quality of the wafer. Each ingredient employed is researched with extreme care and attention, reserving a special place for local products, from persimmons from Zagarolo to chestnuts from Carpineto.
facebook.com/greedavididigelato/
Bar della Darsena – Fiumicino
Quality ingredients treated with respect and great technique are the basis of the pleasant, clean and light gelato served at this bar in Fiumicino. Flavours made with Lazio milk and heavy cream, fresh eggs and local fruit, which give life to good quality creams and sorbets.
Gelateria del Vicolo – Anzio
A good gelato with a silky texture, flavours are clean and soft. Pistachio, cremino, blends, zabaglione, but also many fruit options with seasonal products, as well as a series of smoothies, milkshakes and proposals for celiacs and lactose intolerant.
facebook.com/gelateriedelvicolo/
Colalucci – Nettuno
One of Nettuno's most loved venues, which offers delicious proposals that include gelato, bonbons, single portions, cakes, sticks and mini-cones covered with chocolate. Excellent classic flavours, from chocolate to cream, from pistachio (a must) to hazelnut, but even the most creative and original flavours are equally valid.
facebook.com/colaluccigelateria/
Gelato Ingredienti Nobili – Civitavecchia
In Civitavecchia, Ermanno Di Pomponio is number one in his field: from sourcing ingredients to combinations, nothing is left to chance. As the name suggests, this is a gelato made from noble ingredients: no additives or refined sugars, only organic and biodynamic products, which make up enveloping and sincere flavours. Try the classics, made with Upper Bavarian milk, and the seasonal options.
facebook.com/ErmannoDPomponio/
by Michela Becchi