In one of Haruki Murakami's short stories, "The Folklore of Our Times", he mentions Badia a Coltibuono Riserva '83 because Coltibuono wines were among his favorites during the years he lived in Rome. The reason is not hard to understand. If you know even a little about Japanese culture, its respect for aesthetics that translates also into respect for taste, then it's easy to understand how Coltibuono wines, severe and coherent, Chianti-esque to the core, could have resonated with Murakami.
Badia a Coltibuono
Badia a Coltibuono – which can translate into "The Abbey of Good Harvest" – was founded shortly after the year 1000 by the monks of Vallombrosa. They began to plant the first vineyards and lived there until 1800, when Napoleonic domination forced them to leave. In the following years, ownership changed various times until in 1846, a banker, Michele Giuntini (an ancestor of the present owners, the Stucchi Prinetti family) bought it and made it productive once again. "Badia has enduring charm," said Emanuela Stucchi Prinetti, "which is also the result of historic and human events. Even from the architectural point of view, styles and influences are preserved and overlap, from the Romanesque origins of the principal building to the Renaissance garden, by way of small additions and enlargements carried out over time. What has never changed is the absolutely Chiantigiano character of this marvel. Our father Piero, in the 1950s, understood its potential fully, and dedicated himself body and soul to its renaissance and its expansion. He began to bottle the wines and make them known in the world."
"Our vineyards," explained Roberto Stucchi Prinetti, "are predominantly in Monti, except for a small plot in Castelnuovo Berardenga. The sangiovese comes largely from a mass selection carried out in the winery at the end of the 1980s, starting with 600 mother vines. Since then, we decided to replant the classic varieties of the zone besides sangiovese, that is, colorino, canaiolo and ciliegiolo, grapes which are used to make up about 10% of our Chianti Classico. The Riserva, however, is 100% sangiovese".
"Our Riserva comes from a selection of the best grapes, but the vineyards can differ year by year (there are, though, some plots that give grapes that are always part of the package, thanks to their quality). During the summer we choose 20% of our vineyards that could be worthy of being part of the Riserva product. Then, during the harvest itself comes a second selection, directly of the grapes. Therefore, from the 20% of the original choice, we get down to 10-15% of sangiovese grapes suitable for the Riserva. Annual production is not above 30,000 bottles. Fermentation is carried out with indigenous yeasts reactivated by means of a pied de cuve. or starter. The result is a wine that maintains its character and profile so that, besides being intimately Chiantigiano, it is also extremely faithful to itself."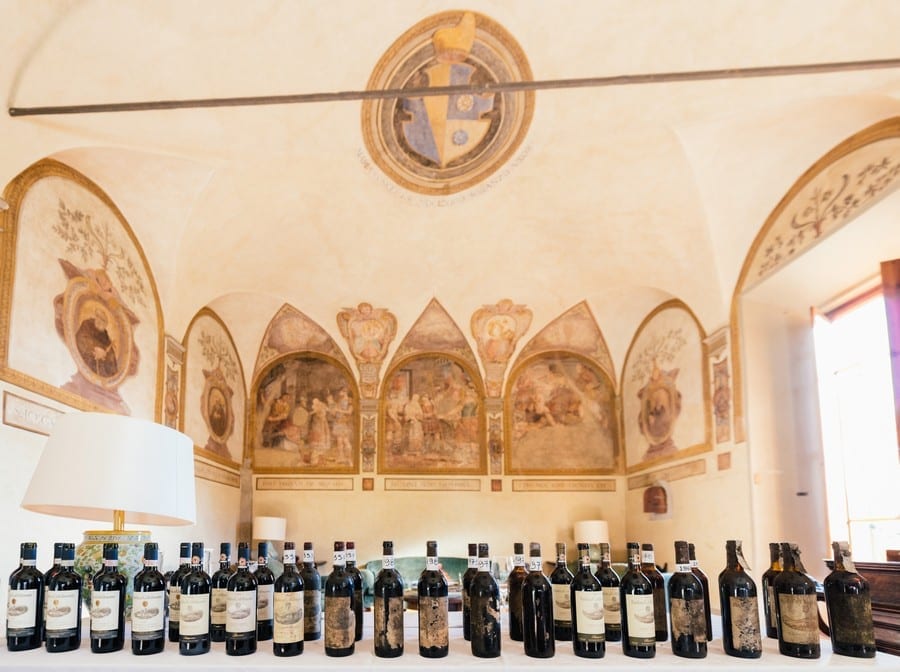 Annual production
The winery, which today counts 60 hectares of vineyard, 50 of which are in production, turns out about 270,000 bottles of organic wine annually. "Badia began the conversion to organic agriculture in the 1990s. In 2000 we attained complete certification. It is an important result, achieved step by step and by means of increased knowledge. After my stay in California," Roberto said, "I understood that pesticides and herbicides should be banned in favor of agriculture that didn't starve the soil while feeding humans. It was an important journey, and it brought us into even closer contact with the landscape, human, cultural and agricultural".
Chianti Classico Riserva | Badia a Coltibuono | Gaiole in Chianti (SI) | www.coltibuono.com
The vertical tasting
2011 | 91
The wine from a hot, decidedly dry year that ended in the earliest harvest ever done in Coltibuono (at the end of August), it offers a fruity timbre to the nose, with strawberries standing out, along with crisp cherry and hints of incense. The palate is flavorful and continuous, solid, with rigidity in tannin that is not as perfectly mature as its vintage year would suggest. The finish is delicious and its future radiant, so much so that it made us reconsider (in a big way) the lower score that we gave it for the Vini d'Italia 2016 guide.
2010 | 91
A delicate and fragrant nose, with an evident floral note and tones of berries, pomegranate and orange zest. The palate manages to be sweet and mouth-filling but also lively and reactive, thanks to assertive acidity and pleasantly nervous tannin that impels the finish, giving rhythm and verve. This too deserves well above the Due Bicchieri attributed to it in last year's guide.
2009 | 91
A wine that is well above expectations (given the not very happy vintage year of its birth) opens with notes of geranium, green tones and spicy touches of cumin. The palate is very enjoyable, assertive but caressing, profoundly Chiantigiano, ample and warm. The tannin dries slightly, but doesn't take away flavor or energy from the long finish. But in our 2014 guide we saw clearly, assigning it Tre Bicchieri.
2008 | 88
A more evolved nose than predicted, with notes of leather and black truffle already evident along with black cherry jam, forest floor and tobacco leaf. The palate, however, maintains a more youthful nose, with tannin still sharp, a sensation of iron that dominates on the close along with great sapidity. It maintains the rating given in the 2013 guide.
2006 | 86
This nose too shows a more evolved profile than expected, giving voice to tobacco, spices, leather, black pepper and anise, with dark and ripe fruit in the background. The palate is open and sunny, a little alcoholic also, but thanks to the wonderful acidity that characterizes Coltibuono wines, it manages to maintain tension and finesse.
1998 | 88
Initially not very expressive, but then come fascinating autumnal sensations, with smoky, fungal notes of wet bark, barley sugar, citrus zest, plum jam. The palate is lively and shows grip, while its tenacious, decisive step does not give way.
1994 | ?
It was impossible to get the panel to agree about this wine. Ratings varied too sharply for an average to make any sense. It was certainly very evolved on the nose, with notes of licorice, saffron and cardamom. On the palate, suffused and continuous development despite some deterioration. One vote was a 94, for an appealing quality defined as mystical.
1993 | 94
The first revelation wine of the tasting. Vivid and brilliant color. The nose is a torrent of sensations and chiaroscuro effects: dark fruit, fresh violet buds, goudron and wild thyme, candied oranges and leaves. The palate is extraordinary for its vivacity and youthfulness, the tannin silky and vibrant, the acidity energetic, and the finish interminable. Wine poetry. It won Tre Bicchieri from us as opposed to the one bicchiere awarded in the 2001 guide.
1990 | 96
Second revelation wine. A sort of enological miracle in a year that no one would have bet on. Complex and complete from the start, with vivid iodine and mineral hints, cocoa, white truffle, cherry and rosemary. Harmonious palate, elegant, changeable, refined. It is everything one could hope for from a great sangiovese Chianti. Touches the heart. In the 2001 guide, it won Due Bicchieri.
1986 | 88
A nose with some hint of understandable reduction, traces of iron sensations, dried tomatoes and olives in brine, but also cocoa beans and damp soil. The palate is tight and sharp, subtle and yet very flavorful, as graceful as a ballet dancer but bold. Old style.
1985 | 93
So much for hot vintage years! This was a year that left more cadavers than champions in its wake. But this Riserva belongs to the second group. Dark fruit, mature but lively, balsam and caramel tones, iodine, with notes of medicinal herbs and olives. A compelling palate, precise, deep and enthralling, punctuated by the ins and outs of flavors.
1979 | 87
This was the year in which oak came in to replace chestnut wood. It was bottled in 1985. The nose is not perfectly clean and displays tertiary odors with reduction notes of animal, hints of wild herbs and bitter roots. The palate is defined by its verticality, with penetrating acidity that gives pronounced and magnetic flavor. Lean but fragrant, and admirably taut.
1975 | 94
Wine bottled in the 1980s, aged in chestnut casks. The vineyards were mixed and along with the sangiovese were other varieties, certainly including mammolo and foglia tonda as well as white-berried grapes (which usually weren't used to make Riserva wines). Extremely fascinating nose, incredibly fresh, with notes of medicinal herbs, sage and thyme, mushrooms, coffee and chocolate beans, rhubarb and iodine. The palate is nuanced, subtle and elegant, vertical and densely flavorful.
1968 | 94
Intact right from the nose, in which notes of Mediterranean brush clearly emerge, with rosemary and juniper berries, sensations of spices, crumpled leaves. Graceful and compact at the same time, it flies high and shows off arabesques and twirls. Flavor and aromatic power, for a penetrating and rhythmic finish.
1958 | 88
Nothing less than an enological miracle if you remember that this wine stayed in its cask for almost thirty years (it was bottled in 1986) and was made with grapes from a mixture of vineyards, with vines trained all'albero, fermentation done farm by farm and a later selection of the hypothetical best. On the nose, sensations of root, rhubarb and licorice, humus, dried flowers, alcohol-preserved cherries, helichrysum. In some ways, the palate is still immature, very tartaric, at moments even thin, a perfect mirror of its own time. Hats off!
1946 | 95
A miracle or perhaps, the enthusiasm of post-war Italy. From half-abandoned vineyards, neglected for years during the war and bottled in the 1950s, we get this brilliant, compact and shining wine, its color only slightly faded. The nose is a blaze of emotions: dried flowers, resin, dwarf pine, leather, a slight smoky note, mint, black pepper and forest floor. Very fresh, savory and full on the palate, without hesitations or downturns, it alternates moments of peak performance with moments of absolute expression. A masterpiece (or else a marvelous and exciting prank of nature).
Antonio Boco, Franco Pallini and Lorenzo Ruggeri participated in the tasting and in the writing up of the tasting notes.
by Eleonora Guerini