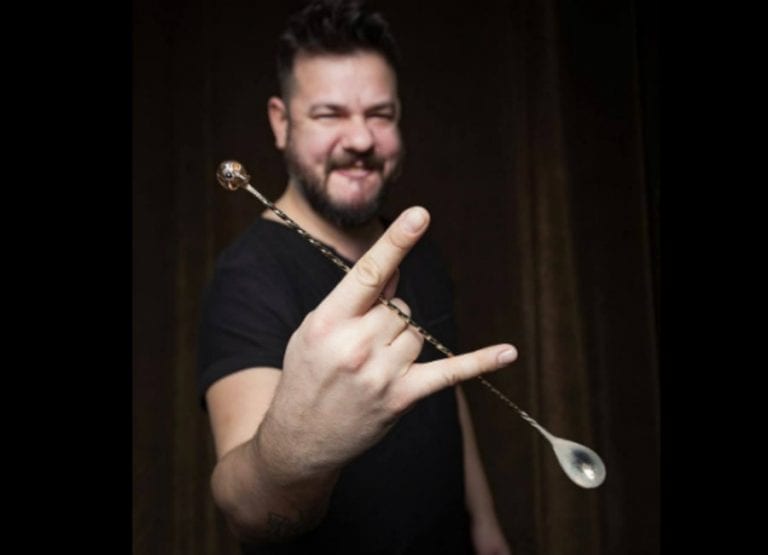 Drinking a good cocktail at the bar doesn't necessarily involve gatherings. Indeed, it can and must be done in total safety. Here's how Drink Kong is doing it in Rome.
Patrick Pistolesi: "Cocktail bars are not the issue"
An art form refined over the course of nineteen years spent behind the most varied counters; and then at his place, his "creature" as he himself likes to define it, at a stone's throw from Piazza Vittorio in Rome: Drink Kong. Patrick Pistolesi is a mixology master who, like all his colleagues, now finds himself dealing with a "new normal", but mostly with the difficulties tied to recent accusations re: the "movida" (how nighttime outings at the bar are defined) in this delicate period. "Gatherings happen in supermarkets, in liquor stores: many people buy cases of beer and drink them outdoors in a park, without respecting distancing regulations. The bars are not the problem". To the contrary, it's precisely the businesses that have always worked the hardest and that are now looking forward to getting back into the game that currently ensure maximum safety for the customer.
Cocktail bars post-Coronavirus: the financial damage
Drink Kong reopened its doors on May 22nd, "we preferred to wait precisely to get organized better. They left us little time to change the layout of the premises and rethink the spaces, we didn't want to take risks." For the health of customers and employees, but also for the business itself, "we are economically devastated, the last thing we wanted was to put more gas on the fire and close again". When speaking of financial damage, Pistolesi refers to a loss exceeding 80%. "Aperitivo outings and the like were the first experiences to be sentenced to early quarantine. It's understandable, but our category has been devastated and neglected. We have been running a significant portion of the economy for a long time, giving jobs to young kids, all in good contractual standing".
Cocktail bars today
A detail that shouldn't be underestimated, which highlights again – if still needed – how far the panorama of cocktail bars today is far from that old idea of substance abuse and excess mistakenly identified as movida (a nightlife term that actually refers to the cultural movement spread in Spain in the 80s after its return to democracy). "In the past, pubs were opened by entrepreneurs coming from other businesses, often in the clothing sector, they were second businesses for many who did not know the subject and put uncontracted people behind the counter." Now, however, places are in the hands of professionals, "The cocktail bar is no longer a makeshift business, but rather a lifestyle choice dictated by passion". Patrick knows this well, he opened his Drink Kong in one of the most flourishing moments of the mixology scene, "the audience was already ready to approach openly elaborate cocktails, curious to be informed and learn more". A few days before lockdown, he had presented the new menu with a great event, involving guests from all over the world, "we've always wanted to give the bar an international character". On the way, a trip to Singapore to present the business, "and many other events for professional development".
Reopening cocktail bars: safety distances and digital menus
Then came three months of lockdown, one very complicated suspended time, "the state dide what it could, but businesses like ours suffered". Finally, the restart. Yes, but how? Social distancing in place, there cannot be more than two people at a table. "It's often thought that a large room can accommodate more customers, but we also have more staff, which must be calculated within the spaces and which must be guaranteed the same level of safety". No masks worn at the table, but it's mandatory for any other place, including restrooms, cashier desk, plus hygiene rules are even stricter. The menu has been replaced by a digital menu "with bright colours. We've always given importance to design and graphics, and we immediately liked the idea." Sanitizing gels are everywhere and also take out is packaged with compostable tableware, "a theme that is very close to our heart: we cannot and must not abuse of disposable plastic".
Open communication in order to get off to a good start
A few days have passed since the reopening and taking stock now is not easy. The customers are still very few, divided equally between those who choose to consume inside and those who prefer take out, "those who are afraid of contagion don't even approach the bar, not even for take out". The solidarity of consumers is comforting and gives us hope, "regular customers immediately returned, they gave us so much warmth, support and it was exciting to see them again at the bar". It's precisely with the public that we must speak, now: "You need to communicate your work well, explain each step, what you do and how you do it, convey your passion, make the value of the product understood."
Italian Hospitality Network: the network of the cocktail world professionals
The greatest support, furthermore, came from our colleagues: "Many came to have a cocktail and refused to have it on the house, they wanted to pay at all costs. These are the moments that push me to go on. The period is delicate, but I am grateful for all I have." With the other professionals in the sector, Patrick has also established the Italian Hospitality Network, a network of professionals born in the midst of a pandemic, which aims to be a point of reference for the sector. "Young people who want to start a business or young people who have recently invested their savings to make their dream come true can find all the necessary information here, free of charge: from law ordinances to permits. A sort of modern union". Any advice for cocktail bars that are reopening? "Networking. Be united, confront and support each other, now more than ever."
Drink Kong – piazza San Martino ai Monti, 8 – facebook.com/drinkkong/
by Michela Becchi