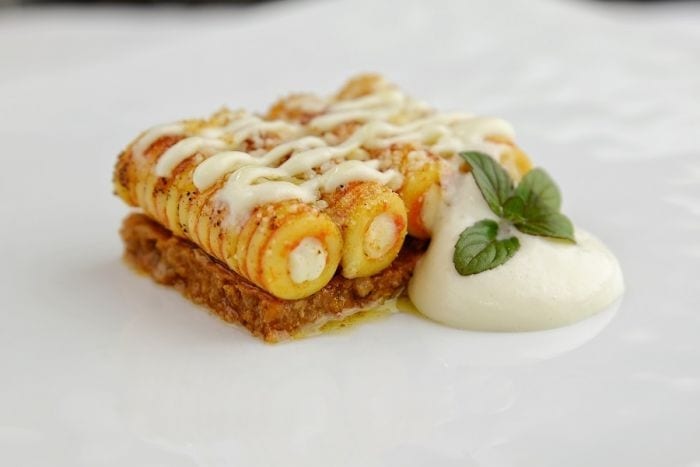 Don't believe the Palermitani who tell you that nothing interesting is happening in their city. Palermo, for those who live there, is often obvious, taken for granted. But recently, it's been doing its best to show its brighter side, the one that is livelier and deeper from a cultural and culinary point of view. It's an ideal destination for an early summer trip.
Palermo
Palermo's cultural life was energized by UNESCO naming the city's Arab-Norman itinerary to the World's Heritage list. The culinary world of the city was inspired a couple of years ago by two new Michelin stars assigned in the province, even though the time was well past due for that recognition. So alongside chef Patrizia Di Benedetto's storied Bye Bye Blues in Mondello (Palermo's first star), today the city has Tony Lo Coco's I Pupi in Bagheria, the town with artist Renato Guttuso's villa and museum, a few kilometers from Palermo. On the other side of the coast, in Terrasini, a land of seashore and cliffs, is Giuseppe Costa's Il Bavaglino.
"Palermo is living through a renaissance, without a doubt," declared chef Lo Coco. "There's still a great deal to do, but it's evident that the city is changing. It responds well to the stimuli that come from a more careful and refined cucina. I'm pleased that there are entrepreneurs that believe in us and are willing to invest." For example, Franco Virga and Stefania Milano, owners of Gagini, entrusted their kitchen to young Gioacchino Gaglio. They also launched Buatta, an easier formula in the Cassaro district (a tourist route par excellence) and Bocum, an ideal place for a pleasant drink surrounded by vintage décor, soft lighting and good music. The two restaurateurs said, "We have believed in this city since 2011, when everyone said we were crazy to open up in the historic center. We try to serve quality food, and we see tourism as a resource."
Visiting Palermo is an experience that involves all the senses, often at the same time. Monuments and taverns alternate along the narrow streets of the historic center, as aromas and flavors tell about ancient rulers and rich counter-influences.
Palermo is the land of Perricone wine, newly in the spotlight after years of neglect. It is also the home of the late-ripening mandarin orange of Ciaculli, grown by the Consortium trying to rescue a piece of the Conca d'oro. Also from here are the sweet, juicy plums of Monreale. In the countryside, honey is now produced by the nera sicula bee, saved from extinction. In Aspra, a seaside village near Bagheria, an ancient local anchovy product, colatura, is being made, along with salt-preserved anchovies. In the Cinisi zone, a breed of cow called cinisara is prized for its milk, the basis of caciocavallo palermitano cheese. "This cheese," said Teresa and Gino Armetta, who own a shop in San Lorenzo, "is made according to tradition. The flavor is unique because it carries all the characteristics of the zone of origin and the elegance that you find in the cinisara breed."
All these top-quality materials appear in the cooking of the area's best chefs, such as Carmelo Trentacosti from Cuvee du Jour, the restaurant in Villa Igiea, a five-star hotel with a view on the little port of Acquasanta. His menu offers elegant, powerfully-flavored dishes. Gaetano Billeci, who manages the restaurant in Palazzo Branciforte, a few steps from the central Via Roma, has a menu inspired by tradition but revitalized with taste and imagination. This is also the headquarters of Gambero Rosso's Città del gusto in Palermo, where courses and tastings related to local wine and food are organized.
Also in the center, for those who love local cucina, lightened but not less flavorful, there's Locanda del Gusto, the restaurant of the Quinto Canto Hotel, in the most romantic slice of the city, the Quattro Canti, between Corso Vittorio Emanuele and Via Maqueda, a few steps from the cathedral. Moving towards the sea, among narrow streets, tiny shops, miniature churches and votive altars, we come to Piazza Marina, where a gigantic ficus tree, believed to be the largest in Europe, grows. A good place to stop for very good cake and croissants is the Cioccolateria Lorenzo, before moving on to Via Alloro to visit the Abatellis Museum and shop for dried fruit (calia e simenza) in the shop on Via Torremuzza. Next comes Santa Maria dello Spasimo, an impressive church without a roof in the heart of Kalsa, one of the oldest neighborhoods in the city. A little further is Flam, the attractive contemporary osteria run by brothers Flavio and Mirco Mannoia. Flavio, in the kitchen, revisits traditional dishes with an eye to the less classic ingredients of Palermitano cucina. Mirco, in the front, guides clients with charm and competence.
Markets and street food: panelle, grilled dishes and sfincioni
Among the fascinating places to visit in Palermo are three historic markets. Vucciria is a network of streets between Via Roma and the Cassaro, Piazza Garraffello and Piazzetta Caracciolo. Over the years it has become less a market and more a home for movida, loud music, tasty street sandwiches, expansive grills for sausages and ice-cold beer. From Porta Carini, you can reach the Mercato del Capo: fish, meat, fruit and vegetables, spices and herbs. While sampling panelle (chickpea fritters), sfincione (Sicilian-style pizza), and meusa (spleen) panini, the stars of local street food, you move on to Ballarò, the city's third market, where sellers of fruit and vegetables are interspersed with naturalized immigrants selling products from their home countries.
Ricotta, cream and gelato: the dessert tradition
We salute the rich Palermitano pastry tradition that owes much of its fame to the delights of creamy ricotta in cannoli or to cassata, both classic and baked versions. Don't miss those from Oscar or Cappello pastry shops. In the provinces, look for the excellent sweets Sciampagna makes in Marineo. Remember almond paste, reginella biscotti with sesame seeds, and, in the summer, watermelon gelo and brioche with gelato and whipped cream from La Delizia di Sferracavallo.
Anchovies. The museum of Aspra in the old factory
Aspra, a little seaside town near Bagheria, about 20 kilometers from Palermo, has a unique museum, entirely dedicated to anchovies. Working this fish sustained the families of this town for years. Built by two brothers, Girolamo and Michelangelo Balistreri, in the old headquarters of their canning factory, the museum holds objects and stories connected to fishing and to preserving the fish that embody the story of the place. From lithograph stones to the tools of the fishing trade, from equipment for salting to repairs of the fishing vessels, including documents that attest to stories that seems like legends – it's all here. In fact, the Aspra anchovy people, along with those from Terrasini and Sciacca were so capable that they were invited to Spain to teach the locals the art of salt preservation. The museum is free, but reserve ahead.
Wine: Perricone is to Palermo what Nerello is to Etna
Perricone, one of the indigenous red grape varieties, is to the Palermitani what Nerello Mascalese is to Etna. At the end of the nineteenth century it was one of the most-grown varieties produced in the provinces of Palermo and Trapani. Used in the past to make Marsala Ruby, it was gradually abandoned. It owes its renaissance to the farsightedness and the faithfulness to their territory of some producers who kept it alive. "When I began to grow Perricone in 2009," said Marco Sferlazzo, owner of Porta del Vento winery, "there were five other producers still doing it. Today, there are about eighteen." There is a renewed and growing interest in this variety which has a character that is sometimes hard-edged but is also extraordinarily versatile.
Castellucci Miano | Valledolmo (PA) | via Sicilia, 1 | tel. 0921 542385 | www.castelluccimiano.it
Porta del vento | Camporeale (PA) | c.da Valdibella | tel. 091 6116531 | www.portadelvento.it
Principi di Spadafora | Palermo | c.da Virzì | tel. 091 514952 | spadafora.com/
Tasca D'Almerita | Sclafani Bagni (PA) | c.da Regaleali | tel. 0921 544011| www.tascadalmerita.it
Accardi | Palermo | via G. Amoroso, 1 | tel. 091 485797 | www.accardipasticceria.com
Alba | Palermo | p.zza Don Bosco, 7c | tel. 091 309016 | www.pasticceriaalba.it
Pasticceria Cappello | Palermo | via Colonna Rotta, 68 | tel.091 489601 | via Nicolò Garzilli, 19 | tel.091 611 3769 | www.pasticceriacappello.it
Pasticceria Oscar | Palermo | via Mariano Migliaccio 39 | tel. 091 682 2381 |
Sciampagna | Marineo (Pa) | via Agrigento, 17| tel. 091 872 7508 | www.pasticceriasciampagna.it
Spinnato | Palermo | via Principe di Belmonte, 107/115 | tel. 091 329220 | www.spinnato.it
Cioccolateria Lorenzo | Palermo | via Quattro Aprile, 7| tel. 091 784 0864 |
Gelateria La Delizia | Palermo | fraz. Sferracavallo | via Dammuso, 57 | tel. 091 532186 |
by Clara Minissale