The guide
Oli d'Italia is the volume that gives voice to Italian olive growers, showcasing their story and their products. And above all, evaluating the qualities of each label, recognizing aromas and characteristics. Among the many (743!) oils reviewed in the 2018 edition of the guide, there are also those that differ in intensity, elegance and balance. As well as among the many (476) farms listed, some are distinguished for particular qualities, such as the best olive press, or quality/price ratio, the ability to enhance the olive oil landscape of a growing area. The special prizes bestowed by the guide are 13, and for so many extra-virgin nuances and declensions of a product that's in constant evolution. The guide collects all of them, shedding light on the excellence of each category, from the best IGP to the best organic oil.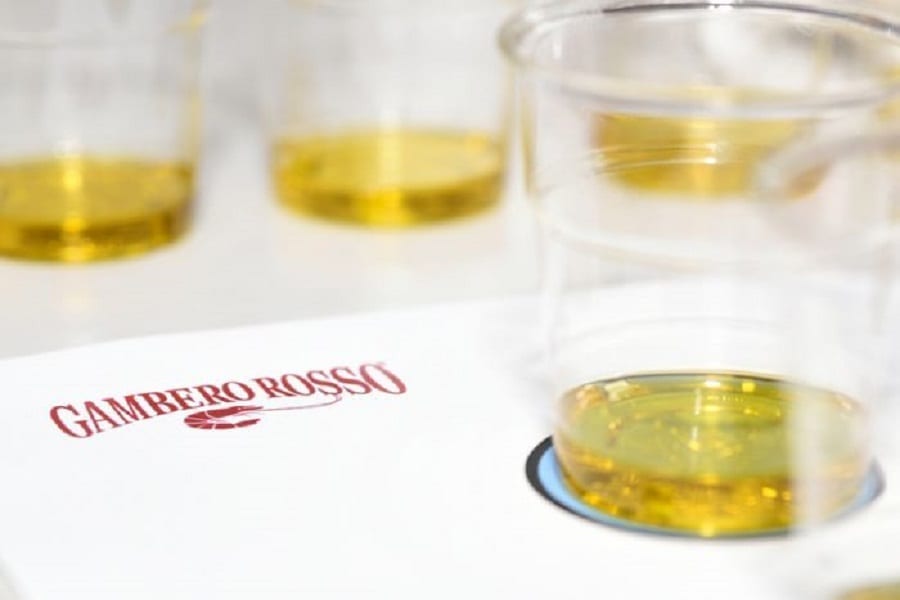 Best light fruity oil: Monocultivar Prempesa – Belfiore
In Castelnuovo Magra, in the province of La Spezia, among the terraced cultivations typical of the Liguria territory there is one in particular, located in the Montemarcello-Magra natural reserve which stands out for the extension and beauty of the trees. With its 7.5 hectares of land, the Belfiore farm manages between 2450 leccino, prempesa, lante and razzola trees. The latter is the protagonist of the award-winning oil as the best light fruity, a monocultivar with notes of pine nut, almond and walnut, which blend harmoniously with floral touches and more delicate hints reminiscent of chamomile. This is a complex, elegant oil with a characteristic persistent finish of sweet almond.
Belfiore - Castelnuovo Magra (SP) – via Montefrancio, 88 – 3355637888 – www.agricolabelfiore.it
Best medium body fruity (two-way tie): Monocultivar Ascolana - Conventino di Monteciccardo
For years synonymous with quality in the field of olive growing, Il Conventino di Monteciccardo is a young and dynamic farm in the Pesaro area, engaged in the production of oil and wine. The Marcantoni family is committed, year after year, in sharing the farming vocation of this territory immersed in the most uncontaminated nature through extraordinary oils. Think Frà Bernardo, monovarietal ascolana that with its complex and multifaceted aromatic texture is one of the best medium-fruity in Italy, playing on the notes of green tomato and artichoke. A lively oil, with bitter and spicy sensations that are exuberant yet never intrusive, in perfect balance.
Il Conventino di Monteciccardo – Monteciccardo (PU) – via G. Turcato, 4 – loc. Conventino – 0721910574 – www.conventinomonteciccardo.bio
Best medium body fruity (two-way tie): Extremum Colabella Monocultivar Taggiasca – Paolo Cassini
Paolo Cassini's olive farm has been on a journey of uncompromising quality. The passionate olive grower is specialized in the most representative cultivar of his region, the taggiasca––a variety that in this part of Italy overcomes the traditional boundaries of light and delicate scents that are usually attributed to it, taking on shades and brighter tones. In fact, the farm also produces intense and medium fruity, such as Extremum Gran Cru Colabella Monocultivar Taggiasca, one of the best interpretations of the cultivar, complex in its nuances of bitter almond, pine needles, musk, and in the sensations of nettle and rocket that accompany the bitter finish.
Paolo Cassini – Isolabona (IM) – via Roma, 62 – 0184208159 www.oliocassini.it
Best intense fruity: Olivastro Monocultivar Itrana – Quattrociocchi
The lovers of this particular cultivar know well that the itrana, a typical Lazio variety with hints of green tomato and aromatic herbs, is the expression of the Pontine Hills. There are, however, producers who have been able to enhance this olive also in other areas: this is the case of Americo Quattrociocchi, a reference point for the olive cultivation of Lazio, with his company located in the hills of the Ernici Mountains, in the province of Frosinone. The jewel in the crown of this vintage is Olivastro Monocultivar Itrana Bio, with intense and enveloping aromatic profile, a strong character defined by the clear aromas of tomato leaves, sage, oregano, nettle. And a solid, deep palate, all played on the tones of tomato, which closes with long and persistent bitter and spicy accents.
Americo Quattrociocchi – Alatri (FR) – via Mole Santa Maria, 11 – 0775435392 – www.olioquattrociocchi.it
Best monocultivar (two-way tie): Incipit Monocultivar Nostrale di Felitto – Marco Rizzo
A young producer with clear ideas in terms of quality: Marco Rizzo continues his professional journey in Felitto, in the province of Salerno, where he carefully tends to his 3,000 olive trees of local varieties, spread over approximately 20 hectares of land. Playing the starring role is the Incipit, Monocultivar Nostrale di Felitto, a medium fruity olive oil characterized by vegetal notes - rocket in the first place - accompanied by fresh and lashing hints of green apple. These pleasant sensations are also present in the mouth, together with strong bitterness and persistent spiciness.
Marco Rizzo – Felitto (SA) – via Roma, 39 fraz. San Giorgio – 3335772480 – www.oliorizzo.it
Best monocultivar (two-way tie): Monocultivar Leccino Bio – Pruneti
Oil masters and great interpreters of the Chianti Classico, Gionni and Paolo Pruneti each year offer oils with an extraordinary and always recognizable, precise and refined character. In the 93 hectares of land there are as many as 18,700 leccino, moraiolo and frantoio trees, which give life to different labels for intensity and aromatic texture. Particularly striking is the monovarietal of leccino, delicate but eclectic, rich in intriguing nuances, from balsamic overtones to the most citrusy notes, enhanced even more by a toasted base. Enveloping tones that are confirmed on the palate, where more earthy hints and a finish of white flowers are added.
Pruneti – Greve in Chianti (FI) – via dell'Oliveto, 24 – loca. San Polo in Chianti – 0558555091 – www.pruneti.it
Best organic (two-way tie): Monocultivar Casaliva Bio – Olio Cru
Founded in 2011 by the union of the Ca' Bianca and Olio Toniolli farms, OlioCRU is a high-level olive growing brand currently in the hands of Mario Morandini. An ambitious project that soon gave its fruits: 10 hectares of olive groves and 3,000 casaliva trees - main protagonist - and leccino. This is a farm that gives life to fascinating oils, such as the Monocultivar Casaliva Bio, an intense fruity that opens to the nose with balsamic notes and marked hints of conifers, to which are added sensations of green almond and nettle. An excellent extra virgin, in which the balsamic component also dominates the palate.
OlioCru – Arco (TN) – via A. Moro, 1 – 0464715344 – www.oliocru.it
Best organic (two-way tie): Olio Extravergine di Oliva Bio – Giovanni Batta
An Umbrian brand that has always been committed to the production of quality oils, but that in recent years has been able to take that extra step needed to achieve excellence. The top Batta oils come from great respect for nature and for territory, think Extra Virgin Olive Oil, a lively medium/intense fruity, with fresh citrus scents reminiscent of citron and lemon peel. Also present are balsamic and vegetable notes (thistle, nettle) that also return on the palate, along with perfectly balanced bitterness and spicy sensations.
Giovanni Batta – Perugia – via San Girolamo, 127 – 0755724782 – www.frantoiobatta.it
Best blend (two-way tie): Affiorato – Olio Intini
In the field of extra-virgin olive oil, Pietro Intini does not need much of an introduction: his deep knowledge of the Apulian cultivars has allowed him over time to become a reference point for olive growers in the Bari area and beyond. Many top-notch products, but above all is Affiorato, a blend of coratina and provenzale, dominant in its wide and eclectic olfactory profile, which alternates fresh tones of rocket and mown grass with more Mediterranean notes of aromatic herbs. Complex also on the palate, with hints of almond, artichoke and chard, closing with a nice balance between bitter and spicy.
Olio Intini – Alberobello (BA) – c.da Popoleto – 0804325983 – www.oliointini.it
Best blend (two-way tie): DOP Valli Trapanesi Bio – Titone
In 1936, in Trapani, Nicolò Titone decided to dedicate himself to olive growing. His love for nature, combined with a deep respect for his land, has meant that over time the business became more and more specialized in a high-level production, with good oils that are good for the body as well as for the environment. In fact, since 1985, the groves are all organic, a choice continued by Antonella Titone, who today manages the company of 19 hectares and 6,000 olive trees. 2017 was a wonderful vintage for the Titone family, best expressed in the PDO Valli Trapanesi Bio, an olive oil with an enchanting medium/intense fruity bouquet and that is unique in its kind: elegant and refined in its notes of fresh grass, artichoke, pepper and nettle, coming from the union of two varieties, nocellara del Belice and cerasuola. An aromatic accord that also returns on the palate, with sensations of bitterness and spiciness in perfect balance.
Titone – Trapani – via Piro, 68 – fraz. Locogrande – 0923842102 – www.titone.it
Oil mill of the year: Le Tre Colonne
A niche company that every year obtains exceptional results with different cultivars. Le Tre Colonne is a well-known name in the Pugliese olive panorama, an exemplary business that's in constant evolution, under the direction of Salvatore Stallone, owner and agronomist who produces high quality oils not only for him, but also for all olive growers who rely on his oil mill. Three labels gained Tre Foglie recognition, from De Monocultivar Coratina Denocciolato (the best Apulia oil of this vintage, exquisite with its vegetal notes and its intense and enveloping bitter and spicy sensations) to Le Selezioni Armonia, an elegant and refined blend. Not to mention the Monocultivar Selections of Coratina, an intense oil with green scents of mown grass, artichoke and almond. Three products of excellence that are fully part of the line of the best Italian oils, the result of a meticulous work in the field as well as in the olive press.
Le Tre Colonne – Giovinazzo (BA) – s.da prov.le 107 Giovinazzo-Terlizzi km 0,200 c.da Caldarola – 0803941570 – www.letrecolonne.com
Best PDO oil (two-way tie): Polifemo DOP Monti Iblei Monocultivar Tonda Iblea – Viragì
From Puglia to Sicily, for one of the best certified oils of the year. It is called Polifemo, and made from a monovarietal of tonda iblea, typical olive of eastern Sicily, characterized by the unmistakable notes of oh heart tomato heart and tomato leaves. This is the inebriating perfume that can be found on the nose, along with sensations of artichoke and walnut husk, which give even more character to this perfectly balanced medium fruity olive oil. Responsible for this is Viragì, the creature of Gianluca Gurrieri, Silvano Ragusa and Giuseppe Vivera, a group of friends who love nature and who, more than 10 years ago, chose to dedicate themselves to olive growing. Today, the company has 10 hectares of land with over 5,000 trees of tonda iblea and nocellara etnea.
Viragì – Chiaramonte Gulfi (RG) – c.da Mazzarronello – 3939299344 – www.viragi.it
Best PDO oil (two-way tie): Olinto DOP Chianti Classico Monocultivar Frantoio Bio – Podere Grassi
In the heart of Chianti Classico territory, Podere Grassi has been able to renew and improve the plants and the cultivation techniques, arriving today to a quality of excellent level. The company's history is a family history that has been going on for generations, since the beginning of the twentieth century, when the founder, Olinto, decided to start the business. It is to him that most of the company's oils are dedicated, such as the Olinto Dop Chianti Classico Monocultivar Frantoio Bio, oil with strong balsamic references, which opens up to the nose with a burst of fresh grass and an aromatic texture made of artichoke leaves, cypress and nettle. The intriguing and deep palate, which plays on vegetal notes, enjoys an excellent balance between bitter and spicy.
Podere Grassi – Greve in Chianti (FI) – via Dudda, 33 – 3356892035
Best IGP oil (two-way tie): Madrechiesa – Terenzi
An award also goes to Italy's best IGP oil, another important olive oil certification. Distinguished for its aromatic complexity is Madrechiesa of the Tuscan company Terenzi, an oil that encompasses all the typical aromas of its land of origin. Wild garlic moss, laurel: these and many other olfactory characteristics of this full-flavored product that evoke green aromas. The refined oil is the result of the commitment that the family has invested in Maremma, with 14 hectares of olive trees. A company that pays special attention to the territory, thanks to the self-produced energy obtained through solar panels, and the practice of low environmental impact agriculture.
Terenzi – Scansano (GR) – loc. Montedonico . 0564599601 – www.terenzi.eu
Best IGP oil (two-way tie): Cherubino Centesimato IGP Sicilia Monocultivar Nocellara del Belice Bio – Terraliva
In the heart of the Iblei Mountains, in Buccheri, one of the most suitable areas for olive growing, the estate of Tino Cavarraa nd his wife Giuseppina Frontinoincludes a true arboreal heritage of 1,700 olive trees, planted 700 meters above sea level. The organic farm produces different labels that represent the expression of a flourishing and generous territory. Among these, the Centesimato, a monovarietal of nocellara etnea that has been awarded the best IGP prize for its notes of pepper, green tomato and mown grass, which are present on the palate with an elegant bitterness and slightly more pronounced spiciness.
Terraliva – Buccheri (SR) – c.da Sant'Andrea – 0931880062 – www.terraliva.com
Best quality/price ratio (two-way tie): Giove Monocultivar Coratina – Depalo-Oleà
Luigi and Savino Depalo lovingly tend to their 10,000 olive trees in the countryside of Giovinazzo, north of Bari. Always committed to the valuing of quality green gold, this year their brand has achieved great results on all fronts, presenting three high level labels, made with the complicity of Salvatore Stallone, an olive pressing expert. One particular highlight is Jupiter, an intense fruity olive oil that is expressed on the nose with sensations of wild herbs, nuances wild greens, chicory and thistle, which are also confirmed on the palate. Different nuances of chicory and radicchio alternate in the mouth, followed by an exuberant and balanced bitterness and spiciness.
Depalo-Olea – Giovinazzo (BA) – p.zza Duomo, 55 – 3475972116 – www.oliodepalo.it
Best quality/price ratio (two-way tie): Oliva Grossa Monocultivar Bella di Cerignola – La Selvotta
Another Pugliese cultivar, the bella di Cerignola, but this time born, raised, harvested and pressed in Abruzzo. Oliva Grossa is an intensely faceted and intriguing fruity oil, characterized by vegetable aromas, fresh asparagus and red turnip. Also elegant on the palate, with its pronounced nuance of valerian, it is harmonious and precise in its bitter and spicy sensations. The hand is that of the Sputore family of Vasto, on the beautiful Costa dei Trabocchi, which can rely on its own continuous cycle olive press. The brothers Giovanni and Elio take care of the entire supply chain, committing each year to obtain increasingly good results.
La Selvotta – Vasto (CH) – via Buonanotte, 10 – 0873801658 – www.laselvotta.it
Farm of the year: Trappeto di Caprafico Tommaso Masciantonio
The year was 1874 when in Casoli, at the foot of the Maiella massif, the first olive trees were planted by the company Trappeto di Caprafico, now run by Tommaso Masciantonio. The journey since then has been long and full of success: today the brand is one of the most representative of all Abruzzo in terms of quality. Or rather, of excellence. A monocultivar of intosso capable of capable of overwhelming the palate of even the most expert taster. This is a DOP of the Teatine Hills, perfect for elegance and finesse, and a monovarietal of crognalegno - indigenous cultivar produced in very small quantities - that perfectly outlines all the unmistakable scents of the landscape from which it comes from. Three different products, all excellent, all awarded Tre Foglie recognition. Behind every bottle, the hard work of Tommaso, an olive grower of rare skill, with the extraordinary ability to understand and represent his own soil, the unique humility and constantly getting involved, between new projects and continuous challenges. And above all he possesses the enthusiasm of producing oil and wanting to produce many more oils, the desire to dream like those who, despite decades of experience, know that there is still much to learn, and the stubbornness of a real Abruzzese.
Trappeto di Caprafico - Casoli (CH) - c.da Caprafico, 35 - 0871897457 - www.trappetodicaprafico.com
Olive grower of the year: Doria
A family-run olive-growing reality that continues to amaze year after year for its precious oils that boast bright personality and marked liveliness. Located in the Sibari Plain, the Rizzo family farm owns 13 hectares cultivated in organic regimen, for a total of about 6,500 trees. At the helm, Alessandra Paolini, who since the very start has studied carefully to create a high-level product, focusing on the individual varieties, and enhancing their aromas, characteristics and quality. Product of this is 'A Catananna, a monovarietal of nocellara etnea with a medium/intense fruity profile, a hymn to Calabria with sensations of tomato and walnut, present on the nose as well as on the palate, accompanied by a fresh and pleasantly spiced ginger finish. And then there's Sud Bio, an all-green oil that plays with notes of thistle, grass and nettle, and also Lei, long-time flagship of the production, a Due Foglie Rosse recognition oil that's refined and bewitching, in perfect harmony between Mediterranean herbs and a bitter and spicy component that's contained and never intrusive.
Doria - Cassano Allo Ionio (CS) - c.da Mandria di Nola - tel. 345 6503780 - www.agricoladoriasrl.it
Best territorial performance (two-way tie): Colli Etruschi
Capturing a territory also through its green gold is actually possible. This is demonstrated by the companies involved in the promotion of local agriculture, those that are an example to all the youngest companies in the area. Like Colli Etruschi, for example, which is a point of reference in Tuscia, in the province of Viterbo. Over the years the brand has increasingly aimed at raising the quality of products and of the work in the field of the nearly 400 members of the cooperative. Supervising the operation is Nicola Fazzi, agronomist director who is responsible for monitoring the 800 hectares of olive groves. Among the top products are Evo Dop Tuscia Monocultivar Caninese (Tre Foglie recognition), one of this year's best examples of caninese - typical variety of Viterbo. A medium fruity oil that opens with wild notes of wild greens, attenuated by a pleasant nuance of sage, sensations that return on the palate, accompanied by hints of artichoke and medicinal herbs.
Colli Etruschi – Blera (VT) – via degli Ulivi, 2 – 0761470469 – www.collietruschi.it
Best territorial performance (two-way tie): Olearia San Giorgio
Another region, another company; yet, same devotion to their homeland. In Calabria, particularly in the area of San Giorgio Morgeto, in the Aspromonte National Park, Olearia San Giorgio plays the starring role thanks to its ability to exalting unique places and varieties. Founded in 1940 by grandfather Domenico, today the company is in the hands of the third generation: Domenico Giordano, Antonio and Girolamo Fazari. They are in charge of the 150 hectares of land (of which 138 are traditional and 12 organic), and of the 25,000 plants of native cultivars. There is the monovarietal ottobratica, which every year confirms itself as a purebred horse, complex in the aromatic texture, precise and coherent in the ample and sophisticated taste; the Aspromontano, a perfect amalgam of thyme, endive, tomato and myrtle leaf, enveloping and balanced. And then the Micu 1906, lightly fruity with delicate notes of green tomato and valerian, with a slightly bitter but well-present bitter and spicy sensation.
Olearia San Giorgio – San Giorgio Morgeto (RC) – c.da Ricevuto, 18 – 0966935321 – www.olearia.eu
by Michela Becchi
translated by Eleonora Baldwin