It's the paradox of the hornet applied to food companies: it should not be able to lift its weight, however it continues to fly. And it does so in a crescendo that has become a case history studied in universities. Mercato Metropolitano in London is an impossible enterprise according to traditional business canons. Sponsors, investment funds, banks and large companies are all banned: no big company enters the Mercato Metropolitano by Andrea Rasca not even by flattering millionaires - "we never compromise, ever" - everything is based on artisans and small businesses (Schumacher's "Small is beautiful" is a sacred text for him) obliged to sharing Rasca's Olivetti-like philosophy seeing the company as an element "immersed in a community (one of his key words, ed) from which one can take and to which one must return". In practice, it means aligned pay (if not higher) to the London living wage, or the maximum recommended salary in London (£10.55 per hour, when the minimum is £7.30) for employees (they are one hundred today). Plus initiatives, courses and free meals for young people, the elderly and people living in difficult situations; obligation for restaurants to have dishes at affordable prices so as to be within everyone's reach. The market wants to be inclusive, open to all, wants to create a community, and to expand the concept of sustainability: social, financial, and of course environmental: "in raw materials and food, as in the rest: we have completely eliminated disposable plastic two years ago, and if someone arrives with a plastic bottle, it is taken, numbered, stored and returned at the exit".
Mercato Metropolitano. Location
A little over 3 years after the first London opening (Elephant & Castle, not far from Borough Market), is preparing to multiply spaces and projects. Starting from a new branch in Mayfair - 2600 square metres on three floors - which will open shortly, as soon as the City will give the go-ahead to the great MM machine (even in London institutions take their time). The choice of space is crucial: "it's not necessary that it be beautiful or in the city centre, we don't care that people fall into it: Elephant & Castle is in an area where there was no footfall, we had almost 4 million people in 3 years. We create the destination". What is important, then? "That there be a story, a soul, an inner beauty behind it all. Without erecting new buildings, we rather prefer re-using existing ones". Still sustainability, in construction this time.
Mercato Metropolitano. St. Mark's in Mayfair
This is the case of the church of St. Mark's, deconsecrated in 1973, "a building of great historical importance, classified as a grade 1 listing building" to clarify, the same level as Buckingham Palace. A place that, between rent and taxes, is worth about 1.8 million pounds a year. "But we have an agreement with the property, Grosvenor, to whom we pay a percentage on sales." How did you do it? "We now receive many requests - I am not exaggerating by saying hundreds - to open Mercato Metropolitano branches, so we can negotiate and get good conditions". So it was Grosvenor who knocked on Rasca's door: "they wanted something different from the other food halls, which are starting to struggle: traditional restaurants changing looks is a '90s experiment. The most astute entrepreneurs want something for millennials who are more attentive to authentic, good, healthy, accessible food." In a welcoming environment, yes, but not luxurious, set up according to the criteria of recycling and reuse of spaces, furnishings and materials "expensive furnishings are something belonging to the '80s," he says with conviction and then adds, "if you invest too much to embellish the space then you won't fit into a food business, on the other hand, if you focus on the content, you can do it. Today we focus on other values: we don't think about how good looking the place is, but rather about eating well - healthy, sustainable foods, avoiding big industries - and doing it together".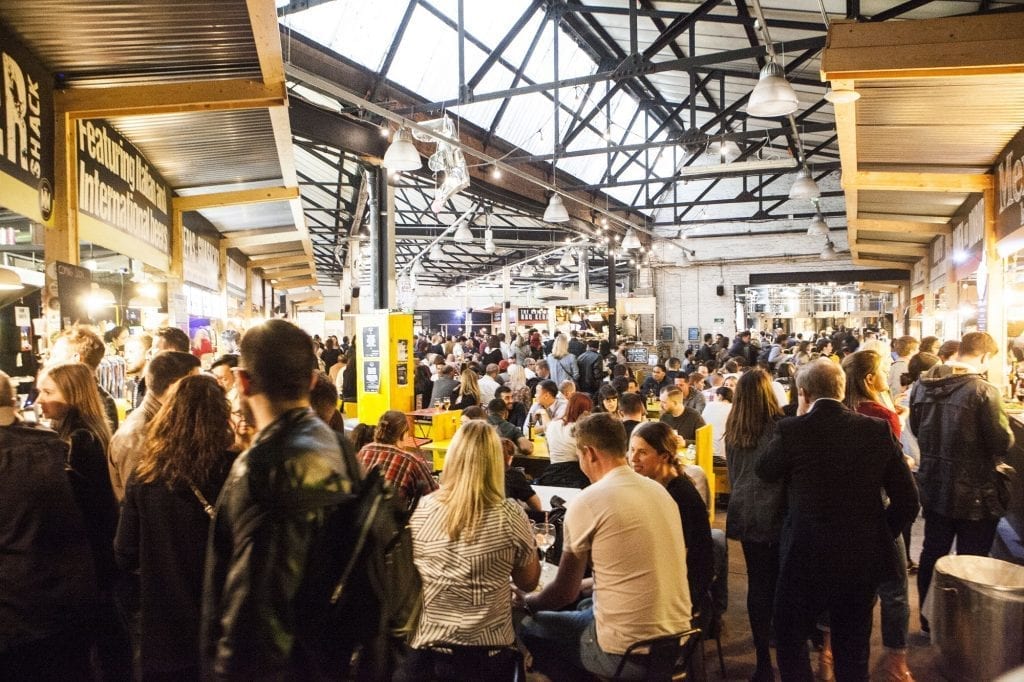 Mercato metropolitano. Community inclusion
Thus Mercato Metropolitano poses itself as a place of social inclusion, giving back to St. Mark its original function, "It returns to being a place where community like church used to be". Community inclusion is one of the key points of a manifesto that vendors here must sign. Because the prerequisite for joining Rasca's group is to share his ideas. Now that the executive dreamer (as the former manager of Eataly is now called) no longer has to go looking for spaces and producers, he manages to impose strict rules on his partners. Many requests arrive, assessed on the basis of precise criteria: the ingredients used, participation in free events and activities, attention to sustainability. "Once they enter we support them with a team to help them develop their project, we are seen as an incubator for new businesses and small businesses." How much does a market space cost? "We ask for a percentage of sales, not rent". About 23% of sales to cover operating costs and various services. But not all the spaces are occupied by stores: under the roof of St. Mark's are about 300 square meters available to the community to eat, read books, hold debates, take free music courses. In short, an area free from commercial activities, therefore a space that's in the red, according to market logic: "We don't want to maximize profit but rather the social impact".
Mercato Metropolitano. The vendors
The turnaround of operators follows different rhythms: some are practically here from the beginning, others are passing through for a month or a couple of seasons, then there are the six-month support projects for female entrepreneurs or for refugees. A total of around seventy operators, in addition to the 48 currently present at Elephant & Castle and 21 in Mayfair.
"The Mercato is Italian sat the heart but not in the offer": there will be fresh pasta, bread, pizza, gelato (by Badiani, from Florence), a delicatessen but most of the corners will host international gastronomy - especially Middle Eastern - that meets the profile of this corner of the city. "We want to integrate into the space where we go and not colonize it, giving an adequate offer to the community. It's one of the principles of the right to food: accessible, sufficient and compatible with local culture". Lebanese, Turkish, Middle Eastern, Chinese bao dishes, sushi, Japanese grill, and then French pastries (by Nina Metayer, French award-winning pastry chef), cured meats and cheeses from around the world, unpasteurized self-brewed beer and a cocktail bar on the terrace, always using natural products. Then there will be 4 islands of small artisans - "a landscape that we will explore more and more" - with objects of various kinds, especially of local production.
Mercato Metropolitano: what about Brexit?
What is the implication of Brexit for the Mercato? "We don't use many imported products, there may be mozzarella for pizza, but it has relatively little influence. We make our bread, with obviously GMO-free flours and not from massive industrial agriculture, English flours, but also French and Italian flours like the ones milled by Sicilian Filippo Drago. But we haven't seen such a big impact for now." Have people's habits changed, on the other hand? "We haven't seen any downturns, we may even be registering a positive impact because people, in moments of insecurity, look for opportunities for recreation, genuine food, places to rest in their community. We are part of the social fabric".
Mercato Metropolitano. Future openings
The third opening scheduled for the end of the year will be the MM Factory in Elephant Park in South London (where there will be a large bread production plant, starting from "live flours") with a municipal sponsorship of 1.5 million pounds: "we received a request from the mayor's office for the social impact that markets have; on social inclusion, nutrition education, the fight against obesity, sustainability". The Ilford branch, on the other hand, has to wait a little longer, early next year. And then there will be other MMs: "Miami is already signed on, we are close to Brussels, Berlin, Japan, Boston and New York, we will know everything in the coming months".