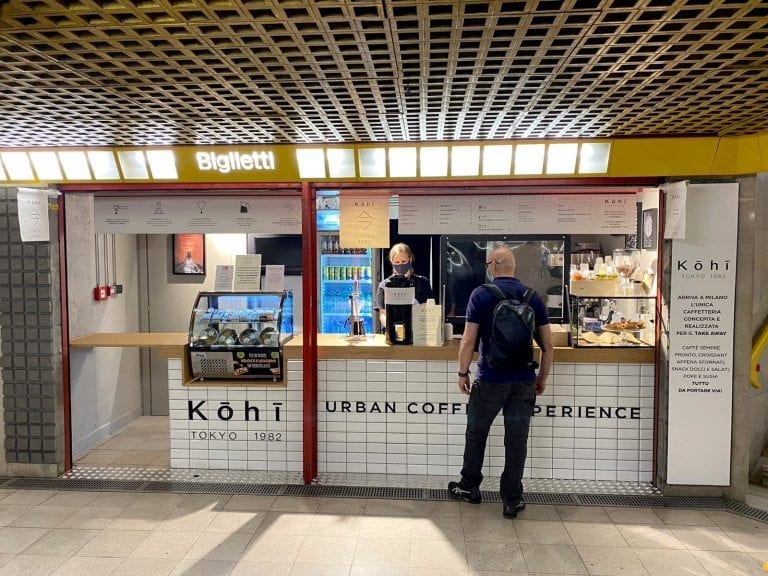 Inspired by Japanese cafes, Kohi is the latest coffee trend in Milan, born inside the Porta Romana station. Read the whole story.
Kohi Toyo 1982, the urban coffee shop in the Milan subway
Grabbing a (good) coffee before jumping on the subway, stopping to buy dinner to take home, enjoying a quick lunch break. All in a subway station. This is what's been happening since May 18th at the Porta Romana station in Milan with Kohi Tokyo 1982, a Japanese-inspired coffee shop format. A modern, dynamic concept that meets the needs of travellers and workers who, despite having little time available, don't want to give up quality flavours. An "urban coffee shop", as the creators themselves define it, partners at M&T, a consulting firm that has studied the project in every detail, and entrusting the construction to Augusto Contract. "The idea was born in 2019," said one of the co-founders Carlo Meo, "we should have opened in February but then with the Covid-19 emergency we were forced to postpone."
Kohi Tokyo 1982: specialty coffee in the Milan subway  
A "quick and easy" offer, starting from the coffee shop department: "We have a La Marzocco espresso machine with Modbar system and we also do filter extractions, all with our K blend, created specifically for Kohi by an Italian niche coffee roaster, whose name we prefer not revealing at the moment." Plus cappuccinos, cold brew (the perfect cold-extracted coffee for the summer season), all in one size and only for take-out. In times of greater affluence, we use an American Bunn coffee machine, always using the house blend, "round and with a taste closer to the Italian one, not the classic specialty which tends towards acidity." In the morning, there are three types of brioche, "we don't need many, we want few but good breakfast pastries, we are not a place where people sit and settle down for long hours." A place that must always work quickly while maintaining adequate quality standards.
The Kohi food offer
To further optimize service there will soon be an app to order coffee or other specialties from one's mobile phone, "so anyone who leaves the office or while riding on the subway can choose their beverage and find it ready upon arrival." For lunch there are German bretzel and Senatore Cappelli wheat focaccia, there are soft drinks and gelato by Grom and Algida, "only a few limited editions, such as the Cornetto made in collaboration with Andrea Tortora." There's also sushi by Kelly Deli, which also prepares two types of poke for Kohi, one with tuna and the other with salmon. "We need good products that are already packaged, making sandwiches is not part of the concept of urban coffee shop we're aiming at."
The future of Kohi Tokyo 1982 in Milan
Currently, opening hours are 7 am to 7 pm, Monday to Friday and on Saturday from 8.30 am to 8.30 pm, "but our schedule is likely to change once the emergency settles, and we will also be open on Sunday." A format that's so easily replicable can only be looking at expansion: "We intend to open 2 to 4 stores in Milan by the end of the year, always located within subway stations or in any case in central commuter hubs and where there's intense traffic." Whether it's subways, coworking spaces or anything else, it doesn't matter, as long as there is a large flow of people and a passing clientele, "we don't care about a conventional place: we want to offer gusto even to those who are in a hurry."
Kohi Tokyo 1982 – Milan – M3 P.ta Romana – marketingtrade.it/portfolio/2295/
by Michela Becchi