Heinz Beck
"It's precisely when you think you no longer need marketing is when you need it the most. It means that you are at the top of your game and that's when everyone would like a slice of cake. You are attacked from all fronts, you cannot go wrong and you have to be even more present in all the venues. This is the first thing the teacher told me at the Management School in Bavaria: I will never forget her". Rome-adopted German Heinz Beck has recently hosted on the terrace of La Pergola the presentation of the Rome 2019 issue of the Gambero Rosso guide, dedicated to the Capital where, once again, he occupies the highest tier, with 95 points out of 100. For the occasion he showed off an unusual mustache of Teutonic rightness, which now shine in the golden light, just before sunset in front of a city that's "always beautiful, but that today would need quite a bit of makeup".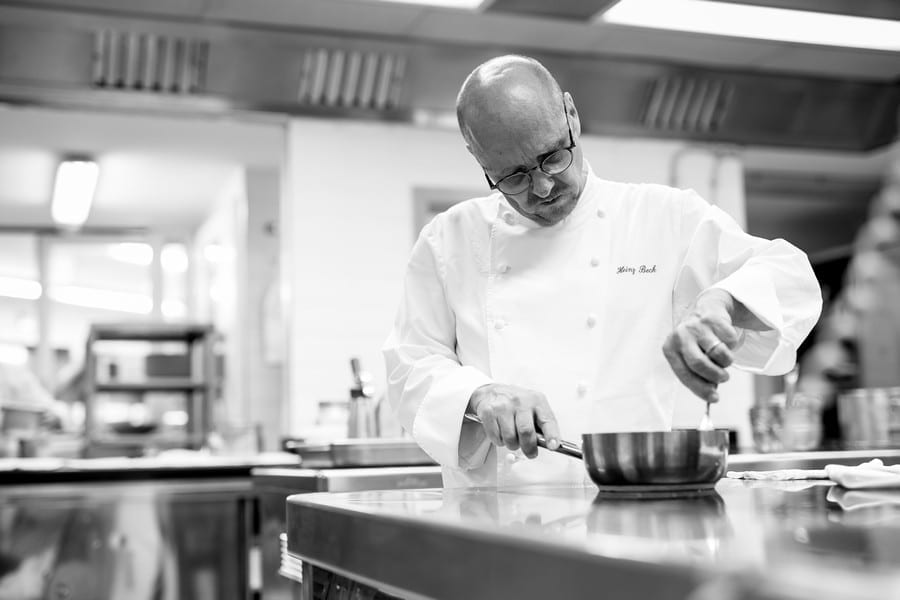 La Pergola
Even during our long chat with enjoyed with a view, there are those who approach to ask for a "slice of cake" to the chef - whether it's just a selfie or a quick chat - before sitting down at the table. There are many regulars at this restaurant that's fully booked every day of the year and with a long waiting list. 85% of the guests are European, of these 65% are Italian; then English, German (Ratzinger came three times, even to celebrate the day of his 70th birthday) and French. There is a client from Paris who comes four times a year for five days in a row: "And every evening - confirms the chef - we propose a completely different dining itinerary, it's not a problem. The most beautiful and true compliment of a client is when he/she returns. The secret of La Pergola, even after more than two decades, is that it's always renewed and that I personally do so the greater part of public relations all over the world".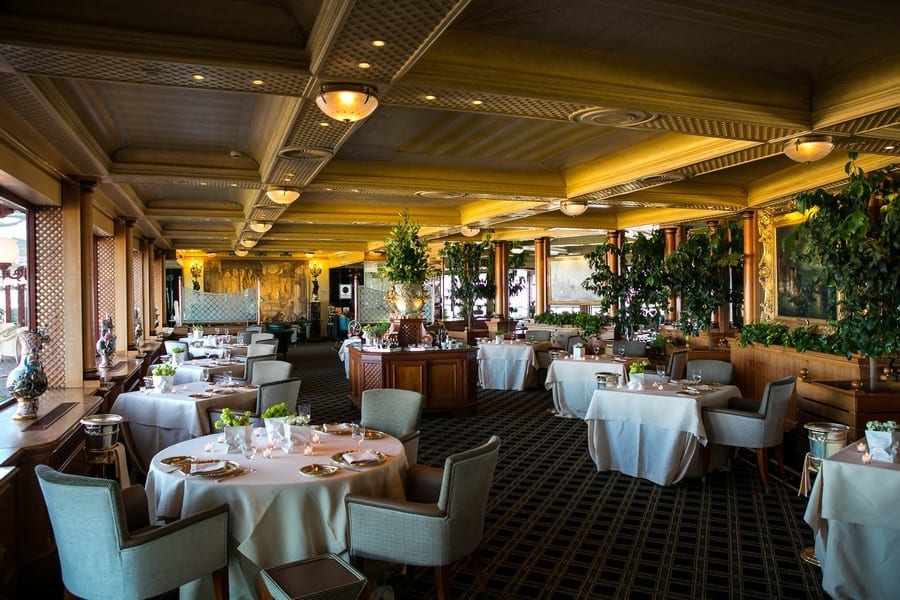 Teresa
The personal secret of Beck, however, is Teresa, his wife since 2001. With the Palermo-native who studied in Les Roches, the chef created in 2005 the Beck & Maltese Consulting, a streamlined structure that moves with great speed and flexibility to manage the whole galaxy of restaurants worldwide, plus activate new consultations. Heinz loves being a frontman, but Teresa wants to stay behind the scenes, silent and implacable, to take care of the whole administrative aspect of the brand.
Consulting
B&M Consulting operates on three business models: a simple consultancy (as in the case of De Cecco, for which Beck takes care of their sauces line); a management contract (used in Tokyo and in the two hotels in which the entire F&B sector operates: the St. George Restaurant at The Ashbee in Taormina and Brown's in London) and a full-on partnership (in Dubai, as well as in Fiumicino with Attimi where it participates with 40% alongside the Cremonini group that has the remaining 60%). The nature of the collaboration (or consultancy service) may be different: in the past it was determined by the achievement of a goal, for example the Michelin star as in the case of Marennà (Feudi San Gregorio's restaurant) or Castello Banfi in Montalcino; today the work is more tied to a time frame, whether this be a startup or a repositioning on the market.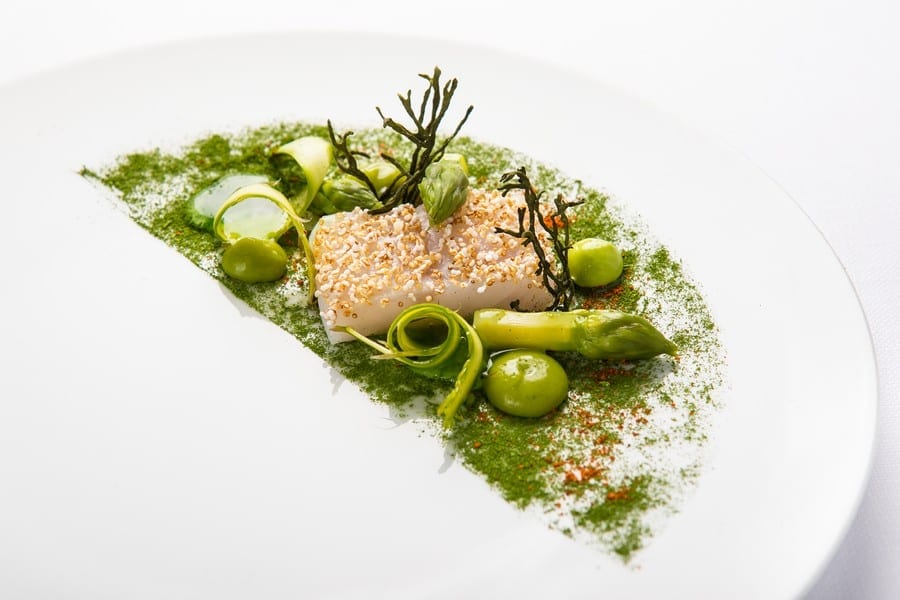 "Each consultation– says the chef born in 1963 in Friedrichshafen on Lake Constance, but now a Roman citizen – has its own dynamics and issues to be solved. Once it may be the supply of raw materials, as it happens in Dubai; other times it may concern salaries or ethnic groups, in other cases the size of a structure, the rent costs or its location, for example in an airport. The relaunch is always more difficult than an opening: if they call you it's because there is something that just does not work. Our team consists of me and Teresa, we do not delegate to others: she takes care of the brand strategy, contracts and logistics, I cover the operational aspect and according to individual needs we seek external consultants for the tax and legal part, because in every Country the rules are different. For each project we also choose the right designer: in London it was easy because it was directly occupied by Olga Polizzi, the sister of Sir Rocco, while the new Attimi in Milan carries the signature of the talented Fabio Novembre".
Service
And then, of course, there is attention to service - to "art and science" Beck has dedicated a book written with Umberto Giraudo, Simone Pinoli and Marco Reitano - who here on the 9th floor of the Rome Cavalieri always strive to perfection. "In all the places I manage - he underlines - I look for the symbiosis between the kitchen and the dining room. Customer well-being is part of a global concept. The best service is one that nullifies the customer's anxieties before the client even realizes it".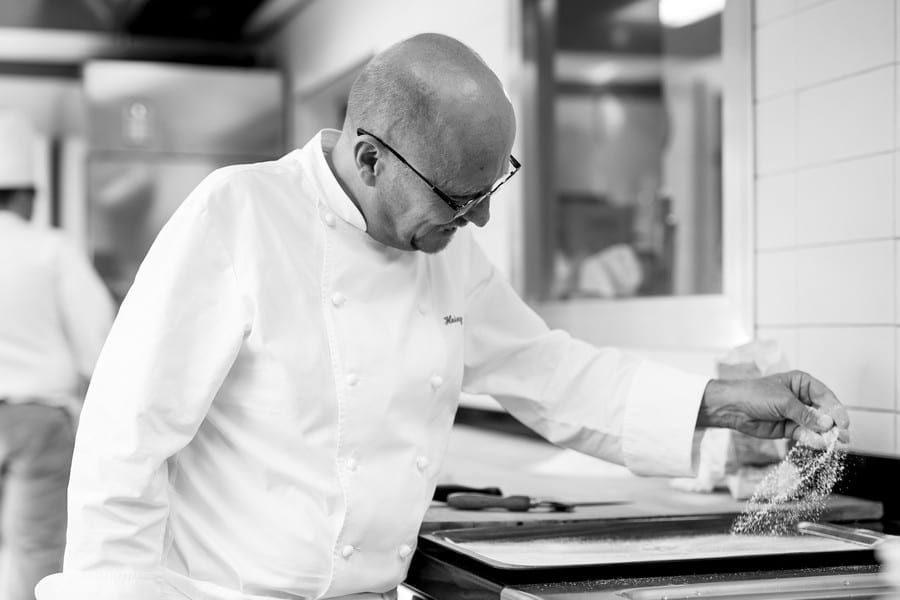 The human factor
About 50 people are employed at La Pergola: 19 in the dining room, 16 in the kitchen, the rest between stewards, booking office and cleaning staff. There are many requests for internships. Making the selection (and enduring over time) is who is able to show passion, precision, dedication and humility. Ask Maurizio Sinopoli, who has been here for 24 years, more precisely from the day of the opening: "It was the first permanent contract - remembers the chef who now boasts three Michelin stars- we are practically married! Respect for me is fundamental, it's the basis for any long-lasting collaboration".
The team
Throughout the entire global network the workforce exceeds 200, at Beck at Brown's in London alone there are over 30 chefs. For medium and senior positions, from sous chefs to chefs, sommeliers to restaurant managers, Heinz is always there in person interviewing the candidates, checking the essential requirements: "For me it's essential that a candidate follows a journey with us, with our imprinting. Candidates must possess sensitivity for taste and aesthetics, must know how to manage staff, must be confident with cost control, in order for a restaurant, after the startup phase, to start bringing profit in the shortest possible time. La Pergola (whatever anyone says, Ed), is a profit center that has broken even after 3 years".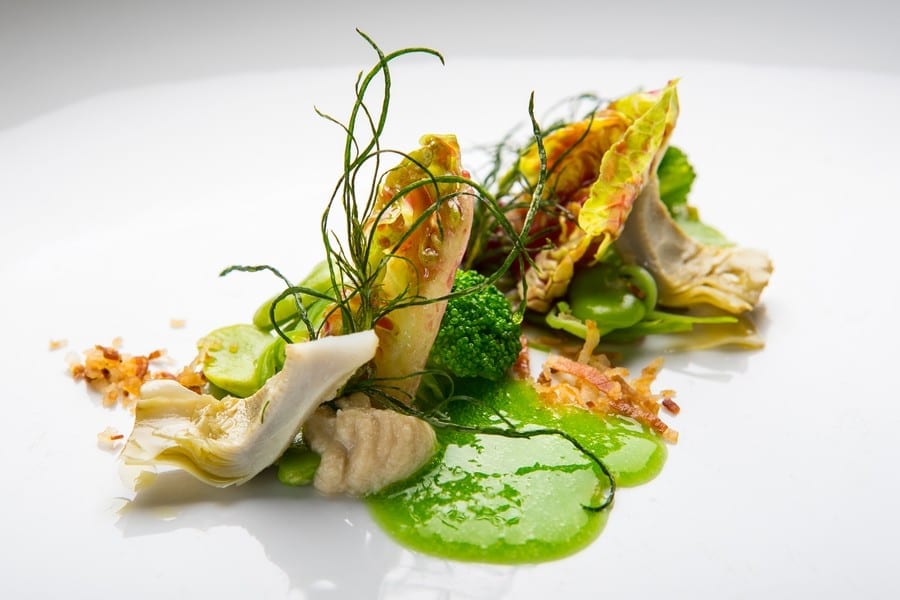 Food and health
Last March, Beck received the Honoris Causa Degree in Natural Bioenergy from the Università Popolare di Arezzo, thanks to his long-standing interest in all the health aspects of food. From the project with Gemelli Hospital in Rome, for example, to the arguments on individual dishes such as the now classic risotto with Parmigiano water (and then Grana), without fat but with the same taste and a large amount of amino acids: "Every meal always ends the day after; too often it happens to go to dinner in a restaurant, only to sleep badly, wake up in bad physical and mental shape and not be productive the morning after: this thing costs us much more than a nice lunch. A meal that makes you feel good is priceless".
The reality of the core business
After more than two decades at the helm of the most famous restaurant in Rome, Beck still loves being at the center of the action: «The moment I love the most is cooking during the service, not only at the pass but also in the stations. This is how you don't lose touch with the reality of your core business, cooking and creativity: you have total control, you are close to the product and you can immediately correct an error. In addition, you have direct contact with the people who have to guarantee the quality, you can motivate them, you get your hands dirty and give a good example, that's where the younger ones start to follow you".
Attimi Milano
When you'll read this piece, the new Attimi di Milano, inside CityLife, will be finally inaugurated, on the same lines as the original opened in 2016 at Terminal 3 of Fiumicino Airport. A new and innovative format characterized, among other things, by the guarantee of time-based menus (the bestseller is the one for 30 minutes) that minimize gate anxieties. How will the Milanese audience answer? "In Rome - explains Beck- Attimi is very conditioned by the flow of passengers at the airport, without flights you have no customers. In Milan, the public will be different, especially business, but time will still be an important variable. The concept will be more complete, with restaurant, bistro, bar and pastry, I think it can work very well".
Future partnerships
Are there already new partnerships in the pipeline? Yes, but at the moment they're secret, with a big desire to plant further flags on the globe. "I'd like to bring my brand to the United States - he continues- maybe in Los Angeles or Miami. I had several offers but we never managed to conclude. In every business there are too many variables, even the best concept can fail in the wrong place and vice versa. The professional approach always matters but sometimes it's also luck that guides you". The lucky charm of Heinz Beck is called Teresa, it's she who makes sure that a project is always sustainable and profitable: "I would not be where I'm at without her".
Timeline
1983 – Heinz Beck acquires the status of chef at the Passau Berufschule in Bavaria.
1986-1989 - Chef de partie at Colombi Hotel in Freiburg.
1989-1991 - Chef de partie at Tantris restaurant in Munich, three Michelin stars.
1991-1993 - Sous Chef at Residenz Heinz Winkler in Aschau.
1992 – Becomes a Docent and Master of Cooking at the Alzigern Hotelschool Altoetting.
1993 – Head Chef at Harlekin restaurant of Esplanade Grand Hotel in Berlin.
1994 – Heinz Beck is appointed Executive Chef at La Pergola in Rome.
1996 – Obtains Three Forks by Gambero Rosso, and still retains them
1999 – La Pergola receives its first Michelin star.
2001 – Heinz Beck marries Teresa Maltese.
Second Michelin star
2004 – Publication of "Arte e Scienza del Servizio" written with Umberto Giraudo, Simone Pinoli and Marco Reitano.
2005 - Teresa and Heinz co-found Beck & Maltese Consulting s.r.l.
Launch of the consultancy for De Cecco on food products, including a sauces line.
2006 – La Pergola wins its third Michelin star.
2008 – Heinz Beck manages Cafè Les Paillotes in Pescara.
2009 – Beck is appointed Brand Ambassador of Mercedes.
"Heinz Beck – L'ingrediente segreto" is published by Mondadori.
2013 – Inauguration of Gusto by Heinz Beck at the Conrad Algarve in Portugal.
The American Academy of Hospitality Sciences bestows him the "Six Star Diamond Award".
2014 – Social by Heinz Beck opens in the Waldorf Astoria Palm Jumeirah in Dubai.
Heinz Beck opens in Tokyo.
2016 - Attimi by Heinz Beck opens in Terminal 3 at Fiumicino Airport Leonardo Da Vinci.
2017 – Management of St. George by Heinz Beck at The Ashbee Hotel in Taormina.
Ruliano with Heinz Beck opens in FICO Eataly World in Bologna.
2018 – Management of the F&B department of Beck at Brown's at Brown's Hotel in London.
He earns an honorary degree in Natural Bioenergy conferred by Università Popolare di Arezzo.
Heinz Beck Stars
Restaurants managed by Beck & Maltese S.r.l.
- La Pergola at Rome Cavalieri, Rome
- Café Les Paillotes, Pescara
- Heinz Beck Gusto at the Conrad Algarve, Almancil
- St. George Restaurant by Heinz Beck at The Ashbee, Taormina
(entire management of the F&B department)
- Beck at Brown's of Brown's Hotel, London
(entire management of the F&B department)
Partnerships
- Heinz Beck Social at Waldorf Astoria, Dubai
- Heinz Beck Restaurant, Tokyo
- Ruliano per Heinz Beck at FICO Eataly World, Bologna
- Attimi by Heinz Beck, Fiumicino (RM) and CityLife (MI)
Consultancies
- De Cecco (food and dining)
- Mercedes (automotive)
- Omina Romana (wine)
by Federico De Cesare Viola