It's been done before, the Italian Rete Zero Waste is a group created by women all over Italy engaged in waste reduction, it boasts a well-made website with a section dedicated to loose product shops (as well as consignment shops and places for collecting water on tap). And then there's Sfusitalia, a platform that brings together various Italian shops where it's possible to buy loose , unpackaged products. It's important, however, to spend a few words on these businesses which, early on understood the urgency of offering an alternative to plastic bags, and more generally to propose a different way of grocery shopping, making do with one's own containers in order to limit waste and reuse the abundant packaging in our homes.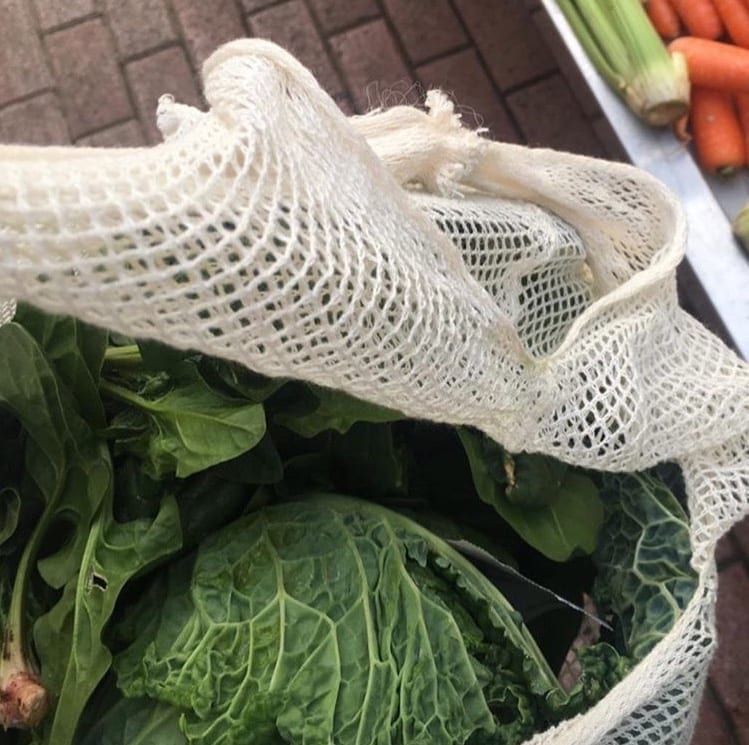 Beyond loose product shops: markets and emporiums
So we're starting a new series looking for all the loose product shops in various Italian cities, remembering that, in addition to our list, we must always take into consideration local produce markets that sell fruit, vegetables but also eggs, legumes, grains and loose nuts (try to bring jars from home and ask the merchants to weigh the tare: buying unpackaged is often easier than you think). Not forgetting tea shops, spice emporiums and health food stores, where you can find herbs, dried flowers and the like sans packaging (again, just hand over your own bag).
Loose product shops in Rome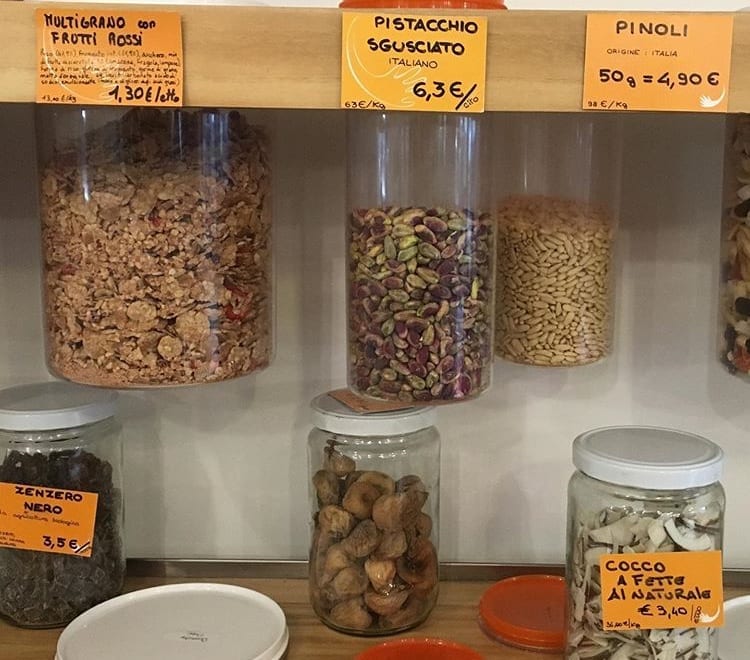 Negozio Leggero
Present in other Italian cities and also in France and Switzerland. Leggero Shop deserves a separate chapter, a visionary project born 10 years ago in Turin and then spread throughout Italy thanks to the work of research organization Ecologos, which has made waste reduction its primary mission. In Rome there are two branches, one in San Paolo and the other in the Quartiere Africano, both decorated in a simple and tasteful way. Grains, legumes, mixes for soups, pasta, spices, tea, herbal teas, infusions, flours: here shoppers find many dry ingredients to put directly into your own containers (don't worry: in case you forget there are paper bags provided). There is baking powder, polenta, corn starch, many types of rice, biscuits, corn flakes, taralli, all in plain sight in transparent containers. There is also wine (from Lazio) and a section dedicated to cosmetics (with returnable empties) and detergents on tap. Of course, there is no packaging, except for the cotton shopping bags which are for sale: so, remember to bring them from home.
Negozio Leggero – via G. Chiabrera, 80 – via Gadames, 26 - negozioleggero.it/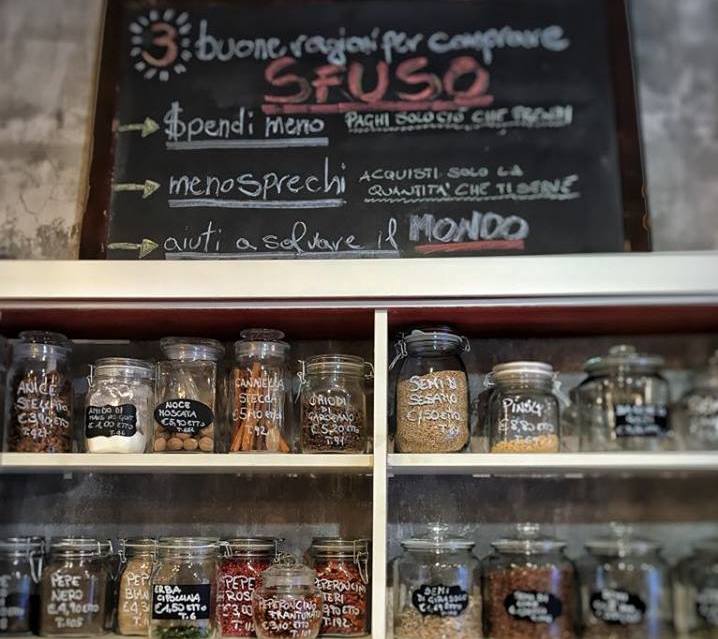 Resto Sfuso
Toothpaste, shampoo and deodorant sticks, but also food products, including spices and legumes: in the Furio Camillo area, Resto Sfuso is a safe haven for all those who want to limit their environmental impact, reusing cans and bags, filled with products sold at the store. To make things better, the kindness of the staff and many tips shared every day on the shop's Facebook page, from culinary recipes to do-it-yourself cosmetics.
Resto Sfuso – via Santa Maria Ausiliatrice, 68 - restosfuso.business.site/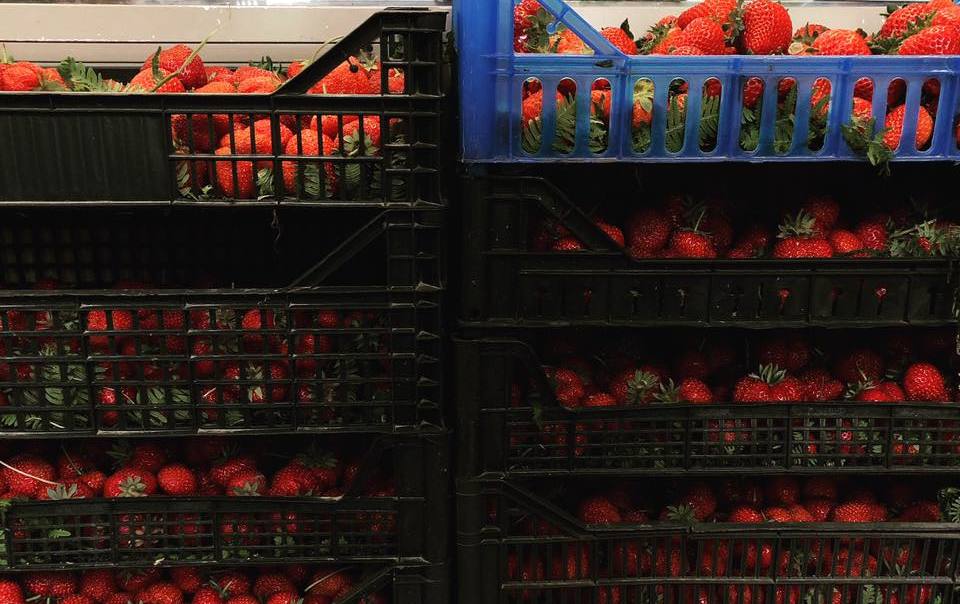 Piccola Bottega Merenda
Giorgio Pace's selection goes beyond organic: permaculture, regenerative, biodynamic, synergistic, bio-intensive agriculture and much more. His research has made him famous even among chefs in Rome: there are many, in fact, who buy from him for high quality fruit and vegetables. As a true lover of nature, Giorgio is also attentive to the issue of plastic pollution and always tries to encourage his customers to use their own bags. And more: he was the only to sell synergistic and biodynamic strawberries without the classic plastic basket.
Piccola Bottega Merenda – via A. Gallo, 59 - facebook.com/piccola40mq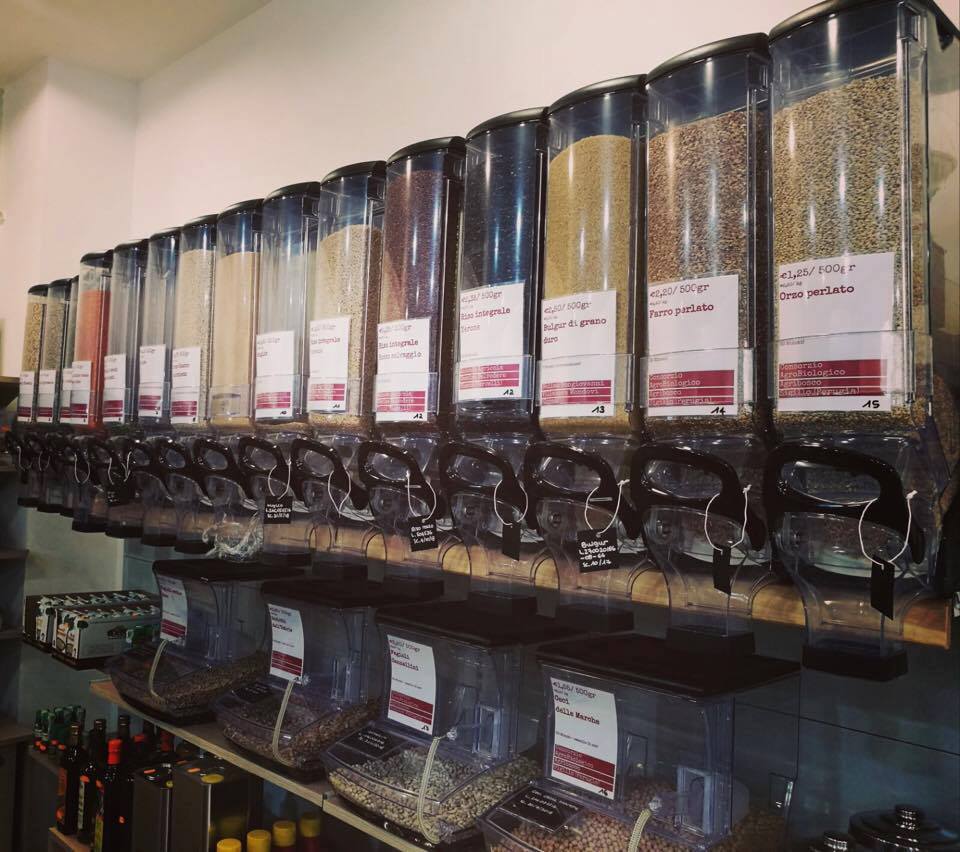 Ecoposteria
Ingredient research, attention to the environment and good taste: these are the strong points of Ecoposteria, a niche shop in Ostia Lido for high quality fresh and dry products, carefully selected by the two owners who are passionate about cooking. Seeds, legumes and grains (almost all to be bought loose) are organic or biodynamic, coming from small local artisans, plus a good offer of natural cosmetics and organic detergents on tap. Upon request, also good quality fruit and vegetables and Bonci bread.
Ecoposteria – via G. S. Picenardi, 36 - ecoposteria.it/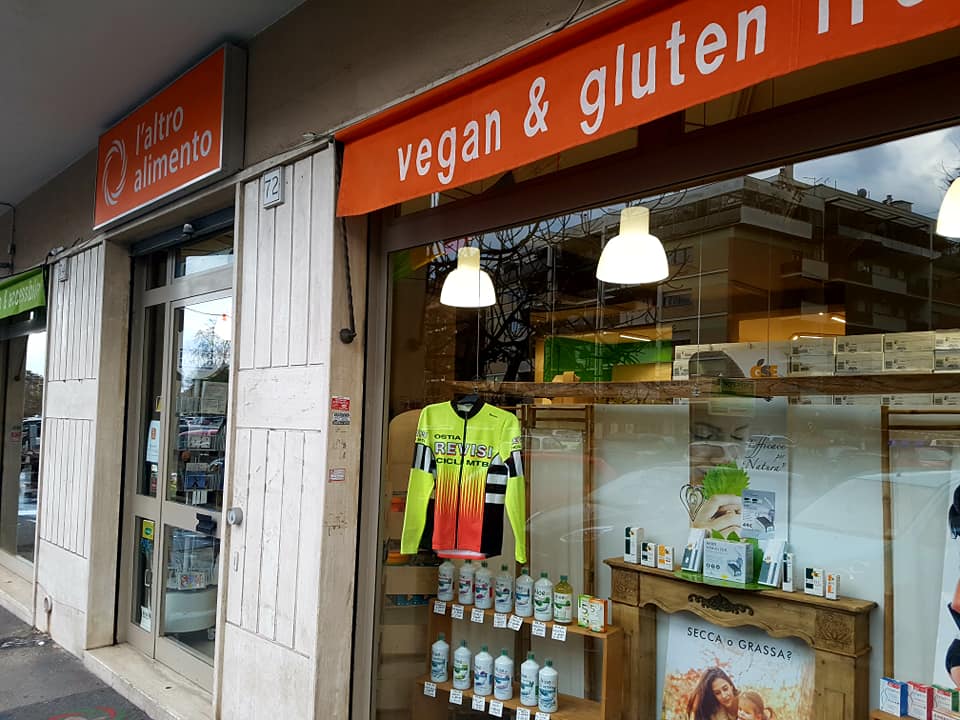 L'Altro Alimento
Again in Ostia Lido, a shop specialised in "–free" products, for those suffering from allergies and intolerances, all organic. As always, gluten-free or lactose-free foods are packaged, but inside the shop there is also a small but valid selection of oat flakes, rice, seeds and loose grains.
L'Altro Alimento – via Isole del Capoverde, 72 - laltroalimento.com/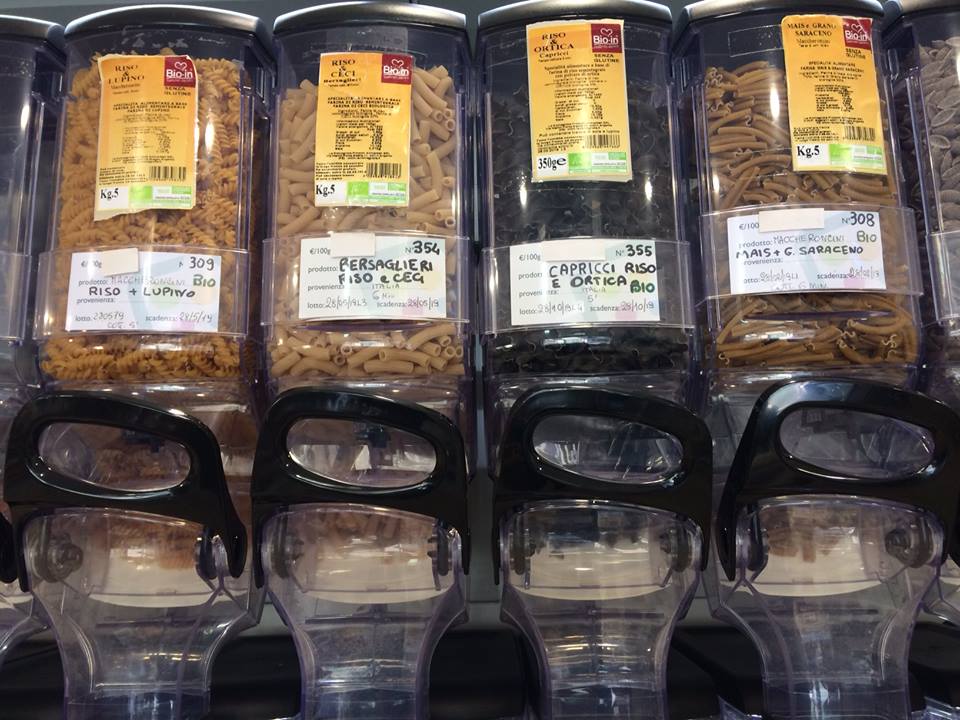 UsoSfuso
Cosmetics, detergents and lots of food and beverages, all certified organic and unpackaged: UsoSfuso is in Tivoli and is the benchmark for shopping without plastic, a place engaged in the environmental battle and supporting retailer of Libera Terra, a company that aims to bring value to the more complex territories, starting from the social and productive recovery of assets confiscated to the mafia, to obtain quality products.
UsoSfuso – Tivoli (RM) – via Due Giugno, 13 - usosfuso.it/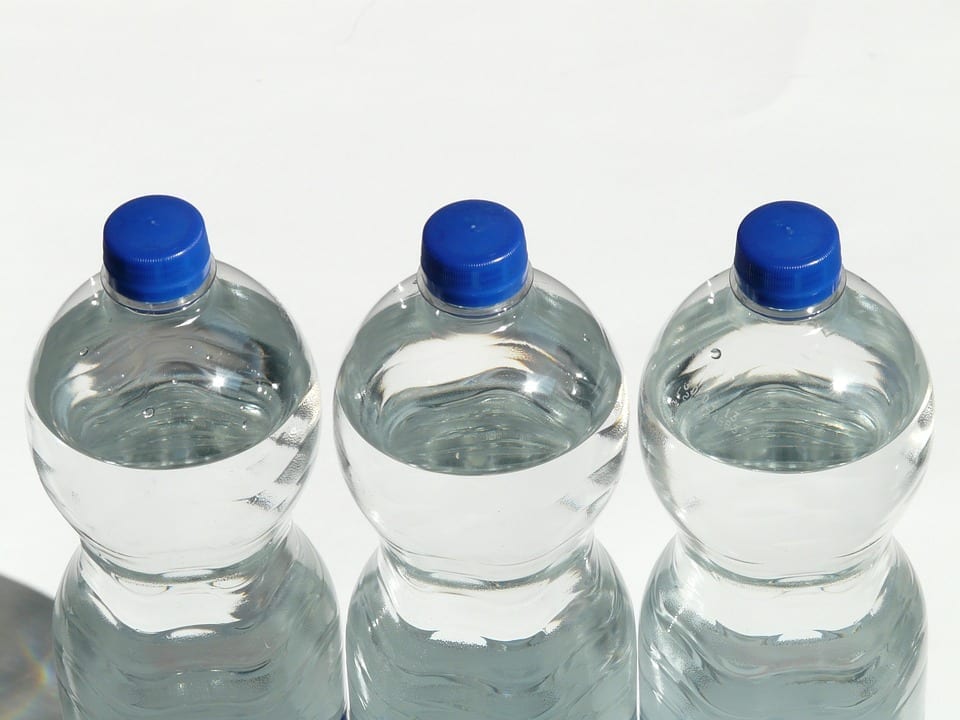 Water on tap: where to find it
In Europe we are the first in the ranking, third worldwide, but this is a sadly conquered record: with over 11 billion plastic bottles a year, Italy is one of the largest consumers of packaged water, despite our tap water being drinkable almost everywhere, of good quality and subjected to strict analysis checks. For those who don't like the taste, however, there are many alternatives to plastic: there are glass bottles, "water houses" and recently also water on tap point at Naturasì shops, in addition to the classic drinking fountains (check Fontanelle.Org and the iPhone app Fontanelle) and––for those lucky enough to live near them––the many natural springs that characterise the area.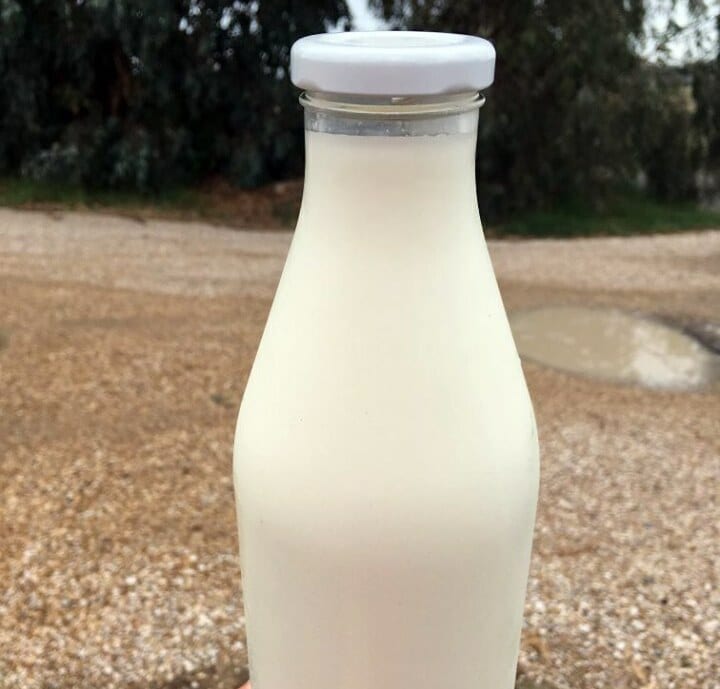 Milk on tap: where to find it
Another product that involves a considerable packaging waste is milk, generally sold in plastic bottles or in TetraPak, a complex packaging solution polylaminate, since it consists of several materials (paper, aluminum and polyethylene) and therefore more difficult to recycle. As for the collection of TetraPak, every municipality has its own rule: in Rome, for example, it must be thrown into the paper bin, naturally rinsed and separate from any caps and plastic components. To avoid confusion, there is the site Milk Maps, which indicates the addresses to buy milk on tap, with updated of distribution times for the different areas served. The only supplier in Rome is Biolà, a historic brand based in Fiumicino that sells raw milk from organic farming mainly from Frisona and Jersey cows.
Biolà – Fiumicino - via Bosa - biola.it/
by Michela Becchi