A beautiful city rich in history, Padua has the curious nickname of the "City of the 3 without": a meadow without grass (Prato della Valle), a saint without a name (the Basilica of Saint Anthony, known by the locals as 'Il Santo'), and a café without doors, referring to the historic Caffè Pedrocchi, the only establishment that, until 1916, was open at any time of day or night. All places worth visiting, along with other gems such as Piazza delle Erbe or Giotto's Scrovegni Chapel. A stop in the city is also an opportunity to dive into the rich Venetian gastronomic tradition. Here is a selection of the top 10 bars from the Bar d'Italia 2024 guide for breakfasts and snacks of authenticity, to enjoy a perfectly crafted sandwich, the typical Pazientina cake, an aperitif with cicchetti, and excellent classic or revisited Spritz, considered a "sacred ritual" here.

Biasetto
Refined, elegant, the sign of the master Luigi Biasetto is an essential stop in the city for connoisseurs of artisanal pastry. In the showcase, taste masterpieces such as petits fours and individual portions, impeccably executed macarons, perfectly leavened pastries, and an excellent coffee shop. Also delicious are the sandwiches with refined pairings and the tempting quiches, complemented by the bistro dishes during lunchtime. The renowned Setteveli cake, with which the Italian team led by Biasetto won the Coupe du Monde de la Pâtisserie for the first time in 1997, is especially noteworthy. Today, it can be delivered throughout Italy via an express service.
Biasetto – Via J. Facciolati, 12 - pasticceriabiasetto.it

Pasticceria Breda
A Paduan specialty, the Pazientina is a spectacular cake made with Brescian pastry and sponge cake soaked in Marsala, with zabaglione cream and gianduia. The one from the historic Breda pastry shop is a must-try, but the classics like Sacher and Mont Blanc, even in individual portions, and the more creative sweets are equally enticing. For breakfast, enjoy the incredibly fresh and fragrant horseshoe-shaped pastries and brioches, paired with well-crafted espressos and cappuccinos. Tasty savory options are also available, particularly the delicious Ferrarese meat pie.
Breda – Via Umberto I, 26 - Instagram

Caffè Cavour
Centrally located, classic, and elegant, Caffè Cavour is a historic address always highly appreciated by locals and tourists alike. The menu covers all the breaks of the day: the selection of leavened pastries for breakfast and sweets, from petits fours to macarons and individual portions, is enticing and truly extensive, and the coffee is always top-notch. One gladly stops by also at lunchtime or for an aperitif, perhaps enjoyed on the pleasant outdoor seating on the square.
Caffè Cavour – Piazza Camillo Benso Conte di Cavour, 8 - caffecavour.com

Mazzari
A historic family-run establishment, Mazzari is above all a recommended spot for an outstanding Italian breakfast. Fragrant croissants, horseshoe-shaped pastries, naturally leavened brioches made from select ingredients, pair well with cups of robust and flavorful coffee, velvety cappuccinos, and fresh juices. There are countless options for purchasing snacks or enjoying a tea or hot chocolate break, such as the delightful petits fours and cookies. The tasty savoury pastries ensure satisfying snacks or aperitifs.
Mazzari – Via dell'Ippodromo, 62c – mazzari.it

Caffè Pedrocchi
A must-visit on a tour of Padua, Caffè Pedrocchi, with its nearly 200 years of history, is the oldest coffee shop in the city and one of the most important historic and literary cafes in Italy. It unfolds across three majestic rooms: the white room, the red room with its striking marble counter, and the green room, once a place where less affluent people could stop without the obligation to make a purchase. Among its most famous specialties is the Caffè Pedrocchi, an espresso with an emulsion of fresh cream and mint syrup, finished with a sprinkle of bitter cacao (don't stir it!). Ideal for a snack are the Stendhal zabaglione, tiramisu, and excellent sliced cakes, from Sacher to Pedrocchi. Spritz and cocktails are crafted with expertise, and the kitchen offers a fine repertoire of traditional Venetian dishes. Upstairs, don't miss the Museum of the Risorgimento and the Contemporary Age.
Caffè Pedrocchi – Via VIII Febbraio 1848, 15 – caffepedrocchi.it

Racca
A treasure trove of sweetness in the ancient heart of Padua. Just steps from the main squares, this small, elegant venue is the right place to indulge in a guilty pleasure without regrets. The breakfast leavened pastries quickly fly off the shelves: it's hard to resist the temptation of the cream-filled brioche, the fragrance of the raspberry croissant, or the apple and cinnamon puff. The coffee service also keeps pace, offering espresso with a sweet taste and equally successful variations with milk or plant-based beverages. Quality is the hallmark, with miniatures, single portions, pralines, and ice cream during the summer.
Racca – via P. F. Calvi, 8 – pasticceriaracca.com

Caffè Tinto
It is a very popular venue in the evening, thanks to its repertoire of "cicchetti" (small snacks) and an unexpected drink list for pleasant aperitifs and after-dinner drinks. Throughout the day, the offering is of a good standard, with desserts and coffee ensuring a good start to the day. However, one of its strengths is the kitchen, with a well-structured menu that varies between lunch and dinner, featuring convincing dishes such as fusilloni with tomato and stracciatella, salmon tataki with vegetable caponata, and a selected meat burger.
Caffè Tinto – Via Vicenza, 20 - tintopadova.it

Maison Hand Bistrot
Refined bistro with a coffee shop, the twin of the adjacent interior design boutique in Piazza degli Eremitani, just a few meters from the Scrovegni Chapel. Inside, the lighting is just right, with comfortable sofas and wood paneling, while outside there's an equally well-kept outdoor seating area. The offering matches the setting and caters to all tastes from morning with excellent espressos, freshly squeezed juices, and smoothies, to a wide assortment of pastries. It's worth stopping by for a well-made Cynar Spritz, a soft sandwich, a glass of wine, or a cocktail during the aperitivo. There's also a good selection of dishes from the kitchen.
Maison Hand Bistrot – Piazza Eremitani, 17 - maison-hand.it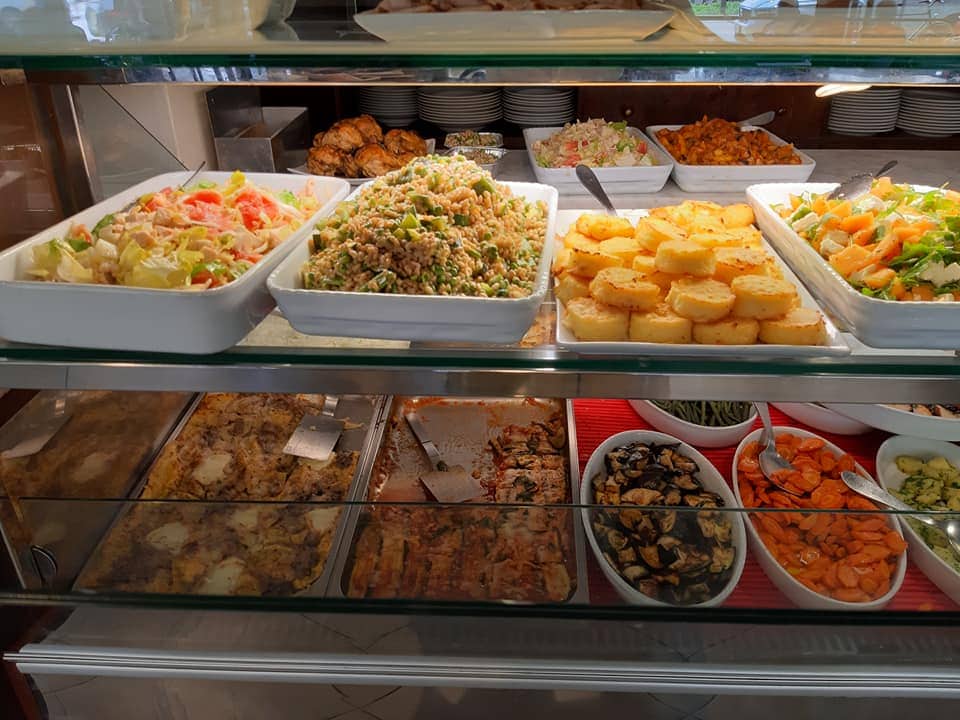 L'Antico Chicco
It's a lovely Italian-style bar, a place where you immediately feel at ease, thanks in part to friendly and always smiling service. The pastries are among the best in Padua, and the coffee is of high quality. Among its other specialties is pizza by the slice (marinara, margherita, and with a seasonal topping), but it's also worth stopping by for lunch when specialties such as pasticcio, risotto, chicken, and sides appear on the counter, allowing you to create your own dish. It's a good place for a "Padua-style" aperitivo with well-made Spritz and rich choice of sandwiches.
L'Antico Chicco – piazzale Mazzini, 47

The Coffee Box
The American-style café formula, with its relaxed and informal atmosphere, makes it a highly frequented spot for a young audience, but not only. It is indeed a good choice for specialty coffee enthusiasts, where you can also try different extraction methods than the usual espresso, such as coffee extracted with V60 or aeropress. The menu also offers a nice range of teas and hot and cold beverages to accompany with croissants, muffins, brownies, donuts, pancakes, slices of cake, and a good selection of vegan desserts. The customisable and tasty bagels, served warm in baskets with fries, are also worth trying.
The Coffee Box – Via Altinate, 37 – thecoffeebox.it