Vico Equense has a concentration of gourmet addresses, hard to find places with such a concentration of good food. So here are 15 suggestions for all tastes and all budgets, scattered among the center and the 16 areas of the small town overlooking the beautiful sea of the Sorrento Coast, vying for recognition as a UNESCO Creative City. They range from Gennaro Esposito's famous restaurant, La Torre del Saracino (Three Forks for the Gambero Rosso Restaurant Guide) and Peppe Guida's, Antica Osteria Nonna Rosa, to Cremeria Gabriele (Three Cones for the Gambero Rosso Ice Cream Guide) to the characteristic pizzas by the meter. Ther are also some tips for the greediest, to bring home a tangible memory of the landscapes, scents, colors and flavors of these magical places.
Vico Equense's best restaurants, where to eat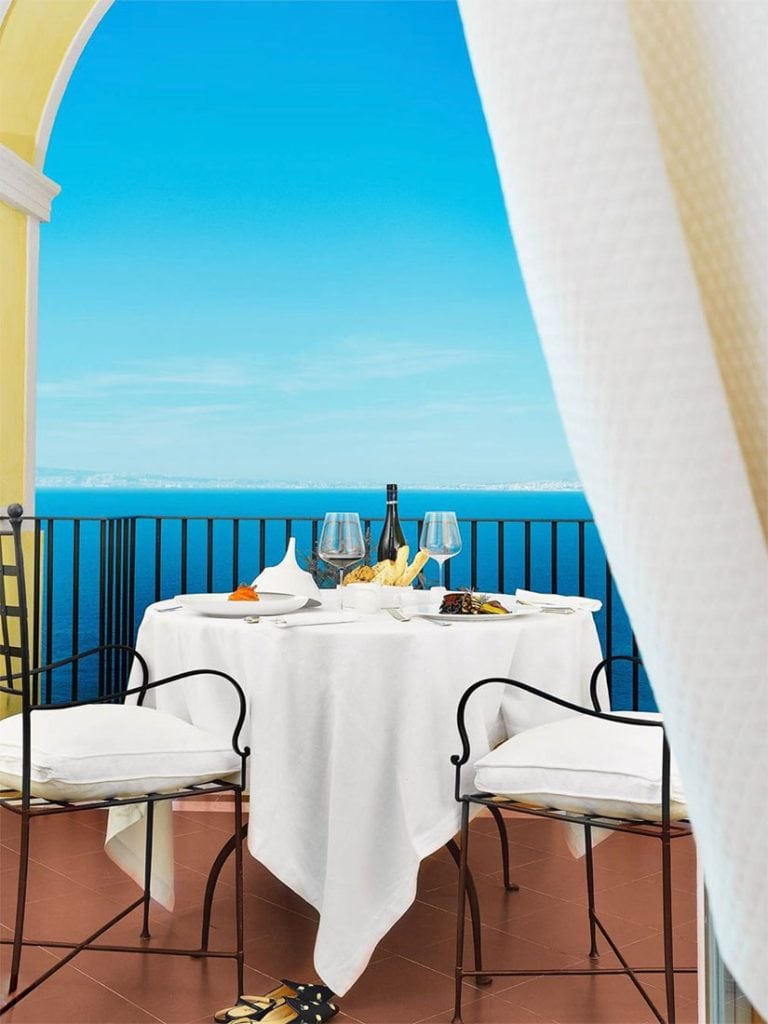 L'Accanto at the Grand Hotel Angiolieri
Restaurant. The location is certainly one of great charm, especially if you are lucky enough to dine on the terrace. The gastronomic proposal, entirely reimagined by chef Raffaele Ros of San Martino di Scorzè (VE), is entrusted to Fabrizio De Simone. Passionate about his homeland, De Simone interprets mostly Campanian ingredients with hints of tradition and just the right touch of contemporaneity. In the dining room, the presence of sommelier Giovanni Starace makes all the difference.
L'Accanto del Grand Hotel Angiolieri – frazione Seiano via Santa Maria Vecchia, 2 – 081 8029161 – grandhotelangiolieri.it

Il Bikini
An evergreen, on the racetrack since the early 1950s and started at the behest of Riccardo Scarselli, father of current owner Giorgio. We are on the slopes of Mone Faito, and at the same time practically with our feet in the water of the Gulf of Naples. The menu, simpler for lunchtime, harks back in several courses to the heart and classicism of the area's bountiful culinary epic, ranging deftly between sea and land recipes. One can also come just for an aperitif. Spacious dehors adorned with plants and flowers.
Il Bikini – s.s. Sorrentina 145 km 13,900 – 081 19840029 – Instagram @ilbikini
Castellano
Pizzeria. One comes here to sample an excellent version of pizza a metro, a local specialty with an elongated shape served for multiple diners. Well-risen and digestible dough, crisp edges, and precise cooking, it's a format that entices you to share and to sample more flavors from the tempting options on offer. Of note are a good selection of fried foods, fragrant and dry, and good homemade desserts. Paired with a selection of local beers and wines.
Castellano – frazione Arola via Masturzo, 17 – 081 8024285 – Facebook

Da Gigino Università della Pizza - Pizza al Metro
Pizzeria. In this historic and very famous pizzeria, the ritual of "pizza al metro" has been celebrated for decades. A pizza prepared with good ingredients, well leavened and baked in a wood-fired oven, which is especially appreciated in the traditional versions and in the very tasty one with escarole, olives, capers, anchovies, fiordilatte and extra virgin olive oil. The environment is very spacious and there is a pleasant garden for the warm weather.
Da Gigino Università della Pizza–Pizza al Metro – corso G. Nicotera, 15 – 081 8798426 – pizzametro.it

Laqua Countryside
Restaurant. Well-known chef Antonino Cannavacciuolo, born in Vico Equense but stationed at Villa Crespi on Lake Orta, created, together with his wife Cinzia Primatesta, this splendid country residence with six rooms and all the comforts, nestled in the green hills. The table recounts Cannavacciuolo's roots, but also his career path, in which Piedmont plays a fundamental part, through the talent of chef Nicola Somma. Cellar of great personality.
Laqua Countryside – frazione Ticciano via Ticciano, 137 – 081 19460050 – laquacountryside.it 

Maxi dell'Hotel Capo La Gala
Restaurant. The view of the Gulf of Naples is a true jewel of the gourmet table at this 5-star hotel. And while the enchanting colors of the sea satisfy the eye, taste and palate are satisfied by the dishes created by the young and competent chef Emmanuel Scotti, an Ischian by birth but with varied experience at prestigious restaurants. From the menu: salicornia gnocchi, lobster and red shiso, black lemon and bouillabaisse; charcoal-ripened amberjack, eggplant, tzaziki and umeboshi; banana, caramel and peanuts.
Maxi dell'Hotel Capo La Gala – s.s. Sorrentina 145 km 14,500 – via L. Serio, 8 – 081 8015757 – hotelcapolagala.com
L'Oasi Baldino
Sandwich Shop. To satisfy a sudden pang or a craving for an undemanding snack for the stomach and wallet, this is definitely the right address. Born more than 40 years ago under the name L'Oasi Saltimbocca, it has become famous precisely for the saltimbocca, a sandwich stuffed with ham and mozzarella (or other), if desired heated in a wood-fired oven for a few minutes. Alternatively, charcuterie boards, fancy bites and cheeses. Desserts and house wine. Pleasant outdoor space, parking, owned bed and breakfast.
L'Oasi Baldino – via L. Serio, 5 – 081 8798286 – oasisaltimbocca.it

Antica Osteria Nonna Rosa
If a foodie decides to pamper himself at a generous table, that foodie should knock on Peppe Guida's door. The place and the atmosphere one breathes speak of a family that has made hospitality its reason for living. The kitchen does not impose its creativity, it suggests it gracefully, implying it in refined and light preparations, but you will also find dishes like meat sauce or meatballs with sauce. In the summer, the restaurant closes and the team moves to high ground, to Villa Rosa (see website), an inn with a vegetable garden and a view.
Antica Osteria Nonna Rosa – frazione Pietrapiano – via Laudano, 1 – 081 8799055 – osterianonnarosa.it

Nonno Luigino
Farmhouse. Founded by Giovanni Caccioppoli (known to everyone as Grandpa Luigino) with his wife Bianca and children Mena, Raffaele, Mauro and Luigi, it focuses on the well-being of the guest. The proposal is simple and down-to-earth, traditional, characterized by a rigorous choice of raw materials (mostly from the 5 hectares of the property's vegetable garden).
Nonno Luigino – frazione Massaquano via R. Bosco, 392 – 081 8016520 – nonnoluigino.com

Punta Scutolo dell'Hotel Le Axidie
Restaurant. In summer, you eat on the beautiful terrace overlooking the private beach and the Bay of Naples; out of season in the blue-painted rooms of the boutique Hotel Le Ancore, on the same property. It is one of Peppe Guida's authorial "participations," and he wanted here the partnership in the kitchen with one of his favorite disciples, executive Pierpaolo Giorgio, who is rich in talent and inspiration. Mainly seafood cuisine, with classic preparations and more refined dishes, and the pyrotechnic pasta-based creations of which Pierpaolo is a master. Wine list majority on whites and bubbles.
Punta Scutolo dell'Hotel Le Axidie – frazione Seiano piazza Marina d'Aequa – 081 8028562 – leaxidie.it

La Torre del Saracino
Restaurant. It is the realm of Gennaro Esposito, a media-savvy, genial, veracious chef, an extraordinary interpreter of his homeland but also just landed in the North. And his Torre is a perfect setting for one of the best gastronomic experiences in the Boot. The daily catch pendants with vegetables from the garden, thus excellent, memorable dishes are born. Dehors overlooking the sea, impressive wine cellar.
La Torre del Saracino – frazione Seiano località Marina via Torretta, 9 – 081 8028555 – torredelsaracino.it

La Tradizione
Bistro. The De Gennaro family's store is a wonderland for foodies: eyes and belly here can't help but be enraptured by the counter brimming with excellence and the shelves full of wines, preserves, spirits and artisanal pastas. In addition to greedy purchases, however, it is the right place to taste, at all hours of the day, dishes and dishes from Campania's classic repertoire in a quiet, family-friendly atmosphere.
La Tradizione – frazione Seiano via R. Bosco, 969 – 081 8028437 – Instagram @latradizione_di_vico_equense
Where to buy the best typical products of Vico Equense
L'Arcangelo
Farm. Valuable family-run business for three generations, named after founder Arcangelo Russo. From the estate's olive groves, which are organically grown, various types of high quality oils are obtained that well represent the territory. If you wish, you can adopt an olive tree and have extra virgin olive oil made from the tree. The farm also produces eggs and Butirri beans, a rare native type that is particularly versatile in cooking.
L'Arcangelo – frazione Montechiaro piazza Montechiaro, 18 – 081 19029202 – larcangelo.it
Fernando De Gennaro
Cheese. It has a centuries-old cheese-making tradition behind it, the dairy that has been in the hands of the De Gennaro family for five generations. The pride of production is the celebrated Provolone del Monaco DOP, a semi-hard cheese aged no less than six months. Very interesting is the "caciolimone," born from a collaboration with chef Peppe Guida, with a heart of butter flavored with lemon. Other specialties include butter, ricotta, fiordilatte and caciocavallo cheese.
Fernando De Gennaro – frazione Pacognano via R. Bosco, 956 – 081 8028185 – caseificiodegennaro.it
Cremeria Gabriele
Ice cream shop. For three generations the Cuomo family has been dedicated to running this well-known downtown store. Liberato takes care of dairy products and cheeses, Raffaele creates exquisite ice cream from excellent local raw materials, from milk to fruit. Creamy, velvety, genuine, it is goodness that satisfies even the most demanding palates. There is also a large counter with sweet offerings, primarily the lemon delight, and then sfogliatelle, baba, pastiera and more. For the holidays, great leavened goods and ad hoc desserts. Nourishing and mouth-watering is the savory section as well.
Cremeria Gabriele – corso Umberto I, 8 – 081 8798744 – gabrieleitalia.com
by Clara Barra