Barcelona, one of the most vibrant cities in Europe, manages to capture a record-less flow of tourists that goes beyond any seasonal logic. The urban scenery is adorned with splendor by the modernist architecture of Antoni Gaudi: Park Guell, Casa Batlló or even the majestic Sagrada Família. As the sun goes down, the Ramblas area becomes the epicenter of the city's flow, presenting on its sides a myriad of clubs ready to secure the greatest number of customers, mostly tourists. In addition, in warm weather the wide and long playas of Barceloneta, on which more chiringuitos (small kiosks in which to have a drink and a bite to eat) are spread out, welcome many families and young people. Boys and girls are also attracted by the discos that liven up the nightlife atmosphere in this seaside area. At the same time, it also turns out to be fun to eat in Barcelona. Tapas bars, restaurants with mediterranean cuisine, wine bars and pastry shops are just some of the food and wine options that define the varied culinary offering. In the catalan city, one can even babble about the surprising pizzerias. Indeed, some of them offer the italian disc with very good results and in a manner that resembles  the original formula.
Where to eat pizza in Barcelona: the best pizzerias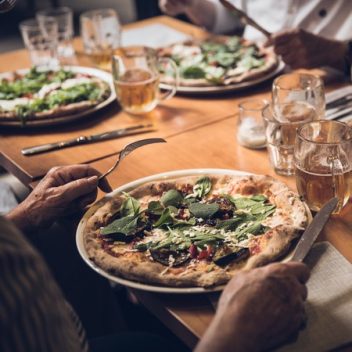 Lecca Baffi
Italy to the core, Spanish in the presentation. Lecca Baffi is a modern and multifaceted venue that includes a deli and a trattoria. The pizza baked in the wood-fired oven is left to proof for at least 48 hours. The wine selection is valid assembling a number of Italian natural wines. The vibe on the other hand, as mentioned, is all-Spanish: informal, vivacious and laid back. There is no fixed menu, dishes are chosen according to market availability. Aficionados swing by for a simple aperitif, or a hot slice of pizza, a plate of lasagne or gnocchi, or indulge in a tuna tartare. Since its opening in July 2016 all the elements are there for further improvement.
Carrer de Valencia, 341 - 34935287693 - leccabaffi.com

La Balmesina
Pizzeria with a Neapolitan imprint transplanted to the Spanish city which is experiencing great success. The dough is made with sourdough starter and organic flours, and a long leavening that makes the pizzas digestible and fragrant. Baked in a wood-burning oven, as tradition dictates, they show off a nice thick and airy crust, topped with select, high-quality ingredients. We recommend trying the pizza with mozzarella di bufala, roasted peppers, Cantabrian anchovies and fresh basil.
Carrer de Balmes, 193- +934156224 - labalmesina.com

Sartoria Panatieri
From farm to pizza. An intriguing claim of this pizzeria which is only a walk away from the Sagrada Familia. After a career and building up experiences in important restaurants of Spain, Rafa Panatieri and Jorge Sastre decided to open their pizzeria. Local, seasonal ingredients, bought by farmers or directly grown near the venue, and imported raw materials are used to deliver a glimpse of one of Italy's most famous dishes. We found that the discs were cooked perfectly. A fragrant and soft bite that resembled the pizza of the city of Naples. The classic Margherita was delicious, but try the one with Cantabrian anchovies, kalamata olives, tomato, and escarole. Before the check, a classic Tiramisù is the right way to end the dining experience.
Carrer de l'Encarnació, 51 - +931376385 - sartoriapanatieri.com