Primitivo di Manduria: 5 bottles worth trying
Thanks to the Consorzio di Tutela del Primitivo di Manduria we had the chance to visit and re-taste a wide selection of wines from this special corner of Puglia, charmed by the intense colours of the countryside, the red soil, a sea that needs no filters. In recent years few wine territories, like this one, have grown so much in regards to local businesses, bringing new life to a wine area that extends across 18 municipalities between Taranto and Brindisi, for a total of 57 wineries. The primitivo grape, declined in the three denominations Primitivo di Manduria, Riserva and Dolce Naturale, pulled a sprint. Equally in the cellar, quality has had a great surge, thanks to the arrival of the generations and many new companies that increasingly focus on the characteristics of the individual sub-areas. The colour of the soil here marks the differences, the white and sandy soils, closer to the sea, host numerous vines in piedfranc system, the red soils in the Torricella area with soils marked by iron, the black soils in the area of San Marzano and San Giuseppe, the innermost part of the denomination. Here clay and deeper soils reveal more powerful and often more alcoholic wines. In recent years the way of regarding Primitivo di Manduria has changed, which in the most sought-after selections increasingly ages in large barrels or in cement tanks.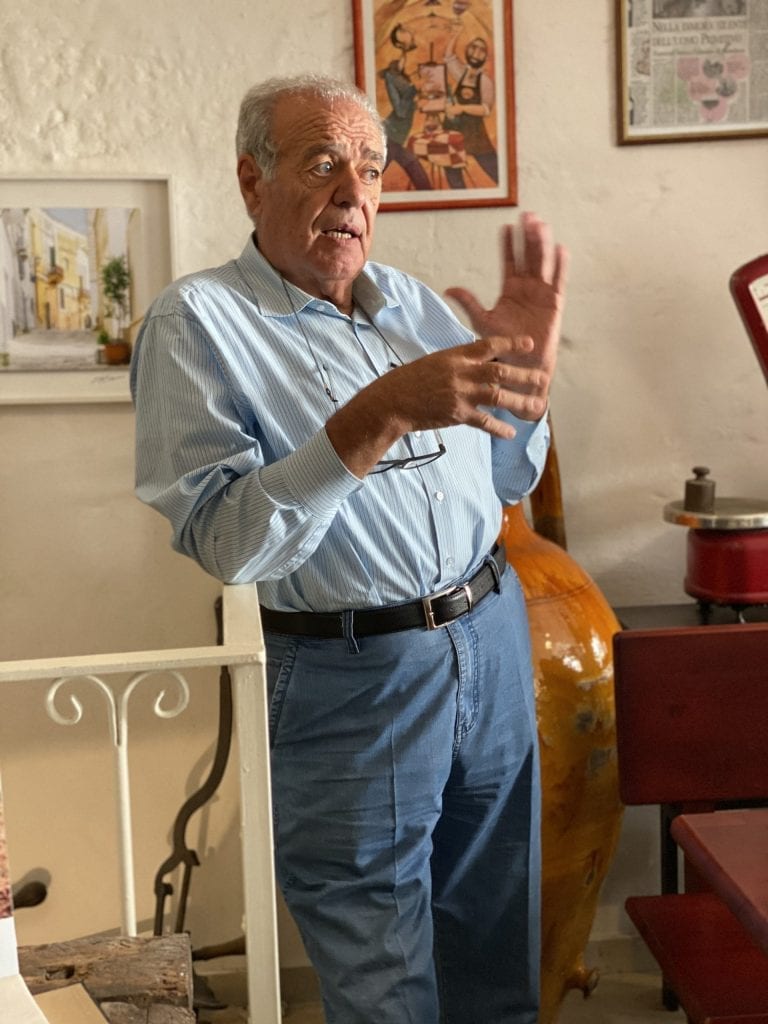 Primitivo di Manduria Riserva Acini Spargoli 2015 Antico Palmento
We begin with a tiny garage winery in the earth of Manduria. Among some big capasoni (old terracotta amphoras), we met Bruno Garofalo who purchased this estate in the late 90's. "We gave new life to this facility which was active since 1904. We're a family run winery, we use a lot the so called fermentini (large cement tanks). We produce 5 Primitivo di Manduria on a traditional scale but with a new outlook. My idea of Primitivo? A full body wine, generous in alcohol and in color, with a lot of things to say", tell us Gabriele Garofalo. We appreciated the Primitivo di Manduria Acini Spargoli 2015 which is coming from 40 years old bush trained vines. It displays a very dense profile, rich of dark cherry and liquorice sensantions. On the palate is concentrated, with a distincive sweet, sour and spicy aftertaste. Our tips? Try it with an aged and spicy cheese.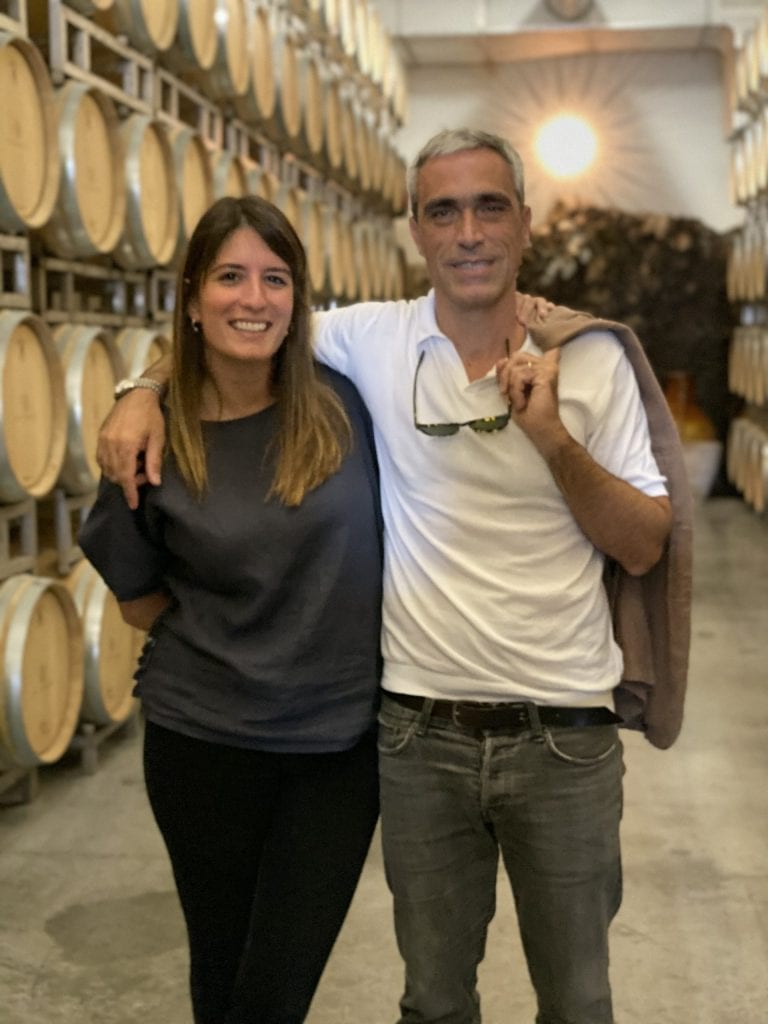 Primitivo di Manduria Sessantanni 2016 San Marzano
Founded in 1962 at the initiative of nineteen winegrowers, San Marzano is currently living a second youth. At the basis, you'll find 1200 contributing members and about 1500 hectares of vineyards. The wide range comes from both traditional and international varieties, but Primitivo-based wines stand out for their importance, starting with various versions of Primitivo di Manduria. The vineyards are mainly located in the municipalities of San Marzano, Sava and Francavilla Fontana, on mostly calcareous soil dominated dominated by red earth. Many changes are under way, summarized by Mauro di Maggio, President of the Primitivo di Manduria Consortium and of Cantine San Marzano. "I think we are just starting to have fun with Primitivo di Manduria, the best is yet to come. That fruit that makes it so sexy and appealing is only the first approach, now we are going far beyond its famous big body. Harvest times have changed, now shortened to seek freshness, as well as the study of soils which are now making a difference". The barriccia is pretty impressive, during our visit we tested again the Primitivo di Manduria Sessantanni 2016 which displays a rich and close-woven with jammy notes of black fruits; on the palate it exhibits nice texture, proving soft and pervasive.  Among their wines, we strongly suggest the elegant and incisive Negroamaro F 2016. If you're next to sea, the vibrant Talò Verdeca 2018 woulb be your perfect company.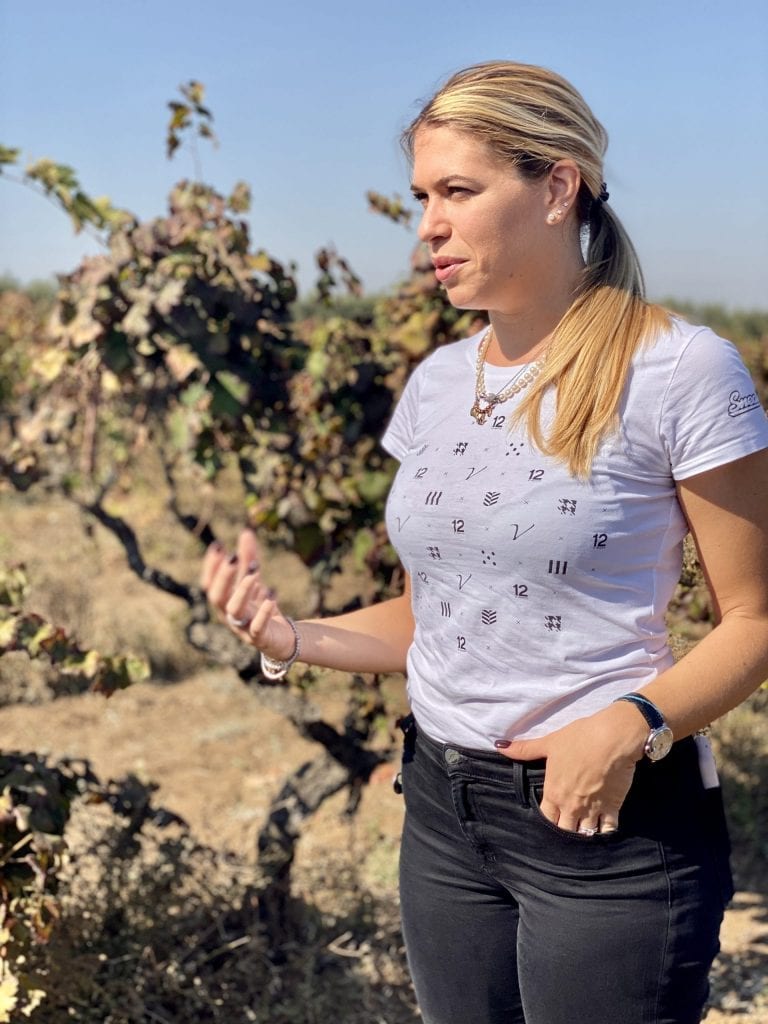 Primitivo di Manduria Papale Linea Oro 2017 Varvaglione 1929
"Where would I take a visitor? Well, I would start with sailing a catamaran in the Gulf of Taranto, enjoying aperitivo with our wines on board. We like to organize picnics in the vineyard or under one of these ancient olive trees, or in the fields among the bales of hay, perhaps with a freshly made mozzarella on the spot. And then we could steal way to explore an underground oil mill in Leporano and maybe then a typical taste of Tarantine mussels eaten raw at Par Piccolo". We visited Marzia Varvaglione in the Masseria Carducci in Leporano, strengthening a very long tradition: an essential and enchanting building from the late 1600s. Inside the huge concrete tanks that are so fashionable today play a starring role. with nice pulp, their soft and spicy Primitivo di Manduria Papale Linea Oro 2017, which does a nice job balancing softness and acidity. If you're in the mood for rosé, you cant' miss Idea 2018: a fresh and fragrant rosé made with Primitivo. On the nose it offers up flowery tones and hints of red wild berries, while in the mouth it proves highly pleasant — it goes down like a charm. Try it with some fresh local mussells and you'll dream with open eyes.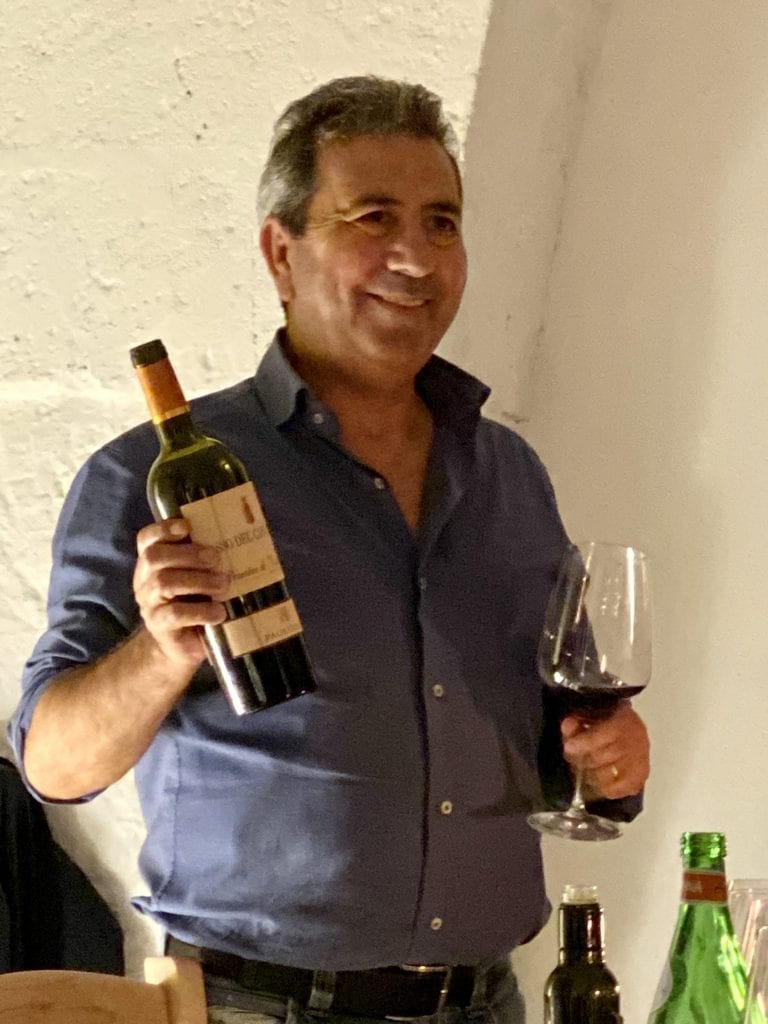 Primitivo di Manduria Passo del Cardinale 2018 Paolo Leo
For thirty years now, Paolo Leo has been running the family business with passion. In addition to the wines from his own vineyards, all located in the municipality of San Donaci, the winery also functions as a négociant, marketing wines produced under its direct control in collaboration with a group of trusted winemakers. The range offers considerable technical precision that brings out the best characteristics of the varieties. During our stay at Masseria Palombara, a beautiful bio resto in Oria, we tasted the Primitivo di Manduria Passo del Cardinale '18 which is very round and approachable in its aromas of wild berries and dark cacao. The finish is spicy and flavoursome, this is a jolly when it comes to food pairing. Try it over a generous dish of  fresh pasta with long cooked meat ragout.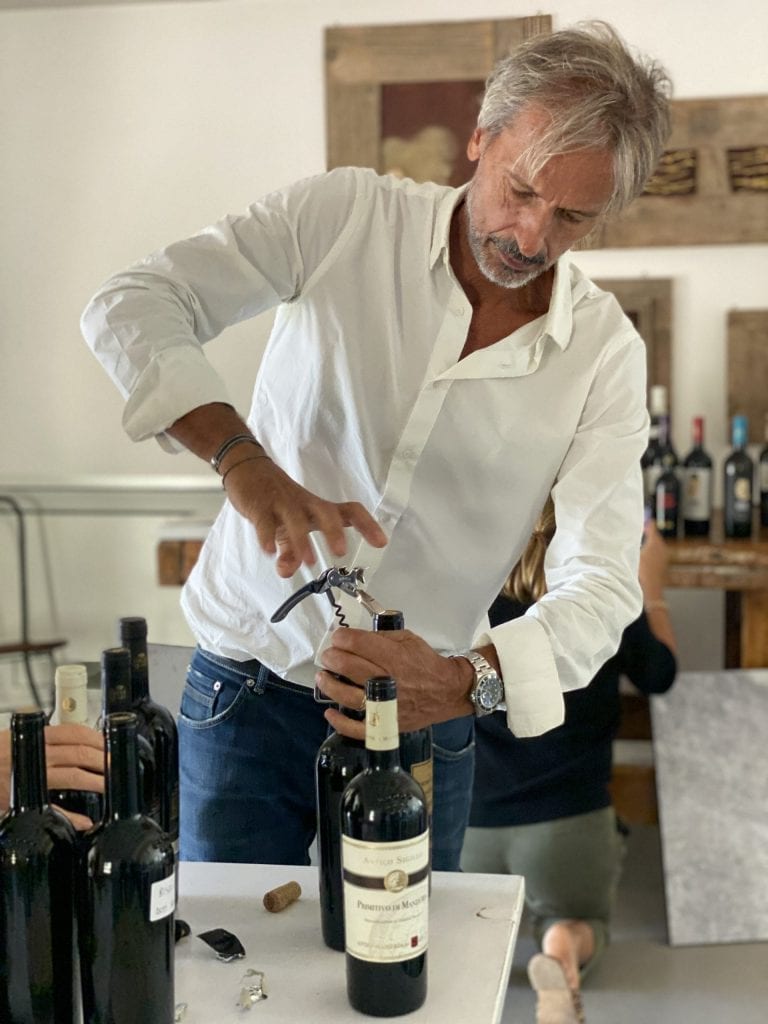 Primitivo di Manduria Oro di Emera 2017  Tenute Eméra
Claudio Quarta and his daughter Alessandra are responsible for multiple wineries: in Irpinia there is Sanpaolo and in Puglia there are Eméra and Moros. Tenute Eméra's single body of almost 50 hectares of vineyards is located near Lizzano by the Ionian coast was purchased in 2005. The vineyards mostly grow in tuffaceous calcareous soil, enriched by a layer of detritus and clay. The welcome at the winery is given by a beautiful garden dedicated to biodiversity. Among the wines we tasted, we suggest the Primitivo di Manduria Oro di Mera 2017 long in its characteristic notes of ripe, black fruits. The quality of the frutiy aromas is distinctive, on the palate features sweet spice and some toasted sensations of cinnamon and cacao. On the crispy side we noticed Primitivo di Manduria Anima 2017, enhanced with fresh notes of pomegranate and red oranges.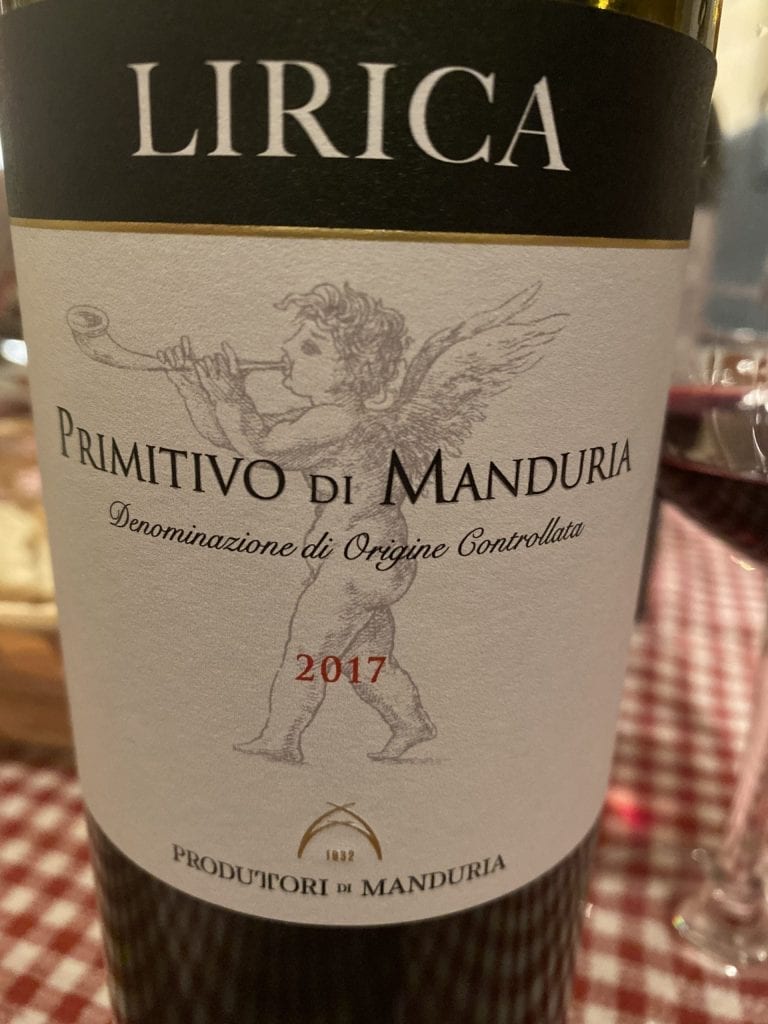 Primitivo di Manduria Lirica 2017 Cantina Produttori di Manduria
This is a delicious Primitivo di Manduria from the  Cantina Produttori di Manduria, which was awarded the Special Prize for Sustainable Vitivinculture in the Vini d'Italia 2020 guide. The cooperative can count on 400 wine-growing members, of the approximately 900 hectares of vineyards, over half are dedicated to the production of primitivo grapes. "For more than a decade the cooperative has been committed to sustainability, all members have been trained to follow strict protocols that take into account allaspects of sustainability, social, economic and environmental", said Director Giovanni Dimitri, just in fron of ancient tools of the cellar museum that well narrates the area's agricultural past. The winery is deeply committed to sustainable cultivation workin under very sricts rules of the Equalitas certificaiton. The Primitivo di Manduria Lirica 2017 is a such a joyful wine , full wine rich in fruit and of notable length, but also sapid and gutsy. Lastly, the Primitivo di Manduria Dolce Natural Madrigale 216 is pleasant in its notes of cherry and juniper, while the palate does a nice job balancing sweet tones thanks to a long, fresh finish.