The countdown to 2022 Vinitaly has started. After a two-year break – not counting the Special Edition last October – the wine sector will meet again in Verona from 10 to 13 April to celebrate a return to 'almost' normality. The 54th edition will finally resume, after having been suspended for too long due to the pandemic.
Several languages will be spoken again at the event, thanks to an intense promotional work to ensure a massive presence of international operators and buyers. After all, the 7.1 billion euros exports milestone shows that, despite everything, the world continues to drink Italian. 630 top importers have accepted the Vinitaly's call so far, to which can be added 50 operators. The latter will make their debut in Verona within another tailor-made incoming project, launched this year as the result of direct collaboration between the trade fair organization and about 30 exhibiting companies at Vinitaly.
With 130 confirmed top buyers, this year the US will take a prominent role as never before. Positive response from South America as well, with operators from 10 out of the 12 countries in the macro-region (Ecuador, Colombia, Brazil, Argentina, Costa Rica, Peru, Guatemala, Mexico, Panama, and Chile). Africa is among 2022 Vinitaly's novelties, with contingent of professionals from Mozambique and Kenya, while there will be no Russian representatives, as promotional activities in the Russian Federation have been suspended. Europe's largest contingents will be from Germany (65) and northern countries (40), with Denmark and Sweden at the forefront. Lastly, Asia will not be missing either, despite some pandemic-related travel problems, as Veronafiere CEO Giovanni Mantovani tells us in this interview.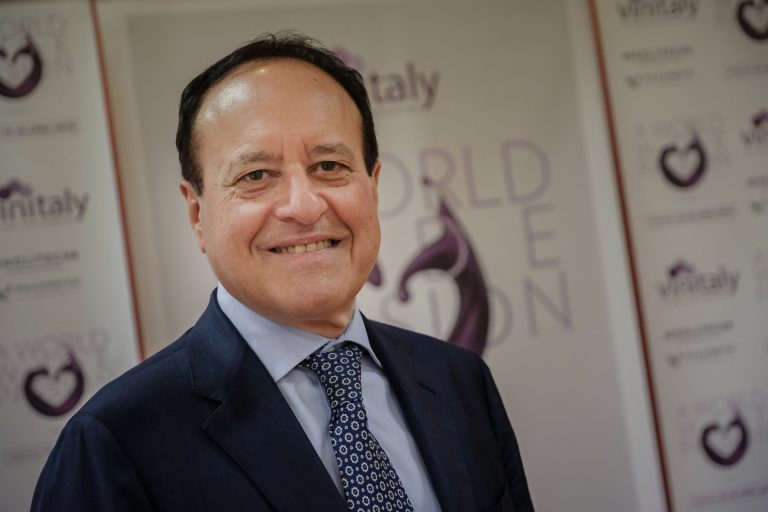 The restart will take place in Verona. How will be this year's Vinitaly?
It will be an edition of restart and recovery. Even though, to be honest, wine sales has never stopped, so much so that we can affirm that the glass is absolutely full, as the latest export figures tell us. However, what was missing was the face-to-face meeting that Vinitaly has always represented. If there is a legacy that Covid-19 has left us, it is the enormous value of human relationships.
A value perceived, above all, by wineries, I guess. What about the event attendance?
The return of the wineries has been remarkable: we are expecting a record attendance as in the previous Vinitaly editions (more than 4,000 subscribers, editor's note). And, in order to offer them the best we can, we are working hard on the demand. 680 top importers from all continents are expected so far at the exhibition.
If we look at the 2022 wine calendar, Vinitaly is the second event scheduled after Vinexpo Paris, since ProWein has been postponed to May. Will the decision of the Düsseldorf Messe somehow favor Veronafiere?
We are happy to stick to our plan: April is a favorable time to resume the wineries' annual campaign. And, from what we can see, companies are benefitting from Vinitaly taking place before ProWein. It'll be a good test. The operators will have the possibility to attend an important exhibition, two months after Wine Paris, yet with fewer restrictions and, therefore, a higher attendance rate.
Are there still travel restrictions to enter the country? Which countries have already joined it?
The situation has improved a lot compared to a short time ago. However, there are still some restrictions, especially as far as China is concerned, after Beijing reimposed new lockdown measures in some areas. Anyway, Asia will be well represented thanks to Japan, Singapore, South Korea, and Thailand. Positive response from the US as well – our main export market – and Canada. And then there is Europe: from Germany to Austria, passing through the fully represented North European market, and the UK.
Russia won't attend the exhibition…
Unfortunately, after Covid-19, the Ukraine war is now jeopardizing the global balance. Clearly the Russian contingent won't attend the exhibition, but we hope to resume dialogue soon. Russia is among Italy's major wine export markets, reaching 345 million euros over the last year. It would be a great loss.
Let's go back to April 10. What's new in this year's edition?
Among the novelties, there will be a special area for mixology, which made a successful debut at the Vinitaly Special Edition last October. Then there will also be an area dedicated to organic wines, which are currently on the rise, especially in the UK and Northern European markets. Among the new trends that Vinitaly always keeps an eye on, there will be a special area entirely dedicated to orange wines. Besides, OperaWine will be back as always with a selection of 130 Italian wines (Saturday, April 9 at the Ex Gallerie Mercatali) and the Tre Bicchieri tasting by Gambero Rosso on the opening day.
In addition to the exhibition, there will be another Vinitaly and The City edition?
Yes, absolutely. It turned out to be a winning choice, and we are really happy to repeat it again. It is indeed important to organize a Vinitaly addressed to operators and buyers, but without forgetting all enthusiasts – especially the young ones – who will be able to enjoy tastings and masterclasses throughout the city, starting on April 8.
Which country will take center stage in this 54th edition?
North America, a market that over the years has always been very loyal, and that keeps growing and appreciating our wines. It will be a trend and quantitative survey. On the other hand, at the press conference presentation – scheduled for March 30 in Rome – we will analyze the Italian market and its post-Covid changes.
Let's end with a judgment. How do you consider the contribution of the government to the exhibition industry in these two years of Covid-19 pandemic?
I have to say that the government contribution – albeit later than in other European countries – has been received, thus allowing the exhibition companies to restart. Fortunately, the Italian government has managed to grasp the importance of exhibitions and of the wine sector, acknowledging its role as crucial growth driver for the domestic economy.
by Loredana Sottile