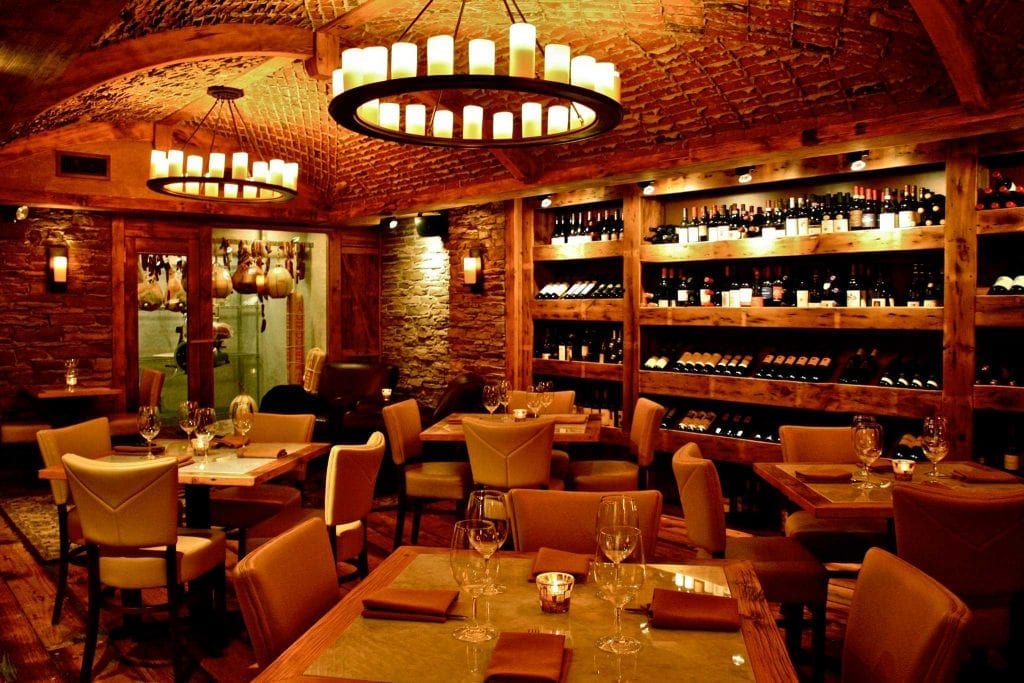 Contadi Castaldi BEST WINE BAR IN THE US
During the US Tre Bicchieri Tour, Gambero Rosso has awarded the Contadi Castaldi Best wine bars in towns according to the Top Italian Restaurants guide. Authentic character, product traceability, by the glass selection, service and the quality of the wine list were important criteria.
Contadi Castaldi Best Wine bar in Chicago DISOTTO ENOTECA 200 E Chestnut St – Chicago. Average Price: € 30 An underground Italian wine bar with a Chicago twist. DiSotto, the enoteca owned by Scott Harris, is located under francesca's on Chestnut. The atmosphere is warm and intimate, with a cave-like feeling. Tables are sorrounded by brick walls, bottles and prosciutti. Shorltly, the perfect spot for an aperitivo or a late night bottle. We invite you to grab some olives or a bruschetta and then focus on a proper wine chosen among a smart wine list. The selection is mainly Italian, including traditional and modern producers, plus some French and American labels which show an eye toward artisanal vignerons. Honest prices and a friendly service.
Contadi Castaldi Best Wine bar in NY ANFORA 34 8th Avenue – New York. Average Price: € 25 It's amphora fever. The use of terraccotta excites producers, critics and the public, from Georgia to New York City. If you're in town, pay a visit to this delicious wine bar in the Greenwich Village. The wine selection managed by Cody Pruitt is brilliant, with a smart and extensive choice availabe by the glass. The focus is on very small producers, less known denominations and traditional terroir driven wines carefully selected. Italy leads the way, together with glu glu wines from France, Spain, and Germany. Plus, a proper selection of beers and well balanced cocktails. A bunch of crostini and sandwiches, or a tagliere of salami and cheeses complete the experience. Cozy and relaxed atmosphere.
Contadi Castaldi Best Wine bar in San Francisco INOVINO 108-B Carl Street – San Francisco Average Price: € 20 What a lovely wine bar. Kari and Francesco run the bar in the Cole Valley neighborhood. The atmosphere is cosy, both at the counter and at the outside tables. The wine list is designed with love and research, and includes lesser known indigenous terroirs and traditional style wines, with a focus on artisanal vignerons. There are about 20 wines poured by the glass, also available in half-glasses, and a fine value for money selection of labels. It is difficult to find such good bottles around the $30 mark. These are paired to delicious snacks such as vegetable flans, plates of cheese and cured meats, an amatriciana with all the trappings of the genre, a solid classic in tune with the rest of the solid cuisine. Good lighting and casual atmosphere.
Contadi Castaldi Best Wine bar in Los Angeles BAR BANDINI 2150 Sunset Blvd – Los Angeles "Arturo Bandini was pretty sure that he wouldn't go to hell when he died". This lovely wine bar is dedicated to one the greasted of Jhon Fante's character. Arturo Bandini, what a name and what a character! First of all, here the wine selection is simply brilliant, with a smart choice available by the glass. The focus is on natural wines, sur lie sparlin wines, low sulphites labels and micro vignerons. Italy leads the way, together with glu glu wines from France, and much, much more. Drinkability is the key, take a seat and enjoy some beautiful and vibrant bottles from the old world. A warm and a super chilled atmosphere complete the package. If you're in town and you love wine, this is the place to be. Contadi Castaldi