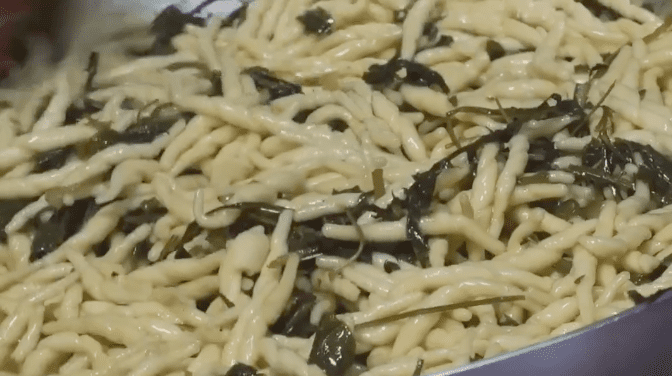 In brief
Chef: Giorgione
Difficulty;
: Easy
Course:
First Courses
Recipe of: Fresh Pasta
Ingredients
for 4 people
Wild spinach, Barberry, Dandelion, Burnet, Portulaca or porcupine, Rocket, Garlic, New oil, 1-3 Anchovies
Preparation
Herbs preparation:
Firstly chop the wild spinach, the barberry, the dandelion, the hunts grass, the portulaca or porcupine and the rocket. Just a shredded. Now get a pot and pour oil like rain. Put some garlic and 1-3 anchovies in the pot. Add a chili and a half with seeds. Then get the chopped herbs and pour them in the pot. Another round of oil, and place it on the stove for 10 to 15 minutes.
Trofie preparation:
In the meantime take another pot on with water and add salt. When the water boils add pasta. Then put the frying pan on.  Add a drop of new oil. Take the herbs from the pot with all their water and place them in the frying pan. Widen them out, on the pan, and let them dry out a little bit. Then drain the pasta and put it in the pan with the herbs. Turn it off and plate it.