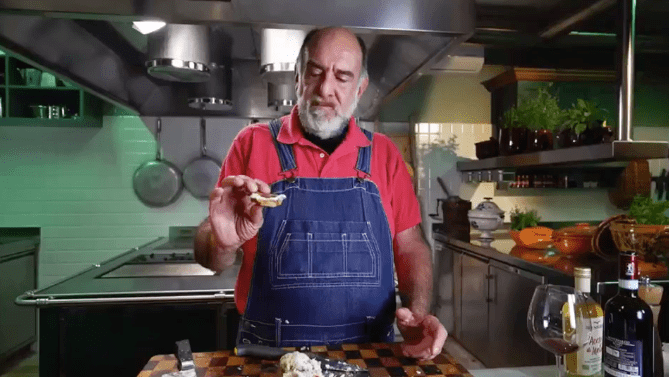 In brief
Chef: Giorgione
Difficulty;
: Medium
Total time: 20 min
Preparation: 10 min
Cooking: 10 min
Course:
Appetizers
Recipe of: Finger Food
Ingredients
for 2 people
Coarse Salt, 2 junipro Berries, 2 leaves of Sage, 1 sprig of Rosemary, 1 wad of Thyme, 1 beak of Garlic, white Vinegar, Wild Fennel, white Wine, Lard, Bread
Preparation
A piece of lard is much better than any other ingredient you can use to enrich a dish! Take the lard and add a little bit of coarse salt, 2 juniper berries, 2 sage leaves, 1 sprig of rosemary, a bit of thyme, 1 garlic clove, a little bit of white vinegar, and a generous dose of white wine. Just a little pepper on top. Then we'll add two big garlic beaks, one red and one white. We peel them both and cut them into 4 strips and then place them on the pig cheek slices. In the meantime we prepare a chopped, again, we pluck a nice bit of rosemary, 2 leaves of sage, some wild fennel, which in my opinion suits us very well. . . A bit of chilli. Add 2 grains of coarse salt and a grated lemon peel. And at this point, let's chop. Not too finely nor too thick. Take the lard and add the chopped mixture as it's raining, a drop of water and a little wine. After 5-6 months it will be ready. Once it's ready, take back the lard and we make a spread by adding the same ingredients we made it with. Rosemary, juniper, thyme, wild fennel and a little garlic. Then we spread the beaten lard on a slice of toast.