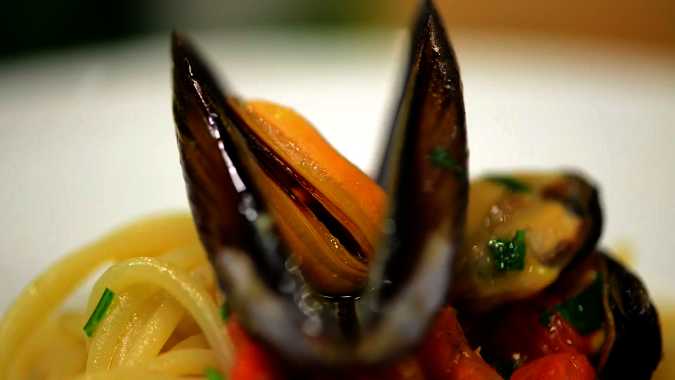 In brief
Chef: Max Mariola
Difficulty;
: Medium
Total time: 60 min
Preparation: 30 min
Cooking: 30 min
Course:
First Courses
Recipe of: Dry Pasta
Region: Apulia
Ingredients
for 4 people
1 kg Mussels, Dried chilli, Garlic, Cherry tomatoes, Parsley, Spaghetti.
Preparation
Preparation:
We start with cleaning mussels, removing the barb pulling it. Done this operation we put them all
in the bowl and clean it up: run some cold water and use with a steel, so there won't be impurities. Then take 1 clove of garlic and some parsley and put them in a pan. When
the garlic will brown add the mussels and close with a lid. In the meantime get the cherry tomatoes. Peel the tomatoes and put them inside a pot with boiling water. When the mussels are ready, place them in a bowl with cool water. Get a pot and pour the tomatoes cooking water. When the water boils add spaghetti and cook them. While the pasta is cooking open the mussels and take the fruit. For the spaghetti sauce put a pan on the stove and add a clove of garlic, the tomatoes cut in half, some cooking liquid of the mussels (don't pour all the water because on the bottom there are the impurities of the mussels) and a chili. Then get some parsley, cut it and add to the sauce. When the spaghetti are "al dente" grab them and put it in the sauce's pan. Add to the pan some cooking water of the pasta. At last add the mussels to the pan. When the pasta it's all cooked serve it.