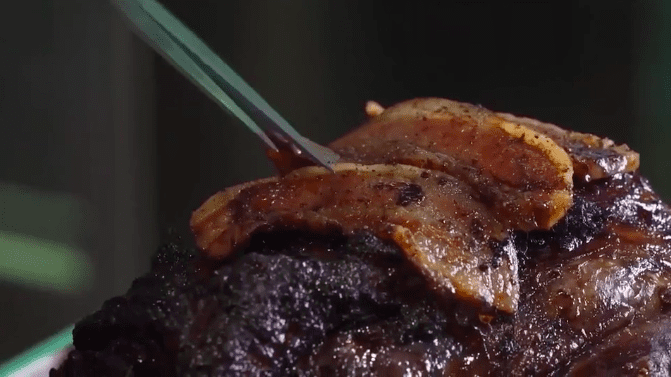 In brief
Chef: Giorgione
Course:
Second Courses
Recipe of: Pork
Ingredients
for 4 people
Pork knuckle, Hemp beer, Juniper berries, Oil, Sweet paprika, Spicy paprika, Wild fennel, Salt q.s.
Preparation
Preparation: 
The first thing you do is to slap with coarse salt the shin and give it a massage: below, above, beside.
Also add some paprika, a mix of sweet paprika and spicy paprika, and smoothly massage it.
At this point heat the oven, al the hottest temperature you have, 300 ° C for 10 minutes in the hot oven.
When the ten minutes are up, turn the shin, with the flab in the bottom, and add some wild fennel twigs all around. Also add a few juniper berries here and there. Finally add the hemp beer like it's raining and oil.
Without washing the piece of meat pour a little more beer on the bottom.
To preserve the meats juice, so it doesn't dry out, apply some pig cheeks on it that with its fat it softens the meat. Bake it at 170° for about three and a half – four hours.