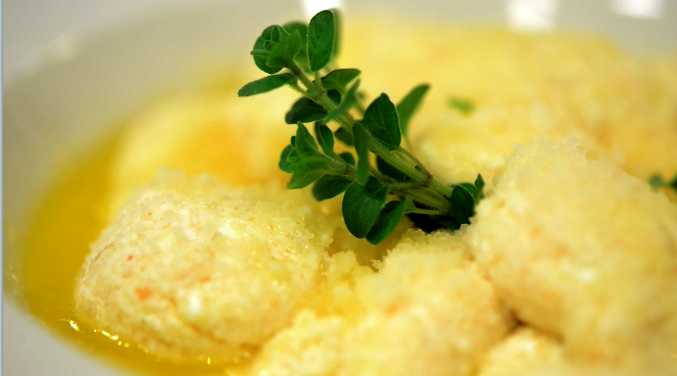 In brief
Chef: Max Mariola
Difficulty;
: Easy
Total time: 20 min
Preparation: 10 min
Cooking: 10 min
Course:
First Courses
Recipe of: Fresh Pasta
Region: Trentino
Ingredients
for 4 people
Ricotta, 1 egg and 2 egg yolks, flour (2 tbsp), Pan-crumbs For the sauce: Butter, Parmesan, Herbs
Preparation
Recipe:
Let's start immediately with the ricotta (well dried). Start working in a bowl with a fork, until it is soft and creamy. Then add the eggs (1 whole and 2 yolks). Add breadcrumbs and flour (two tbsn). Add salt and black pepper and keep working. Now make balls manually or put the dough into a sac a poche, then squeez and cut small balls of dough directly into the boiling water.
For the sauce:
Put butter in a frying pan and then add thyme, sage and rosemary. With a strain, filter the butter before pouring it on the cooked gnocchi.