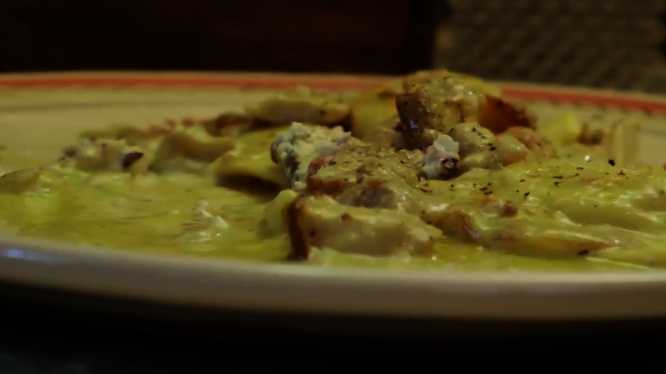 In brief
Chef: Giorgione
Difficulty;
: Medium
Course:
First Courses
Recipe of: Fresh Pasta
Ingredients
for 1 people
For the filling: 200 g Sheep's ricotta; 5 slices of bacon; half head of Radicchio di Chioggia; Large salt; Black pepper; Nutmeg For the sheet: 200 g flour 0; 2 eggs For the intingle: 1 Cannara onion; 1 porcine; Half a glass of Cream of Milk; Extra virgin olive oil; Salt; Pepe; White wine
Preparation
I always start with the filling, so in the meantime it binds. Mix the ricotta of sheep (I have that of the Monti Sibillini) with the speck, cut very finely, and a handful of radicchio di Chioggia, always chopped up. A grind of pepper, a pinch of salt and a slight grating of nutmeg. With a fork we make the mixture homogeneous and let it rest. Let's go for pasta. With the flour we prepare our beautiful fountain and break two eggs inside. Now we start handling, when the yolks are broken we add a pinch of salt. The egg is slowly picked up the amount of flour needed for the pastry. Turning, turning, the flour is absorbed by the egg, begins to become dough and detaches from the fingers. As we mix, the moisture absorbs and there is no need for flour. Let's form a ball and let it rest for 10 minutes.Let's prepare the dressing: cut the mushroom – I love porcini in coarse pieces – and then slice the onion. All in a pan with a drop of oil, salt, pepper and let go on the flame our beautiful sauce. A scent of wine, but not much, because since we have to use cream, we don't want the wine to release acidity. When the onion is sick and the porcini has taken on a nice color, we lower the heat and add the cream. Meanwhile we roll out the dough with a rolling pin. With a spoon, place the ricotta on the pastry and close, sealing the sides well. We give the ravioli the shape we like best: I love crescent-shaped ravioli. We lay them in the boiling water, 4/5 minutes of cooking and pull them up with a skimmer. Very gently place them on the cooking juices and give them a very light "mantecata", without shaking them too much. Final touch: a grating of Parmigiano and a sprinkling of pepper.