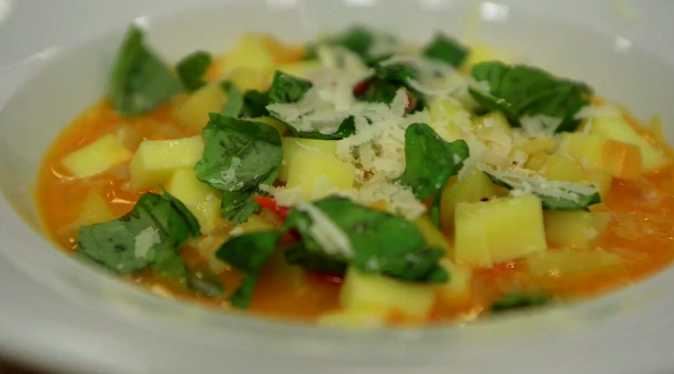 In brief
Chef: Max Mariola
Difficulty;
: Medium
Total time: 30 min
Preparation: 15 min
Cooking: 15 min
Course:
First Courses
Recipe of: Dry Pasta
Region: Campania
Ingredients
for 4 people
Sedan, Carrot, Onion, Potatoes, Ham Mixed pasta, Scamorza, Parmesan, Tomato, Basil, White wine
Preparation
Preparation:
Let's start with celery, cut and chop. Take half the onion and the carrots and chop them. Let's take a frying pan and pour some extra virgin olive oil. Add the frying and let it wither. Make ham cubes and add them to the frying. Then add a basil stem, the leaves will be used later. Mix the frying and proceed to the preparation of the potatoes. Peel the potatoes and cut them small (the smaller they are the quicker they cook). Smoke with a little white wine. Let the alcohol evaporate and then add the potatoes. Toast the potatoes well and let them flavor. When they stick to the bottom of the saucepan add water to cover all the potatoes. Now let it cook for 15 minutes (30 min if larger). In the meantime, cut the scamorza into cubes and then scrape the parmesan crust. Cook some mixed pasta (ditalini, rigatoni, broken spaghetti, etc) separately. Add the pasta to the potato soup and then add the Parmesan crumbles and crushed peeled tomatoes. Let it cook for 8/10 minutes. Then serve the soup with the cubes of scamorza cheese and some grated Parmesan cheese. Eat it warm.