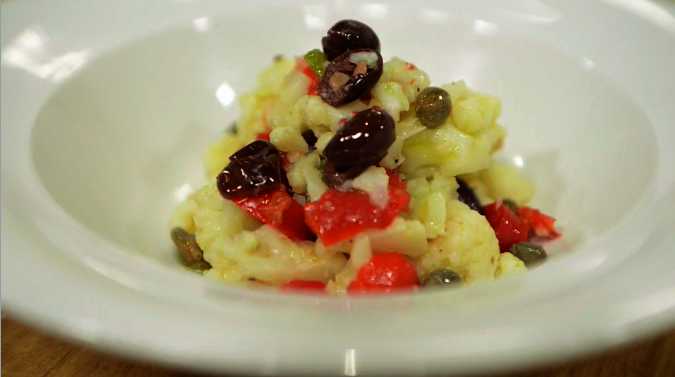 In brief
Chef: Max Mariola
Difficulty;
: Easy
Total time: 60 min
Preparation: 30 min
Cooking: 30 min
Course:
Side Dishes
Recipe of: Vegetables and Side Dishes
Region: Campania
Ingredients
for 4 people
1 Cauliflower, 50g Capers, 100g Salted anchovies, 150g Gaeta olives, 1 Pickled pepper, 50g Pickled cucumbers.
tip
Consume after 2-3 days.
Preparation
Preparation:
For the "insalata di rinforzo" (reinforcement salad) start from the cauliflower: cut off the underside, and the hardest parts; divide into small tops and put them in a bowl under running water. Stone the olives. Soften the anchovies in a bowl with water. Now cook the cauliflower, al dente, in salted water (with coarse salt). Roughly chop the pickled peppers and pickled cucumbers and place in a bowl. Add the capers. Emulsify extra virgin olive oil with vinegar (white or red) in a bowl, add salt and pepper. Now chop some anchovies and add it to the other ingredients in the bowl. Then take the cauliflower and add it to the bowl with the other ingredients. Finally add the oil and vinegar mixture into the ingredients. Mix everything together and allow 2-3 days to pass.
tip
Consume after 2-3 days.