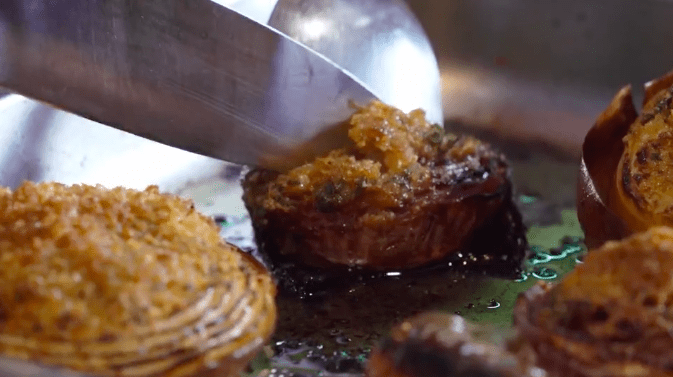 In brief
Chef: Giorgione
Difficulty;
: Easy
Total time: 20 min
Preparation: 10 min
Cooking: 10 min
Course:
Side Dishes
Recipe of: Vegetables and Side Dishes
Ingredients
for 4 people
1 Big yellow onion, 1 Cannara red onion, 1 Tropea onion, 1 Margherita di Savoia onion, Oil of medium intensity Mint 1 Mentone leaf, Pecorino cheese, Breadcrumbs
Preparation
Preparation:
Firstly grab the big yellow onion and take away the final part of the rootlet, and the apex and then split it in half. Leave the bracts out. Then take the red Cannara onion and do the same job: these though have got annoying bracts so take them off. Split it into half too.Get baking tray, and make it very greasy by spreading an oil, of medium intensity, with the fingers. Now take the onions and place them on the tray. Sprinkle few grains of coarse salt on them. Then grind a little bit of pepper. For the seasoning grab some mint leaves and one leaf of Mentone of this kind of mint and one leaf. Scratch over some pecorino romano, two more grains of salt and pepper and lemon (not treated). Add some breadcrumbs on the top so that when the mint breaks, it starts to absorb the aroma. Now that the seasoning is ready take back the tray with the onions and sprinkle the top with it and then spread it with the fingers.  Add a little bit of pecorino cheese on top.To conclude with a well done gratin, add just a little bread crumbs to cover it up. A drop of oil. Bake for about 15-20 minutes.