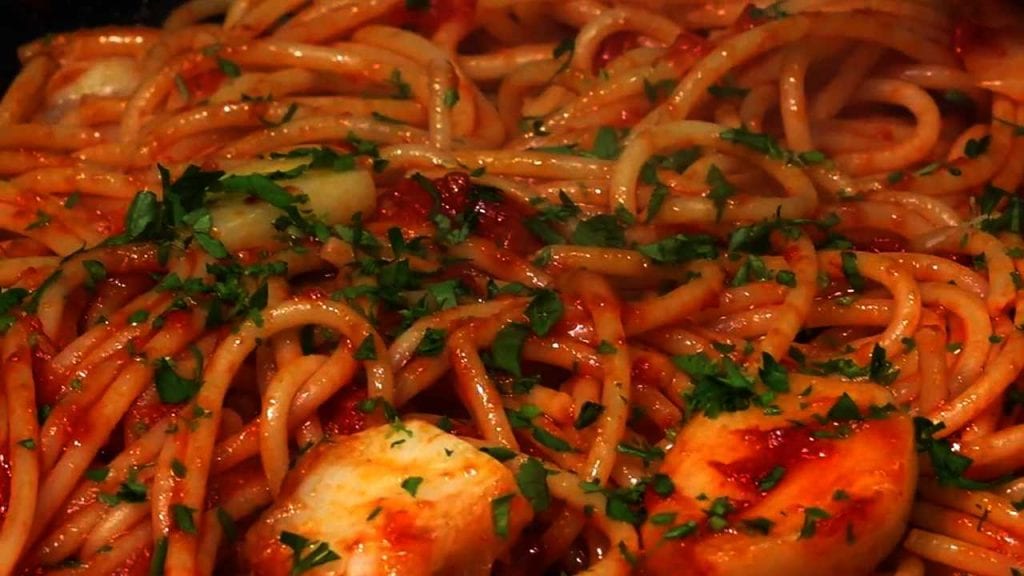 In brief
Chef: Giorgione
Difficulty;
: Easy
Course:
First Courses
Recipe of: Dry Pasta
Ingredients
for 10 people
1 kg of pasta, Garlic of Valdichiana (Aglione), Red garlic, Sulmona organic garlic, Polesine garlic, Voghera garlic, Two anchovy, Chili, Double concentrated tomato paste, Oil, White wine, Tomatoes
Preparation
Preparation
Firstly remove a couple of the mega beaks and the booty of the giant garlic.
Nick and then crush it. Place it in a pot with boiling water, and start making the base of the aglione pasta. Peal the rest of the garlic.
When the water starts boiling add the spaghetti and mix.
Once the pasta and the sauce are ready, place the pasta in the sauce pan with some of the aglione in the pot.
Before you mix and blend the pasta in the sauce, scratch some giant garlic on the top. This will preserve the aromatic band on the garlic (with an immediate high heat it would loose it).
Finally add a drizzle of parsley and then turn off the stove.
Sauce preparation
Take a little bit of the organic garlic of Sulmona and also the red garlic, dunk it and place it on the pan.
Then grab two beaks of the Polesine garlic and one clove of the Voghera garlic take , and do the same work.
Add two anchovies, a whole chili and a cut chili.
Add a generous dose oil and then place the pan on the stove.
Add a bit of double concentrated tomato paste and a above some white wine. Let it frizz and flake.
Add the tomatoes in the pan and start mashing them with a wooden spoon. Let it cook for 5-6 minutes.
Now prepare an other generous dose of garlic to add in the pan. Get an half a beak of the giant garlic "aglione" and the mixed smaller garlic we used earlier. Chop them up, add them to the pan and mix. Let it cook for 5 minutes.