Poland keeps on providing remarkable surprises. Its food scene, as illustrated in previous posts, is changing surprisingly fast, an impression that was confirmed during my last stay in January. The revaluation of local specialties and the rediscovery of the country's culinary past creates opportunities for intriguing trips in place and time in unexpected locations, including spas.
Fresh Food and spas in Poland
That food is an important element in a spa experience is not news. Various restaurateurs around the world have experimented in expanding their business into wellness centers, and so have food producers. We can now enjoy spas that focus on wine, whiskey, or beer. Or course, these treatments often come with a hefty price tag. At times, honestly, the experiences may come across as gimmicky. Dr Irena Eris, the founder of a cosmetic empire in Poland which is now also expanding abroad, has taken a different approach. The idea is that fresh, healthy, local food is the best complement to relaxation and wellbeing.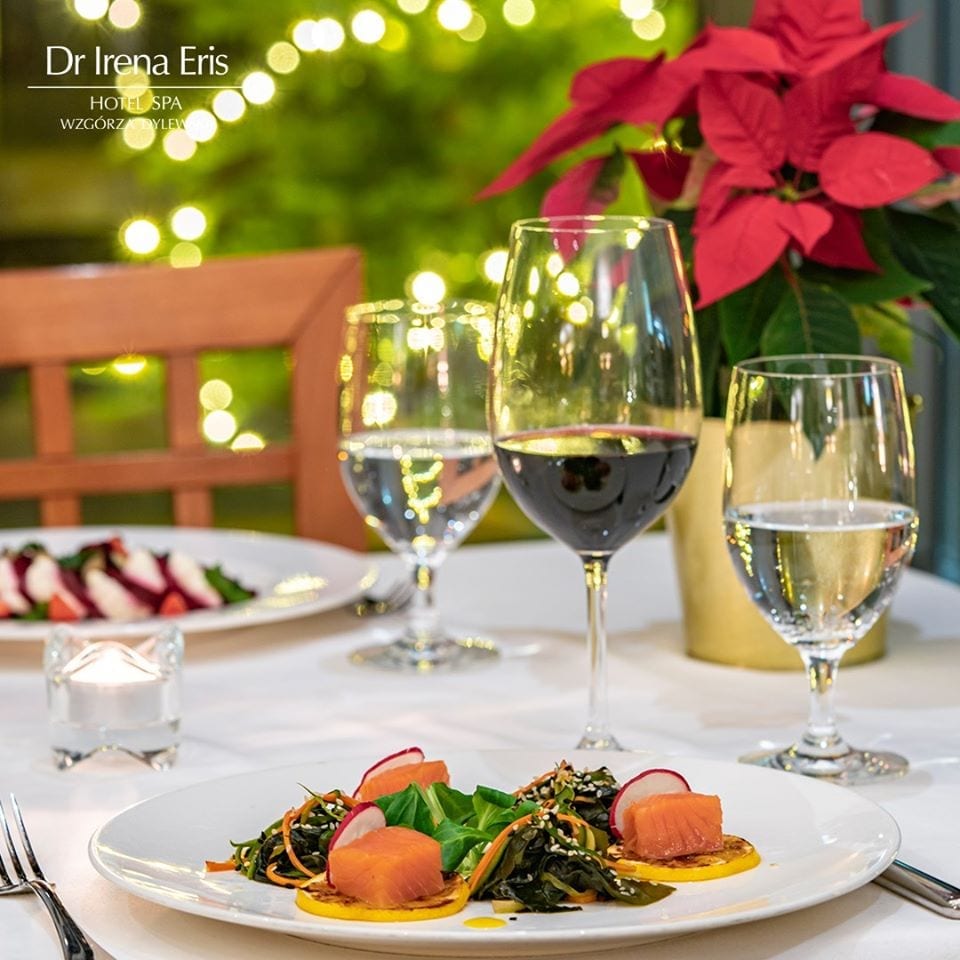 Irena Eris's spa: local and fresh food
Dr Irena Eris's spas focus on exceptional dermatological treatments. For this reason, they have started introducing menus that rely heavily on the gastronomic traditions and the products from the areas in which they are located. They collaborate with Slow Food Poland to identify local producers that can provide high-quality specialties, and then the chefs use them creatively, taking inspiration from tradition but exploring it in original and intriguing directions.
Restauracja Romantyczna and Oranzeria
In the Restauracja Romantyczna, at the Wzgórza Dylewskie location, not far from the spectacular Masurian lakes area, chef Grzegorz Gręda, 27 years old, offers a tasting menu that is at times stunning in its daring dishes. For instance, he put together white chocolate with local mushrooms in a cream served with a forest fruit jam and a spinach sponge cake. He also present chocolate and a goose liver ice cream as dessert. Both dishes were startling in their simplicity but also for the refinement of flavors and flavor pairings. Gręda demonstrates great capacity to come up with great ideas on the fly. He put together trout with some fish stock and tomato jelly and lemon sauce, constituting the flavor profile of ceviche, but with a truly Polish twist. Also the deconstructed golonka (pig trotters) is almost provocative, transforming a heavy, working class dish into something quite new. Also the other restaurant in the spa, Oranżeria, led with great competence by chef Agnieszka Wilbrandt, makes a point of using local, refined ingredients from breakfast to dinner for a large number of guests.
Tasty Stories
The restaurants are only part of a larger culinary project that also includes Tasty Stories, an initiative launched in 2017 to organize dinners at the Krynica_Zdroj and Wzgórza Dylewskie spas, during which guests (both local foodie and visitors from afar) can be introduced to local producers (presented as "heroes") and to local gastronomy through a specially designed tasting menu. Although the dinners are meant to be informal and fun, the preparation and the service are extremely well curated, with the chefs from the spas taking the lead in collaborations with guest chefs. The events are then documented in videos, pictures, and interviews, to be shared and generate buzz, especially in preparation for the new editions.
Epoka in Warsaw: design and atmosphere
While the Dr. Irena Eris's spas allow guests to explore the taste of place, the newly opened restaurant Epoka, in the prestigious Raffles Europejski Hotel in Warsaw, proposes a travel in time to explore the past of Polish gastronomy. The ceiling are soaring. The main room of the restaurant is quite spectacular, in dark greens and navy blue, with accents in gold. Parts of the original structure are highlighted in white, increasing the sense of being in a theater set. There is a great sense of drama. There is a smaller room where reds prevail, more intimate but still spectacular. The style is slightly art-nouveau in the use of architectural lines, but it feels very modern. As spectacular as the place is, it does not feel intimidating or overwhelming. Every detail has been studied carefully, and objects have been created by local artists and designers. Even the ceramic napkin ring is a design piece.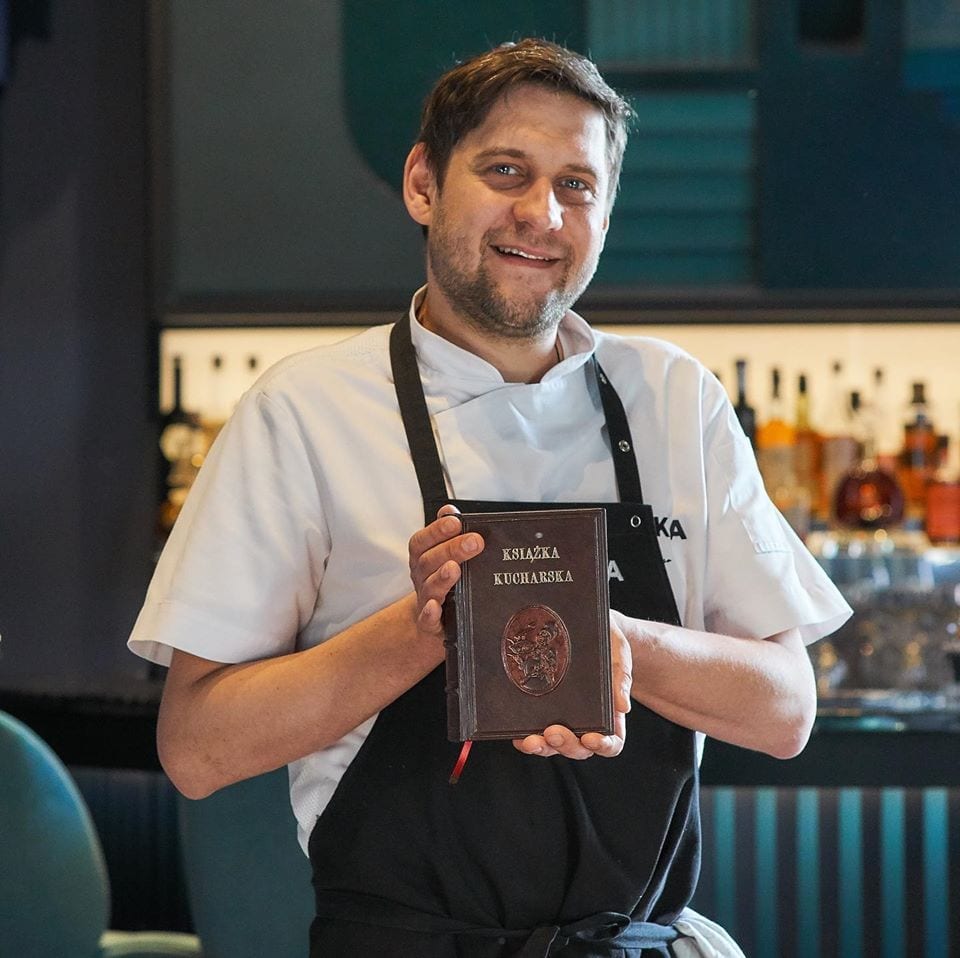 Epoka's menu
Customers can choose between the à-la-carte menu and three prix fixe menus, ranging between 20 and 10 "recipes". The chef Marcin Przybysz, a winner of the local edition of Top Chef, uses the idea of "recipe" rather than dish because each of them is taken from a historical Polish cookbook from a different period, starting in the late seventeenth century. The whole concept is built around culinary history. As the menu spells out, the restaurant offers "a creative vision of Polish dining traditions, prepared in a state-of-the-art kitchen". For instance, the recipe from the book Compendium Ferculorum (from 1682) for babka piaskowa, or sand cake, becomes a tiny petit four filled with a decadent custard in Przybysz's interpretation.
Seasonal specialties
The kitchen is not organized according to the traditional scheme of the brigade, but each period of time has its own station, where cooks focus on the dishes taken from the cookbooks of that era. Przybysz argues that this structure allows them to experiment and explore constantly. So while they are serving a menu, they can test recipes from the next menu, while maintaining the general approach of that specific epoch. The chef aims at changing the menu every couple of times both to appeal to returning customers and to follow the seasonality of ingredients and dishes. He is now working on a menu that includes elements inspired by Carnival, such as an interpretation of donuts.
The role of Jaroslaw Dumanowaski
Przybysz often uses the term "interpretation" while explaining his concept (developed together with the restaurant director Antoine Azaïs): he still wants to be a creative, unique chef, awhile working on historical recipes, which cannot be just be reconstructed, due to difference in ingredients and in the tastes and preferences of contemporary customers. However, to maintain accuracy, the restaurant will start collaborating with food historian Jarosław Dumanowski from Toruń university, who curated critical editions of several historical cookbooks.
Epoka on social media
The restaurant is geared to attract attention on social media. They have created a light box that clients can use next to their table to take well-lit pictures of the dishes, to be posted on Instagram or Pinterest. Everybody is invited to visit the kitchen, meet the chef, and at times take a picture with the whole team. Epoka may be steeped in history, but it is definitely attuned to the contemporary pressures of the hospitality business.
by Fabio Parasecoli
Mateusz Halawa and Agata Bachórz contributed information and analysis to this post