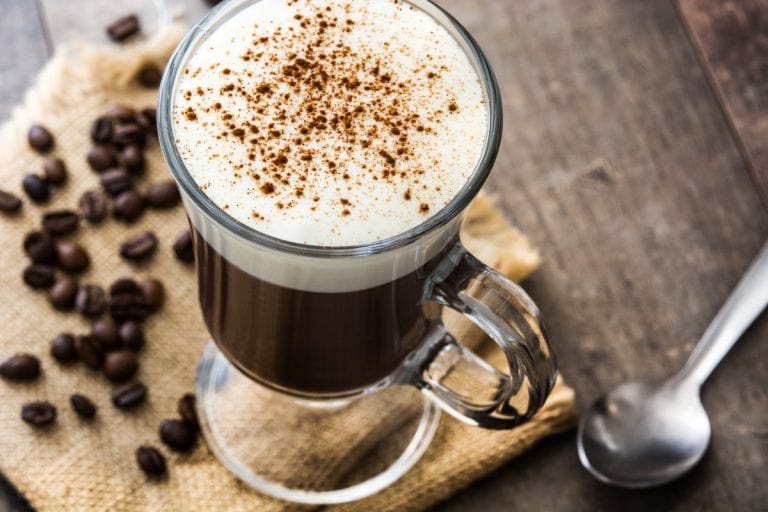 Hot, alcoholic, sweet: Irish Coffee is the perfect beverage on colder days, born in southern Ireland but soon spread all over the world. This is how Irish coffee was born and how it's made.
Il porto di Shannon Foynes è il secondo porto più grande d'Irlanda nella contea di Limerick. È qui che nel 1943 è nato l'Irish Coffee, un cocktail che ha fatto la storia dei pub irlandesi, creato dallo chef del porto, Joe Sheridan . Una bevanda calda al caffè addolcita e addolcita con whisky irlandese, servita in un bicchiere riscaldato con un generoso strato di panna montata sopra, a volte aggiunta con spezie come noce moscata o cannella.
Storia del caffè irlandese: il porto di Shannon Foynes
A must on St. Patrick's Day, Irish Coffee was born one winter night in the port that for years represented a starting point for longer transatlantic flights, an obligatory stop for refueling. Due to the changing climate and the frequent rains that characterise the area, travellers often found themselves having to stop for the night: a restaurant was therefore created with few proposals of traditional cuisine, designed to refresh visitors on colder nights.
The birth of Irish Coffee
Quando, nel 1943, un volo dovette rientrare alla base di Foynes a causa del maltempo, lo chef Sheridan decise di creare una bevanda speciale per confortare pilota e passeggeri: un caffè forte, con aggiunta di zucchero e panna, oltre a whisky, in passato un toccasana nelle giornate più fredde. La leggenda vuole che la stanza sia improvvisamente zittita perché il gusto della bevanda era così buono e avvolgente. Sempre secondo i racconti popolari irlandesi, il nome sarebbe opera dello stesso chef, il quale, interrogato da un passeggero americano che gli ha chiesto se il caffè fosse brasiliano, ha risposto "No, è irlandese".
La diffusione dell'Irish Coffee all'estero
Quel che è certo è che l'Irish Coffee è rimasto a lungo un prodotto confinato nella scena aeroportuale. Fu infatti necessario attendere fino al 1952 perché la bevanda varcasse i confini nazionali e si riproducesse all'estero. È stato introdotto negli Stati Uniti dallo scrittore di viaggi Santon Deleplane , che ne ha parlato con Jack Koeppler , barista del Buena Vista Hotel di San Francisco. Il barman ha provato a ricreare la ricetta, ma ha riscontrato problemi con la crema, che non galleggiava in superficie. Spinto dalla curiosità e dalla sua smodata passione per il buon bere, Koeppler si recò direttamente alla fonte, a Limerick, per chiedere a Sheridan di mostrargli la preparazione del cocktail. Il prodotto lo colpì al punto che dedicò un intero articolo all'argomento nel San Francisco Chronicle.
Le varianti dell'Irish Coffee
Nel tempo l'Irish Coffee si è diffuso in tutti i bar della città, e in California, fino a diventare famoso negli Stati Uniti e nel resto del mondo. Come sempre, negli anni sono state create diverse varianti del cocktail, dal French Coffee, con Cognac o Calvados al posto del whisky, all'American Coffee, che invece utilizza il bourbon. Oggi di solito è fatto con zucchero di canna, ma molti credono che all'inizio, ai tempi di Sheridan, fosse lo zucchero semolato a dominare la scena.
di Michela Becchi