Vegan Valentine's Day
Well, here we are: Valentine's Day is upon us. The celebration of love, of couples, but above all the most debated ever, between those who hate it and consider it only a successful marketing operation, and those who can't wait to enjoy a romantic dinner with their better half. Whether we like it or not, Valentine's Day returns, punctual, every year and also involves the table. From chocolates to homemade heart-shaped cakes, from intimate dinners in elegant restaurants to home-cooked meals, there are plenty of recipes to try. For those wishing to prepare a different kind of menu, cruelty-free and with a low environmental impact, we're proposing vegan ideas to amaze your loved one. A unique opportunity to try different dishes and familiarise with another eating regimen: here are our ideas.

Vegan Valentine's Day menu: aperitif
First of all, the aperitif. Nothing better than a good bottle to start the evening right: with bubbles you can never go wrong. Champagne or the classic Italian method, as long as it is served at the right temperature. What to pair with it? Finger foods of all kinds: fried vegetarian cheeses with homemade soy mayonnaise, croutons with hummus, potato croquettes, potato chips or other vegetable chips. The secret? Revisiting classic recipes in a simple and fun way: hummus, for example, can be made with lentils or beans, pumpkin or even the traditional chickpea but enriched with sun dried tomatoes or alternative spices. Instead of frying potato or carrot wedges, try with their skins: wash them thoroughly, dredge in flour and then fry in boiling seed oil, perhaps serving them with a homemade sauce.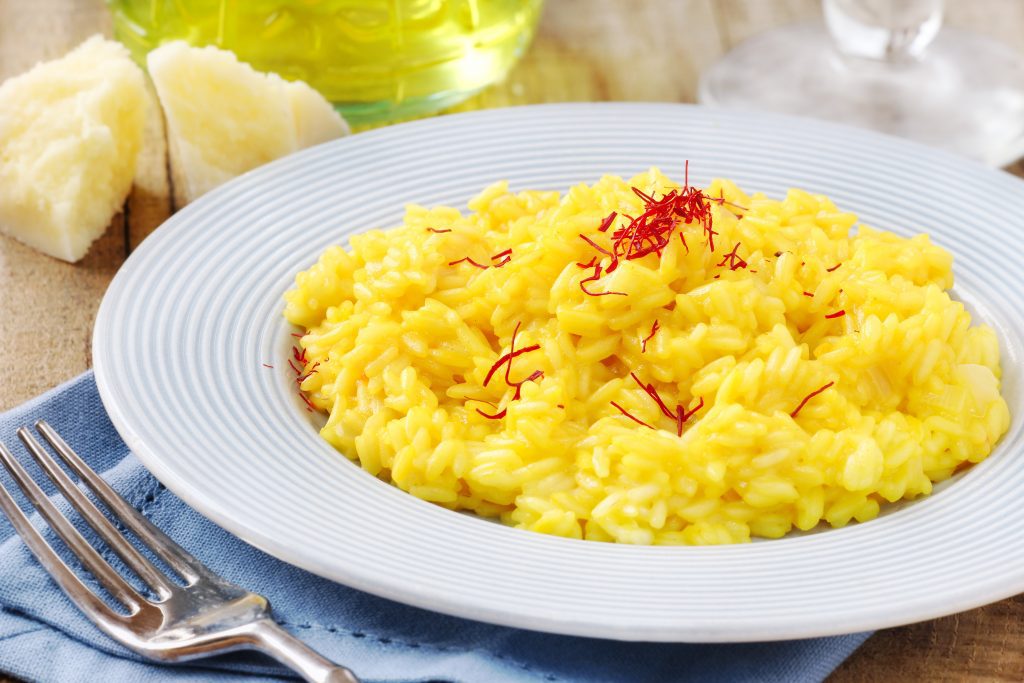 Starchy starters, including pastas and risottos
We move on to the pasta course: if you want, you can continue with sparkling wine but for a very special dinner we advise you to combine a different wine with each dish, just like in real tasting menus. To continue, you can opt for a pasta course, as always dressed with seasonal ingredients: pumpkin lasagna or pumpkin gnocchi flavoured with porcini mushrooms, fresh homemade pasta with artichoke cream and chopped almonds, or ravioli or other pasta shapes stuffed with minced mushrooms and walnuts. Without forgetting the wide range of risottos: with radicchio, Milanese style with saffron to bring more colours to the table, with artichokes, beetroot for a touch of pink. Use a good variety of rice such as Carnaroli, whose rich starch content will be enough to make the final result creamy, without the need to add animal fats. In the 70s, risotto with Champagne was fashionable: if you are tempted to go down this path, know that you are dangerously close to kitsch. An alternative to pasta is furthermore velvety soups or creams, to be served with hot croutons, fresh aromatic herbs and a drizzle of olive oil.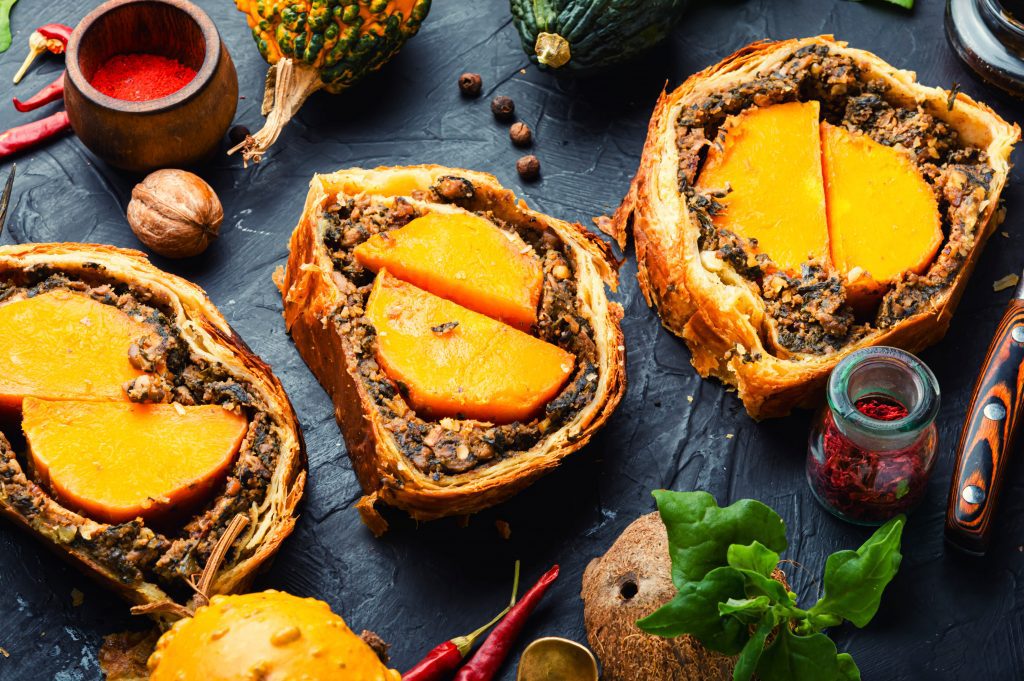 Main course: legumes, meat substitutes and more
Time of the main course: in this case you can choose to continue with the same wine, to later switch for dessert (if you have any leftover, don't worry: keep the bottles in the fridge and use them if necessary to blend or prepare dry biscuits such as the ciambelline al vino typical of Central Italy). But back to the food: for a showy plate you can try your hand at a vegan version of Beef Wellington, using beetroot or preparing a lentil and potato meatloaf doused in mushroom cream and rolled in puff pastry, just for the classic meat recipe. Accompany it with a gravy (a common preparation in Anglo-Saxon countries), made with vegetable broth, potato starch and herbs to taste, to be thickened in a saucepan over the stove. Otherwise, you can opt for one of the many vegetable alternatives: seitan stew, tofu balls, tempeh glazed with soy sauce and maple syrup with a vegetable side dish. Think roasted legumes, savoury hummus with croutons, chickpea or vegetable cheese balls fried and sautéed in a spicy tomato sauce. In addition, there is now a wide range of meat substitutes such as steaks, hamburgers, sausages and even ground, used to prepare a 100% cruelty-free shepherd's pie.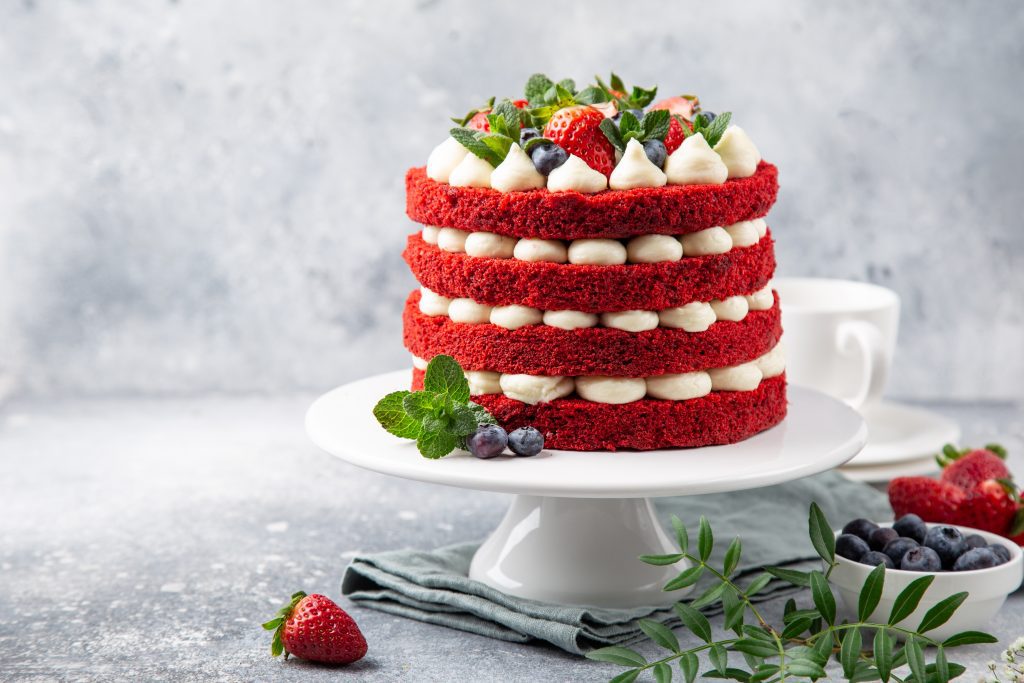 Vegan dessert
Our Valentine's dinner can only end on a sweet note: according to your preferences (and those of your partner) you can choose whether to switch to a sweet wine or wait to serve coffee with liqueurs, bitters and spirits. Among the most classic desserts for the fete of love is chocolate lava cake with a hot, molten heart, also delicious in a vegan version, but for those who want to think outside the box, there are many other proposals. A spoon pudding, for example: prepare a custard (just thicken some vegetable milk with a little corn starch and sugar, coloured with a pinch of turmeric mimicking the egg-based original), flavour it to taste with citrus zest, vanilla seeds or cinnamon and serve with some caramelised fruit and crumbled nuts. It takes very little to create a light, pleasant and delicious dessert and make a good impression. If you prefer baked goods, here are some other ideas: a tart filled with pastry cream and fresh seasonal fruit, shortcrust biscuits dipped in homemade hot chocolate, or red velvet cake, another great Valentine's Day classic.
Thoughts for the guest and a little bon ton
Whether it's a recent acquaintance or a long-time life partner, whether you already live together or not, it doesn't matter: if you choose to host a dinner to celebrate your love story, it's good to reserve some extra care for your guest. Often small details go a longer way than a well prepared dish. Examples include the evening's menu written by hand and printed on a card, an ice bucket to keep the wine chilled placed next to the table, a beautiful mise en place. You don't need large dishware sets: just use cloth napkins instead of paper, choose suitable wine glasses and arrange everything in the correct order to give a more refined look to the table. You can also think of a small centerpiece to up your table game: one or two recycled jam jars, cleaned out and filled with fresh flowers (or perhaps a bunch of aromatic herbs for lovers of country chic style). Add a couple of small candles (tea lights in a plain candle holder will do just fine) and you're ready to dine.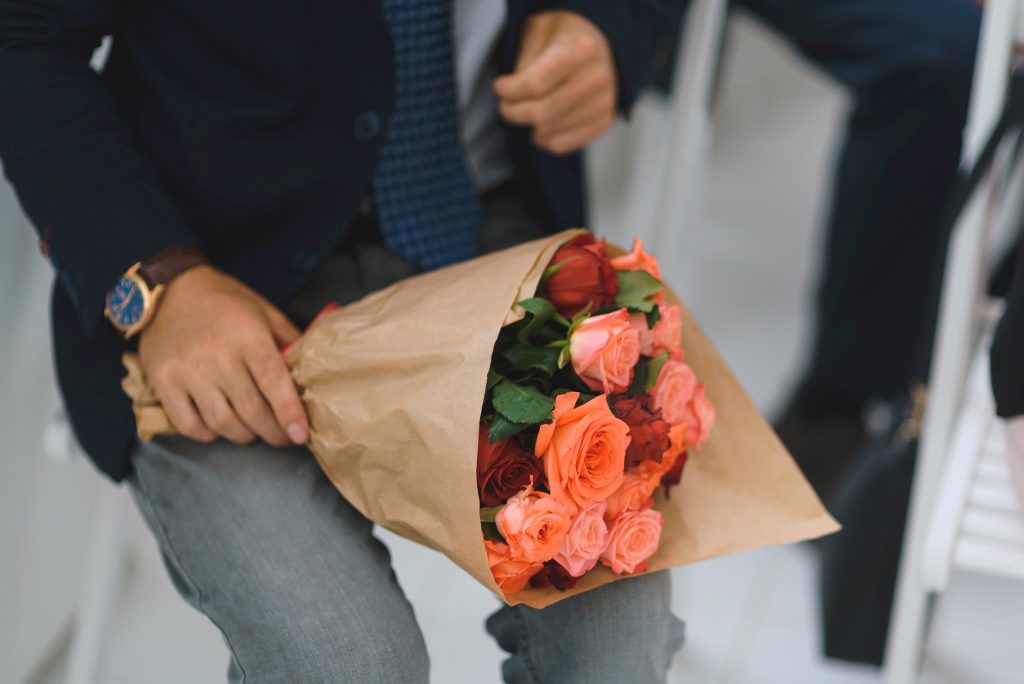 What the guest should do
Of course, there is no shortage of advice for guests: whether you live together or not, your partner is working hard to create a romantic atmosphere and prepare dishes designed for you. It's best, therefore, not to show up empty-handed: do not take the initiative as far as choosing the wine but always ask first so as not to mess up the pairing, and inform the host if you plan to bring dessert (in this way you will save the cook a bit of work). Instead feel free to bring pralines and dry pastries like cat's tongues, to be enjoyed at the end of the evening with coffee and bitters. And then flowers: unless you are absolutely certain that the person in question does not like them, you can rarely go wrong with blooms. A single long-stemmed flower (which must be beautiful and fresh) or a small bouquet with seasonal flowers will always be a hit, as well as a plant: in the latter case, choose a small and discreet plant, so that it does not take up too much space in the house. (especially if your unfamiliar with the house). Bringing an orchid is always a winning move. If you want something that lasts, however, you can opt for dried flowers or for beautiful cotton flowers, which are elegant and delicate.
by Michela Becchi