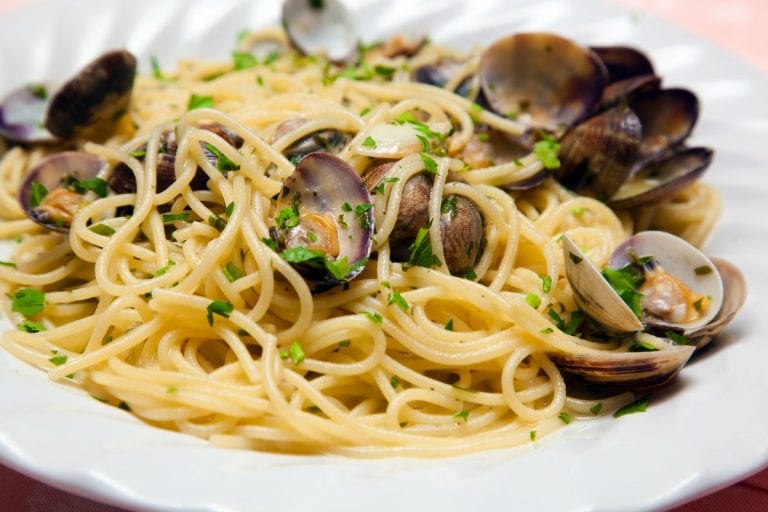 The liquid released by the clams is very savoury: this is why spaghetti with clams are the perfect tasty Italian classic for Christmas eve. Here's the recipe.
Spaghetti alle Vongole – Spaghetti with Clams
Level: Easy
Time: 20 minutes preparation, 10 minutes cooking
Method: pan
Yields 4 servings
Ingredients
350 g spaghetti
800 fresh clams
3 tbsp. extra virgin olive oil
2 garlic cloves
Fresh parsley, minced
Pepper
The liquid released by the clams is very savoury so do not add salt to the sauce and use very little salt tin the pasta cooking water
Rinse the clams several times and soak them for a few hours in plenty of lukewarm and slightly salted water. Heat the olive oil in a large pan and gently sauté the peeled and crushed garlic cloves. When the garlic has lightly browned, add the drained clams into the pan, raise the heat, cover and leave undisturbed for a few minutes, until they are all open. Remove the clams with a slotted spoon and shell them, discard the ones that have failed to open, and leave a dozen with the shell for decoration purposes. Filter the cooking liquid into a pan, add the shelled clams and season with plenty of black pepper. Cook the spaghetti, drain them al dente, pour them into the pan and stir, keeping the flame to a minimum, cooking for a couple of minutes so that they absorb the sauce and finish cooking. Serve very hot, sprinkled with plenty of chopped parsley.