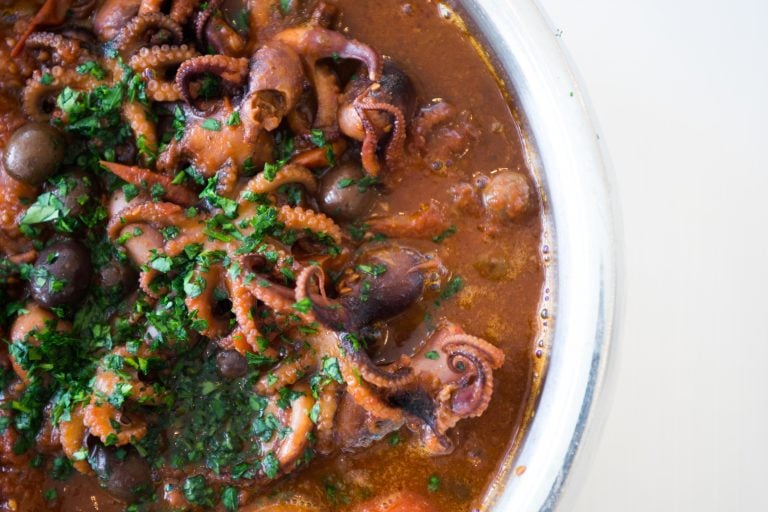 On Christmas Eve in Italy it is a habit to prepare a fish-based menu for dinner. Here are three tasty recipes to try.
Christmas Eve in Italy
According to the Catholic Church, Christmas Eve is a "lean" day, that is, one of those during which one should eat simple, light food, or even abstain from eating, as a sign of respect and devotion. In Italy it is a habit to prepare a fish-based menu for dinner, and then indulge in casseroles, roasts and cold cuts the following day. From appetizer to second course, here are three recipes to try for dinner on Christmas Eve, December 24th.
Trio of fish tartare
1 branzino weighing approx. 700 g
400 g red shrimp
200 g bluefin tuna fillets
½ lime
20 Pirano fior di sale salt
5 g sugar
1 Tbsp. extra virgin olive oil
1 Tbsp. orange scented extra virgin olive oil
1 Tbsp. extra virgin olive oil
1 Tbsp. white rum
2 sprigs fresh mint
Chives
Fillet the branzino, clean the prawns by shelling them and deveining. Blast freeze the tuna, cleaned branzino and shelled prawns for at least 24 hours. Chop the tuna with a knife, add the salt and a tablespoon of extra virgin olive oil. Chop the chives mix all together. Marinate the branzino fillets for a couple of hours covered with fleur de sel and sugar. Then wash them and pat dry thoroughly. Chop the branzino with a knife and season it at the moment with the orange scented oil. Chop the prawns, dress them with the lime juice, white rum, extra virgin olive oil, then add the finely torn (not minced!) Fresh mint.
Ravioli with cod and cruschi peppers
For the pasta dough
250 semolina flour
Water
Salt
For the filling
250 cod fish
100 g rocket
50 g goat cheese
Pepper
For the sauce
2 garlic cloves
2 Tbsp. extra virgin olive oil
15 g stale bread crumb, crumbled
15 g cruschi peppers
Mix the flour with the water and a pinch of salt until the dough is smooth and elastic, then with a rolling pin (or a pasta machine) roll out a thin sheet. Boil the cod in plenty of water, cut it into small pieces, then mix it with the chopped rocket, grated goat cheese and pepper. With the help of a pastry cutter, form the ravioli by placing a little filling in the centre of the dough. Fry the cruschi peppers in boiling oil for a few seconds, let them cool and then whir in the blender. In a pan, fry a clove of garlic in a little olive oil, then brown the previously bread crumb until golden, once cooled it will become crunchy. In another pan, sauté a clove of garlic and olive oil, boil the ravioli in plenty of salted water for 4 minutes, drain and sauté quickly in the oil and garlic pan. Serve, sprinkling the toasted breadcrumbs and the cruschi pepper powder on the ravioli.
Polpo alla Luciana
1 kg octopus, cleaned
1 l tomato purée
500 g water
200 g red onion, minced
50 g garlic, unpeeled
50 g extra virgin olive oil
40 g olives
30 g anchovies
30 g capers
15 g parsley
5 g salt
In a large pot, heat the olive oil with the red onion, olives, anchovies, capers and garlic. When onion is translucent, add the tomato purée and water, cook for a while, then add the whole tentacles of the octopus cut individually and the heart. Cook until tender, at the end of cooking add the chopped parsley and season with salt.
Divide the octopus tentacles and heart into each plate, finish with a drizzle of extra virgin olive oil and serve.