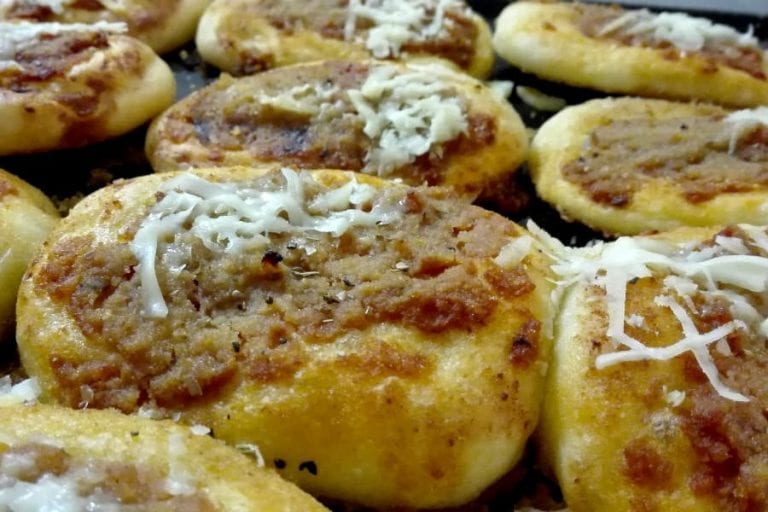 Thick and soft, or thin and crisp; stuffed with anchovies or sausage, oozing local cheeses and added with elderflowers or fennel pollen. 7 classic Sicilian focaccias and a recipe for sfincione courtesy of Osteria Ballarò.
Drawing a complete list of Sicilian focaccias is a daunting task: there are so many and made according to such diverse recipes, that they often differ only in regards to few, key ingredients. We're sharing 7 local Sicilian focaccias, plus the recipe for sfincione made at Osteria Ballarò.
Faccia di vecchia
This Palermo specialty goes by an unusual name, faccia di vecchia, orfacc'i viacchia in local dialect (old lady's face) is a mix between pizza and sfincione, which we'll talk about later. This preparation is typical of a small town called Torretta, but now commonly baked in the entire Palermo province. Round with irregular edges, the dough is soft and not too airy. The trait that gives the specialty its name is the bubbles that form on the surface during baking. Once the focaccia is taken out of the oven, the bubbles deflate and look like the wrinkles.
The flavour is intense thanks to the tomato sauce, sliced onions, cubed caciocavallo cheese, seasoned breadcrumbs with anchovies, salt, olive oil and oregano. There is no sure knowledge of the paternity of this focaccia, but there is a store in Torretta that that's specialized in baking faccia di vecchia: Zu Calidd. This is a historical baker who makes it using ricotta instead of caciocavallo.
There are also, as it often happens, variations. The "bianca" version for example does not employ tomato sauce; the basic version instead does not use anchovies or cheese, and commonly added to children's menus. It's eaten as a complete meal dish, like pizza. Given the small size, locals in Torretta order directly two per person.
Focaccia messinese
This is a little known specialty outside of the region. The ancient recipe employs a soft and pillowy dough that's baked in large round tins in wood-stoked ovens. The origin of this focaccia dates back to the 19th century, but it's in the Fifties that city ovens start perfecting the traditional recipe as we know it today. The focaccia is topped with escarole greens, anchovies, chopped tomatoes and tuma – one of the area's most used cheeses. This ingredient list is also used as the filling pidoni alla messinese that is local fried or baked calzones cooked at the same time as the focaccia.
Obviously there are many variations to this traditional recipe: some like to add mozzarella, mushrooms or zucchini flowers; others swap the escarole with endive; others slice it open and use the topping as a filling like it's dome for pane cunzatu. In the Parco dei Nebrodi area – a natural reserve that covers most of the northwestern side of the Messina province – the cheese used is a local soft or semi-aged provola that lends the focaccia a more savoury flavour.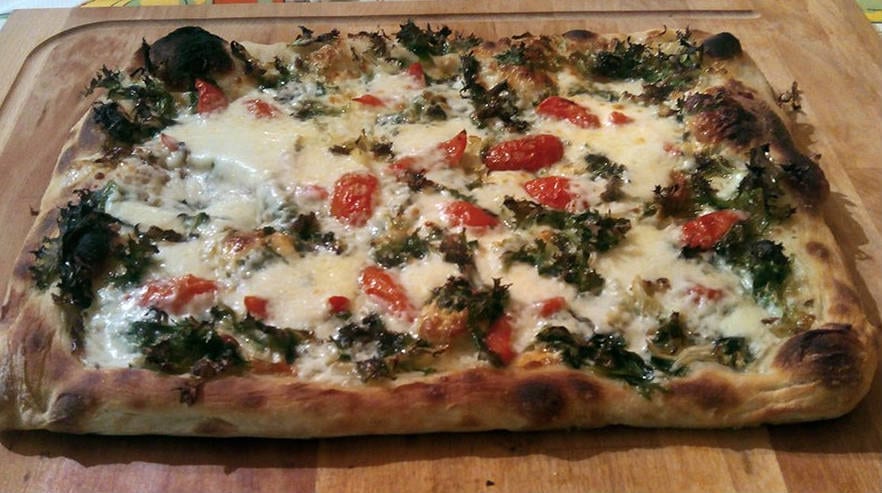 Focaccia messinese – photo credit La confraternita della pizza
Scaccia ragusana
This is a particular focaccia; it is rolled like a piadina or burrito and clasped shut at the ends like a calzone. The towns of Ragusa and Modica both claim paternity of this ancient recipe, yet it is made in the entire province. Originally the layers of this focaccia were made without yeast, with a result reminiscent of Jewish matzo.
The modern recipe uses durum wheat flour, natural sourdough yeast, salt and extra virgin olive oil. The classic version s seasoned with tomato sauce and caciocavallo cheese, but, again, the variety of condiments and toppings is in the infinite number category. There's a popular version topped with chopped, sautéed onions (called a cipuddata) and a summer version made with fried eggplant, tomato and basil. In winter, toppings include ricotta salata cheese and sausage; or hard-boiled egg, black pepper and tuma. There's also versions topped with fish, such as anchovies, sardines, baccalà, skate and dogfish.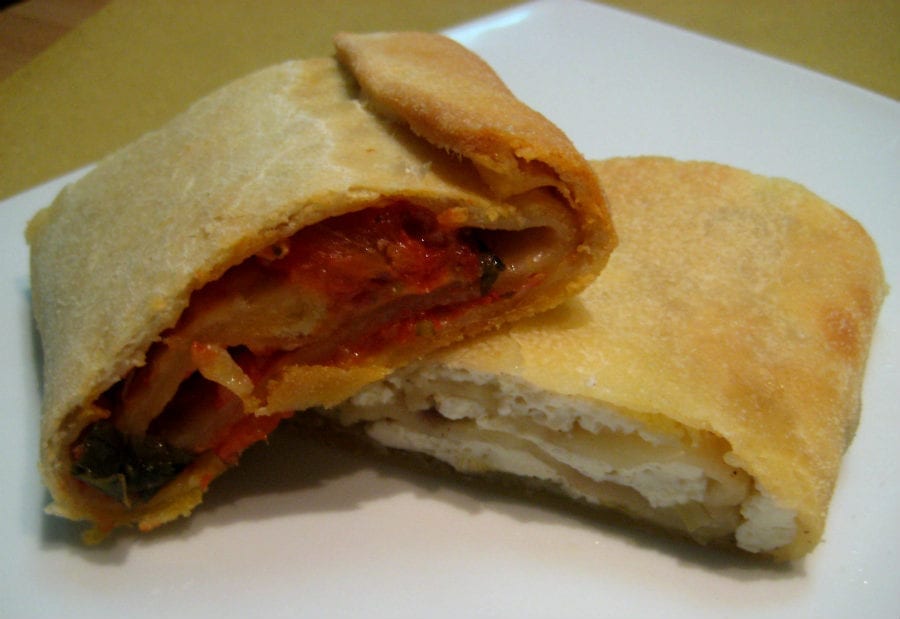 scaccia ragusana
The most striking particularity of this focaccia is in the baker's ability to roll and close it. Each bite in fact should have the perfect balance of crust and filling. The oldest bakers personalize their scaccia with decorations made with dough at the edges. The surface is furthermore brushed with olive oil and egg wash for a shiny, delicious crust.
– Local varieties of scaccia: pastizzu and impanata
Only a few miles from Ragusa it's possible to taste pastizzu modicano, crafted similarly to scaccia. The recipe recalls both thepastizzu di sustanza mentioned in the novel "The Leopard" (in this case a simpler version made without meat) and the geographically opposite "erbazzone modenese" made in Emilia-Romagna. The difference in regards to scaccia ragusana is in the leavening, which lasts two hours and renders a puffier product that's then filled with boiled cauliflower, garlic, salt, sundried tomatoes, pepper and extra virgin olive oil.
In the same area is also impanata, an Easter dish derived from Hispanic empanadas. It's a round focaccia filled with lamb or goat's meat that's cooked in the dough, sometimes picked off the bone or left intact on the bones. To make this, it's important that the dough, made like scaccia, is almost double the thickness, in order to conceal the meat juices. This has to furthermore bake for a longer time, in order to be uniform and have a slightly crisp crust. In some Ragusa families it's made on the day before Easter Sunday with especially purchased meat. Tradition however has this made with the leftovers of the Sunday meal. This makes it perfect picnic food for Easter Monday.
Schiacciata catanese
Schiacciata in Catania is a true must: it's eaten at any time of day, from breakfast to after dinner. It is called scacciata in local dialect and made with bread dough and lard, and filled with tuma or primosale cheese, oil-packed anchovies, pepper and extra virgin olive oil.
The variations of this specialty of the Mt Etna area change according to season. At Christmas time schiacciata is made with tuma, prosciutto, tomatoes, olives and onions; while in other winter months it is added with caliceddi, a slightly bitter wild green that grows on volcanic soils, and added with roast pork sausage. Another winter version of schiacciata is made with Swiss chard and potatoes, or with cauliflower and tuma. In summer it is filled with olives, anchovies, fresh tomatoes, basil and onion, or filled with eggplant parmigiana. A local specialty is furthermore schiacciata con i tenerumi, which are the leaves of a particular sweet squash.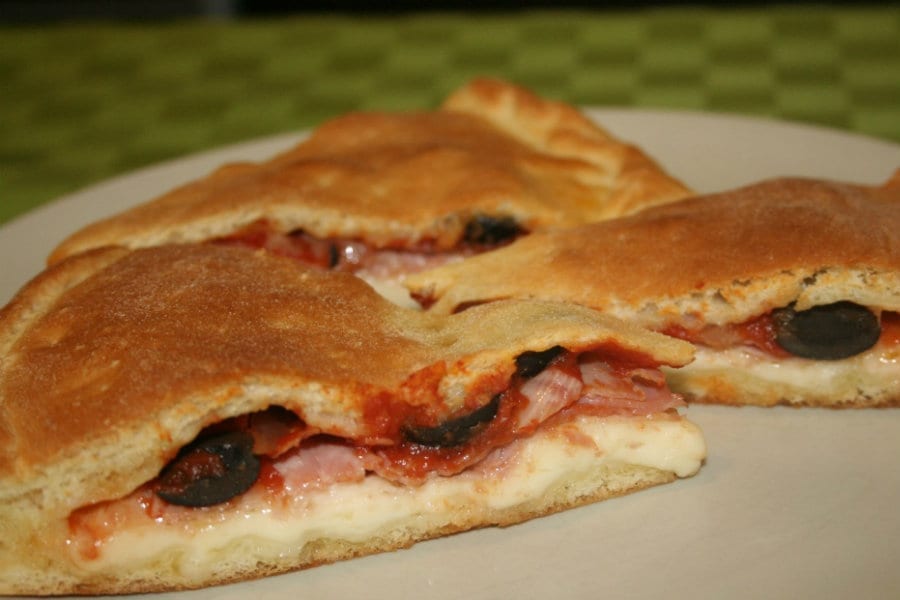 Schiacciata catanese – photo courtesy In cucina con Francy
Sfigghiulata
This is another rolled up focaccia that goes by the name sfigghiulata in the western side of the island and 'nfigghiulata in eastern Sicily. This is an ancient recipe that in both cases is made with the so-called agnutticamientu, that is, the procedure of rolling the stuffed dough around itself, similarly to scaccia.
It was originally made during bread prep with the leftover dough and fed to children for afternoon snack. The dough is the same, the only changes in the filling are geographical: in the more westerly areas it is filled with ricotta or tuma with sausage or salami; in the eastern areas with pecorino or caciocavallo, fennel pollen, anchovies or salted sardines. Local variation abound, including a sweet version whose dough is added with sugar and then filled with sweet ricotta and cinnamon.
Sfincione
"Scairsu r'uogghiu e chin'i pruvulazzu": which roughly translates to, "topped with little oil and lots of dust". That's how you're supposed to eat one of Palermo's most popular street foods. Sfincione, or spinciuni in local dialect, is a thick and soft focaccia topped with tomato sauce, boiled onion, anchovies, oregano and pieces of caciocavallo cheese. On top, also there's often tomato and olive oil–flavoured breadcrumbs.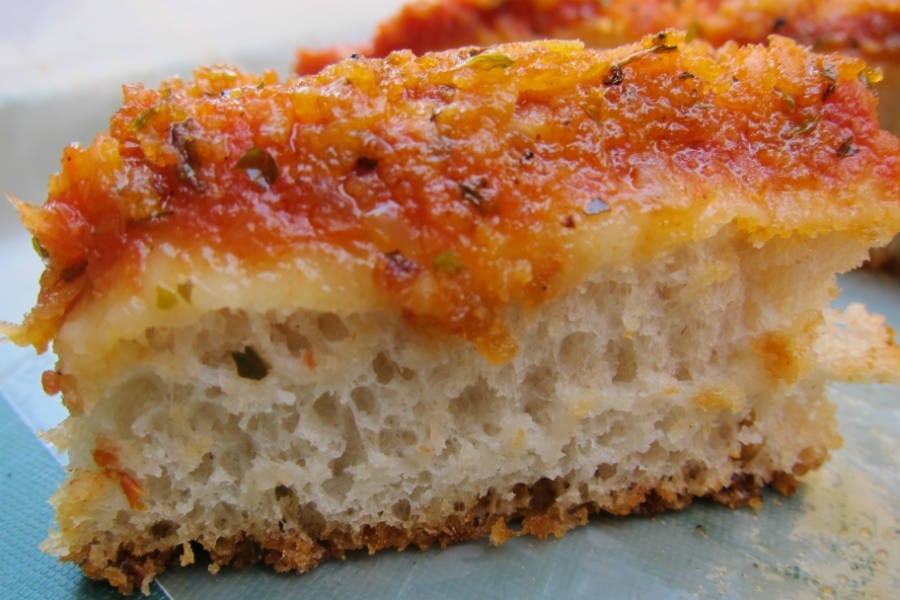 sfincione palermitano
The original recipe is the one made in Porta Sant'Agata, near the Albergheria district, and then sold by local sfinciunari who, riding theirlape – dialectal shift of the word 'Ape Piaggio' – vucìano, that is holler waxing poetic, the quality of their product. It's important that sfincione be drizzled with very little olive oil, lest flavour and texture be altered. "Lots of dust" is not referred to dirt, obviously, rather the uniformity of the topping. Traditional sfincione is served in squares ore rectangles, or sometimes baked in individual round servings, like for pizzette. This is the recipe that has been bestowed to us by Osteria Ballarò in Palermo, selected by the 2017 Street Food guide.
– Varieties: sfincione di Bagheria and rianata trapanese
The sfincione made in the town of Bagheria, not far from Palermo, is sfincione bianco: topped with anchovies, onions and tuma (or ricotta salata) and no tomato. The fame of this product is such that over the years it has been made into sophisticated recipes, such as cut in bite-sized morsels, like finger food; topped with delicate ingredients, like caramelized onion, or swapping sweet ricotta with the salted, dry kind or the oven-baked one.
Another local type of sfincione – more similar to pizza than focaccia – is rianata trapanese, made with durum wheat flours, water, yeast, salt and a pinch of sugar. It is left to proof and rise for 2 hours and is then topped with sardines or rinsed salted anchovies, crushed tomatoes, smashed garlic cloves, fresh parsley, Sicilian pecorino, extra virgin olive oil and lots of oregano. This is the star ingredient and what lends the preparation its name, literally "oregano-full".
Vastedda con sambuco
The last specialty we will be featuring takes us to Parco dei Nebrodi, a protected natural area that extends between the provinces of Messina, Catania and Enna. In Troina, a village in the verdant mountains of the Enna province is where vastedda cu sammuccu, or, vastedda with elderflower is made. According to different sources, the term vastedda (or guastedda) could derive from the ancient French term gastel or Germanic wastel. In Sicilian, this word has several meanings, the majority of which refer to bread products. The one exception is in Valle del Belice, between Agrigento, Trapani and Palermo, where vastedda is a PDO protected cheese (Vastedda del Belice Dop).
In any case, in Troina, vastedda simply means focaccia. The recipe of this version with elderflower dates back to the Middle Ages. The focaccia is thick and soft. The dough is made durum wheat flour, lard, eggs, milk and sourdough starter, is flavoured with the white wild flowers. In the filling are tuma, provola dei Nebrodi, local salami or sausage, preferably obtained by nero dei Nebrodi pigs.
Traditionally it was prepared only between the middle of April and mid June, when the elderflower plant is in full bloom – and in particular for the feast of the Patron Saint Sylvester of Troina, at the end of May). Nowadays it is baked year round, using dried flowers in the off-season months.
Sfincione recipe courtesy of Osteria Ballarò
Ingredients
800 g all-purpose flour
200 g semolina
500 g white onion, chopped
200 g canned tomatoes, crushed
100 g caciocavallo slivers
100 g oil-packed anchovies
Oregano for seasoning
Breadcrumbs
25 g brewer's yeast
50 cl water
20 g salt
100 g olive oil
Method
Wilt the onion with some olive oil and water. Add the tomatoes and season with salt. Cook for about 30 minutes.
Dissolve the brewer's yeast in some warm water and mix it with the two flours, olive oil and salt to obtain a very soft dough. Place in a covered bowl and allow to proof slightly. Shape the dough into balls and flatten them into discs laid on an oven tray. Top with the cheese, the anchovies and the sauce. Dust with breadcrumbs and drizzle a thread of olive oil. Bake 8 minutes ad at 210 degrees C. Dust with oregano and a few more slivers of caciocavallo.
Osteria Ballarò | Palermo | via Calascibetta, 25 | tel. 091.326488 | www.osteriaballaro.it
by Francesca Fiore